As the worldwide international student market continues to grow, more and more mature international students are making the decision to study abroad. These mature students are more likely to have started a family than younger international students. Many have already completed post-secondary programs and begun their careers, and nearly all are interested in obtaining permanent residency (PR) after graduation.
When I looked at this older student population last year, I noted that the number of mature international students at Canadian institutions was rising. In today's ApplyInsights, I'm going to revisit this critical student group and see how the pandemic has impacted student visa1 trends for mature international students in Canada. I'll turn a spotlight on the top source markets for mature students at Canadian institutions, and I'll give my thoughts on how to best recruit international mature students post-pandemic.
Key Insights at a Glance
Mature international students accounted for nearly 25% of all new study permit approvals in 2020 and through the first five months of 2021.
The Philippines, Iran, and Latin America remained strong mature student markets throughout the pandemic.
Recruiting mature students requires unique strategies such as promoting family and childcare services.
Throughout this article, I'll consider mature students to be any students over 25 years of age. Let's dive in.
Growing Interest from International Mature Students
Canada's international mature student market thrived pre-pandemic. The number of new study permit approvals for mature students rose by 78% from 2016 to 2019, compared to 65% growth for students 25 and under.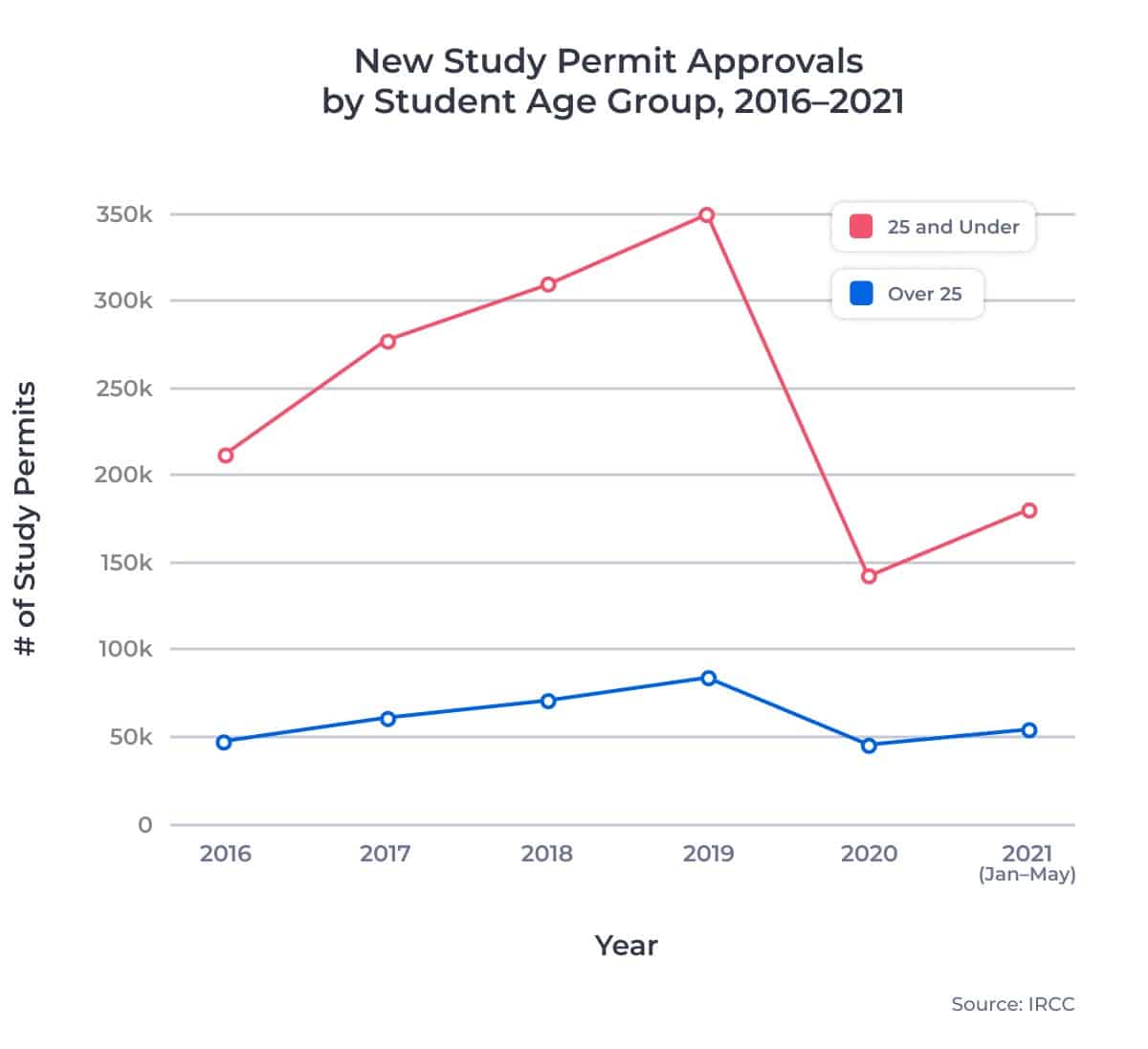 The mature student market was also highly resilient during the pandemic. While new study permit approvals for students 25 and under fell by 59% from 2019 to 2020, approvals for mature students dropped by only 46%. This is especially impressive given that study permit approval rates for mature students dropped below 40% in 2020.
This shows that mature students were more likely to continue with their study abroad plans during the pandemic. Many mature students have greater financial security due to years of employment. They are also often looking to immigrate to Canada with their families, hoping to secure a Post-Graduation Work Permit (PGWP) and PR after completing their studies. This financial stability and the desire to immigrate likely allowed and encouraged mature students to pursue their study abroad journey regardless of the pandemic.
Top Source Countries for Mature Students
From January 2020 to May 2021,2 mature students received over 50% of study permit approvals for nine different markets within the top 25 source markets for Canadian institutions. Let's take a closer look at five of these top markets which had the highest share of mature students in 2020 and early 2021.
Philippines
The Philippines has strong growth potential for Canadian institutions. In 2020, only Indian and Chinese students accounted for more study permit approvals than Filipino students. Between Jan 2020 and May 2021, a remarkable 69% of study permit approvals for Filipino students were for mature students, the highest percentage among the top 25 source countries.
These mature Filipino students often applied for Canadian college studies. In 2020 and early 2021, mature Filipino college students accounted for 86% of all mature student approvals. Filipino students were also among the oldest applicants on the ApplyBoard platform in 2020 and 2021.

Iran
Iran was the top source market for mature students when I looked into these trends last year. Though the Philippines took top spot this year, Iranian mature students remain a crucial and thriving market. From Jan 2020 to May 2021, 73% of study permits approvals for Iranian nationals went to mature students.
Unlike Filipino students, Iranian mature students largely pursue graduate studies in Canada. 83% of study permits approval for Iranian mature students in early 2021 were for doctoral and master's studies, the highest rate among the top 25 source countries.

Mexico
Latin America has become a key source of mature students for Canadian institutions, and Mexican students led the way in 2020 and 2021. Around 59% of study permit approvals for Mexican nationals went to mature students over that period.
This growing Mexican student population is thanks in part to a 90% mature student approval rate, the highest among the top five source countries outlined here. Like students from other Latin American countries, many mature Mexican students pursue college studies. Over 50% of study permit approvals for mature Mexican nationals were for college studies from Jan 2020 to May 2021.

Colombia
After a significant decline in study permit approval rates for Colombian students in 2020, the Colombian market has recovered well. Through the first five months of 2021, Colombia was the fourth-largest source market for college study permit approvals.
Mature students accounted for 56% of study permit approvals for Colombian nationals in 2019. This was also the approved permit market share for Colombian mature students from Jan 2020 to May 2021, showing that Colombia remains a strong mature student market.

Brazil
Brazilian students also experienced study permit approval declines in 2020, though the Brazilian market has been highly resilient throughout the pandemic. This resilience was largely driven by mature Brazilian students, who accounted for 68% of study permit approvals for Brazilian nationals in 2020 and early 2021.
Similar to students from Mexico and Colombia, Brazilian students of all ages are highly interested in college studies. Mature students pursuing college studies are often looking to improve their skills and advance their careers, and Brazilian mature students are especially interested in the PGWP-to-PR pathway that Canada offers.

Other Notable Markets
Within the top 25 source markets, mature students from Hong Kong (SAR China), Sri Lanka, Ecuador, and the United Kingdom also accounted for over 50% of study permit approvals. I was surprised to find that students aged 30+ received nearly 50% of study permit approvals for Hong Kong nationals in 2020 and 2021.
Mature Student Market Share Stable During the Pandemic
Mature students are an increasingly important group for Canadian institutions. The chart below shows the market share of new study permit approvals that went to mature students since 2016: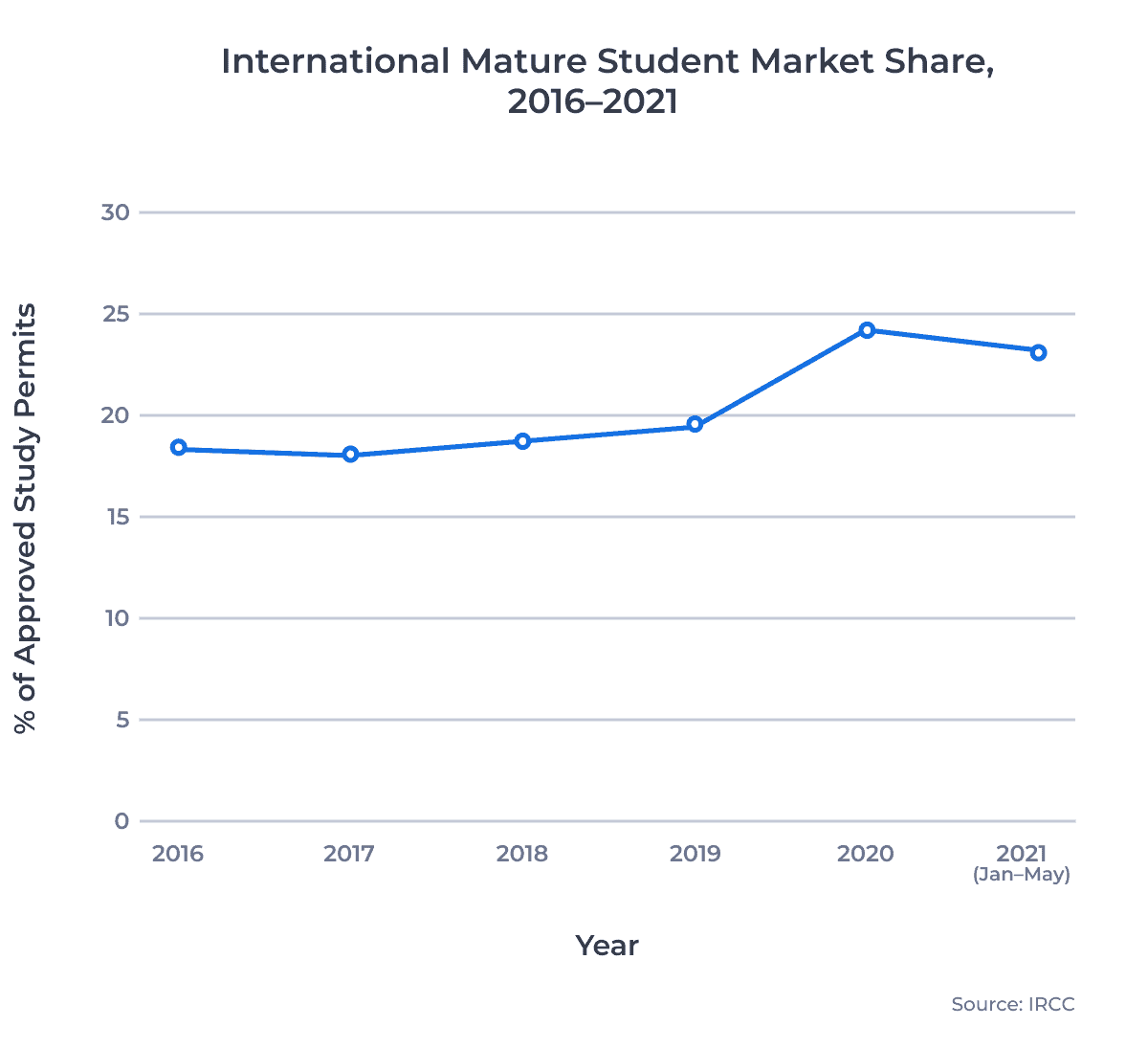 The growth of the mature student market before the pandemic, and the relative stability of the market during the pandemic, is noteworthy. Mature students accounted for nearly 25% of approved study permits in 2020. Though we've seen a slight decline in early 2021, I expect this rate to remain stable through the rest of the year.
I previously predicted that the mature student market share would decline back to pre-pandemic levels in 2021. However, the rise of new COVID-19 variants has prolonged the pandemic. As a result, I anticipate that we won't see a substantial decline in the mature student market share until 2022. International students of all ages are re-starting their study abroad plans, but younger students may need more time to strengthen their financial situations.
Recruiting Mature Students
Canada's strong permanent residency pathways, including the PGWP program, will likely drive future growth for the mature student market. Specifically, Canadian colleges will continue to draw large mature student populations who want to enhance their employability and seek Canadian permanent residency.
International students who come to Canada on a study permit and secure a work permit before permanent residency are more likely to earn higher wages throughout their career than other permanent residents.
But increased competition from other destination markets could impede this growth. The United Kingdom's new Graduate Immigration Route competes directly with Canada's PGWPP. The joint announcement from the US Departments of State and Education also shows that US institutions will have governmental support to help drive international student recruitment.
Canadian institutions should act now to ensure they will remain competitive and attractive for mature international students post-pandemic. I strongly encourage any institution looking to target mature students to:
Promote on-campus and local services geared towards students with families, such as childcare, preschools and elementary schools, and family residences
Offer scholarships or fee reductions for mature students, especially for those who may need to quarantine themselves or their families before attending classes
Profile current international mature students and recent graduates in marketing materials, and facilitate Q&A sessions between current and prospective mature students
Work with recruitment partners to provide coaching to prospective students on how to write a clear letter of explanation detailing the student's study plans and career goals
Published: September 15, 2021
Subscribe to ApplyInsights
Sign up for the latest insights on international education.

---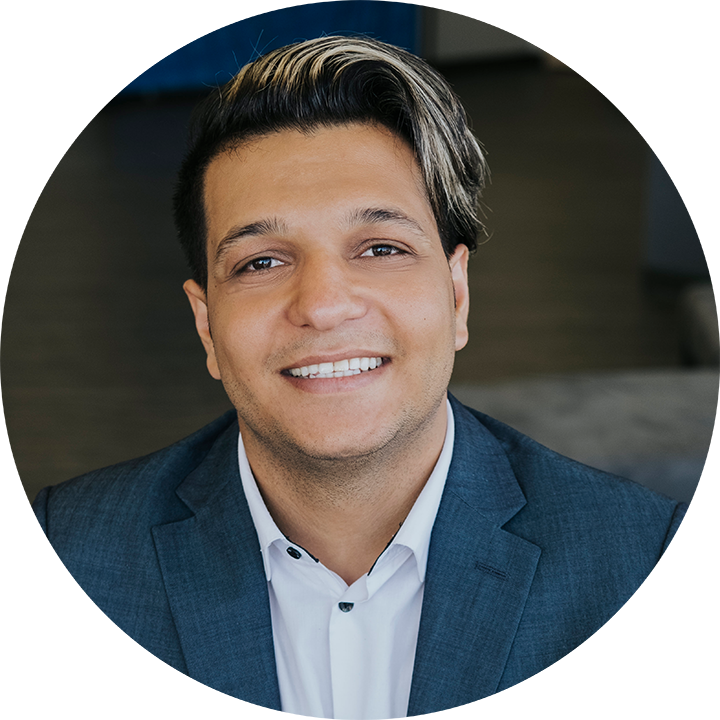 Meti Basiri
Co-Founder and Chief Marketing Officer (CMO)
Meti is driven by the belief that education is a right, not a privilege. He leads the International Recruitment, Partner Relations, and Marketing teams at ApplyBoard, working to make education accessible to people around the world. Meti has been instrumental in building partnerships with 1,500+ educational institutions across Canada, the United States, the United Kingdom, and Australia. Working with over 7,500 international recruitment partners, ApplyBoard has assisted more than 200,000 students in their study abroad journey. Follow Meti on LinkedIn for more access to ApplyInsights and key industry trends.
---
FOOTNOTES:
1. The terms student visa and study permit are generally used interchangeably for Canadian international students. Rather than student visas, Canada provides accepted international students with study permits, which allow those students to enroll in classes at Canadian institutions. When a student is accepted for a study permit, they are also usually provided with a visitor visa, which allows that student to enter Canada for their studies. Statistics used in this article are for new study permits only. All data courtesy of Immigration, Refugees and Citizenship Canada (IRCC), except where noted.