In today's ApplyInsights, I'm examining the state of Canada's international mature student market. Mature international students have typically been out of school for a number of years and have work experience. Many are married and parents of young children. Almost all are interested in obtaining permanent residency (PR) in Canada and see studying in Canada as the way to achieve that goal. 
Here's what this blog post will cover:
A breakdown of the Canadian international student population by age

How Canada's mature international student population has trended over time 

Five key source markets with a large percentage of mature students
Definitions of what constitutes a mature student vary. For our purposes, I'll consider a mature student to be any student over age 25. Let's start by taking a look at the size of this unique demographic. 
Growth in Canada's International
Mature Student Population
In November 2016, the Canadian government made changes to the points system used to select candidates for permanent residency to favour applicants who completed post-secondary education in Canada. This made studying in Canada a more attractive path to PR for people in their late 20s and 30s. 
Canada's international mature student population responded by growing 41.2% from 2017 to 2019, versus 23.6% for the rest of the market. 16.2% of new Canadian study permits were issued to mature students in 2019, up from 14.5% in 2017.1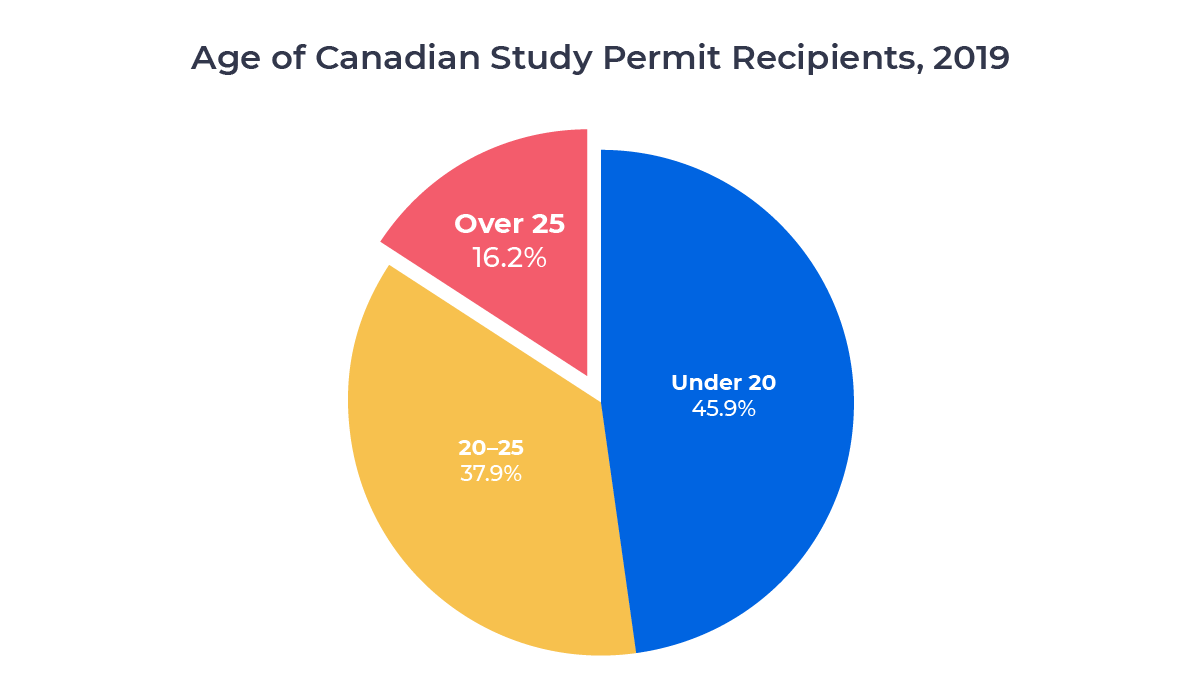 Top Source Countries for Mature Students
A number of Canada's largest suppliers of international students had mature student rates well above average. Among the top 25 source markets for international students in 2019, the following five countries sent at least 40% mature students.
Iran
A remarkable 56.3% of Iranians who came to Canada in 2019 were mature students, the highest percentage among the top 25 source countries. We can attribute this disparity to the large number of graduate-level university students who come to Canada from Iran. Iran had the highest percentage of master's and PhD students among all countries that sent at least 100 students to Canada last year. 44.6% of Iranian students in Canada studied at the graduate level in 2019, compared to just 13.8% of students overall. 
Though it remains a major contributor to the Canadian international student market, the Iranian market has been volatile over the past few years, with a massive influx of study permit applications alongside a historic drop in study permit approval rate. Iran's mature student market share jumped 12.9% in 2019, but it's difficult to forecast whether this is a blip or something we'll see stabilize.   
Jamaica
Mature students made up 51.7% of Jamaican nationals issued study permits in 2019, the second-highest rate among the top 25. Jamaica also had the highest percentage of students over 30, at 38.1%. Unlike Iran, Jamaica is a college-focused market, with most students looking to pursue a path to PR through Canada's Post-Graduation Work Permit Program (PGWPP). 64.6% of Jamaican students in Canada studied at the college level in 2019, the second-highest percentage in the top 25.
Toronto's large and vibrant Caribbean community makes it a top target for Jamaican students, many of whom are able to reduce costs by living with family members already in Canada. The six Greater Toronto Area (GTA) colleges were all among the 10 most popular Canadian schools for Jamaican students last year, with Centennial College and Humber College leading the way.
Top 10 Canadian Post-Secondary Institutions for Jamaican Students, 2019
Rank
Institution
# of Study Permits
Change 2018–2019
% Change 2018–2019
1
Centennial College
267
+9
+3.5%
2
Humber College
205
+29
+16.5%
3
Seneca College
120
+31
+34.8%
4
Sheridan College
94
+17
+22.1%
5
Okanagan College
86
+5
+6.2%
6
Fanshawe College
69
+35
+102.9%
7
New Brunswick Community College (NBCC)
55
+27
+96.4%
8
Lambton College
54
+22
+68.8%
9t
Durham College
38
+3
+8.6%
9t
George Brown College
38
+4
+11.8%
t Denotes a tie
Philippines
The Philippines were next. 47.2% of students who came to Canada from the Philippines last year were over 25. Like the Jamaican market, the Filipino market is dominated by college students. The Philippines had the third-highest rate of college enrollment (63.7%) among the top 25 in 2019. 
In our previous deep dive on the Filipino student market, I noted that a large percentage of students from the Philippines are in their late 20s and 30s. On average, Filipinos were the second-oldest applicants on the ApplyBoard Platform last year, at 31.8 years. Many are also parents of young children. The Philippines had the second-highest rate of primary school enrollment (15.6%) in the top 25.

Brazil
The largest source market in Latin America (LATAM), Brazil is an outlier in terms of student age as well. 45.3% of Brazilians issued study permits in 2019 were mature students. Brazilian students applying through the ApplyBoard Platform were 32.6 years old on average, the oldest applicants on the platform. 
Like Jamaica and the Philippines, Brazil is a college market, with 47.0% of 2019 study permit recipients college students. This was the fourth-largest rate of college enrollment in the top 25. Brazilian students, like Filipino students, often come with young children in tow. The country also had the fourth-largest rate of primary enrollment (13.7%). 
Brazil's economy has struggled over the past twelve years, hit by a series of economic crises. The country's weak currency, in particular, limits Brazilians' spending power abroad. Due in part to these ongoing economic challenges, the number of new study permits issued to Brazilian students fell 9.6% in 2019. However, the over-25 bracket proved more resilient to this decline, falling just 5.2%.  

Colombia
Colombia is Latin America's third-largest supplier of students to Canada and the twelfth-largest source country for international students to Canada overall. In 2019, 42.3% of Colombian students issued study permits were mature students.  
We see similar trends in the Colombia data as we did the data for the Philippines and Brazil, albeit to a lesser degree. 37.1% of Colombian students enrolled in college programs in 2019, the sixth-highest rate among the top 25. Colombia also had the fifth-largest rate of primary enrollment (9.9%).
Pre-COVID-19, study permit applications from Colombian nationals skyrocketed on the strength of the country's roaring economy. Mature students led the charge, with 109.5% growth between 2017 and 2019 versus 71.0% for students 25 and under. 
Colombia's economic outlook remains strong despite the COVID-19 pandemic. While the mature student demographic may not continue to outpace overall growth, look for it to continue to grow in line with the rest of the Colombian market. 
Mature Student Market Share Spiking in 2020
The chart below shows the growth in the mature student segment of Canada's international student market since 2017:
We see the steady growth in the mature student market between 2017 and 2019. But the real story here is the sharp uptick since the onset of the COVID-19 pandemic. 20.5% of new study permits issued between January and July 2020 went to students over 25.2 This suggests that a larger percentage of mature students elected to go ahead with their study abroad plans despite the pandemic.  
Many parents have understandably encouraged their children to defer or cancel their plans to study abroad out of a desire to keep them closer to home during this uncertain time. But for working-age adults, including many looking to relocate their families, the calculus is different. Students in countries that have struggled to contain the pandemic may even be more motivated to move, provided they are permitted to travel and can afford to take that step in the midst of the current economic downturn. 
The Future for International Mature Students
I expect we'll see the mature student market share decline back toward 2019 numbers in the new year as younger students who deferred their studies move forward with their plans. But look for the underlying growth in the market to continue. Canada's strong pathway to permanent residency through study and the PGWPP, and the strength, accessibility, and affordability of its college offerings will continue to make studying in Canada appealing for mature students.   
I recommend that schools targeting students from Iran, Jamaica, the Philippines, Brazil, and Colombia consider the following in making their pitch:
Offering scholarships or fee waivers to mature students from these markets

Promoting services geared toward mature students, such as childcare facilities and family residences

Profiling current international mature students in marketing materials and emphasizing their institution's success in meeting those students' needs 
With competition for students at an all-time high during the COVID-19 pandemic, and mature student decision-making surprisingly resilient in the face of economic challenges, schools looking to maximize their international enrollment would be well served by exploring this growing demographic.
Subscribe to ApplyInsights
Sign up for the latest insights on international education.

---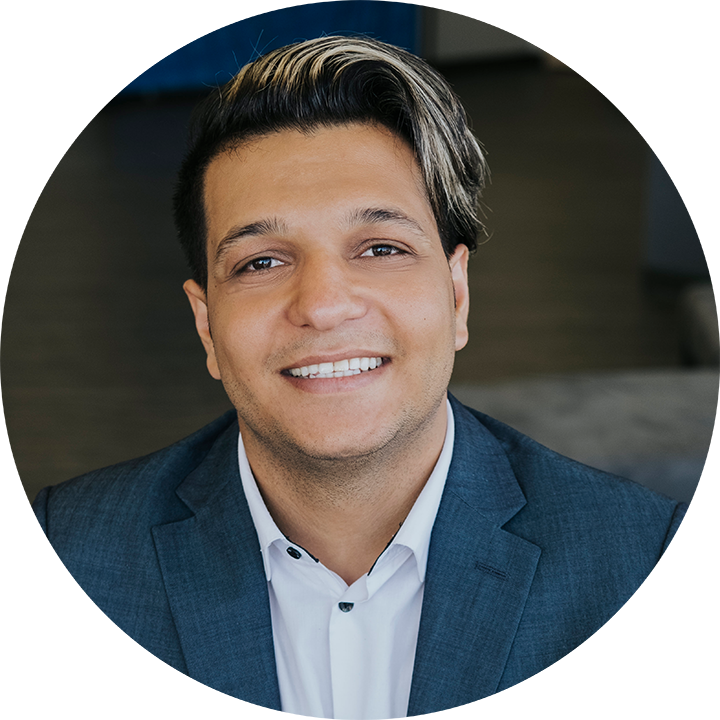 Meti Basiri
Co-Founder and Chief Marketing Officer (CMO)
Meti is driven by the belief that education is a right, not a privilege. In his role as Co-Founder and Chief Marketing Officer (CMO) at ApplyBoard, he leads the International Recruitment, Partner Relations, Sales Enablement, Sales Operations, and Marketing teams along a shared mission to educate the world. Meti has been instrumental in building partnerships with 1,200+ educational institutions across North America, the United Kingdom, and Australia. Working with over 4,000 international recruitment partners, ApplyBoard has assisted more than 120,000 students in their study abroad journey.
Meti was honoured in 2019 by Forbes, being named to three Top 30 Under 30 lists, including Education, Immigrants, and Big Money. Follow Meti on LinkedIn for more access to ApplyInsights and key industry trends.
---
FOOTNOTES:
1. All data courtesy of Immigration, Refugees and Citizenship Canada (IRCC).
2. More recent data not yet available.