In an extraordinarily difficult year for the international education industry in Canada, the Hong Kong market managed to remain steady. The total number of new Canadian study permits issued across all markets fell by 73.5% in 2020.1 This type of drop has been seen around the world, but for study permits from Hong Kong, that number shrank by just 2.5%.
In today's ApplyInsights, I'll be digging into the Hong Kong study permit numbers to look at how the Hong Kong market has changed over time, what and where Hongkongers are studying in Canada, what may have caused this positive trend, and why Hong Kong is an excellent growth opportunity for Canadian institutions.
Key Insights at a Glance
Despite the pandemic, applications for Canadian study permits from Hong Kong increased by 58% in 2020 as Hongkongers looked to escape political unrest at home.
New immigration measures from the Canadian government to support Hong Kong residents are poised to increase this market further.
Hong Kong is one of the top source markets for primary and secondary students in Canada, with this sector expanding further during the pandemic.
This is the first in a series of articles exploring high-potential international student markets in Canada. Check back in the following weeks for future installments.
Canadian Study Permit Applications and Approval Rate – Hong Kong
In 2020, Canada received 2,117 study permit applications from Hong Kong residents. This marked a 58.3% increase in applications over 2019. Already high at 85.0%, the study permit approval rate for Hongkongers rose by 6.3% in 2020, to 91.4%.
The boom in applications and rise in approval rate combined to produce a 70.1% increase in the number of Canadian study permit approvals for Hongkongers in 2020.
Next to the overall decline in the Canadian study permit market, Hong Kong's numbers are remarkable. Across all source markets, study permit applications fell by 48.1%. Approvals fell by 55.8%, hurt by an 8.9% decline in the all-markets approval rate.
The following table summarizes the year-over-year changes in the Hong Kong market:
New Canadian Study Permit Trends, Hong Kong vs. All Markets, 2019–2020
2019
2020
Change
Hong Kong
Applications
1,337
2,117
+58.3%
Approvals
1,137
1,934
+70.1%
Approval Rate
85.0%
91.4%
+6.3%
All Markets
Applications
425,990
220,932
-48.1%
Approvals
256,216
113,304
-55.8%
Approval Rate
60.1%
51.3%
-8.9%
Political Unrest Driving Hong Kong Student Migration
ApplyBoard's recruitment partners have seen an uptick in inquiries from Hong Kong residents since mid-2019, when protests roiled the city's streets. Many of these inquiries have come from established professionals with young families. In the wake of the protests and the pandemic, large numbers of students have left Hong Kong's primary and secondary schools to study overseas.
Last November, in response to the crisis in Hong Kong, the Canadian government implemented new immigration measures to support Hong Kong residents. These include the following:
A new open work permit, valid for up to three years, for eligible Hong Kong residents in Canada or abroad who recently completed post-secondary studies
Expedited study permit application processing for Hong Kong residents
A new pathway to permanent residence (PR) that allows Hong Kong residents who have graduated from a post-secondary institution in Canada to apply directly for PR
The open work permit launched in early February, while the new pathway for Hong Kong students will be available later this year. These changes, along with others put in place by the Canadian government, make Canada an attractive destination for Hongkongers looking to escape the political situation there.
The Canadian government has taken a smart, compassionate stance that serves both the interests of Hongkongers and Canada. This is a real opportunity for institutions to provide important opportunities for Hongkongers while also bolstering enrollment in a very difficult market.
Canadian Study Permits Issued – Hong Kong
I want to make an important distinction between study permits approved and study permits issued.
In most cases, students must apply for a study permit before coming to Canada.2 Once approved, they are issued a letter of introduction that states that they're allowed to study in Canada. They're also issued an electronic travel authorization (eTA) or temporary resident visa (TRV) to enter Canada.
When the student arrives in Canada, they must present these documents to a border services officer. If the officer permits entry into Canada, the student is issued their study permit.
In other words, just because an applicant's study permit is approved doesn't mean that it will be issued. Students may elect not to pursue their studies in Canada even after being approved for a study permit, or they may be denied entry at the border. That said, both occurrences are uncommon. From 2016 to 2019, around 95% of study permits approved were issued.
This changed in 2020, when just 57% of all study permits approved were issued, likely due to border restrictions and the uncertainty surrounding the pandemic.
The chart below compares study permits approved and issued for Hong Kong residents: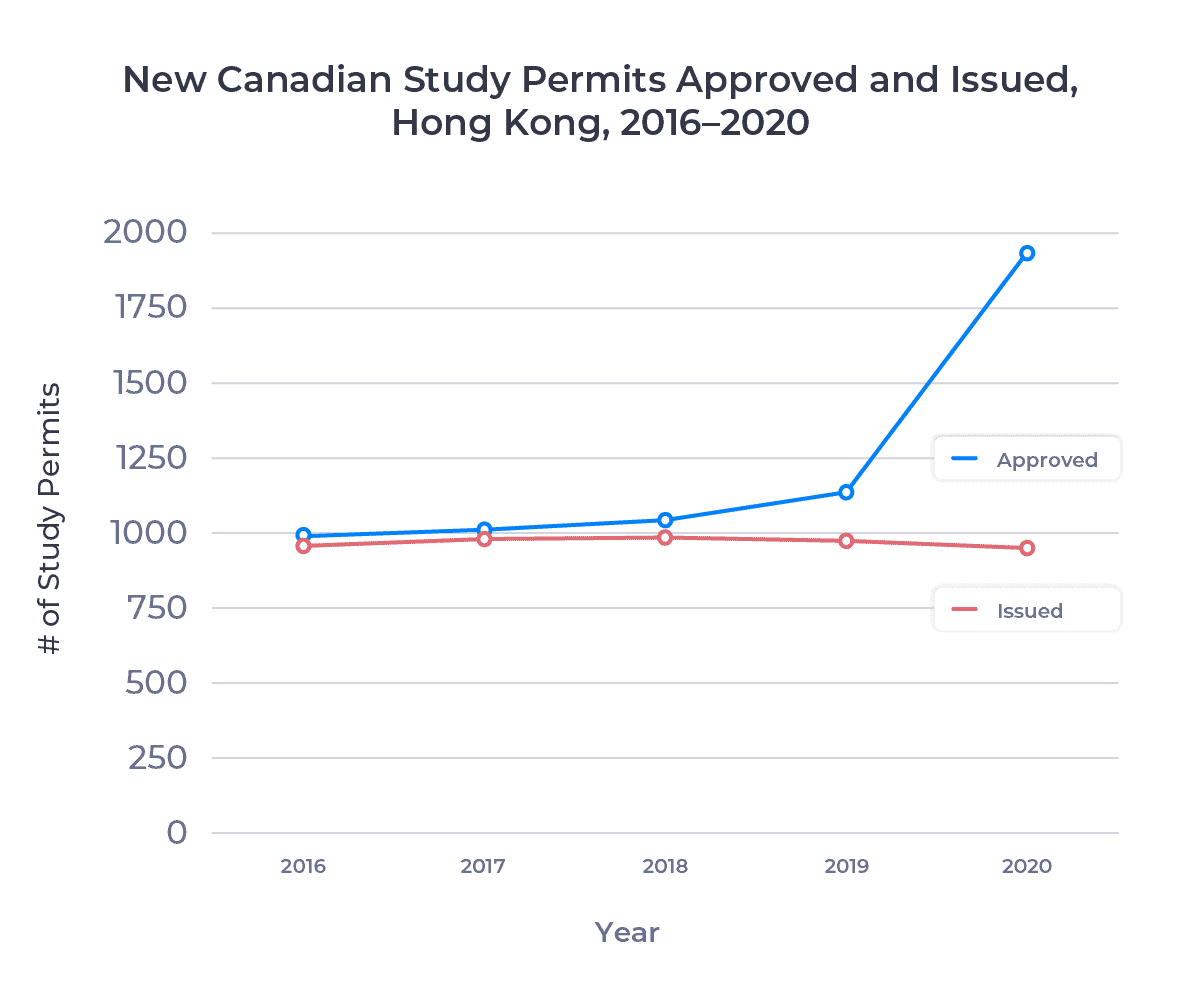 The spike in approvals is apparent, but we haven't yet seen this translate into a boom in Hong Kong students in Canada. With online classes largely mandatory, many students have deferred their studies and their travel. Even so, the fact that the number of study permits issued to Hong Kong students remained stable in 2020 is remarkable when compared to other key source markets, as the table below shows:
Smallest Declines in New Canadian Study Permits Issued, 2019–2020*
Rank
Source Market
2019
2020
Change
1
Hong Kong (SAR China)
975
951
-2.5%
2
Tunisia
879
545
-38.0%
3
Sri Lanka
659
387
-41.3%
4
Algeria
2,103
1,234
-41.3%
5
Morocco
2,128
1,162
-45.4%
6
Colombia
3,281
1,338
-59.2%
7
United States
5,109
2,014
-60.6%
8
Senegal
749
290
-61.3%
9
Nepal
578
223
-61.4%
10
Philippines
4,811
1,830
-62.0%
* Minimum 500 study permits issued in 2019
The Hong Kong market lost 35% fewer new students in 2020 than the next best market, Tunisia. The average decline among all source markets was 73.5%.
Canadian Study Permits Issued by Province – Hong Kong
The image below shows the number of study permits issued to Hong Kong residents for studies in each of Canada's 10 provinces in 2020, along with the change between 2019 and 2020: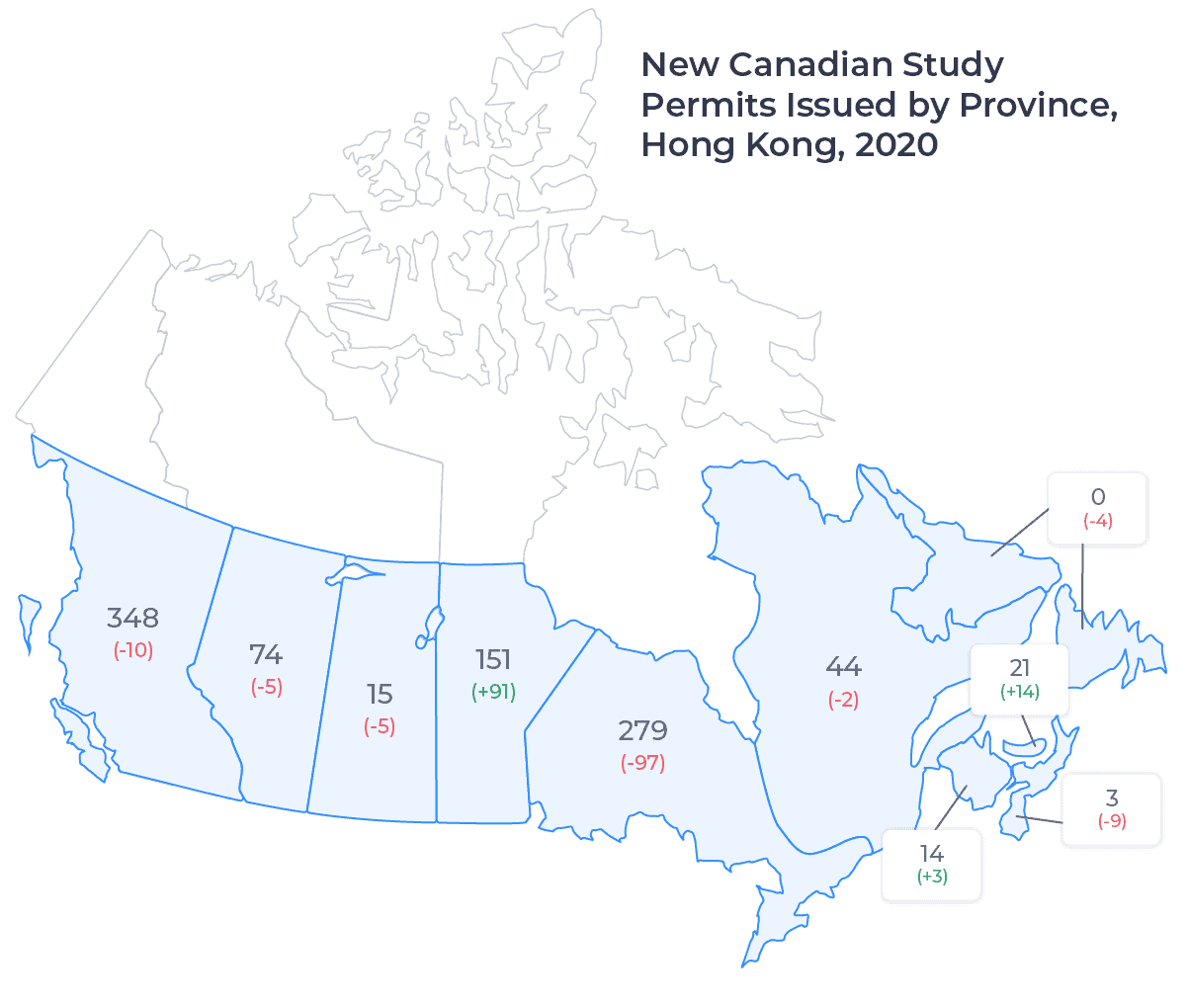 For the first time since 2016, British Columbia pulled ahead of Ontario to become the top destination for Hong Kong students in Canada in 2020. Ontario's numbers fell 25.8% year-over-year.
The Metro Vancouver area remains a big draw for Hong Kong students for its wide range of post-secondary offerings and moderate climate. A less traditional, but growing, market is Manitoba, where the number of study permits issued to Hongkongers increased by more than 150% from 2019.
In fact, four of the top five designated learning institutions (DLIs) for Hong Kong students in 2020 were Manitoba schools: Red River College, the University of Winnipeg, the University of Manitoba, and the Manitoba Institute of Trades and Technology.
There are a number of factors that might make Manitoba attractive to Hong Kong students. The province has a relatively low cost of living, its tuition is among the lowest in Canada, and it offers generous pathways to citizenship through the Manitoba Provincial Nominee Program. We saw similar interest in Manitoba in the Nigerian market, where affordability is a key driver.
Canadian Study Permits Issued by Study Level – Hong Kong
The charts below show the change in the distribution of study permits issued to Hong Kong students by study level in 2019 and 2020: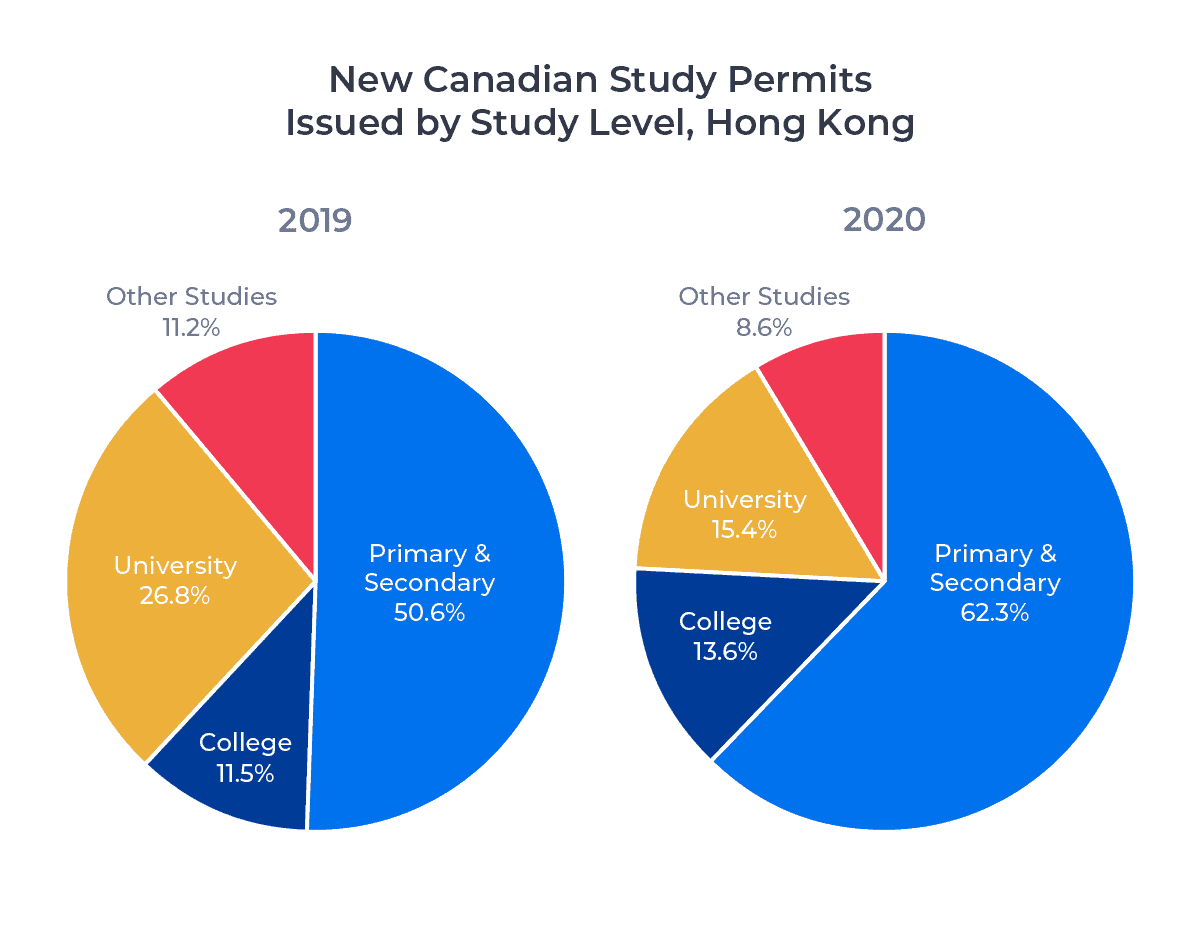 Primary and secondary students made up the majority of Hong Kong students issued study permits in 2019, and this sector expanded further in 2020 to constitute 62.3% of the market. Hong Kong had the highest proportion of primary and secondary students among all major source markets in 2020.3
Hong Kong students have traditionally preferred university over college studies in Canada. This shifted dramatically in 2020, as the number of study permits issued to university students fell by 44.4% while study permits issued to college students rose by 18.7%. The university decline was concentrated almost exclusively among bachelor's degree programs, which fell by 69.0%.
I suspect this is where we're seeing pandemic-related decline for Hong Kong. Study permits issued for bachelor's degree programs declined by 82.2% across all markets, one of the largest declines in any sector. The data has repeatedly shown that young adults have been less willing to move ahead with their study abroad plans despite the pandemic than more established professionals with young families.
The good news for the university sector? We're likely to see a reversal of this trend post-pandemic as students determine it is safe to travel.
I also expect the growth in the primary and secondary sector to continue as more Hongkongers look to relocate their families to escape the unrest and take advantage of Canada's new open work permit and the coming pathway to PR for Hong Kong residents.
Key Takeaways
The ties that bind Hong Kong and Canada are strong. The Canadian government estimates that there are more than 200,000 people of Hong Kong descent living in Canada and another 300,000 Canadians currently living in Hong Kong.4 I expect the current wave of interest in Canada among Hongkongers to accelerate with the end of the pandemic and the government's recent announcements.
Institutions looking to capitalize on this trend should:
Be familiar with the immigration measures the Canadian government has put in place to support Hong Kong residents looking to come to Canada.
Leverage and expand existing alumni and partner contacts in the Hong Kong community to build connections across the Pacific to Canada in the lead-up to a post-pandemic environment.
Emphasize the appeal of their institution and community to families, including supports such as family residences and counselling services to help children through a difficult transition.
Published: April 9, 2021
Subscribe to ApplyInsights
Sign up for the latest insights on international education.

---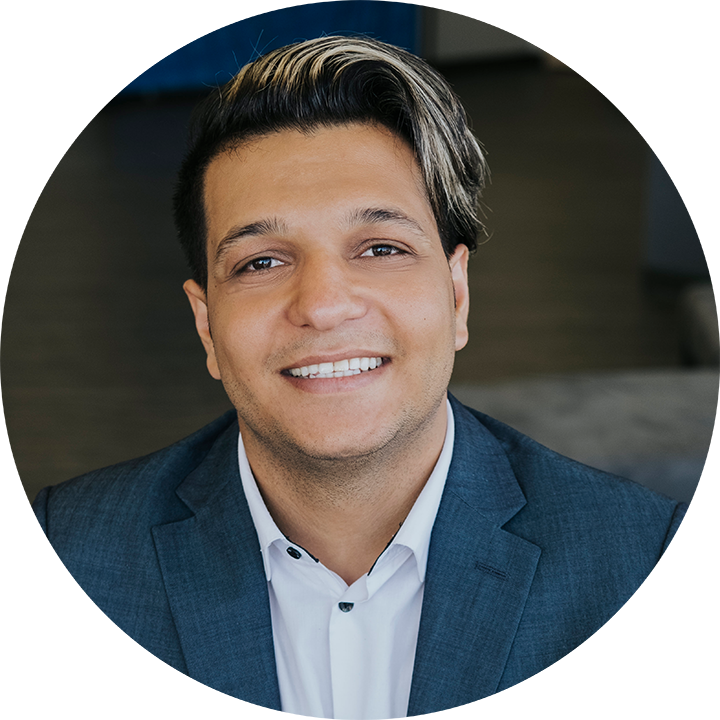 Meti Basiri
Co-Founder and Chief Marketing Officer (CMO)
Meti is driven by the belief that education is a right, not a privilege. He leads the International Recruitment, Partner Relations, and Marketing teams at ApplyBoard, working to make education accessible to people around the world. Meti has been instrumental in building partnerships with 1,500+ educational institutions across Canada, the United, the United Kingdom, and Australia. Working with over 5,000 international recruitment partners, ApplyBoard has assisted over 150,000 students in their study abroad journey. Follow Meti on LinkedIn for more access to ApplyInsights and key industry trends.
---
FOOTNOTES:
1. Statistics used in this article are for new study permits only. All data courtesy of Immigration, Refugees and Citizenship Canada (IRCC), except where noted.
2. In some cases, students may apply from within Canada or while at a port of entry.
3. Minimum of 500 study permits issued across all study levels in 2020.
4. Source: 2016 Canadian Census of Population.