The demand from international students for Canadian college programs has exploded over the last five years. In 2016, just over 80,000 Canadian student visa1 applications were submitted for college studies.2 By 2019, this number rose to more than 180,000, representing 122% growth over just three years. It's clear that Canadian colleges are a big draw for students from around the world.
In this ApplyInsights, I'll be zooming in on the top source markets for Canadian colleges over the past three years. I'll take a look at how Canadian colleges have fared compared to other institutions, and I'll analyze new Canadian study permit approval rates for international college students. I'll also provide a list of the top 20 source markets for college students so far in 2021, and give my thoughts on growing market opportunities that Canadian colleges should look to capitalize on now and post-pandemic.
Key Insights at a Glance
International students pursuing college studies accounted for over 50% of all new study permits approved between January and April 2021.
The approval rate of new college study permits hit almost 70% in the first four months of 2021, up from around 45% in 2020.
More students from India, China, Nepal, and Chile were approved for new college study permits through April 2021 than in all of 2020.
Throughout this article, I'll be looking at new approved study permit data. While I've looked at new study permits issued in past articles, that data would miss students who have started online studies during the pandemic.3 By looking at approved data, we can see the broader picture of how things have changed since 2019. To start off, let's dive into new Canadian study permit trends for all international students in 2019 and through the first four months of 2021.
Study Permit Trends – All Study Levels
2019 was a banner year for the Canadian international education sector. Over 400,000 international students submitted study permit applications, and over 250,000 students saw their applications accepted. Of those 250,000 approved study permits, over 100,000 were for new college students.
But the pandemic caused a significant downturn in 2020. Study permit application volumes dropped by 48%, and approved study permit volumes fell by 56%. The college sector was hit particularly hard, with total study permits approved falling by over 60%. In fact, fewer study permits were approved for college studies in 2020 than in 2016.
However, early signs point to a strong recovery for Canada's international education sector in 2021. Study permit application volumes reached 75% of 2020 full-year application volumes by the end of April 2021. Critically, 43% more study permits were approved for college programs from January to April 2021 than in all of 2020.
Let's take a closer look at how different study levels in Canada fared in early 2021. The circle charts below show the market share of each study level based on the number of new study permits approved in 2019 and in the first four months of 2021: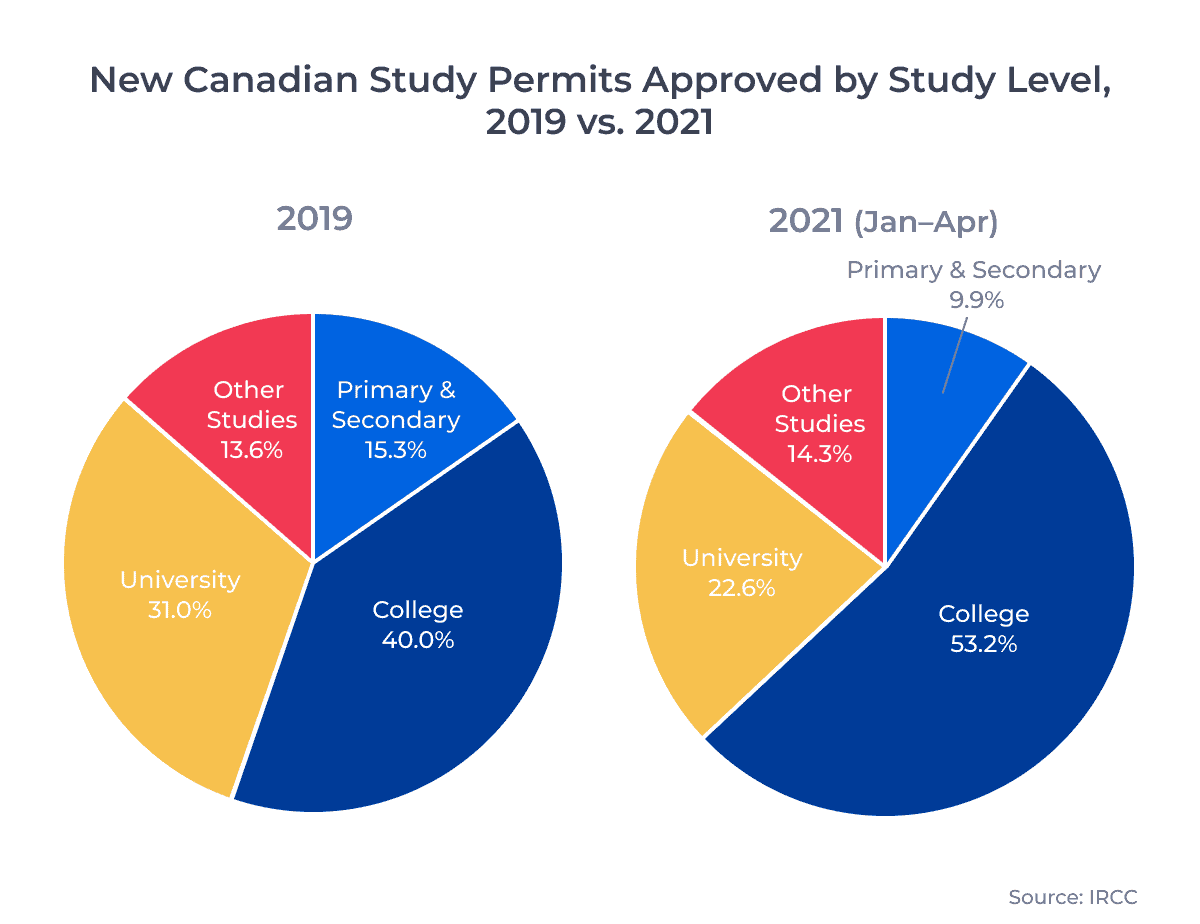 Canada's college sector is leading the way in post-pandemic recovery, accounting for more than half of all new study permit approvals between January and April 2021. One major factor driving this growth is the rising popularity of Canada's Post-Graduate Work Permit Program (PGWPP). Many international students looking to pursue permanent residency (PR) pathways enroll in two- to three-year college programs and apply for a PGWP after they complete their studies.
Another reason colleges have increased in popularity is cost. During the pandemic, economic conditions worsened and some students became less financially stable. As a result, they may be drawn to programs with lower tuition costs. They may also intend to complete a college program while saving to attend a Canadian university.
Study Permit Approval Rates – College Programs
There is another factor causing college study permit approvals to rise: high approval rates.
In 2017 and 2018, college students experienced the lowest approval rates out of all study levels, hovering around 60%. During the pandemic, these rates fell even further, dropping to below 45% in 2020.4 But during the first four months of 2021, college study permit approval rates have spiked. The following chart shows the new study permit approval rate for college students based on program type from January 2018 to April 2021: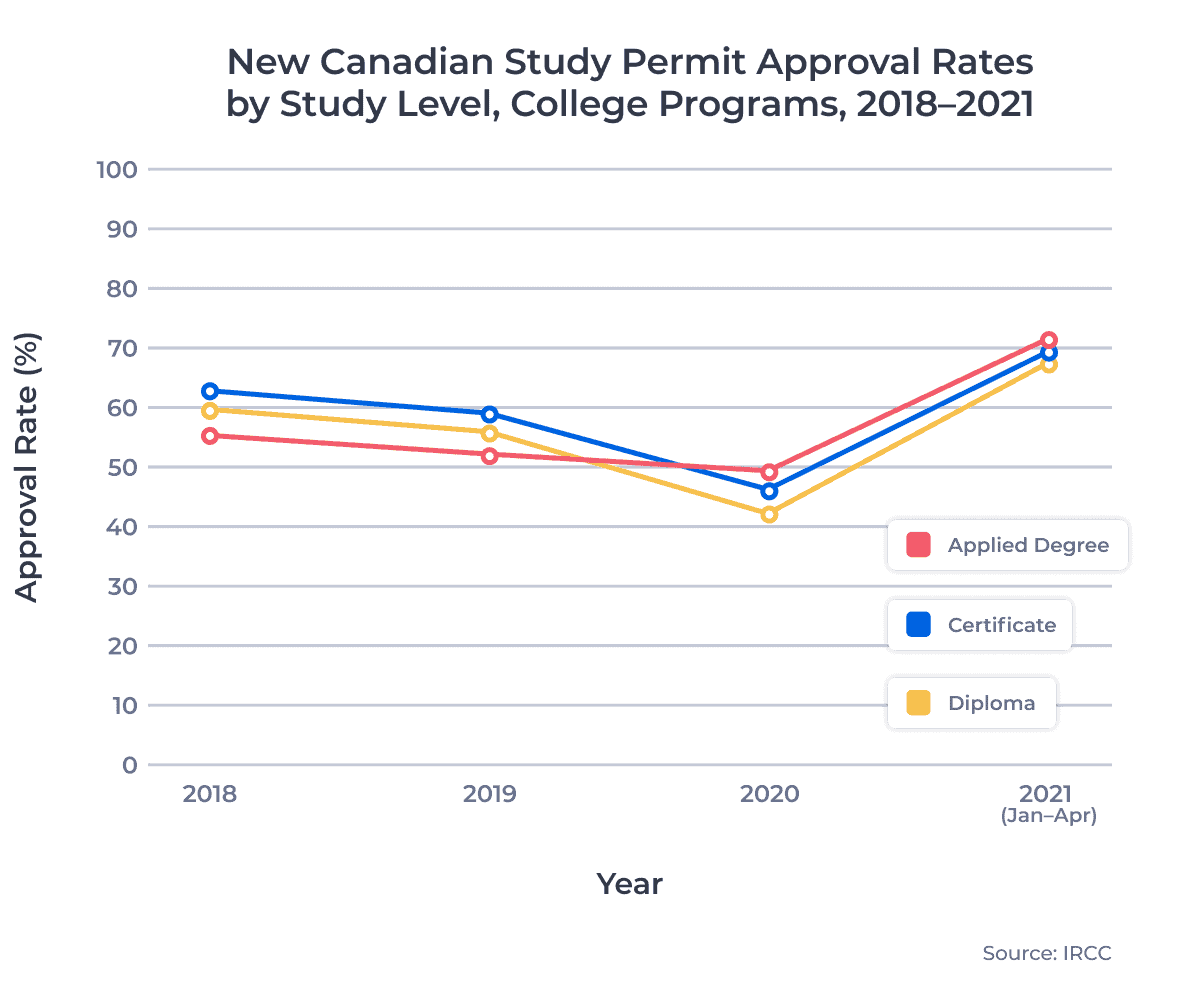 Study permit approval rates for all college level programs rose over 20 percentage points from full-year 2020 to the first four months of 2021. This sharp increase was most pronounced for diploma studies at Canadian colleges. New study permit approval rates for diploma studies fell to 42% in 2020, but they increased by over 25 percentage points to 67% in 2021. Applied degree approval rates also rose above 70%, rising from 49% in 2020 to 71% in early 2021.
I anticipate that these approval rates will decline somewhat as 2021 continues. However, I also expect that college study permit approval rates will remain well above 2020 rates. I'll be keeping a close eye on approval rates as more data for 2021 comes in.
Top Source Markets for Canadian Colleges
Which source markets accounted for the most college study permits approved in 2020 and in early 2021? It's no surprise to see India at the top of the list as the number one source country for new college students in both 2020 and 2021. What is surprising is the incredible recovery of the Indian market so far in 2021. Nearly twice as many new study permits were approved for Indian college students between January and April 2021 as in full-year 2020. In fact, Indian students accounted for over 82% of all new college study permits approved in early 2021.
The only other source market to surpass 1,000 study permits through April 2021 was the Philippines. College studies dominated the Filipino market in 2020, with 2 of every 3 Filipino students coming to Canada to pursue a college-level education. I anticipate that if approval rates remain high, we could see twice as many Filipino students enrolling in Canadian college studies in 2021 as we did in 2020.
Check out my previous blog post for more information on the growing Filipino market.
Mexico, Colombia, and China rounded out the top five source markets for new college students in early 2021. All three of these markets rose up the ranks compared to 2020, with China jumping from tenth to fifth. The Chinese market has already seen growth in 2021 over 2020, though college studies remained the least popular study level for Chinese students. Both the Mexican and Colombian markets are on track to surpass 2020 numbers.
In a recent blog post, I discussed Canadian study permit trends for Chinese students in 2020.
The table below shows the number of new study permits approved for international college students by source market in 2020 through the first four months of 2021:
Top 20 Source Markets for New Canadian College Students, 2020–2021

| Rank 2021 (Jan–Apr) | Rank 2020 | Source Market | Approved SPs 2021 (Jan–Apr) | % of 2020 SP Totals |
| --- | --- | --- | --- | --- |
| 1 | 1 | India | 48,216 | 197% |
| 2 | 2 | Philippines | 1,769 | 98% |
| 3 | 5 | Mexico | 837 | 97% |
| 4 | 6 | Colombia | 579 | 78% |
| 5 | 10 | China | 522 | 108% |
| 6 | 3 | South Korea | 478 | 36% |
| 7 | 8 | Brazil | 397 | 68% |
| 8 | 4 | France | 345 | 30% |
| 9 | 9 | Japan | 344 | 60% |
| 10 | 11 | Vietnam | 341 | 73% |
| 11 | 13 | Turkey | 325 | 79% |
| 12 | 12 | Nigeria | 263 | 58% |
| 13 | 7 | USA | 242 | 39% |
| 14 | 14 | Morocco | 195 | 51% |
| 15 | 16 | Hong Kong (SAR China) | 183 | 60% |
| 16 | 15 | Iran | 180 | 47% |
| 17 | 25 | Nepal | 177 | 114% |
| 18 | 23 | Bangladesh | 174 | 90% |
| 19 | 21 | Sri Lanka | 140 | 56% |
| 20 | 34 | Chile | 135 | 134% |
It's important to note that in the table above, the last column shows the difference between study permits approved in the first four months in 2021 compared to full-year 2020. Every source market with early 2021 totals above 50% of full-year 2020 totals has a good chance of seeing year-over-year growth by the end of 2021. This accounts for all but four of the top 20 source markets listed for early 2021.
Growth Opportunities
Several markets have already achieved incredible year-over-year growth. More students from India, China, Nepal, and Chile were approved for new college study permits through April 2021 than in all of 2020. A few other markets—the Philippines, Mexico, and Bangladesh—are also on the cusp of achieving early year-over-year growth.
The strength of the Mexican, Colombian, Brazilian, and Chilean markets demonstrates a blossoming opportunity for Canadian colleges. The number of approved college students from Latin America nearly doubled from 2016 to 2019. Approval rates for students from Latin America largely stayed above 75% pre-pandemic, and many remained above the all-market average throughout 2020. This region is poised for a strong comeback post-pandemic, especially because students from Brazil and Colombia can now apply through the Student Direct Stream (SDS) program. However, market recovery in this region may be delayed by significant and persistent COVID-19 outbreaks.
I covered past trends and future predictions for the Brazilian market in a previous blog post.
South Asian and Southeast Asian markets are also poised for significant growth. Beyond the powerhouse Indian market, other source markets are also on the rise such as Nepal, Bangladesh, Sri Lanka, Vietnam, and the Philippines. All of these markets present major growth opportunities post-pandemic.
I've previously looked at the booming Bangladeshi and Vietnamese markets in our Canadian study permit trend series, and I'll be covering Sri Lanka and Nepal soon!
There are two other source markets I anticipate will stay in the top 20 college source markets in 2021 and beyond. Students from Turkey and Nigeria are increasingly interested in college studies, taking top spots as the largest markets in the Middle East and Africa, respectively.
Looking Forward
Canada's college sector is already seeing incredible post-pandemic recovery. Thanks to lower tuition costs, shorter program timelines, and PGWP eligibility, international students are looking to Canadian colleges as top study abroad destinations. While it's likely that the Canadian university market will recover as global economies stabilize, now is a prime opportunity for Canadian colleges to gain market share.
While college study permit approval rates will likely fall somewhat as 2021 continues, I foresee that 2021 will be a great year for Canadian colleges. Canadian colleges should try to take advantage of high approval rates and growing interest to recruit more international students. By promoting lower tuition costs and PGWP eligibility to international students throughout the recruitment process, Canadian colleges can continue to grow their market share.
I'm excited to see such amazing strength and resilience among Canadian colleges, and I hope that 2021 is a fantastic year for all our Canadian partner schools!
Published: July 28, 2021
Subscribe to ApplyInsights
Sign up for the latest insights on international education.

---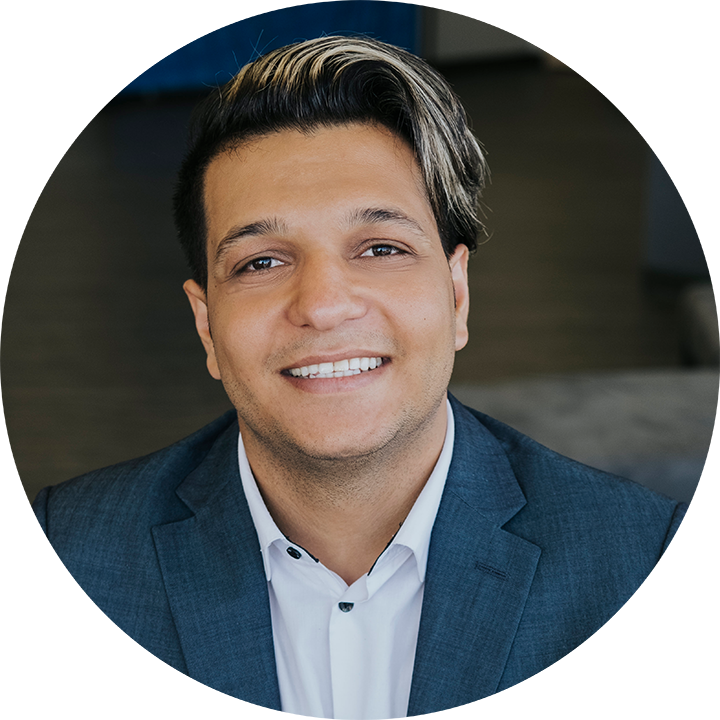 Meti Basiri
Co-Founder and Chief Marketing Officer (CMO)
Meti is driven by the belief that education is a right, not a privilege. He leads the International Recruitment, Partner Relations, and Marketing teams at ApplyBoard, working to make education accessible to people around the world. Meti has been instrumental in building partnerships with 1,500+ educational institutions across Canada, the United States, the United Kingdom, and Australia. Working with over 5,000 international recruitment partners, ApplyBoard has assisted over 150,000 students in their study abroad journey. Follow Meti on LinkedIn for more access to ApplyInsights and key industry trends.
---
FOOTNOTES:
1. The terms student visa and study permit are generally used interchangeably for Canadian international students. Rather than student visas, Canada provides accepted international students with study permits, which allow those students to enroll in classes at Canadian institutions. When a student is accepted for a study permit, they are also usually provided with a visitor visa, which allows that student to enter Canada for their studies.
2. Statistics used in this article are for new study permits only. All data courtesy of Immigration, Refugees and Citizenship Canada (IRCC), except where noted.
3. Students who began online studies would have received an approved study permit, but their permit will not be issued until they reach Canada post-pandemic. As well, an applicant with an approved study permit may not be issued a study permit for a variety of reasons, though many study permits have not been issued due to pandemic-related travel restrictions.
4. These lower approval rates were caused by a combination of factors, including office closures which prevented students from securing necessary financial and biometric verification documents.
---