Brazil was the fifth-largest source market for new international students to Canadian institutions in 2019. But Brazil was particularly hard-hit by the COVID-19 pandemic in 2020. The number of new Canadian study permits issued to Brazilian students fell 79.2% year-over-year.1 This outpaced the all-market decline of 73.5% from 2019 to 2020 and the Latin American (LATAM)2 market decline of 73.1%.
In this edition of ApplyInsights, I'll be diving deep into Brazilian study permit numbers to see what trends have emerged from the largest LATAM market over the last three years. I'll look at how this market has changed over time and analyze what and where Brazilian students are studying in Canada. I'll also provide my thoughts on how Canadian institutions can attract Brazilian students to their schools once the COVID-19 pandemic has ended.
Key Insights at a Glance
College is the main draw for Brazilian students in Canada, accounting for nearly 43% of all study permit applications from Brazilian nationals in 2020.
Nearly all new study permits approved for Brazilian nationals in 2020 were issued,3 showing that Brazilian students are highly committed to coming to Canada to complete their studies.
Canada is the top study abroad destination for Brazilian students and many Brazilian nationals are highly interested in Canadian permanent residency (PR) pathways.
This is the third article in our ApplyInsights series exploring high-potential international student markets in Canada. Our first two articles covered the growing Hong Kong and Algeria markets, and future installments will be available in the coming weeks.
Canadian Study Permit Applications and Approval Rate – Brazil
In 2020, Brazilian nationals submitted 2,290 study permit applications to attend schools in Canada. This marked a 72.1% decrease in applications from 2019. By comparison, the average decline in study permit applications from LATAM source markets from 2019 to 2020 was 59.1%. Despite this decline in application volume, Brazilian students accounted for more approved study permits than students from any other LATAM source market in 2020.
It's clear that student interest in studying in Canada remains high. Canada was ranked as the top study abroad destination by Brazilian students in 2018 and 2019, partially due to Canada's short visa processing times. However, study permit approval rates for Brazilian students fell substantially last year, from 83.2% in 2019 to 62.8% in 2020. This 20.4% drop was much steeper than the 8.9% decrease in the all-market approval rate from 2019 to 2020. In fact, Brazil experienced the second-largest decline in study permit approval rates among major Canadian source markets. But Brazilian students were over 10% more likely to be approved for a study permit in 2020 than the average international student coming to Canada.
The following table summarizes the year-over-year study permit changes for the Brazilian market:
New Canadian Study Permit Trends, Brazil vs. LATAM vs. All Markets, 2019–2020
2019
2020
Change
Brazil
Applications
8,197
2,290
-72.1%
Approvals
6,823
1,439
-78.9%
Approval Rate
83.2%
62.8%
-20.4%
LATAM
Applications
23,899
11,915
-50.1%
Approvals
17,931
7,339
-59.1%
Approval Rate
75.0%
61.6%
-13.4%
All Markets
Applications
425,990
220,932
-48.1%
Approvals
256,216
113,304
-55.8%
Approval Rate
60.1%
51.3%
-8.8%
One of the primary factors influencing the decline in approval rates for Brazilian students was the Brazilian economy. Brazil was still recovering from its 2014-2016 recession when COVID-19 hit, and the pandemic has had a devastating impact on all aspects of Brazilian life. These conditions led the Brazilian Real to lose 50% of its value against the Canadian dollar in 2020. The low value of the Real made it more difficult for Brazilian students to meet the financial support criteria required for study permit approval. The Canadian embassy in Brazil was also closed for five months in 2020, impeding processing for many Brazilian applicants.
Canadian Study Permits Issued – Brazil
In the four years preceding the pandemic, the vast majority (95%) of new Canadian study permits that were approved were issued. As a result of travel restrictions and pandemic-related uncertainty, this rate fell substantially in 2020, down to only 57%. For LATAM markets, the issued rate dropped from 95.1% in 2019 to 62.6% in 2020.
Brazil was a significant outlier regarding this regional trend. The rate of issued study permits for Brazilian nationals remained largely steady from 2019 to 2020, falling from 95.0% to 93.7%. The chart below presents a comparison between study permits approved and issued for Brazilian students: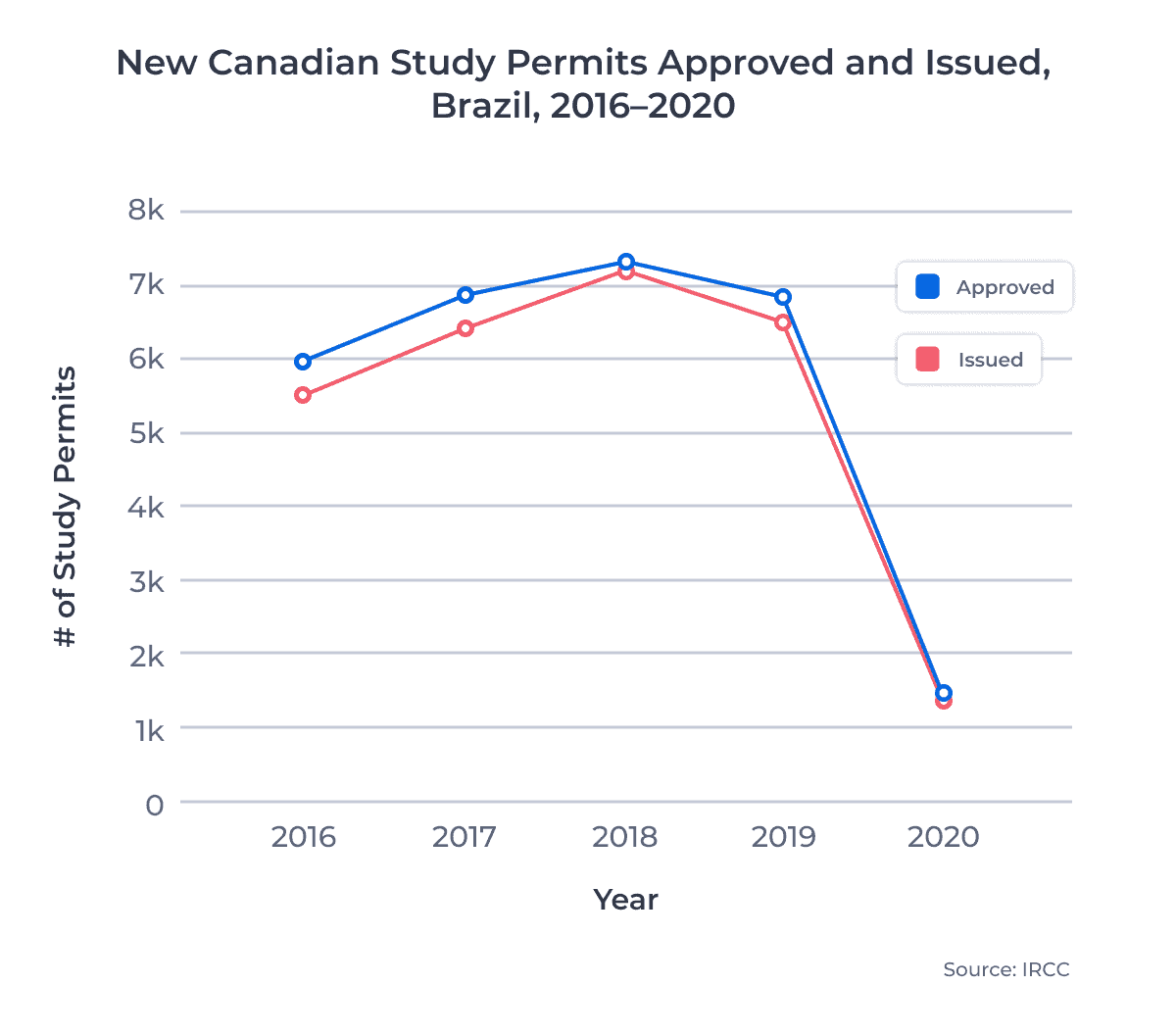 Despite the high issued rate, the number of new study permits issued to Brazilian students decreased in 2020. The 79.2% decline from 2019 to 2020 followed a 6.2% drop from 2018 to 2019, largely caused by Brazil's economic woes. Travel restrictions, decreased Brazilian economic stability, and a lower Canadian study permit approval rate overall created a perfect storm for Brazilian nationals looking to study in Canada in 2020.
Canadian Study Permits Issued by Province – Brazil
The image below shows the number of study permits issued to Brazilian students for studies in each of Canada's 10 provinces in 2020. It also includes the change in study permits issued between 2019 and 2020: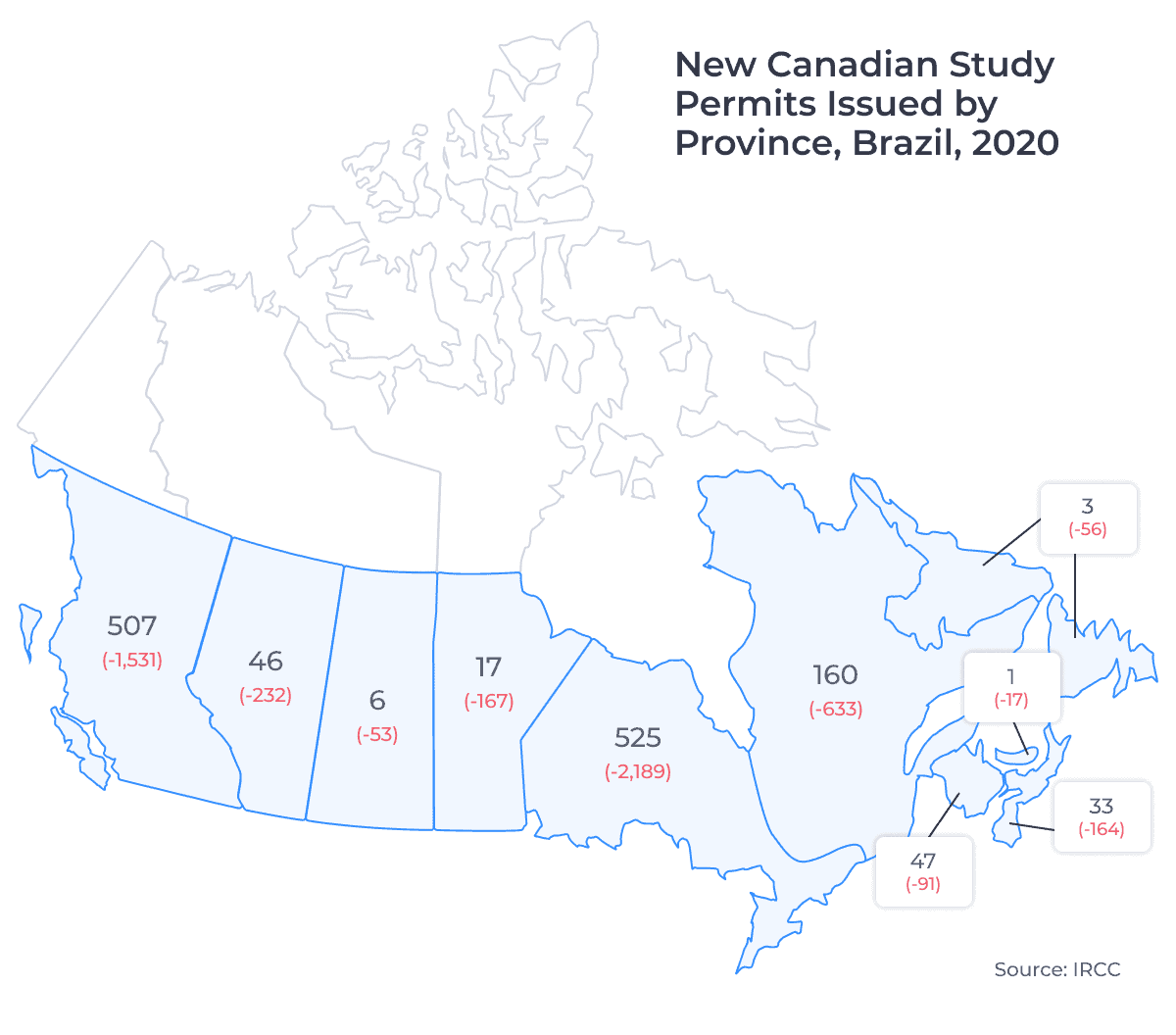 The number of new study permits issued to Brazilian students fell in every province in 2020. Only three provinces saw study permit declines of less than 80% year-over-year: New Brunswick, British Columbia, and Quebec. The main source of relative stability for Brazilian students in Quebec and New Brunswick was primary and secondary education. By comparison, the two most popular destinations for Brazilian students, Ontario and British Columbia, are largely college and language studies markets.
Brazilian students generally followed larger immigration trends, with the largest numbers heading to Ontario, British Columbia, and Quebec. Ontario passed British Columbia as the top choice for Brazilian nationals in 2017. However, recent discussions regarding preventing international students from entering Ontario may make it feasible that BC will regain the top spot in 2021.
The most popular designated learning institutions (DLIs) for Brazilian students were all located in either British Columbia or Ontario. Many Brazilian language studies students attend either the International Language Academy of Canada (ILAC) or the International Language School of Canada (ILSC). In 2019 and 2020, these two schools collectively accounted for nearly 10% of all study permits issued to Brazilian nationals.
Brazilian college students attended a mix of private and public colleges. Fanshawe College and Centennial College were the most popular public colleges for Brazilian nationals in 2019 and 2020, while Greystone College and Cornerstone College were the top private college destinations. Brazilian students tend to enroll at private colleges so that they can work and study at the same time, saving up money to attend a public college afterward. Brazilian students also tend to prefer private or online English competency testing as part of the enrollment process, which is more commonly available at private colleges.
Canadian Study Permits Issued by Study Level – Brazil
The circle charts below show the change in the distribution of study permits issued to Brazilian nationals by study level in 2019 and 2020: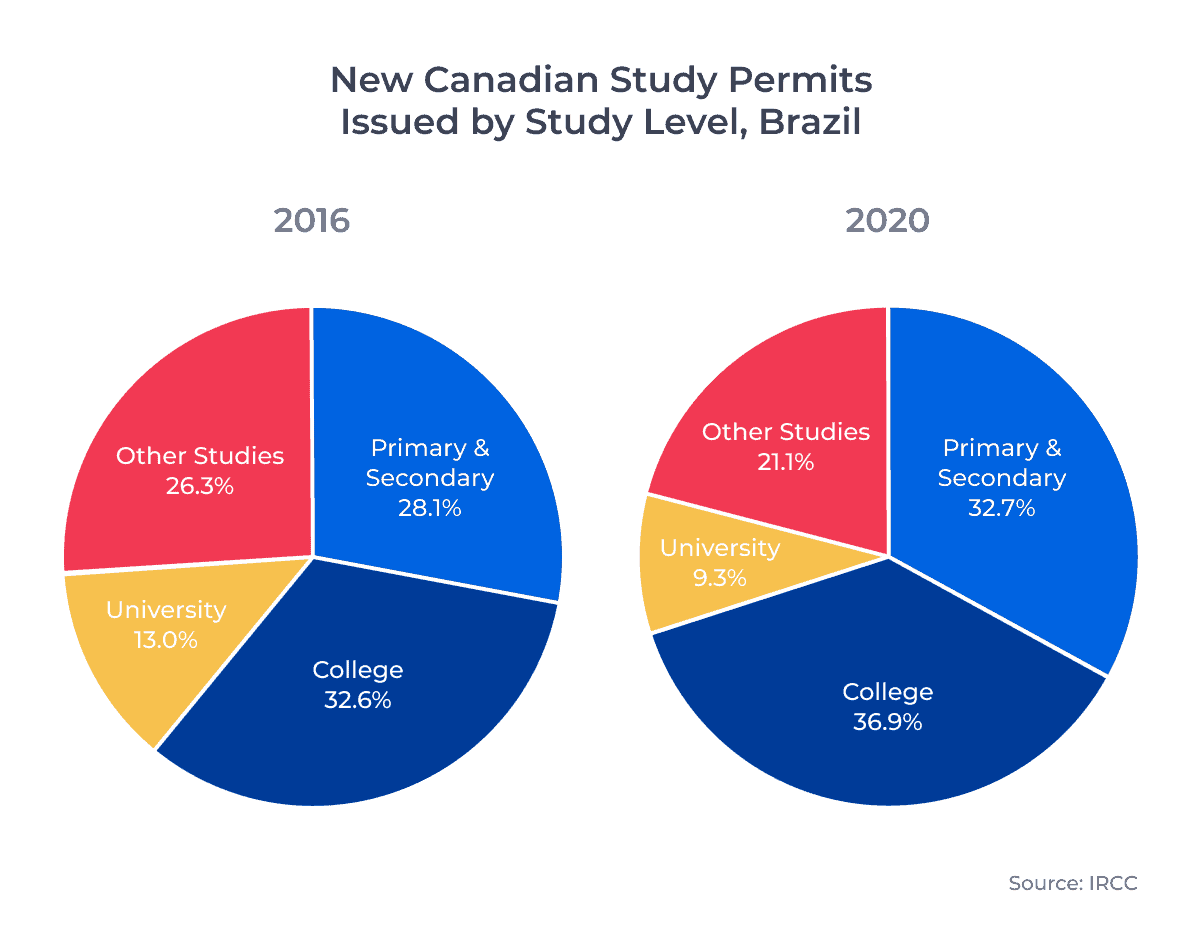 College students accounted for the largest portion of Brazilian students issued study permits in every year from 2016 to 2020. The second largest sector in each of those years was primary and secondary. Brazilian college students have consistently received around 33% of all study permits issued to Brazilian nationals, while primary and secondary students have received around 30%.
Over the past five years, many Brazilian students began their college studies through English as a Second Language (ESL) programs.4 Other Studies students, which include language program students, accounted for around 25% of all study permits issued to Brazilian nationals between 2016 and 2020. Brazilian graduates of ESL programs often then go on to complete college studies.
Strong Brazilian Interest in Canadian College Programs
For post-secondary education, Brazilian students are primarily interested in college studies. Brazil's post-secondary sector consists solely of universities, and thus many Brazilian international students are looking to study abroad after they complete their undergraduate degree at home. Many Brazilian college students enroll in one- or two-year certificate programs so that they can qualify for Canada's Post-Graduate Work Permit Program (PGWPP) and other permanent residency pathways as soon as possible.
Brazilian students are often university graduates, so they tend to be older than applicants from other source markets.
Older applicants are more likely to have their study permit application denied, regardless of source market.
The IRCC more closely scrutinizes applications for college studies from university graduates to ensure that applicants are looking to "upgrade" their skills and knowledge. As a result, the letter of explanation detailing why a Brazilian student wants to pursue their intended course of study is especially important.
Mature students from Brazil are also more likely to have young families. The growth and stability of the Brazilian primary and secondary market is a direct reflection of Brazilian college students bringing their families with them when they come to study in Canada.
I expect that the Brazilian college market will rebound quickly and remain strong post-pandemic. Canadian institutions should use the rest of 2021 to promote themselves, and Canadian post-secondary education more broadly, to ensure that Canada remains the top destination for Brazilian students post-pandemic. The US State Department recently announced that students from Brazil, China, Iran, and South Africa will be exempt from travel bans imposed during the pandemic. This will likely lead more Brazilian students to look at US schools in 2021.
Key Takeaways
Even though fewer Brazilian students began their studies abroad in 2020 due to economic and pandemic conditions, Brazil remains a high-potential market for Canadian schools. Canada's PGWP to permanent residency (PR) pathway is highly desirable to Brazilian nationals. I expect that Brazilian interest in Canadian studies will return quickly post-pandemic, though growth beyond pre-pandemic numbers may depend on the recovery of the Brazilian economy. Through the rest of 2021 and into 2022, Canadian schools will face greater competition from US institutions, and there is the potential that Australian schools will more actively recruit from Brazil as well.
Canadian institutions looking to recruit Brazilian students should:
Recruit representatives and alumni who speak Brazilian Portuguese and who can answer questions from Brazilian students about local/campus amenities and communities and post-graduation work opportunities
Create and promote scholarships for Brazilian students who may have diminished financial means
Provide resources and support to Brazilian students pursuing post-graduation PR pathways
Published: May 14, 2021
Subscribe to ApplyInsights
Sign up for the latest insights on international education.

---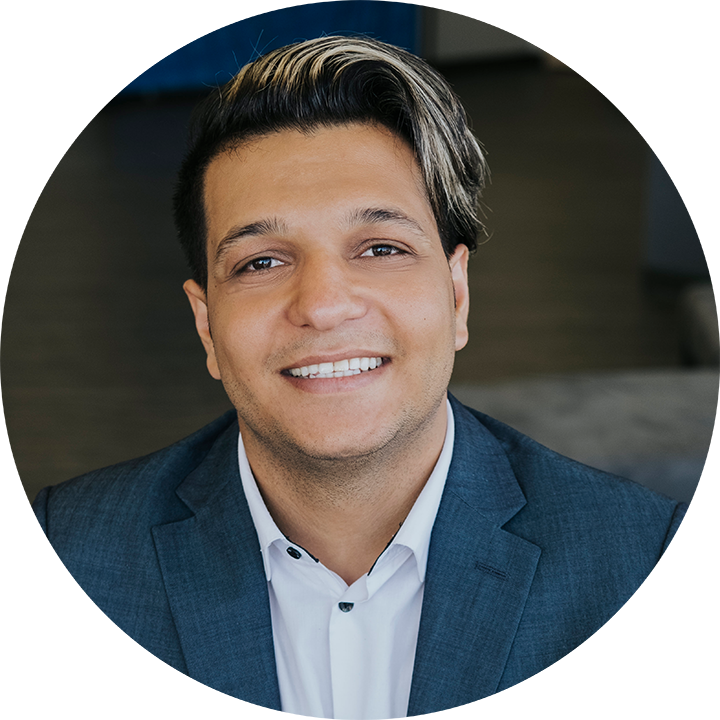 Meti Basiri
Co-Founder and Chief Marketing Officer (CMO)
Meti is driven by the belief that education is a right, not a privilege. He leads the International Recruitment, Partner Relations, and Marketing teams at ApplyBoard, working to make education accessible to people around the world. Meti has been instrumental in building partnerships with 1,500+ educational institutions across Canada, the United, the United Kingdom, and Australia. Working with over 5,000 international recruitment partners, ApplyBoard has assisted over 150,000 students in their study abroad journey. Follow Meti on LinkedIn for more access to ApplyInsights and key industry trends.
---
FOOTNOTES:
1. Statistics used in this article are for new study permits only. All data courtesy of Immigration, Refugees and Citizenship Canada (IRCC), except where noted. Many Brazilians coming to Canada for a course of study lasting less than six months do not need a study permit or visitor visa and can instead complete their studies with an Electronic Travel Authorization (eTa).
2. Latin America (LATAM) is used to refer to the countries of North America, Central America, South America, and the Caribbean whose residents predominantly speak Spanish, French, or Portuguese.
3. Study permits approved and study permits issued are not the same. An applicant with an approved study permit may not be issued a study permit for a variety of reasons.
4. ESL students only require a study permit if they are enrolled in a program lasting more than 6 months, therefore only a small subset of Brazilian ESL students are captured in this data.
---