2020 was a year that stunted the growth of several international student source markets in Canada. Yet, despite pandemic-rooted challenges faced by most nations, there was one that stood strong in the face of adversity—The Philippines. A country where interest in pursuing Canadian education opportunities has flourished over the past decade proved to be one of the few that look poised to emerge from this pandemic in a relatively good position.
In this edition of ApplyInsights, I'll be taking a look at how the global pandemic impacted Filipino students' appetites to study in Canada and comparing to trends we saw from other top Southeast Asian countries, as well as the global market. I'll dive into where and what Filipino students are studying across Canada, unpack the strong commitment we saw from these students to get themselves onshore last year, and make some predictions for where I see things headed for the Filipino market post-pandemic.
Key Insights at a Glance
The Philippines surged up the rankings of Canadian study permits issued in 2020, jumping from the 10th-largest source market for Canadian students in 2019 to the sixth-largest source market in 2020.
We're seeing more and more Filipinos express a strong desire to study in rural areas across British Columbia and Ontario—areas that are more affordable and provide easier immigration pathways post-study.
College remains the study level of choice for Filipinos, accounting for over 65% of all study permits issued to Filipino students in 2020.
Alberta continues to draw stronger interest from Filipinos than any other source market, comprising 13.9% of study permits issued to Filipino students in 2020.
This is the fifth article in our ApplyInsights series examining the top international student markets in Canada. We previously took a look at Hong Kong, Algeria, Brazil, and China, and we'll continue telling the stories of more key markets over the next few months.
Canadian Study Permit Applications and Approval Rate – Philippines
In 2020, Filipino nationals submitted 5,256 applications for Canadian study permits.1 While this marked a 37% dip in applications from 2019, the Philippines fared well in comparison to their Southeast Asian neighbours and the global market average.
Study permit applications from Southeast Asia2 decreased by 51.1% from 2019 to 2020, while applications across all markets were down 48.2%. The Philippines saw the smallest decrease in study permit applications across Southeast Asia in 2020.
While the Philippines' decline in permit approval was substantial at -10.6%, they didn't lag too far behind the all market average.
The following table summarizes the year-over-year changes in study permit statistics:
New Canadian Study Permit Statistics, Philippines vs. All Markets, 2019–2020
2019
2020
% Change
Philippines
Applications
8,386
5,289
-37.0%
Approvals
5,149
2,684
-47.9%
Approval Rate
61.4%
50.8%
-10.6%
All Markets
Applications
425,990
220,932
-37.0%
Approvals
256,216
113,304
-37.0%
Approval Rate
60.1%
51.3%
-8.8%
Canadian Study Permits Issued – Philippines
It's important to note that just because an applicant is approved for a study permit doesn't mean they will be issued a study permit. Historically, this situation occurs when an applicant changes their mind about studying in Canada after their study permit was approved. To a lesser extent, applicants have also been turned away at the border.
From 2016 to 2019, 95% of all study permits approved were issued. But in 2020, this rate fell to just 57% as the Canadian government permitted students to study online at Canadian institutions from abroad. Other students deferred their study until they were able to travel safely.
The chart below compares study permits approved and issued for Filipino applicants: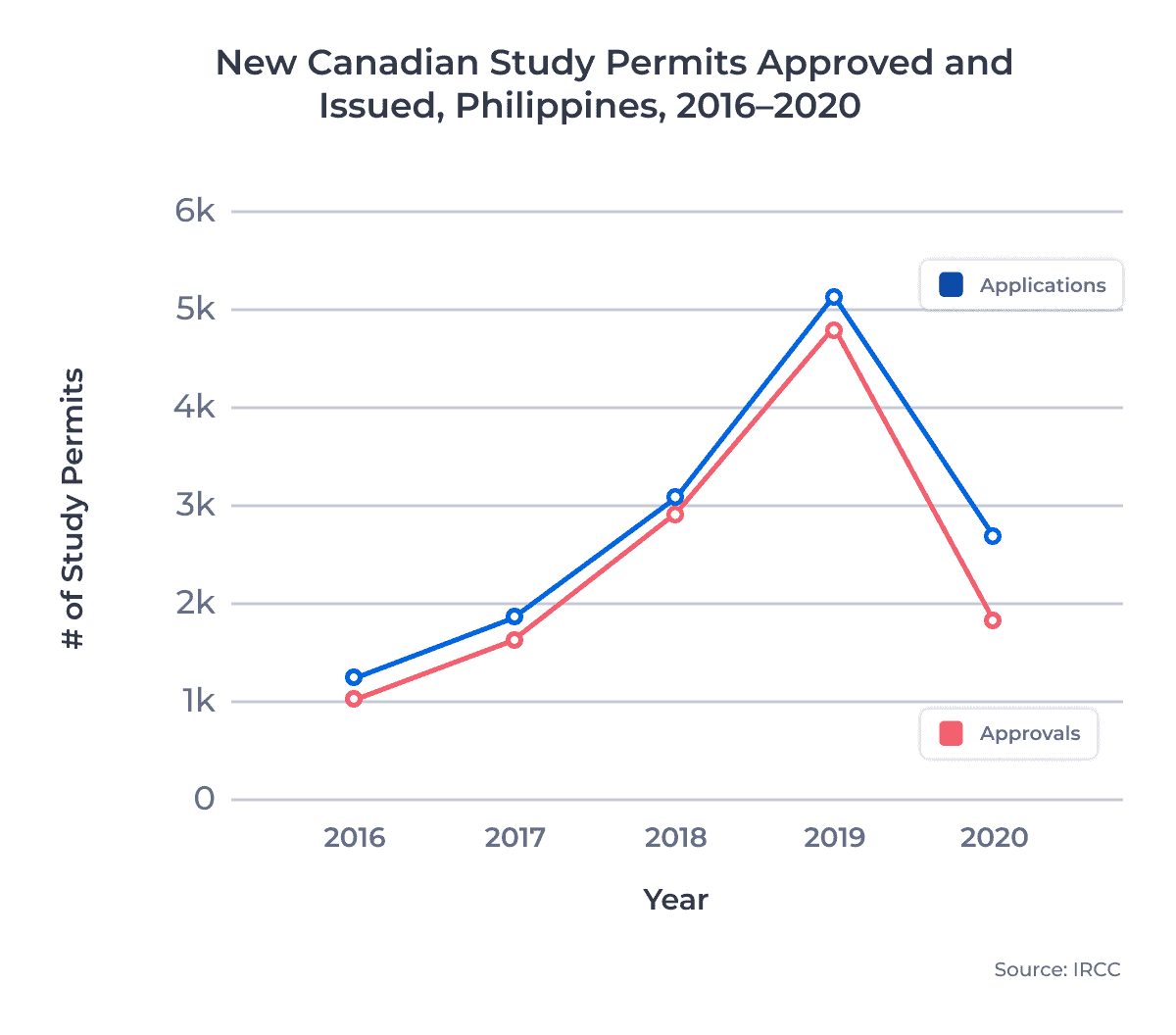 In 2020, the Philippines beat the all market average rate of study permits issued-to-approved by nearly 10%, and were also far ahead of the other Southeast Asian countries.
2 in 3 (66.6%) Filipino students who were approved for a study permit were issued one in 2020. For Vietnam, only 41% of students approved for a study permit were issued one. Indonesia saw just 1 in 5 (23.5%) approved students issued their study permits.
When comparing the Philippines against other major Southeast Asian markets,3 it's clear how much the Filipino market outperformed its neighbours this past year: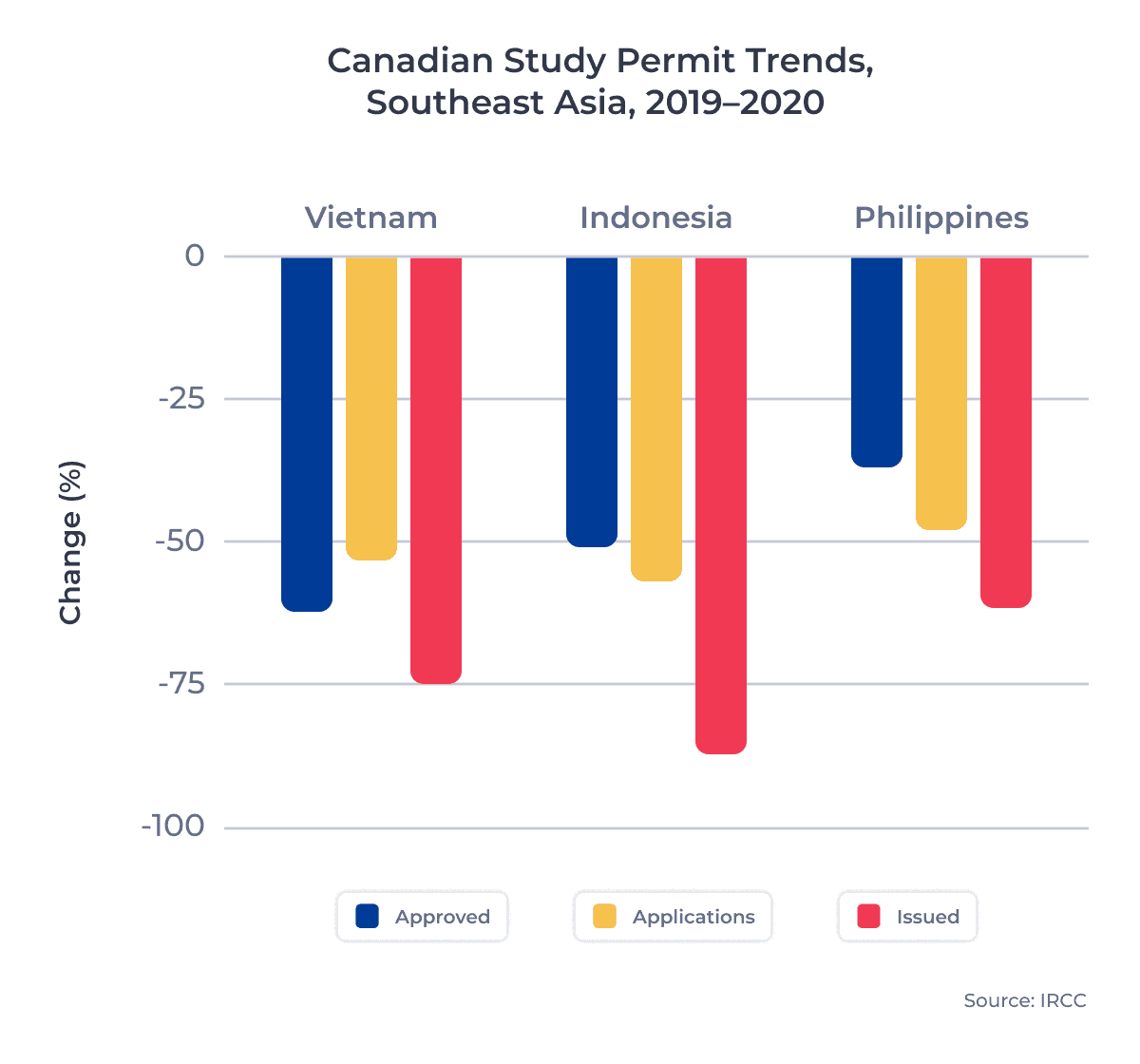 Though the Philippines posted a 37% decrease in volume of applications. Applications across Southeast Asia fell by 51%. Vietnam, the country that has historically been the number one source of international students to Canada from Southeast Asia, experienced a 63% drop in applications.
Philippines Outperforming Other Southeast Asian Markets, Overall Average
The Philippines is the second most populous country in Southeast Asia, at just under 110 million. In 2020, it edged out Vietnam as the top supplier of students to Canada in the region for the first time.
When we look at how the Philippines stacks up against other top source markets globally, I continue to be impressed with the resiliency of the market. Despite a study permit approval rate that fell further (-10.6%) than the all-markets average (-8.9%), the Philippines actually jumped four up spots in the international top 10 for total study permits issued, as we see in the table below:
Top 10 Source Countries by New Canadian Study Permits Issued, 2019–2020

| 2020 Rank | 2019 Rank | Source Market | 2019 | 2020 | % Change |
| --- | --- | --- | --- | --- | --- |
| 1 (-) | 1 | India | 105,283 | 28,278 | -73.1% |
| 2 (↑) | 4 | South Korea | 9,594 | 2,920 | -69.6% |
| 3 (-) | 3 | France | 10,068 | 2,804 | -72.1% |
| 4 (↓) | 2 | China | 28,697 | 2,466 | -91.4% |
| 5 (↑) | 8 | USA | 5,109 | 2,014 | -60.6% |
| 6 (↑) | 10 | Philippines | 4,811 | 1,830 | -62.0% |
| 7 (↓) | 6 | Iran | 6,022 | 1,688 | -72.3% |
| 8 (↓) | 7 | Japan | 5,214 | 1,584 | -69.6% |
| 9 (↓) | 5 | Brazil | 6,484 | 1,348 | -79.2% |
| 10 (↑) | 12 | Colombia | 3,281 | 1,338 | -59.2% |
The Philippines jumped from being the 10th-largest source market for Canadian students in 2019 to the sixth-largest source market in 2020, bringing in 1,830 new students amid a global pandemic.
One thing is clear: Filipino students remain extremely interested in pursuing educational opportunities in Canada. Why?
Conversations I've had with Filipino recruitment partners point towards two major reasons:
The maturity of students. The average age of a Filipino student applying through the ApplyBoard Platform is 32, and 47.2% of students who came to Canada from the Philippines in 2019 were over 25.That's not the case in most other Southeast Asian countries. In Vietnam, where the average ApplyBoard applicant is 21, parents typically rule the decision-making process and are much less willing to overlook the risks associated with traveling during a pandemic than an older Filipino student would be. Simply put, Filipino students are old enough to make decisions on their own, and once given an opportunity to study abroad, they will typically take full advantage.
The Filipino government's struggle to contain the pandemic has led to widespread frustration from Filipino citizens, who may be more inclined to leave than ever before. The Philippines' delayed response to the COVID-19 crisis has served as motivation for prospective students in search of a better opportunity for their education and safety.
Canadian Study Permits Issued by Province – Philippines
When looking at where Filipino students chose to study across Canada last year, we see some interesting trends developing. The map below shows the number of study permits issued to Filipino students in each of Canada's 10 provinces in 2020, along with the change between 2019 and 2020: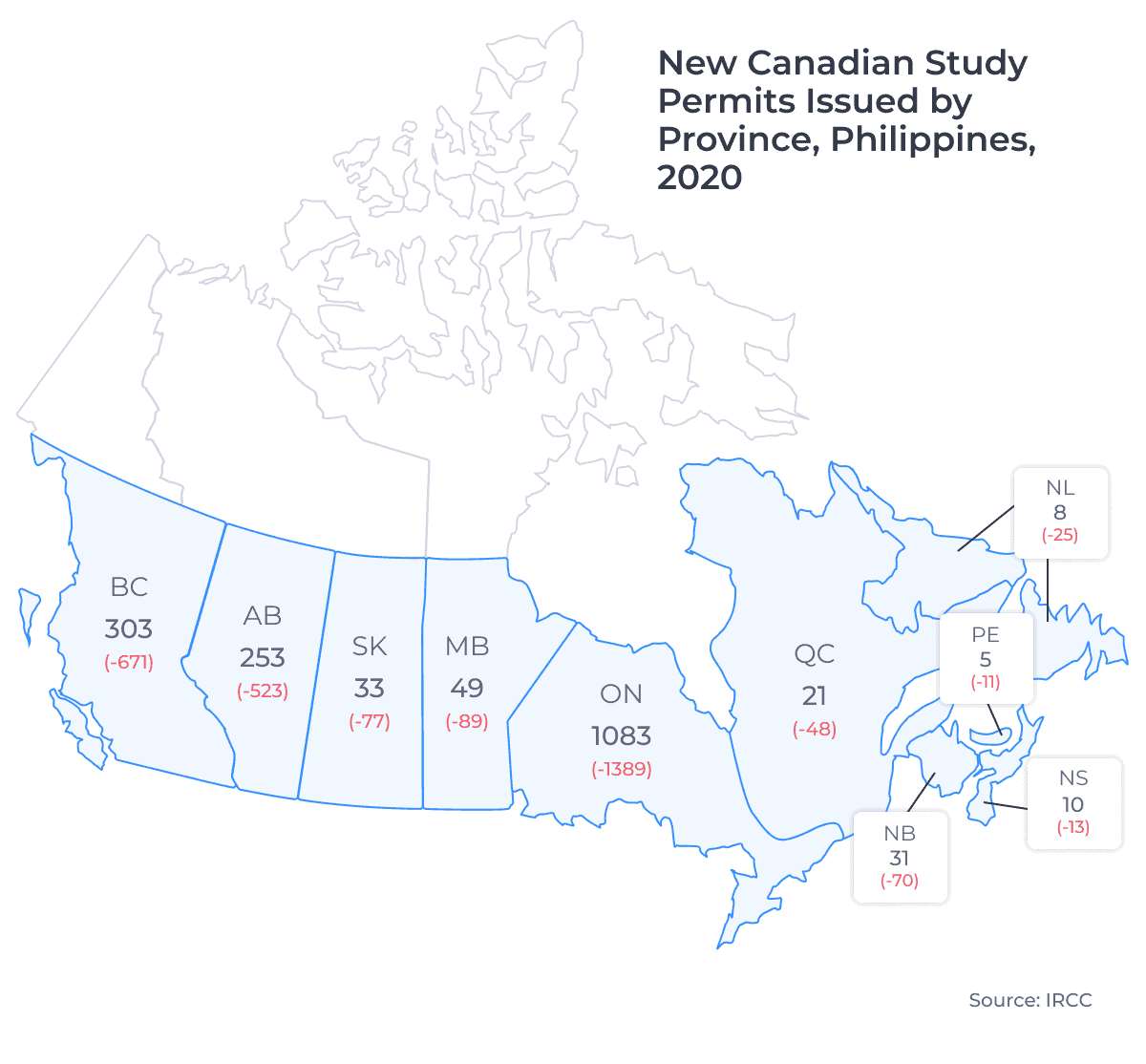 Ontario remains the most popular destination for Filipino students by far. In 2020, 59.6% of study permits issued to Filipino students were in Ontario, just above the all-markets average of 54.7%. This also marked a 8.0% increase in Ontario's share of the Filipino student market from 2019. 17.3% of Filipinos in Canada studied in British Columbia, which was 8.8% below the all-markets average of 26.6%.
Last September when I explored 2019 trends from the Philippines, I flagged Alberta as an outlier that received increased interest from Filipino students. Alberta continues to be a major destination for Filipino students, accounting for 13.9% of study permits issued to Filipinos in 2020. This is well above the all-countries average for Alberta, which sits at just 3.6%.
Reasons for increased Filipino interest in Alberta remain the same: Filipinos want to be closer to their families. Alberta was the top destination in Canada for Filipino immigrants between 2011 and 2016. Filipinos made up 16.1% of the total immigrant population of Alberta in the most recent year of census data.4
Family connections will always make Alberta appealing, but ultimately it's work opportunities and a pathway to permanent residency that are driving Filipino students to Canada.
A strong job market and established international reputation as a metro area positions Toronto as a top choice for the upper-middle class who don't have relatives based in Canada. However, we're starting to see a big push towards rural areas with regional immigration pathways.5 These communities are being more sought after by Filipino students who are looking for easier immigration pathways after graduation. These rural areas also make very attractive options for students on a budget.
Ontario, and to a lesser extent British Columbia, simply have more educational institutions in these lower-cost, smaller cities which also offer a better chance at employment post-graduation. For these reasons, I expect Filipinos to continue to pursue studying in Ontario and BC in the coming years, with an increasing affinity for regional colleges in smaller urban centres.
Canadian Study Permits Issued by Study Level – Philippines
The charts below compare study permits issued to Filipino students vs. those from all markets in 2020: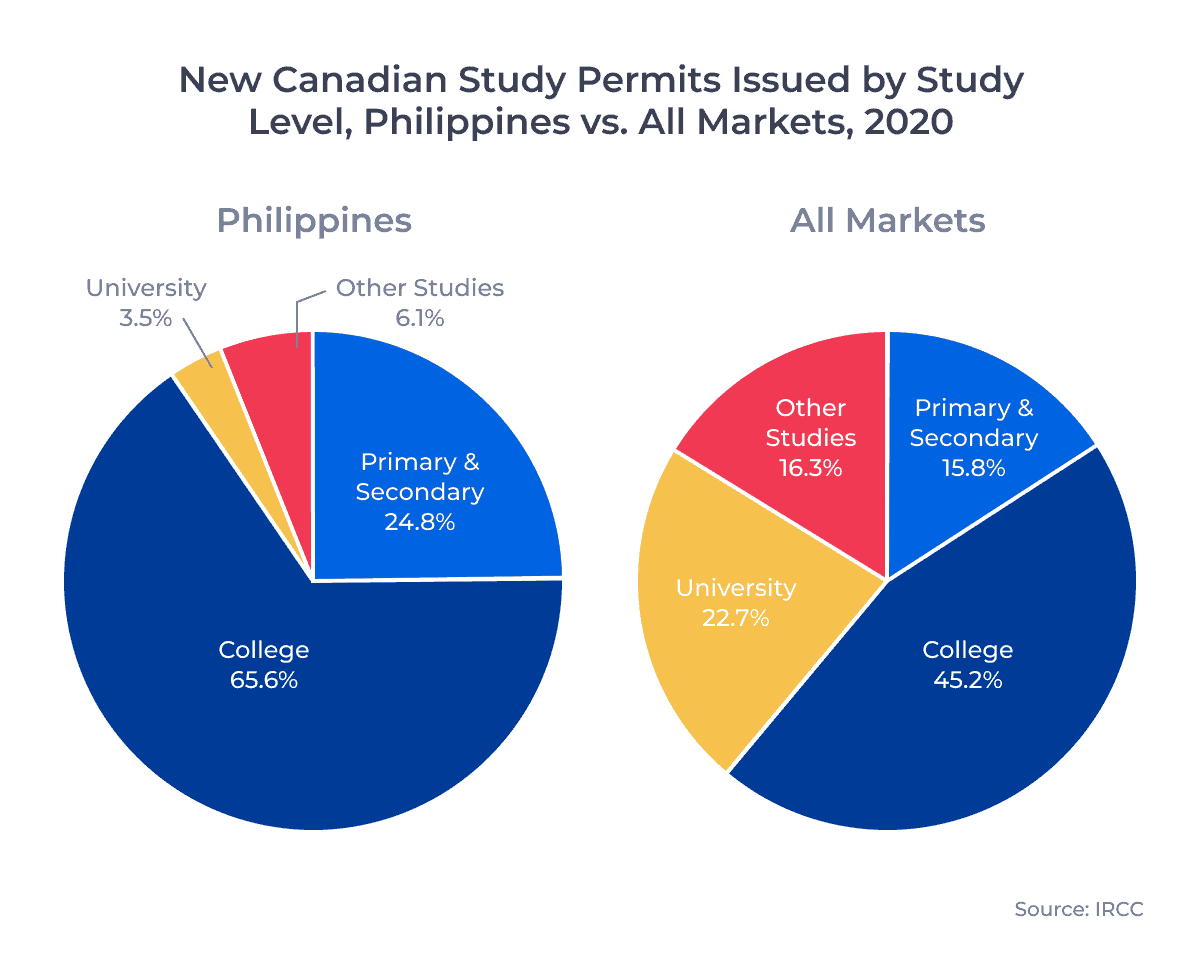 College study continues to dominate the Filipino market, with 2 in every 3 Filipino students coming to Canada to pursue a college-level education. Not only did the Philippines lead Southeast Asia in total study permits issued for college studies in 2020, but the market share of issued college permits was 20.4% higher for Filipino students than the all-market average. Primary and secondary school numbers for the Philippines were also well above the all-markets average in 2020.
According to our Filipino recruitment partners, the overwhelming interest in college programs we're seeing is due to the average age of applicants. The more time-consuming nature of university programs, coupled with parenting responsibilities, often prevents mature students from working while they go to school. Factoring in the big difference in cost, university isn't a very feasible option for many Filipinos.
I expect to see the same study level trends continue post-pandemic as Filipino student interest in college education will persist. It's also important to note that Filipino primary and secondary school numbers are a product of Filipino college students bringing their children to Canada with them.
The Post-COVID-19 Future for Filipinos in Canada
Predicting the impact COVID-19 will have on the Filipino student market is difficult, as the country is in the midst of rolling out mass vaccination programs. But with more than 5 million Filipinos receiving their first vaccination and a plan to vaccinate a minimum of 500,000 citizens daily, I expect we'll start to see Filipino student numbers climb back to their pre-pandemic totals relatively quickly.
As we look forward, a massive hurdle for source markets globally is the hesitancy of parents to allow their children to study abroad before they can be sure it's entirely safe to do so. The older age of most Filipino applicants means they don't really have this problem. I would expect the incentive of international education, bundled with the option to relocate their families, to be plenty to keep working-age Filipinos interested in Canadian education opportunities sooner rather than later.
Key Takeaways
2020 was a down year for nearly all markets, but the Philippines provided us with many reasons to be optimistic about Filipino students' appetite to study in Canada moving forward.
The commitment shown by mature Filipino applicants in 2020 points to the Philippines as a market that will continue to perform, despite any vaccine rollout or post-pandemic challenges that may arise.
Schools looking to take advantage of this trend and attract more Filipino students should:
Be familiar with the rural immigration pathways pilot programs that are being increasingly preferred by Filipino applicants.
Target Filipino students with marketing materials that place an emphasis on affordable tuition fees and cost of living.
Promote any programs or educational pilots being offered in smaller urban or rural areas, particularly in British Columbia and Ontario.
Make an effort to highlight part-time work opportunities within their communities to prospective students
Published: June 7, 2021
Subscribe to ApplyInsights
Sign up for the latest insights on international education.

---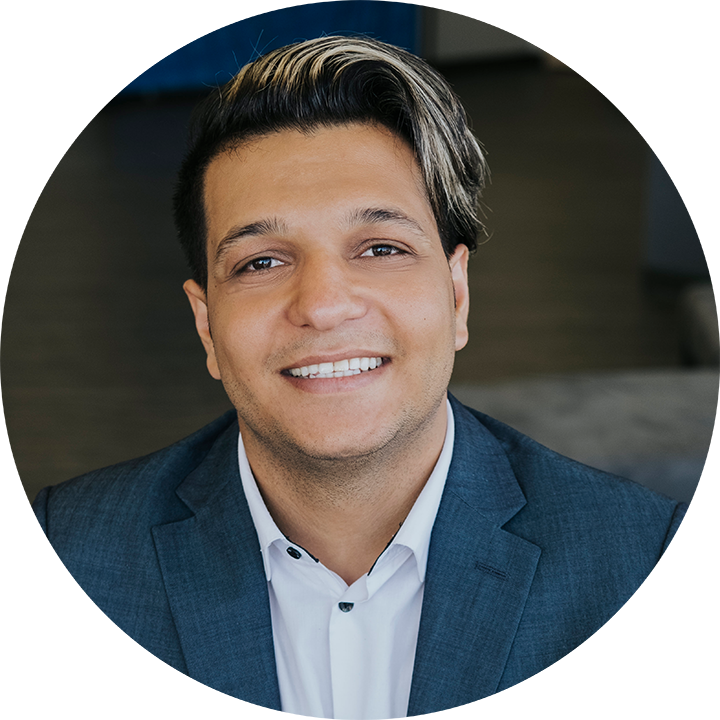 Meti Basiri
Co-Founder and Chief Marketing Officer (CMO)
Meti is driven by the belief that education is a right, not a privilege. He leads the International Recruitment, Partner Relations, and Marketing teams at ApplyBoard, working to make education accessible to people around the world. Meti has been instrumental in building partnerships with 1,500+ educational institutions across Canada, the United, the United Kingdom, and Australia. Working with over 5,000 international recruitment partners, ApplyBoard has assisted over 150,000 students in their study abroad journey. Follow Meti on LinkedIn for more access to ApplyInsights and key industry trends.
---
FOOTNOTES:
1. Statistics used in this article are for new study permits only. All data courtesy of Immigration, Refugees and Citizenship Canada (IRCC), except where noted.
2. Includes Brunei, Cambodia, Indonesia, Laos, Malaysia, Myanmar (Burma), the Philippines, Singapore, Thailand, Timor-Leste, and Vietnam.
3. Minimum 700 study permits issued in 2019.
4. Source: 2016 Canadian Census of Population.
5. Popular regional immigration pathways across Canada include the Rural and Northern Immigration Pilot (RNIP) and the Atlantic Immigration Pilot (AIP).
---