The South Asian international student market1 has long been dominated by Indian students studying abroad. However, there is another South Asian country that has seen significant growth over the past five years: Bangladesh. Bangladesh has been within the top 20 source markets for new international students to Canada since 2016. The pandemic caused an 83.7% decline in new Bangladeshi students compared in 2020 to 2019, but I expect this market to boom again post-pandemic.
In this edition of ApplyInsights, I'll be digging into study permit numbers and trends for Bangladeshi students over the past five years. I'll take a look at how this market has changed and grown over time, and I'll evaluate how the pandemic has impacted this South Asian market. I'll also dive into what and where Bangladeshi students are studying in Canada, and I'll provide my thoughts on how institutions can strengthen their student recruitment from Bangladesh post-pandemic.
Key Insights at a Glance
Study permit applications from Bangladeshi students rose by 270% from 2016 to 2019, led by a 300% increase in university-level applications.
Manitoba is the second most popular provincial destination for Bangladeshi students, with Manitoba schools accounting for over 16% of new Bangladeshi nationals in 2019.
Less than one-third of all study permits approved for Bangladeshi students in 2020 were issued, showing that many students may be waiting until a post-pandemic world to begin their studies abroad.
This is the sixth article in our ApplyInsight series examining the top international student markets in Canada. We previously covered Hong Kong, Algeria, Brazil, China, and the Philippines, and we'll continue looking at more key markets over the next few months.
Canadian Study Permit Applications and Approval Rate – Bangladesh
The number of study permit applications submitted by Bangladeshi students exploded pre-pandemic, growing by 270% from 2016 to 2019.2 In 2020, Bangladeshi nationals submitted more than 4,000 applications for Canadian study permits. Though this marked a 43.8% drop in applications from 2019, it was a smaller decline than the 55.3% year-over-year drop for all South Asian markets and the 48.1% decrease across all source markets.
Though the approval rate for Bangladeshi nationals remained lower than the South Asian and all-market averages in 2020, it remained more stable year-over-year. In 2020, the study permit approval rate for Bangladeshi students was 38.2%, down 4.7 percentage points from 2019.
The following table summarizes the year-over-year study permit changes for the Bangladeshi market:
New Canadian Study Permit Trends, Bangladesh vs. South Asia vs. All Markets, 2019–2020
2019
2020
Change
Bangladesh
Applications
7,379
4,144
-43.8%
Approvals
3,165
1,584
-50.0%
Approval Rate
42.9%
38.2%
-4.7%
South Asia
Applications
190,735
85,343
-55.3%
Approvals
117,128
40,487
-65.4%
Approval Rate
61.4%
47.4%
-14.0%
All Markets
Applications
425,990
220,932
-48.1%
Approvals
256,216
113,304
-55.8%
Approval Rate
60.1%
51.3%
-8.8%
Across the South Asian market, the overall approval rate fell from 61.4% to 47.4%, while the all-market approval rate dropped from 60.1% to 51.3%. These declines were caused by a 15.1 percentage point decrease in the approval rate for Indian students from 2019 to 2020.
Through the first four months of 2021, the approval rate for Bangladeshi nationals rebounded to 43%. I expect that approval rates for all South Asian markets will bounce back, and perhaps even exceed 2021 numbers, post-pandemic.
Canadian Study Permits Issued – Bangladesh
Since 2017, over 93% of study permits approved for Bangladeshi nationals have been issued.3 In 2020, this rate dropped to just 31.3%, largely due to travel restrictions and pandemic-related uncertainty. This decline was significant, but it was also with the South Asian market as a whole. Only 34.9% of all new study permits approved for South Asian students were issued in 2020.
Despite this significant decline, Bangladesh remained the second largest source country for South Asian students to Canadian institutions. The chart below presents a comparison of study permits approved and issued for Bangladeshi students over the last five years: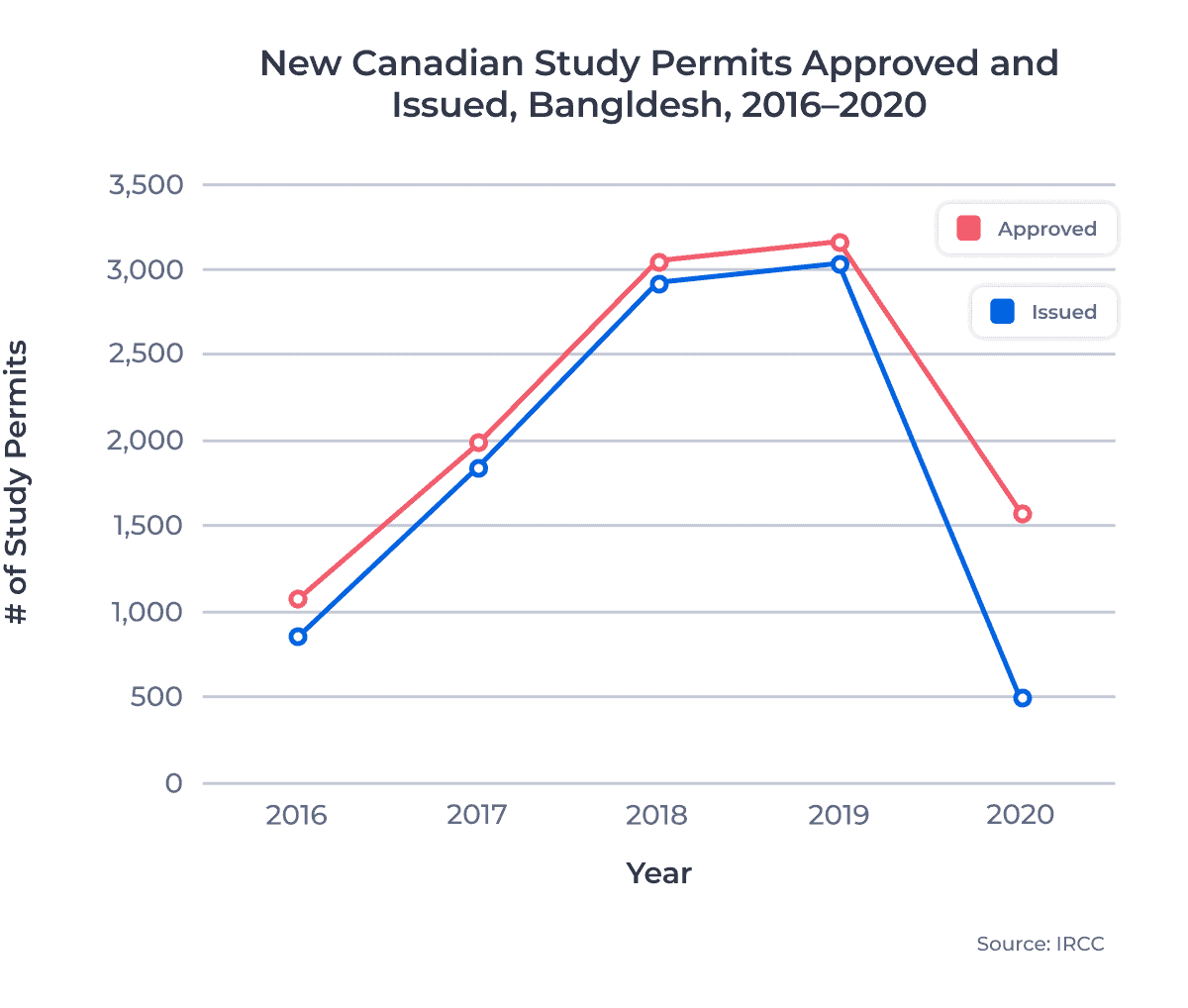 In 2020, just under 500 new study permits were issued to Bangladeshi students. It's very likely that many approved Bangladeshi nationals opted to delay their travel plans in 2020 due to the pandemic. With many source countries, I expect to see a spike in the number of issued study permits in 2021. For Bangladesh, this surge has already materialized. Over 800 new study permits were issued to Bangladeshi students through the first four months of 2021. But a return to pre-pandemic numbers may take time yet. New COVID-19 variants have resulted in additional and significant lockdowns in Bangladesh, pushing back any potential student travel plans.
Canadian Study Permits Issued by Province – Bangladesh
The map below shows the number of study permits issued to Bangladeshi students for studies in each of Canada's provinces in 2020. It also includes the change in study permits issued between 2019 and 2020: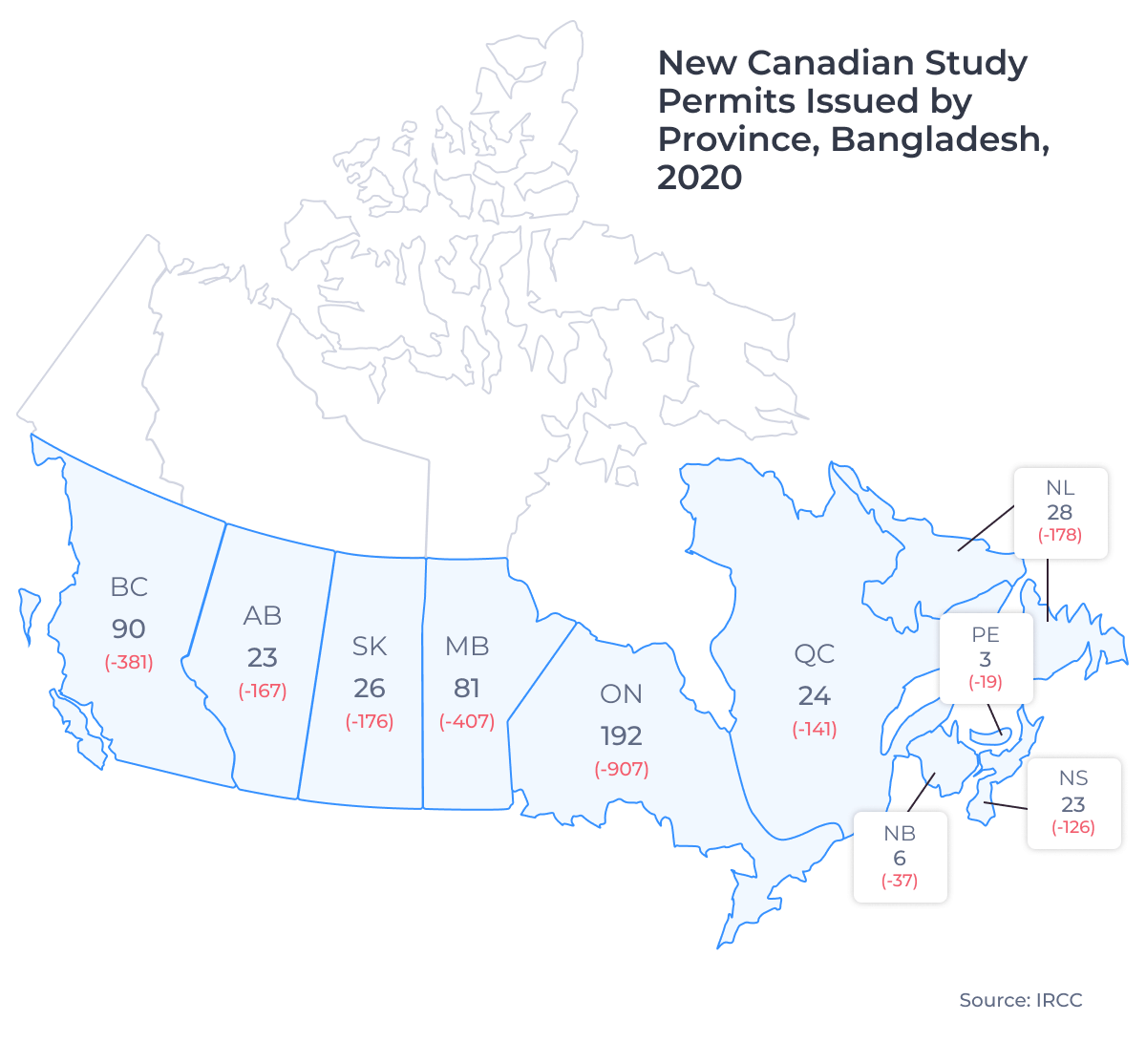 Ontario has long been the most popular Canadian provincial destination for Bangladeshi students. This is because of the overall popularity of major urban centres, such as Toronto, for immigrant communities. Ontario also benefits from having a large number and variety of post-secondary institutions.
British Columbia is often the second-most popular destination for English-speaking international students. But before 2020, Manitoba was the second most common destination for Bangladeshi nationals studying in Canada. From 2017 and 2019, two post-secondary institutions located in Manitoba or Saskatchewan were within the top 10 destinations for Bangladeshi students. These schools—the International College of Manitoba (ICM), the University of Manitoba, and the University of Regina—accounted for nearly 20% of all study permits issued to Bangladeshi nationals over that period.
Students from Bangladesh accounted for over 25% of all new study permits issued for studies at ICM in 2019.
I anticipate that Manitoba will retake it's second-place spot post-pandemic as ICM and the University of Manitoba remained very popular in 2020.
Canadian Study Permits Issued by Study Level – Bangladesh
Next, let's take a look at what Bangladeshi students are studying. The charts below show the change in the distribution of new study permits issued to Bangladeshi students by study level in 2019 and 2020: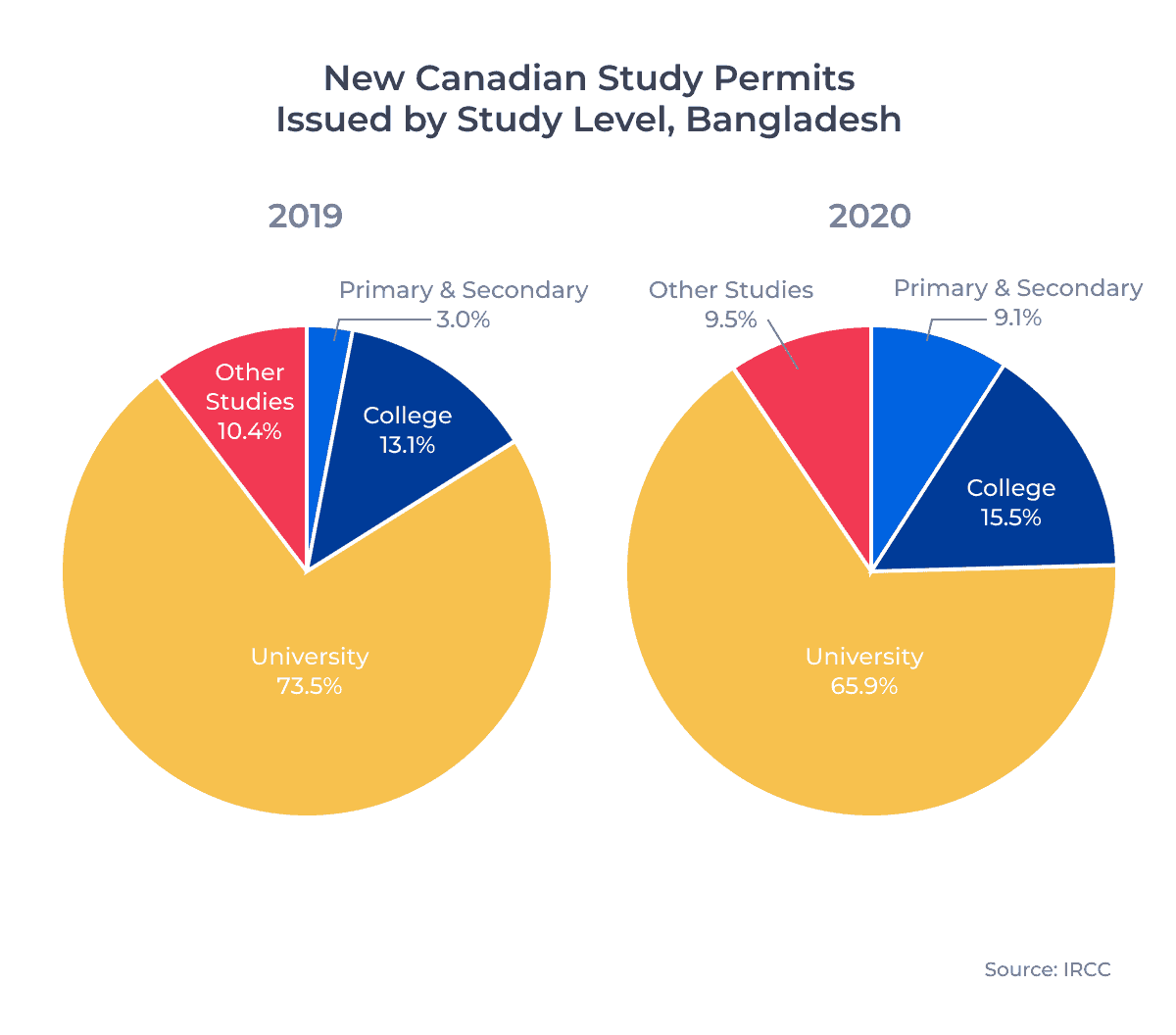 The college, university, and other studies sectors all saw at least 80% declines in new study permits issued to Bangladeshi nationals from 2019 to 2020. In contrast, the primary and secondary sector saw study permit issued numbers drop by only 50% from 2019 to 2020. These declines are largely consistent with what we've seen across all source markets.
Despite these shifts, university-level studies remain the dominant draw for Bangladeshi students. Of the 4,000 study permit applications submitted by Bangladeshi nationals in 2020, 54% were for university studies. Over 60% of the study permit extensions issued to Bangladeshi students in 2020 were for university-level studies as well.
From 2016 to 2019, only three colleges cracked the top 10 schools for Bangladeshi students: Seneca College, ICM, and Fraser International College. Given the demand for university studies, I was surprised to find that ICM was the most popular institution for Bangladeshi students from 2017 to 2019, while Seneca took the top spot in 2020.
Bangledeshi students at ICM largely enroll in pathway programs with the goal of eventually attending either the University of Manitoba or the University of Regina.
Aside from Seneca College, all of these institutions—including ICM, the University of Manitoba, and the University of Regina—were outside the top 30 most popular schools for all international students in 2020. So too was the top public university for Bangladeshi students in 2019 and 2020—the Memorial University of Newfoundland. So what's driving Bangladeshi students towards these schools?
Major Factors Influencing Bangladeshi Student Enrollment
In Bangladesh, students see university degrees as key to post-study employment and advancement. But one of the primary factors that influences where Bangladeshi students choose to study abroad, regardless of study level, is cost.
Bangladeshi Students Value Lower Costs of Living
Bangladeshi students are often cost-conscious. They tend to look for schools and communities that offer lower tuition fees and lower cost of living. Universities in Manitoba, as well as those in Saskatchewan and Newfoundland and Labrador, have lower tuition fees than schools in many other provinces. The communities around these institutions also offer fairly affordable living accommodations.
Check out my previous blog post to learn more about tuition fees and cost of living across Canada.
Success Stories Drive Interest
Another major factor in the Bangladeshi international education market is word of mouth. Canada remains a relatively new market for Bangladeshi students. As well, the recruitment partner market in Bangladesh is less mature. As a result, news of student success and enrollment spreads quickly and therefore is a valuable avenue to attract new students.
The study permit approval rate4 for Bangladeshi students for institutions in Manitoba was 10 to 15 percentage points higher than the all-province average from 2016 to April 2021. This has led to increased demand for university and college programs in Manitoba. The combination of lower costs and higher approval rates will make Manitoba a top destination for Bangladeshi students for years to come.
Looking Forward
Local pandemic conditions in Bangladesh may delay market recovery in 2021, but I expect the market to come back strong afterward. Institutions in Bangladesh don't have the capacity to meet domestic undergraduate demand, and Canada's positive reputation is growing.
I anticipate that all Bangladeshi student markets will grow in 2022 and beyond. Many Bangladeshi nationals are highly interested in Canada's permanent residency (PR) pathways, especially the Post-Graduation Work Permit Program (PGWPP). Bangladeshi students are increasingly applying for post-graduate college and Master's programs to help increase their chances of being accepted for a PGWP or PR. We've also seen a pronounced increase in the number of Bangladeshi primary and secondary students applying for study permits.
Bangladesh will remain a growing market for Canadian schools. This is especially true for universities with lower tuition in provinces and cities with lower cost of living. Canadian institutions looking to target Bangladeshi students should consider:
Promoting scholarships, grants, or bursaries for Bangladeshi students who may have diminished financial means
Publishing details online about cost of living, growing industries, and employment in communities surrounding the institution
Providing resources and supports for Bangladeshi students pursuing post-graduation PR pathways, especially PGWPP
Published: July 8, 2021
Subscribe to ApplyInsights
Sign up for the latest insights on international education.

---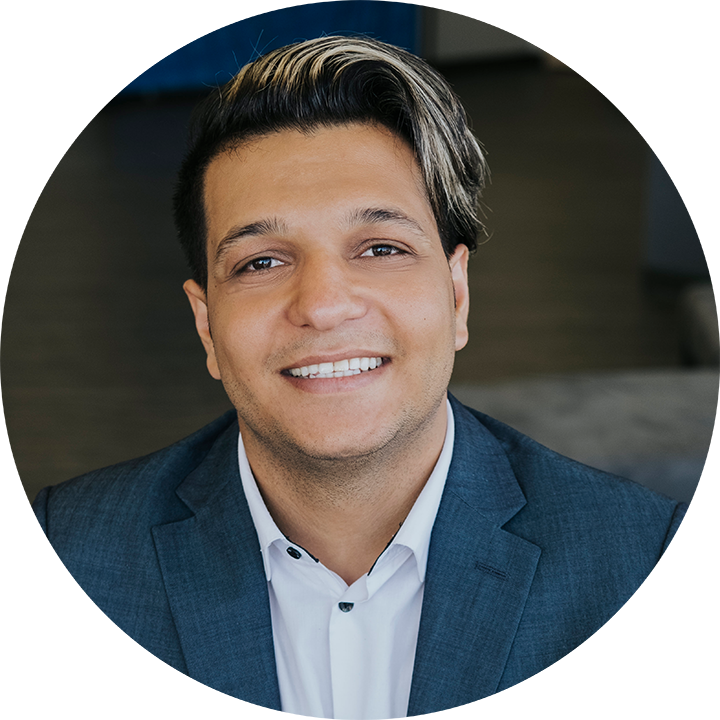 Meti Basiri
Co-Founder and Chief Marketing Officer (CMO)
Meti is driven by the belief that education is a right, not a privilege. He leads the International Recruitment, Partner Relations, and Marketing teams at ApplyBoard, working to make education accessible to people around the world. Meti has been instrumental in building partnerships with 1,500+ educational institutions across Canada, the United, the United Kingdom, and Australia. Working with over 5,000 international recruitment partners, ApplyBoard has assisted over 150,000 students in their study abroad journey. Follow Meti on LinkedIn for more access to ApplyInsights and key industry trends.
---
FOOTNOTES:
1. The South Asian market includes India, Bangladesh, Pakistan, Sri Lanka, Nepal, Bhutan, Afghanistan, and the Maldives.
2. Statistics used in this article are for new study permits only. All data courtesy of Immigration, Refugees and Citizenship Canada (IRCC), except where noted.
3. Study permits approved and study permits issued are not the same. An applicant with an approved study permit may not be issued a study permit for a variety of reasons.
---