As international student mobility returns post-pandemic, many institutions will be looking to expand their recruitment efforts to new and growing markets. The booming Nigerian student market has drawn a lot of attention, but other African markets are also on the rise. One market poised for substantial growth in 2022 and beyond is Kenya.
In today's ApplyInsights, I'll be diving into student visa1 trends for the Kenyan market. I'll dig into what and where Kenyan students are studying in Canada, and I'll look at how those trends shifted during the pandemic. I'll also give my thoughts on how institutions can recruit from this growing East African market post-pandemic.
Key Insights at a Glance
Study permit applications from Kenyan students rose by 155% from 2016 to 2019, led by a 200% increase in college-level applications.
Approval rates for Kenyan students outpaced the average for all African students by 4 to 26% between 2016 and early 2021.
Rising domestic tuition costs for Kenyan universities will drive more Kenyan students abroad in the coming years, with Kenyan students especially attracted to destination markets with post-graduation work programs.
This is the eleventh (and final) article in our ApplyInsights series detailing market-specific trends for international students at Canadian institutions. Throughout this series, I've looked at Hong Kong, Algeria, Brazil, China, the Philippines, Bangladesh, Vietnam, India, Turkey, and Sri Lanka and Nepal.
Canadian Study Permits Applications and Approval Rate – Kenya
Around 2,300 Kenyan nationals submitted Canadian study permit applications in 2019. This represented 155% growth over 2016 and was the highest application volume among all East African countries. As a result of the pandemic, Kenyan application numbers dropped by 48% in 2020, down to just under 1,200.
Study permit approval rates have become a significant roadblock for Kenyan students over the past few years. Though the approval rate for Kenyan nationals surpassed 52% in 2017, it fell to around 30% in 2019 and 2020. Through the first six months of 2021, it dropped even further, to 27%. While these approval rates were well below the all-market average, they remained above the African market average.
The table below shows these study permit trends between 2019 and 2021:
New Canadian Study Permit Trends, Kenya vs. Africa vs. All Markets, 2019–2021
2019
2020
2021
(Jan–Jun)
Change
20–21
Kenya
Applications
2,297
1,192
893
-25.1%
Approvals
671
363
239
-34.2%
Approval Rate
29.2%
30.5%
26.8%
-3.4%
Africa
Applications
76,789
51,291
33,651
-34.4%
Approvals
19,859
11,539
8,731
-24.3%
Approval Rate
25.9%
22.5%
25.9%
+3.5%
All Markets
Applications
425,990
220,932
247,889
+12.2%
Approvals
256,216
113,304
162,687
+43.6%
Approval Rate
60.1%
51.3%
65.6%
+14.3%
Despite these low approval rates, the Kenyan market has already bounced back well in 2021. Nearly 900 study permit applications were submitted by Kenyan nationals in the first half of 2021.2 I expect that we will see near 2019 volumes by the end of 2021. And, I wouldn't be surprised if 2022 was the best year yet for Kenyan students applying to study in Canada.
The Canadian international education sector is on pace for a strong rebound in 2021.
The chart below shows study permit approvals for Kenyan students over the past five years, as well as my estimate for where the market is headed: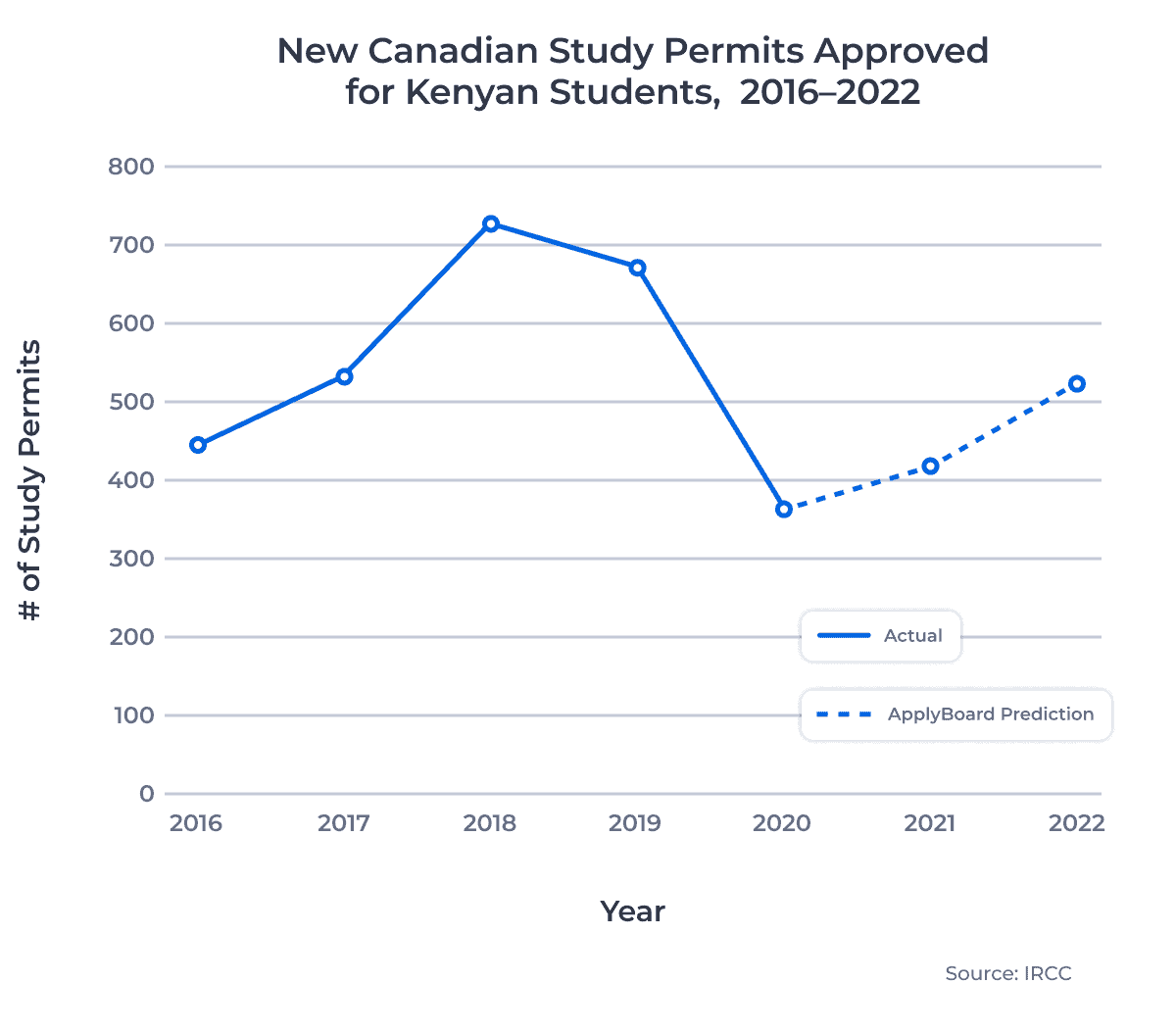 Kenyan study permit applications may reach pre-pandemic levels in 2022, but I expect that approvals will increase at a slower rate. Barring a significant shift in approval rates, it may take until 2024 or beyond for more than 1,000 Kenyan students to receive approval in a given year.
Factors Influencing Kenyan Application and Approval Rates
One major factor that has influenced Kenyan student approval rates is the pandemic's impact on the economy. In Kenya, the COVID-19 pandemic has increased economic inequality and made it more difficult for students and parents to afford international tuition costs. However, a combination of domestic factors have also made studying abroad more appealing for Kenyan students.
The Kenyan government sponsors thousands of students each year to attend Kenyan universities, which significantly reduces tuition costs for selected students. But changes to grading schemes introduced in 2017 made it more difficult for students to obtain high grades and earn government sponsorship. This pushed many Kenyan students to look at parallel programs, which allowed students to improve their academics and obtain government sponsorship.
The Kenyan government's Vision 2030 aims to transform Kenya into a newly industrializing, middle-income country, in part by introducing senior secondary learning pathways and new career pathways.
Over the past three years, many of these parallel programs have closed. This not only eliminated a key pathway for Kenyan students, but also removed a critical tuition fee source for Kenyan universities. As a result, Kenyan universities have drastically increased their tuition fees in recent years, bringing them close to par with international student tuition in Canada, the UK, the US, and Australia.
These changes are driving more and more Kenyan students to consider studying abroad. Many Kenyan nationals are specifically looking to study in destinations with post-graduation work programs as domestic unemployment rates are also a major concern for Kenyan students. This bodes well for Canada, which offers a Post-Graduation Work Permit Program (PGWPP), and the UK, which recently launched the Graduate Immigration Route (GIR).
Canadian Study Permits Issued by Province – Kenya
The map below shows the number of study permits issued to Kenyan students in 2020 by province of study.3 It also includes the change in study permits issued between 2019 and 2020: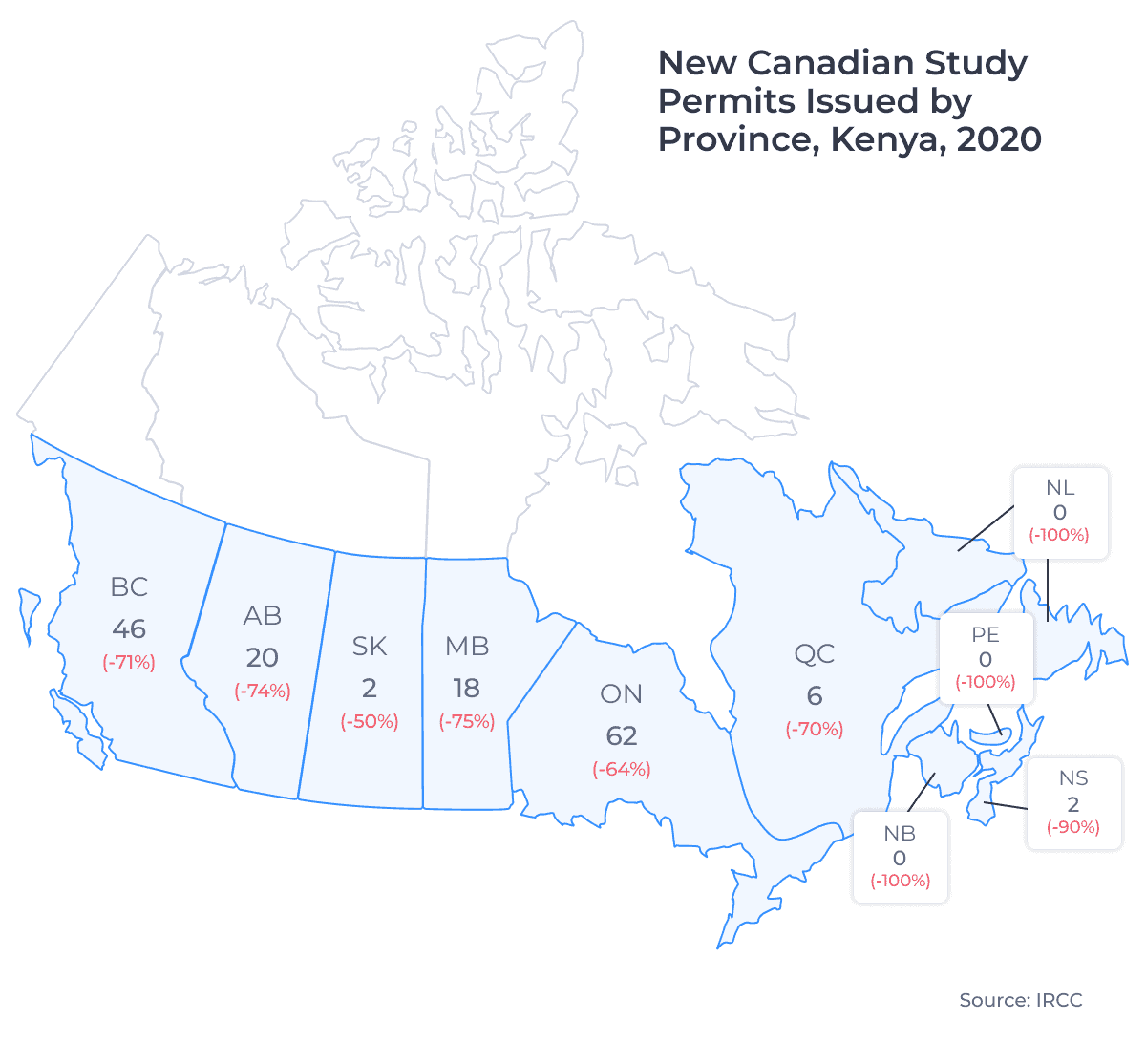 It's no surprise that Ontario and British Columbia were the top two provincial destinations for Kenyans every year over the last five years. For most international student markets, these two provinces are top of mind.
What is notable is the high level of interest from Kenyan students in Manitoba and Alberta. Institutions in Alberta and Manitoba accounted for a combined 7% of all study permits issued in 2019 and 2020. However, over 27% of study permits issued to Kenyan students over that period were for schools in Manitoba and Alberta. This trend is largely due to lower international student tuition fees and cost of living in the Prairie provinces, both of which are important factors for price-conscious Kenyans.
Top post-secondary destinations for Kenyan students in 2020 included ApplyBoard partner schools Lethbridge College, the University of Manitoba, and the International College of Manitoba (ICM).
New Kenyan student populations fell fairly evenly across all provinces in 2020, based on pre-pandemic market share. These declines had the strongest impact on the small Kenyan student population in Atlantic Canada. In 2020, only two new Kenyan students were issued study permits for studies in Atlantic Canada, down from 36 in 2019. Post-pandemic, Prairie and Atlantic institutions have an opportunity to promote their lower tuition costs and costs of living to attract more Kenyan students.
Canadian Study Permits Issued by Study Level – Kenya
The following charts show the change in the distribution of study permits issued to Kenyan students by study level in 2019 and 2020: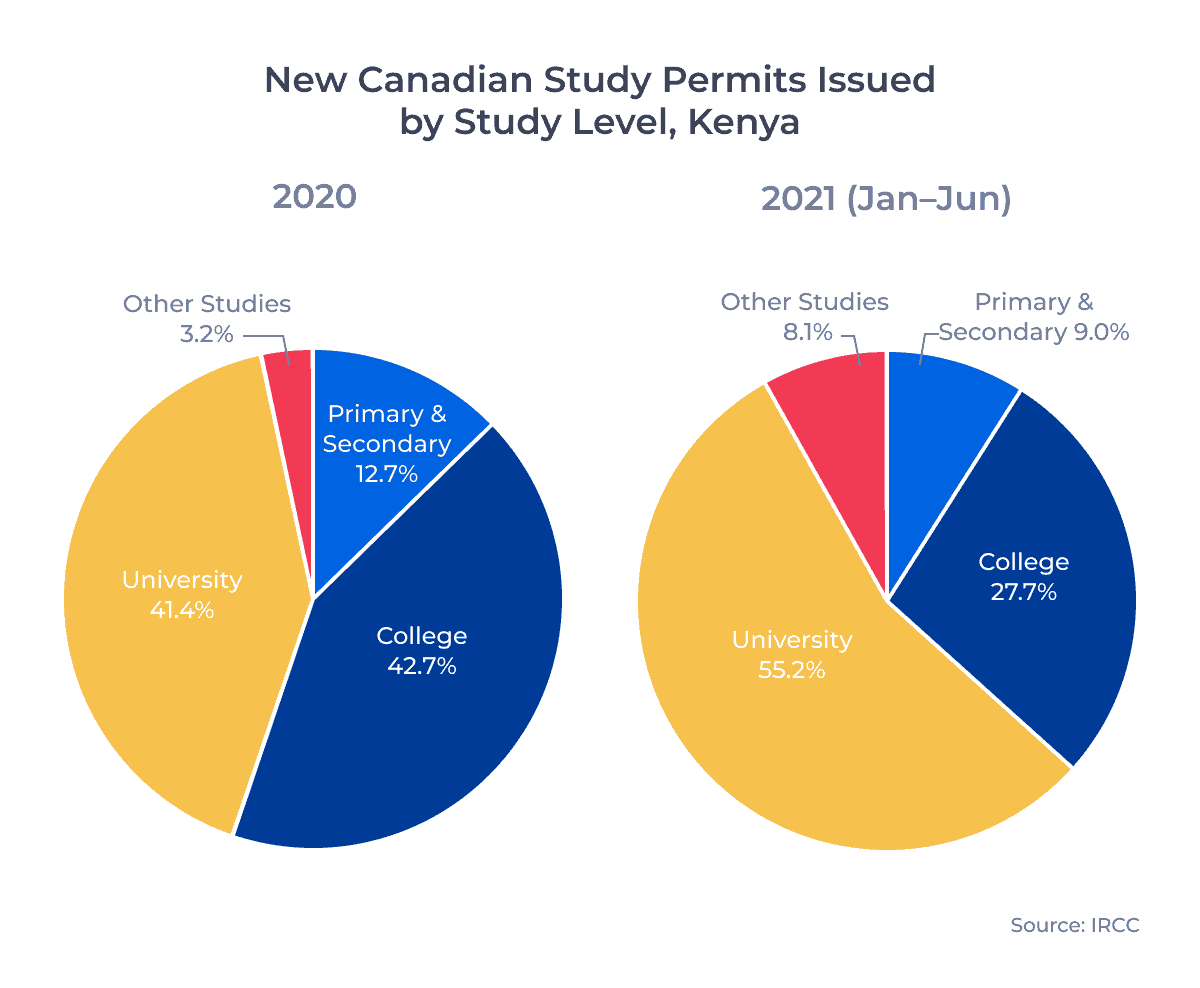 While Kenya has long been a university-focused market, the pandemic caused a pronounced shift towards college studies. This was likely caused by lower tuition costs at the college level during high economic uncertainty. The major market share of university programs in early 2021 was a return to normal for the Kenyan market.
Primary and secondary students make up only a small portion of the Kenyan market. 2020 marked the only year since 2016 in which primary and secondary students accounted for more than 10% of the Kenyan market. This increased market share was likely driven by mature students, many of whom come to Canada with school-age children, continuing with their study abroad journeys in 2020.
I anticipate that high interest in university studies among Kenyan students will persist in the years to come. University education is highly valued in Kenya, and many Kenyans see attaining a university degree as a key step in ensuring long-term employment, in Kenya or abroad. Ballooning domestic tuition fees will continue to push Kenyan students to consider studying abroad post-pandemic.
Key Takeaways
It's clear that the Kenyan market is poised for significant growth in the coming years. Kenya's population has grown by 12% in the last five years, and government spending on education has also risen substantially thanks to Vision 2030. In 2019, over 15 million Kenyan citizens were pre-primary to secondary school age, and secondary school enrollments rose nearly 20% from 2019 to 2020.4
While economic conditions may delay Kenyan international student population growth somewhat, rising domestic tuition fees have made studying abroad more attractive than ever. This is fantastic news for schools in Canada and the UK, given that Kenyan students also highly value post-graduation work opportunities as part of permanent residency (PR) pathways.
But Canadian institutions shouldn't rely on easy recruitment from East Africa's largest student market. Kenyan students are drawn to destination markets with short visa processing times, consistent approval rates, and low tuition costs. While Canadian visa processing times fell in early 2021, competition for Kenyan students is growing. Institutions in Ireland, Poland, Russia, and Malaysia are all actively courting Kenyan students, and many of these schools can boast quicker visa processing and lower tuition.
To stay competitive in this evolving landscape, Canadian institutions should:
Promote Canada's Post-Graduation Work Permit Program (PGWPP) to prospective students. With increased competition from the UK's Graduate Immigration Route, I'd recommend emphasizing the benefits of securing Canadian study and work permits on long-term earning potential of Canadian permanent residents.
Develop opportunities for students to connect with local Kenyan community groups. A sense of community and belonging is highly valued by Kenyan nationals, and demonstrating a commitment to fostering those communities will help build recruitment momentum.
Provide additional and targeted scholarships for Kenyan students who may have diminished financial means. Cost shouldn't be the only barrier preventing a student from attending one of Canada's incredible institutions.
Published: September 27, 2021
Subscribe to ApplyInsights
Sign up for the latest insights on international education.

---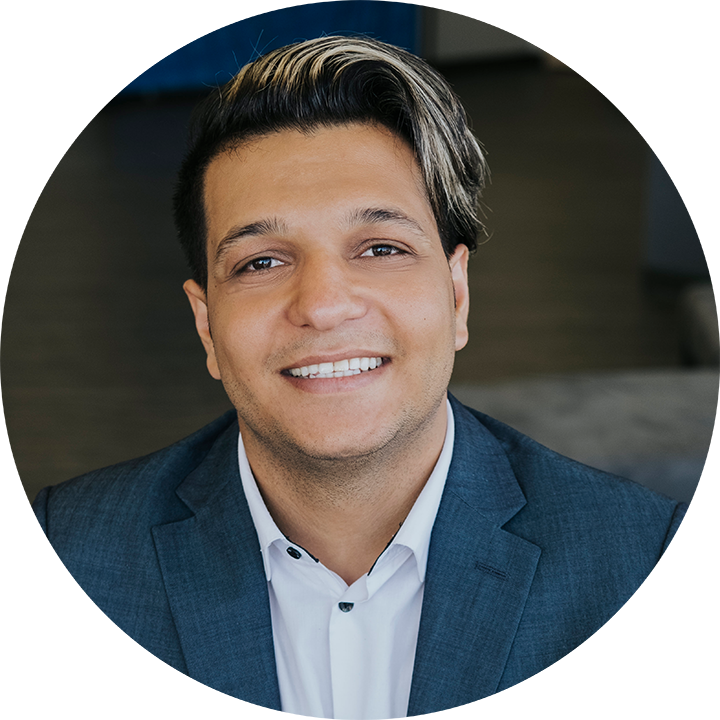 Meti Basiri
Co-Founder and Chief Marketing Officer (CMO)
Meti is driven by the belief that education is a right, not a privilege. He leads the International Recruitment, Partner Relations, and Marketing teams at ApplyBoard, working to make education accessible to people around the world. Meti has been instrumental in building partnerships with 1,500+ educational institutions across Canada, the United States, the United Kingdom, and Australia. Working with over 7,500 international recruitment partners, ApplyBoard has assisted more than 200,000 students in their study abroad journey. Follow Meti on LinkedIn for more access to ApplyInsights and key industry trends.
---
FOOTNOTES:
1. The terms student visa and study permit are generally used interchangeably for Canadian international students. Rather than student visas, Canada provides accepted international students with study permits, which allow those students to enroll in classes at Canadian institutions. When a student is accepted for a study permit, they are also usually provided with a visitor visa, which allows that student to enter Canada for their studies. Study permit data in this article includes new study permits and study permit extensions, unless otherwise noted. Historical study permit statistics used in this article are courtesy of Immigration, Refugees and Citizenship Canada (IRCC), except where noted.
2. More recent data not yet available.
3. More recent provincial data not yet available. I've noted in previous articles that study permits issued and study permits approved aren't the same. An applicant with an approved study permit may not be issued a study permit for a variety of reasons. I think the numbers for the Kenyan market are close enough for our purposes here, but note that students studying online from Kenya are not captured in the 2020 data.
4. Source: Basic Education Statistical Booklet, 2019 published by the Republic of Kenya's Ministry of Education.
---