Great news: student visa processing times are quickly falling back to pre-pandemic durations.1
Closed biometric and passport processing offices made it difficult for international students to begin or continue their study abroad journeys in 2020 and early 2021. But there are clear signs that processing time for students looking to study in 2022 are falling, and that prolonged processing delays have become less common.
In this ApplyInsights, I'll be diving deep into Canadian study permit processing times2 in 2019 through to mid-2021 and provide details on processing times for some of Canada's top source markets over the past three years. I'll also outline how I expect processing times to shift over the rest of 2021 and into 2022, and I'll give my thoughts on how these shifts might help or hinder Canadian institutions during their post-pandemic recovery.
Key Insights at a Glance
New study permit processing times increased 5 to 10 times from 2019 to 2020 due to restrictions and complications caused by the pandemic.
Processing times in early 2021 have dropped to nearly pre-pandemic levels, with further drops expected throughout the rest of 2021.
Students value and expect quick processing times, and any prolonged delays could hinder the recovery of Canada's international ed sector post-pandemic.
Study permit processing times are typically calculated per source country. So, throughout this piece, I'll be specifically looking at processing times for Indian, South Korean, Filipino, Mexican, and Iranian students. Let's dive in!
Processing Times in 2019
There are many factors that influence study permit processing times. For example, an incomplete application can take significantly longer to process. The IRCC needs time to follow up with the student, secure documentation, and review it fully before they can provide a decision. Similarly, a student's nationality can influence processing times given the complexities of validating various documentation from diverse government sources.
Even with these factors in mind, new study permit processing times for international students pre-pandemic remained fairly consistent. While there was some variation based on student nationality, many students received their study permit decision in 40 to 50 days.
The chart below shows the average study permit processing time for students from India, South Korea, the Philippines, Mexico, and Iran throughout 2019: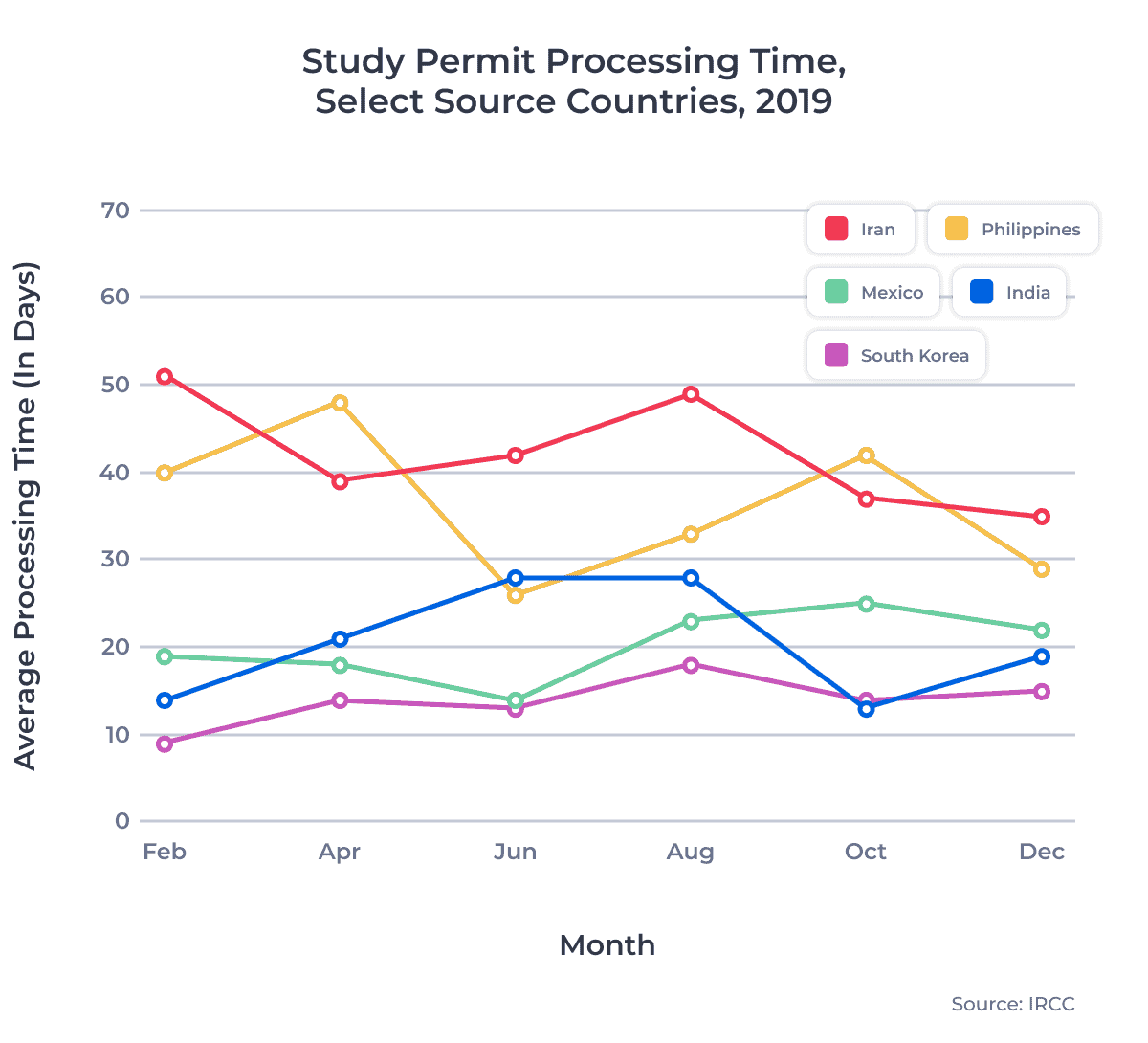 In December 2019, students from over 80 countries experienced average processing times of 50 days or less. Indian, South Korean, and Mexican students experienced average decision wait times of around 20 days in 2019. This low turnaround time is especially impressive given that students from these three countries accounted for over 50% of all study permit applications in 2019. By comparison, most students from Iran and the Philippines received their decision within 30 to 35 days of application submission.
Check out my previous blog posts for more information on study permit trends for students from India and the Philippines.
Processing Times in 2020
As the pandemic took hold across the world in 2020, study permit processing times began to rise. Many students were unable to secure necessary documents and biometrics, and some students made the difficult decision to delay their study abroad plans.
To combat documentation issues, the Canadian government implemented a temporary COVID-19 policy for study permit applications. The policy introduced an approved-in-principle (AIP) stage for many applications submitted in 2020. This policy allowed government staff to review incomplete applications if the student submitted a letter explaining why some required documents were missing.
Even with this additional policy, study permit processing times rose substantially. Students from most source countries saw average processing times increase to well over 100 days in 2020. This trend is evident in the following chart, which shows average study permit processing times for select source markets in 2020: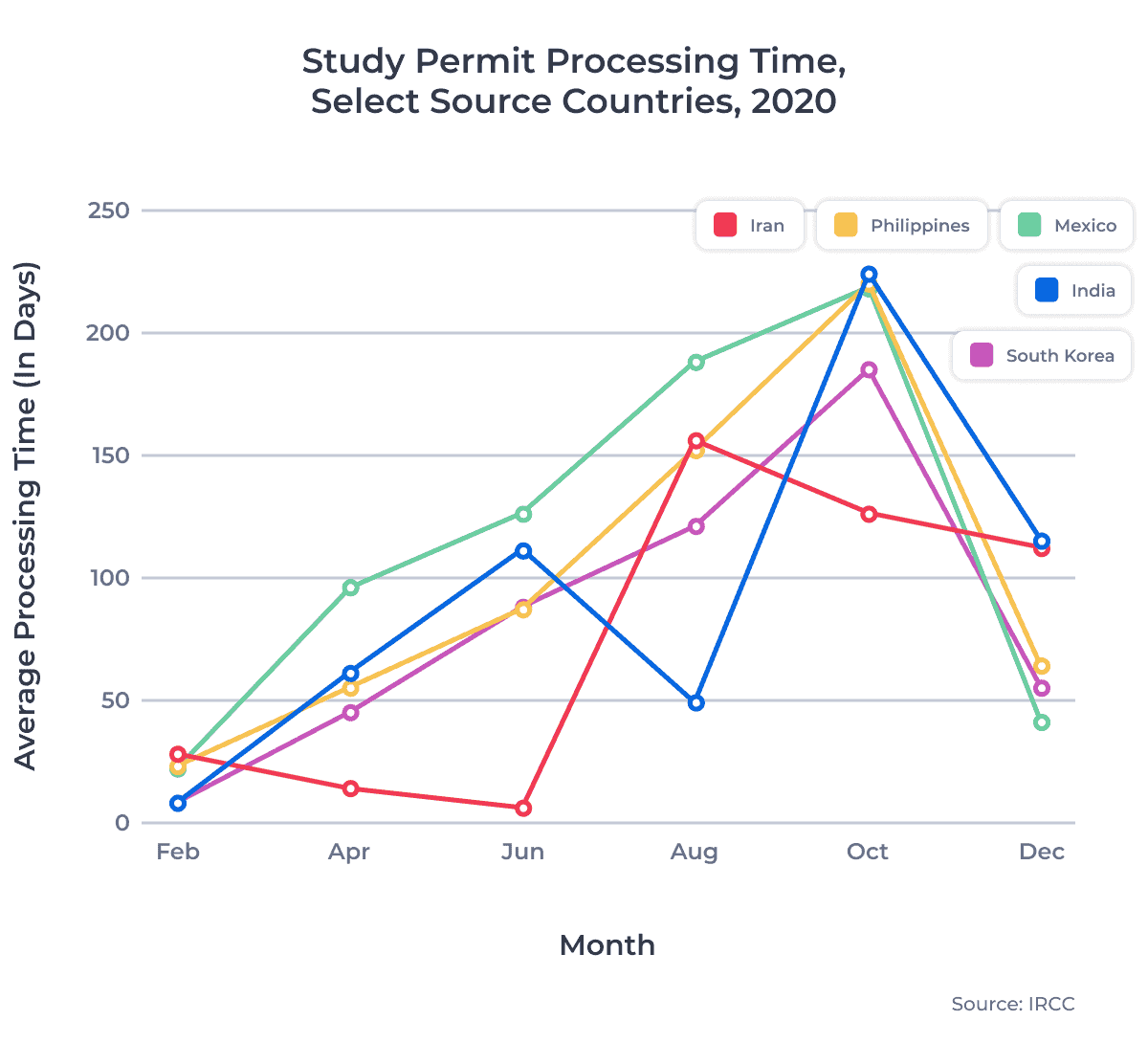 By October 2020, students from over 80 different source countries experienced average processing times of more than 100 days. In 2020, students from the Philippines and Mexico saw their study permit decision wait times climb steadily to over 200 days. Similarly, South Korean students experienced wait times of over 100 days. Though Iranian and Indian student wait times remained somewhat lower in the early half of 2020,3 their processing times later climbed to over 150 days as well.
Study permit processing times notably improved for most students by December 2020. Filipino, South Korean, and Mexican students began to receive decisions in around 50 days, while Indian and Iranian students had to wait just over 100 days.
International students from 30 source countries continued to experience decision wait times of over 100 days by December 2020. This was a significant decline from October 2020, but still well above the single source market with 100+ required processing days in December 2019.
Processing Times in 2021
As travel restrictions eased and government offices reopened in 2021, study permit processing times continued to improve over mid-2020. For most international students, decision wait times fell to near pre-pandemic levels in early 2021.
Even within 2021, processing times fell significantly. In January 2021, international students from 26 different source markets had to wait more than 100 days for a study permit decision. By May 2021, that number was down to just 20 source countries. At the same time, the number of source countries with average processing times under 50 days grew substantially. Students from 38 different countries experienced average wait times under 50 days in January 2021, compared to students from 64 countries in May 2021.
The chart below shows the average study permit processing times for Indian, South Korean, Filipino, Mexican, and Iranian students from January to May 2021: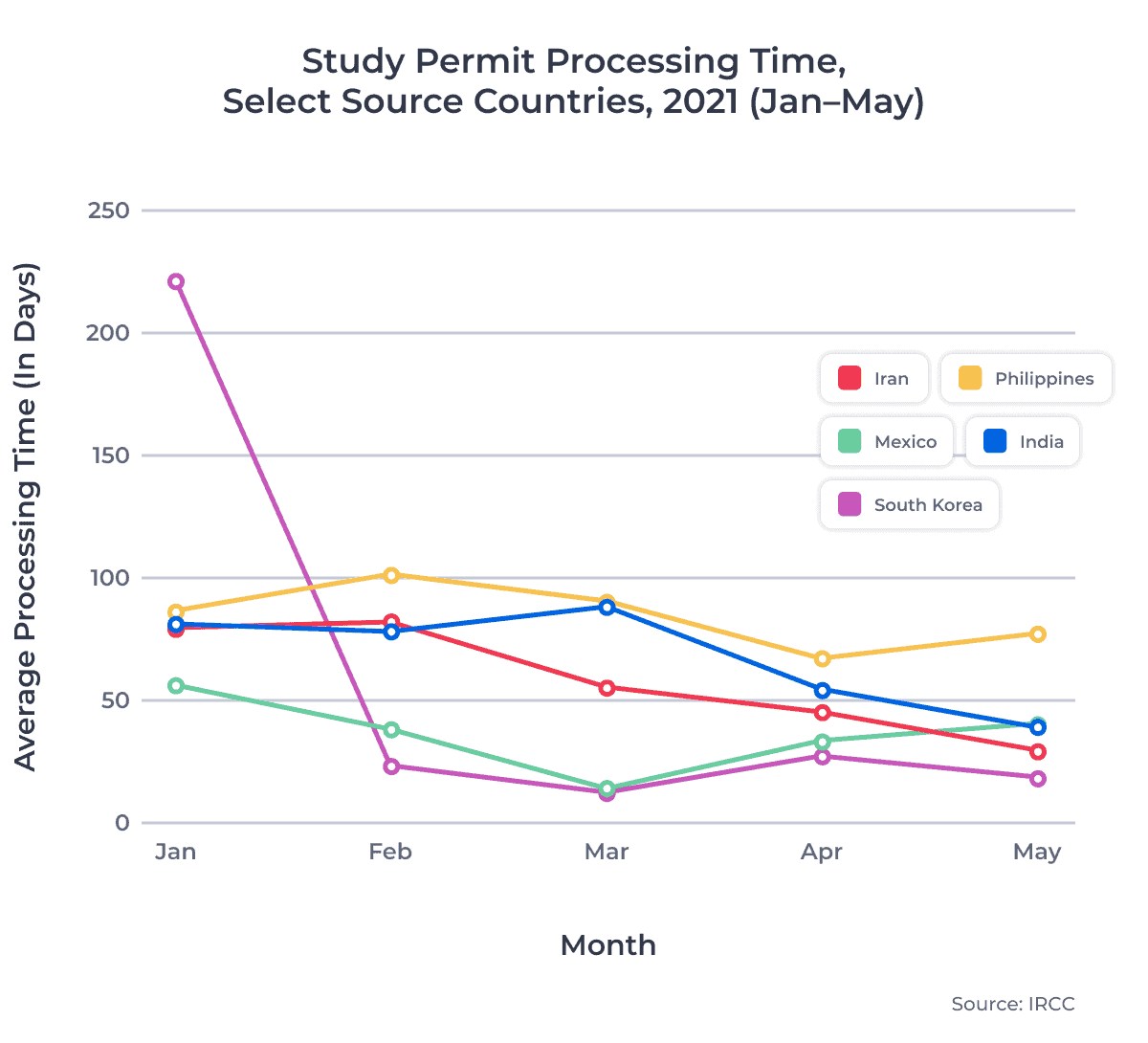 Study permit processing times for Indian, Filipino, Mexican, and Iranian students generally continued to decline in early 2021. But the most obvious change was the massive decline in average processing time for South Korea students. After spiking to a high of nearly 220 days in January 2021, the decision wait time for South Korean nationals remained below 30 days for the rest of early 2021.
Bringing Students Back to Campus
It's clear that study permit processing times are normalizing. Many international students can expect much shorter decision wait times in 2021 than in 2020, and I expect that processing times will fall further still. Barring any significant difficulties due to COVID-19 Delta variant outbreaks, I anticipate permit processing times will return to 2019 durations by the end of 2021.
Rapid study permit processing will be critical if Canadian institutions want to maintain their competitive edge post-pandemic. Students from growing markets such as Bangladesh, Nepal, and Sri Lanka all turned to Canada as a top destination in 2020, largely due to travel restrictions or closures in Australia and the US. But Australia and the US have historically offered more rapid student visa processing. As these countries reopen to international students, Canada will need to at least return to 2019 rates to retain this new market share.
The government is the largest limiting factor when it comes to reducing study permit processing times. However, there are steps that institutions, students, and recruitment partners can take to help reduce the processing burden.
Tips for Shorter Processing Times
Institutions looking to help decrease permit processing times should:
Consider utilizing a document verification platform such as ApplyProof to ensure letters of acceptance and other documents can be validated quickly and securely
Recruitment partners and students looking to lower decision wait times should:
Ensure that all necessary documents are included with the study permit application at time of submission
Check current study permit processing times to better understand how long processing might take
Keep an eye out for email communication from the IRCC about any missing or additionally required documents
Published: September 9, 2021
Subscribe to ApplyInsights
Sign up for the latest insights on international education.

---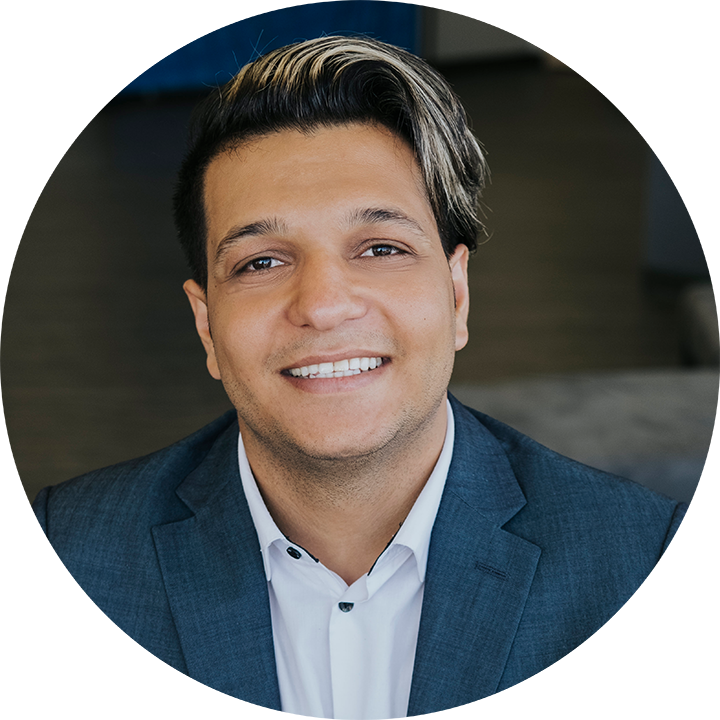 Meti Basiri
Co-Founder and Chief Marketing Officer (CMO)
Meti is driven by the belief that education is a right, not a privilege. He leads the International Recruitment, Partner Relations, and Marketing teams at ApplyBoard, working to make education accessible to people around the world. Meti has been instrumental in building partnerships with 1,500+ educational institutions across Canada, the United States, the United Kingdom, and Australia. Working with over 7,500 international recruitment partners, ApplyBoard has assisted more than 200,000 students in their study abroad journey. Follow Meti on LinkedIn for more access to ApplyInsights and key industry trends.
---
FOOTNOTES:
1. The terms student visa and study permit are generally used interchangeably for Canadian international students. Rather than student visas, Canada provides accepted international students with study permits, which allow those students to enroll in classes at Canadian institutions. When a student is accepted for a study permit, they are also usually provided with a visitor visa, which allows that student to enter Canada for their studies. Statistics used in this article are for new study permits only. All data courtesy of Immigration, Refugees and Citizenship Canada (IRCC), except where noted.
2. Processing times for students from each source country are calculated by the IRCC on a twelve-month rolling basis. For each given month, the presented processing time accounts for the average number of calendar days from student submission to IRCC decision rendered on 80% of all applications received by the IRCC in the previous twelve-month period.
3. This is likely due to very short processing times and higher application volumes at the end of 2019 and in early 2020, which is captured in the rolling twelve month data.