The list of countries with students who have their sights set on Canada as a study abroad destination has steadily grown over the past two decades. One nation inching its way up that list is Turkey. This year, Turkey joined Iran as the only other Middle Eastern nation in the top-15 countries ranked by study permits issued.
In this edition of ApplyInsights, I'll be breaking down new data1 to explain student visa2 trends within the Turkish market. I'll also talk about where Turkish students are studying in Canada, what brings them there, and how their interest is projected to shift post-pandemic.
Key Insights at a Glance
ApplyBoard projects Turkey to outpace its 2019 number of study permits issued by over 50% in 2021.
Nearly 2 in 3 three (63.7%) Turkish students coming to Canada choose to study in Ontario, the highest rate among the top 15 source markets.
24% of study permits issued to Turkish students so far in 2021 were for language studies programs—23% higher than the all-market average.
Turkish students display a particularly high interest in studying in the densely populated metro areas of Canada, specifically Toronto and Vancouver.
This is the tenth article in our ApplyInsights series highlighting market-specific trends in international students attending Canadian institutions. In the past, we've covered India, Hong Kong, Algeria, Brazil, China, the Philippines, Bangladesh, Vietnam, and Sri Lanka and Nepal.
Canadian Study Permits Issued and Approved – Turkey
From 2016 to 2017, Canadian study permits issued to Turkish students grew by 30%—a significant year-over-year jump for a top-20 source market. Canada looked poised for a boom in Turkish student interest; however, study permits issued to Turks plateaued between 2017 and 2019, growing by only 2% during that span.
Several questions hovered over Turkey's potential as a source market in Canada during the global pandemic. How would the Turkish government's ability to contain COVID-19 affect Turkish students' appetite to study in Canada? Was Turkey's 2016 spike an outlier, or would interest in Canadian institutions rebound when border restrictions were lifted?
According to the most recent IRCC data, Turkish students were issued 1,831 study permits between January and June 2021. That's over twice the number of study permits issued to Turkish students in all of 2020. Turkey is also on pace to surpass its 2019 study permit total, which would make 2021 Turkey's strongest year to date.
The chart below shows study permit approvals over the past five years and an estimate of where the Turkish market is headed over the next 18 months: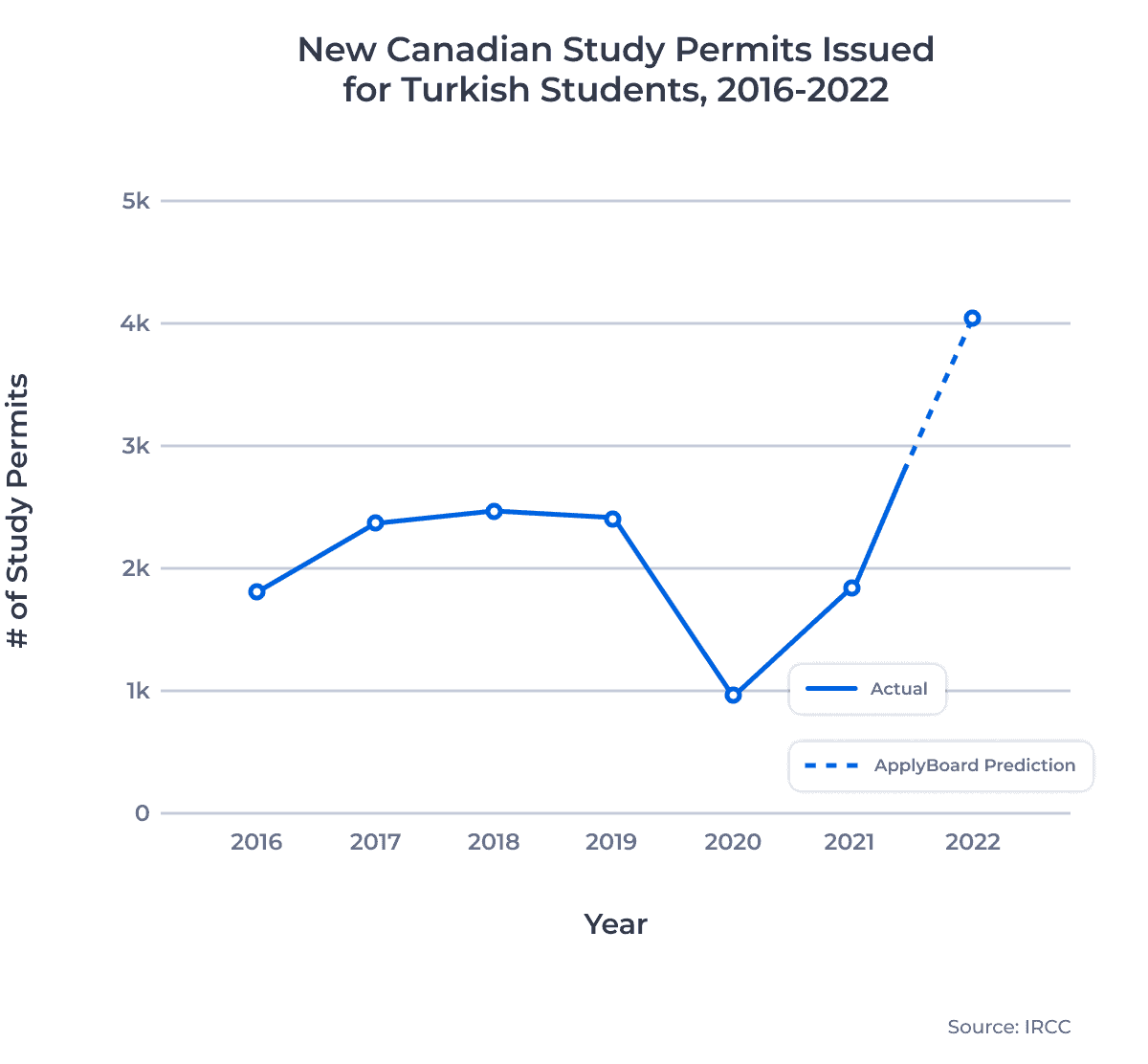 I expect interest in Canadian educational opportunities will continue to increase among Turkish students over the remainder of the year as international travel restrictions are lifted and vaccination rates rise.
In 2022, I predict Turkish students will be issued over 4,000 new study permits, which would cement Turkey's place within the top 15 source markets.
Fluctuations in Turkish Approval Rates
We've seen a lot of variance in the approval rates of Turkish applications over the past three years. From 2019 to 2021, Turkish approval rates steadily declined, dropping from 73% in 2019 to 53%.
While this may look like a cause for concern, local recruitment partners have assured me that this drop-off in application approval rate was a product of Turks leveraging the study permit application process as a method to kickstart the immigration process to Canada.
Already grappling with sizable poverty rates, Turkey continues to experience severe COVID-19 outbreaks. This has motivated a portion of the population to explore new ways to relocate, one of which is applying for Canadian study permits.
Given that a number of these applicants were not applying solely for the purposes of pursuing an education in Canada, an uncharacteristically high number of Turkish applicants were rejected in 2020 and 2021. It's also worth noting that approval rates fell across all markets in 2020 as students were unable to obtain documentation and attend in-person interviews due to office closures.
We see these issues reflected in the data when Turkey is compared to the larger Middle East from 2019 to 2021:3
New Canadian Study Permit Trends, Turkey vs. All Middle East, 2019–2021
2019
2020
2021 (Jan–June)
Change 20–21
Turkey
Applications
3,368
2,054
1,607
-21.8%
Approvals
2,454
1,353
855
-36.8%
Approval Rate
72.9%
65.9%
53.2%
-12.7%
Middle East
Applications
28,202
19,395
13,901
-28.3%
Approvals
13,750
8,917
7,545
-15.4%
Approval Rate
48.8%
46.0%
54.3%
+8.3%
Turkish approval rates aren't likely to fully rebound until Turkey is able to consistently contain local COVID-19 outbreaks and vaccinate more citizens,4 but I expect Turkish approval rates to exceed the Middle Eastern average in 2022 and rise back into the neighbourhood of 70 to 75%.
Turkey and Iran Clear Leaders in Study Permits Issued to Middle Eastern Countries
Interest in studying in Canada among Middle Eastern students has varied between countries considerably over the past decade. In 2016, Saudi Arabia was the top Middle Eastern source market for study permit applications, but has since declined considerably due to a deterioration in international relations between the Saudi and Canadian governments.
In a cross-market comparison for ApplyInsights earlier this year, I unpacked the key reasons Saudi students choose to study abroad and what growth looks like for that market.
The United Arab Emirates (UAE) and Jordan have aslo seen strong study permit numbers in the years leading up to the pandemic, which have since declined. Iran and Turkey have solidified their place as the two largest contributors of international students to Canada, as the table below shows:
New Canadian Study Permits Issued, Middle East, 2019–2021

| 2021 Rank | Source Market | 2019 | 2020 | 2021 (Jan–June) | Change 2019-2021 |
| --- | --- | --- | --- | --- | --- |
| 1 | Iran | 6,244 | 2,283 | 4,606 | -26% |
| 2 | Turkey | 2,410 | 955 | 1,831 | -24% |
| 3 | Lebanon | 355 | 353 | 572 | +61% |
| 4 | Jordan | 670 | 292 | 531 | -21% |
| 5 | Israel | 341 | 196 | 177 | -48% |
| 6 | Saudi Arabia | 358 | 132 | 175 | -51% |
| 7 | Kuwait | 105 | 22 | 87 | -17% |
| 8 | Oman | 68 | 23 | 73 | +7% |
| 9 | Syria | 115 | 30 | 62 | -46% |
| 10 | Iraq | 86 | 41 | 55 | +64% |
Another flourishing country in the Middle East over the past three years is Lebanon, which looks to be a promising source market with plenty of growth potential.
Canadian Study Permits Issued by Province – Turkey
The map below shows the number of study permits issued to Turkish students in 2020 broken down by province of study. The change in study permits issued between 2019 and 2020 is indicated in brackets: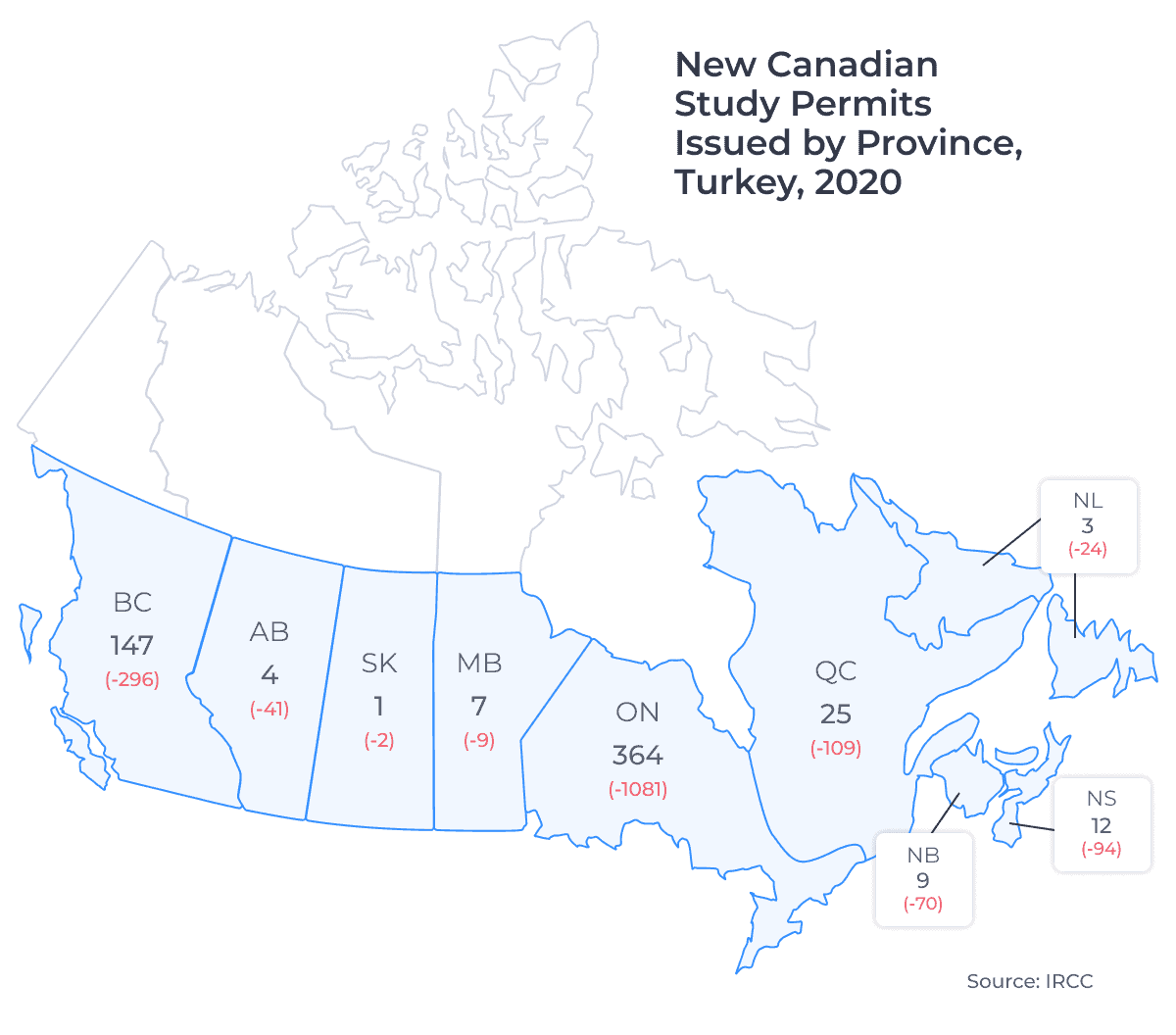 As is the case with most other source countries, British Columbia and Ontario were the top two provincial destinations for Turks in every year between 2016 and 2020. While this pattern lines up with what we typically see from other markets, Turkish students' interest in Ontario is especially high.
In 2019, 49% of all new international students were issued study permits for schools in Ontario. By comparison, nearly two-thirds of Turkish students were issued permits for Ontario institutions in the same year. This elevated interest in Ontario schools remained steady in 2020, making Turkey the source market with the highest concentration of Ontario-bound students.5



Our recruitment partners tell me that Turkish applicants typically skew younger, with 2 in 3 students being under 25-years-old in 2019. The demographic of Turks place a priority on attending school in a location that offers excitement and a rich cultural experience.
Toronto and Vancouver offer metropolitan environments that provide young students with the entertainment and social infrastructure they need to supplement their educational journeys.
Toronto is also home to the largest demographic of Turks out of any city in Canada, with Vancouver ranking second.6 Students naturally have a desire to be close to their friends and family, as well as communities that provide students with a taste of home.
Of course, Canada is much more than a two-city country. Given the culture, entertainment, and unique experiences that await students in Canadian cities like Montreal, Halifax, Calgary, and so many others, I urge schools located in these vibrant cities to showcase what they have to offer during the recruitment process of prospective Turkish students.
Canadian Study Permits Issued by Study Level – Turkey
The charts below compare the distribution of study permits issued to Turkish students and students across all markets by study level in 2021: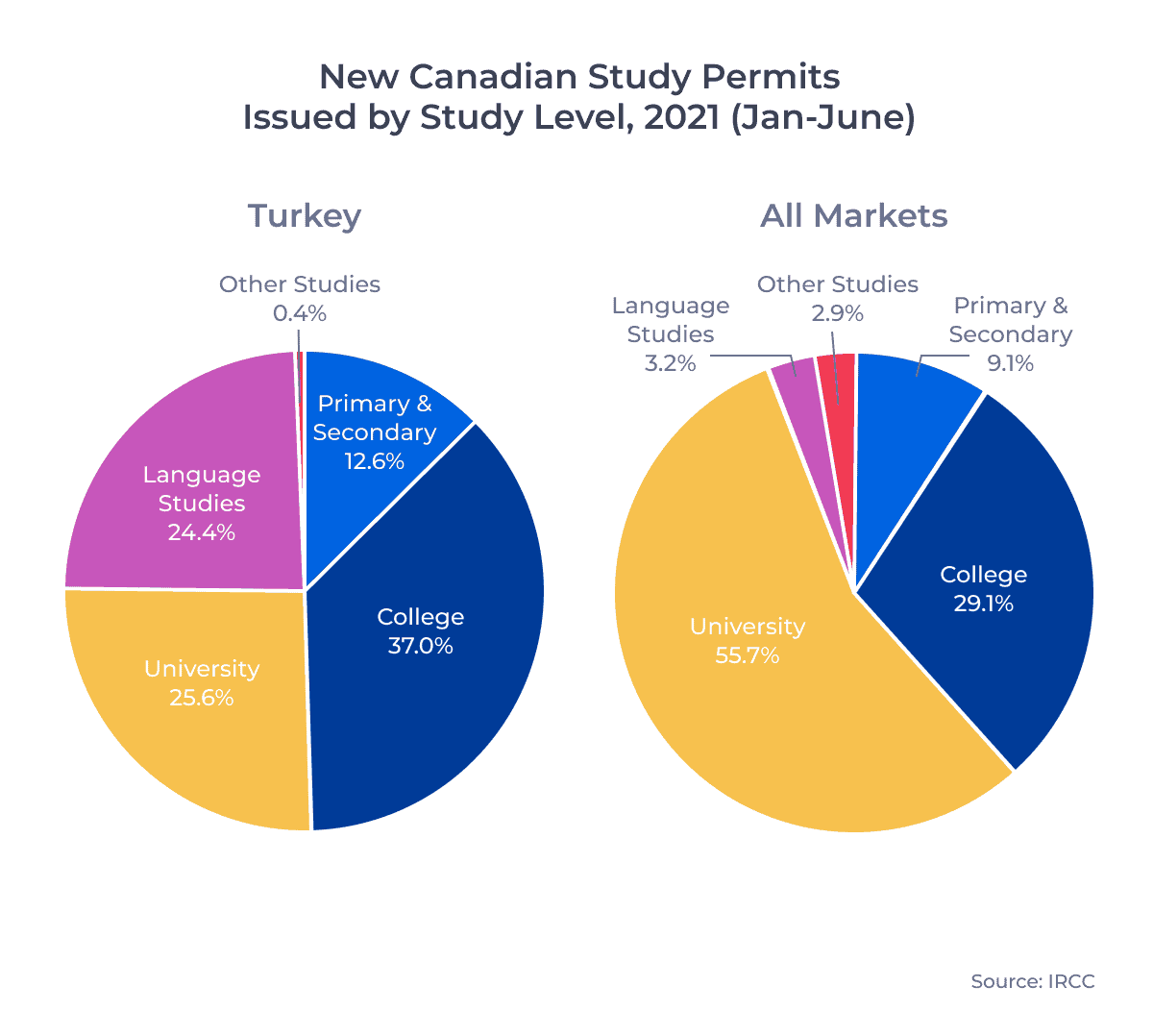 College is the main draw for Turkish students to Canada. Between January and June 2021, 37% of study permits issued to Turks were for college studies—8% higher than the all-market average. Interest among Turks in Canadian colleges is trending upward, as the share of study permits issued at the college level has risen 17 percentage points since 2019.
Popularity of Language Programs
One of the most unique trends displayed by this data is the number of Turkish students who apply for study permits to pursue language studies programs. So far in 2021, 24% of all study permits issued to Turks were for language programs. This is exceptionally higher than the all-market average of 3% and is the highest concentration of language students among the top 15 source countries so far this year.
Turkish recruitment partners tell me that one of the biggest hurdles for their prospective students who want to study in Canada is low proficiency in English.
In order to meet the student visa requirements associated with attending undergraduate or college programs in Canada, applicants need to receive an International English Language Testing System (IELTS) score of 6.0 or higher across all four categories of proficiency: reading, writing, speaking, and listening.
Most Turkish students attend language programs on the back of a conditional offer from a Canadian institution, which would grant them acceptance into their program of choice pending a passing IELTS score.
Many Turks come to Canada seeking work experience through the Post-Graduation Work Permit Program (PGWPP)—something graduates of language programs in Canada are not currently eligible for. Language programs can thus act as a springboard for Turkish students who are looking to gain work experience in their field of study and eventually pursue a pathway to permanent residency in Canada.
Key Takeaways
In a world where many people aren't able to count on the stability of life at home, Canada offers opportunity. Prospective students in Turkey are taking full advantage of that opportunity in 2021. Recent data suggests that Turkey looks poised to reignite the growth potential that it flashed back in 2017.
Canadian institutions should take note of this recent surge in Turkish interest and work to put themselves in a competitive position moving forward. Here are my recommendations for schools looking to capture some of this growing market:
English and French as Second Language (ESL/FSL) schools should partner with Canadian post-secondary institutions to promote pathway programs to college or university programs.
Schools in Canada's larger, more densely populated cities—particularly Montreal, Halifax, and Calgary—should sell themselves as diverse, vibrant destinations that Turkey's young students would enjoy living and learning in.
Institutions in British Columbia and Ontario should treat Turkey as a priority source market and ramp up communications with prospective Turkish students.
As the US publicly states its commitment to valuing international education and interest in the UK's Graduate Immigration Route grows, Canadian schools need to advertise Canada's Post-Graduation Work Permit Program (PGWPP) to prospective students.
Published: September 3, 2021
Subscribe to ApplyInsights
Sign up for the latest insights on international education.

---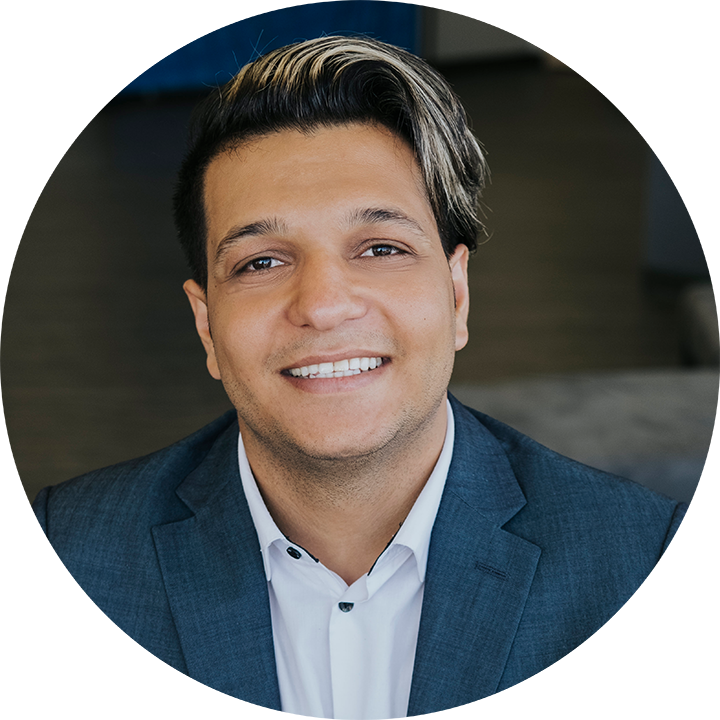 Meti Basiri
Co-Founder and Chief Marketing Officer (CMO)
Meti is driven by the belief that education is a right, not a privilege. He leads the International Recruitment, Partner Relations, and Marketing teams at ApplyBoard, working to make education accessible to people around the world. Meti has been instrumental in building partnerships with 1,500+ educational institutions across Canada, the United States, the United Kingdom, and Australia. Working with over 7,500 international recruitment partners, ApplyBoard has assisted more than 200,000 students in their study abroad journey. Follow Meti on LinkedIn for more access to ApplyInsights and key industry trends.
---
FOOTNOTES:
1. All data courtesy of Immigration, Refugees and Citizenship Canada (IRCC), except where noted. Statistics used in this article are for new study permits only.
2. The terms student visa and study permit are generally used interchangeably for Canadian international students. Rather than a student visa, Canada provides an approved international student with a study permit, which allows that student to enroll in classes at Canadian institutions. When a student is accepted for a study permit, they are usually also provided with a visitor visa, which allows that student to enter Canada for their studies.
3. Middle Eastern countries include Bahrain, Cyprus, Egypt, Iran, Iraq, Israel, Jordan, Kuwait, Lebanon, Oman, Palestine, Qatar, Saudi Arabia, Syria, Turkey, the United Arab Emirates, and Yemen.
4. As of August 30, 2021, 45% of Turkey's population was fully vaccinated. Source: Our World in Data.
5. Minimum of 500 study permits issued in 2019.
6. Source: Government of Canada.