As vaccination rates rise around the world, institutions in major English study abroad markets are developing plans to rebuild their international student populations post-pandemic. Many institutions are using this opportunity to evaluate emerging source markets and to make decisions about key market focuses in the coming months. One market that has shrunk in recent years, but could be poised for a strong resurgence post-pandemic, is Saudi Arabia.
In today's ApplyInsights, I'll be diving deep into the Saudi Arabian market. I'll first provide an overview of the Saudi student market and the main reasons Saudi students study abroad. Next, I'll cover Saudi student trends in Canada, the US, the UK, and Australia over the past five years, including the top destination markets and most popular fields of study. Finally, I'll give my thoughts on potential future growth in the Saudi market and the factors that will influence Saudi recruitment in the years to come.
Key Insights at a Glance
The vast majority of Saudi students study abroad either through scholarships offered by the Saudi government, which are applicable to certain institutions and fields of study, or by their employer.
The US has long been the top destination for Saudi students studying abroad, though the UK saw Saudi student population growth from 2016 to 2019 and Canada was a growing destination market pre-COVID.
Saudi students are highly interested in studying engineering, business, medicine, and computer science.
Let's start by taking a look at demographic and educational trends in Saudi Arabia.
Saudi Student Market Overview
Saudi Arabia is the most populous country in the Gulf Cooperation Council (GCC). By the end of 2019, Saudi Arabia's population exceeded 34 million, with around 5 million citizens between 15 and 24 years old and over 8 million citizens 14 years old or younger.1 This large population of students is highly motivated towards post-secondary education, especially male students. In Saudi Arabia, studying abroad is one of the key initiatives and methods used to build the capacity of Saudi youth and improve businesses and industries when they return home. Saudi students rarely look to stay abroad after they complete their education.

Saudi students used to begin English language classes in school when they were around 10 years old. But the Kingdom recently announced that English education will now begin when students are six to seven years old. This will provide students with better English skills by the time they reach post-secondary, meaning Saudi students may not have to complete English proficiency courses prior to enrolling abroad. Earlier English language education will not only make Saudi students more competitive for international institutions, but it will also reduce the cost of their study abroad journey, enabling the Saudi government to support more students.
In order for their international education to be recognized in Saudi Arabia, students must enroll at institutions which have been accredited by the Saudi Ministry of Education (MoE). The Saudi MoE only accredits universities for Saudi student enrollment. Any Saudi students looking to attend college or language study programs must do so as part of a broader education plan that includes undergraduate- or graduate-level studies at an accredited institution.
Scholarships for Saudi Students
In nearly all cases, Saudi students who study abroad do so under the King's Scholarship Program (KSP). First established in 2005, the KSP has several scholarship tracks, of which the largest is the Path of Excellence. The Path of Excellence track was launched in October 2020, in accordance with the Kingdom's major development plan, Vision 2030. Saudi students without government scholarships study abroad through self-funding, or with the support of their employer.
Path of Excellence scholarship funds are comprehensive, covering the student's tuition and living expenses, as well as similar expenses for their spouse. However, Path of Excellence scholarships are exclusively offered for university-level studies. Additionally, scholarships are only open to students offered unconditional acceptance at institutions accredited and listed2 by the Saudi Ministry of Education within specified fields of study. At each institution, and within each field of study, there are limited scholarships available per year. For 2021, of the 19 specialities approved for scholarship funds, eight are already at capacity.3
Where Saudi Students Study Abroad
Saudi students typically attend institutions accredited by the Kingdom's MoE. This accredited list is often further specified by current Pathway of Excellence scholarship offerings. This means that Saudi enrollment at institutions in a given country can be highly dependent on international relations between the Saudi government and the destination country.
To get a better sense of where Saudi students have studied abroad over the past five years, let's dig a little deeper into the major English destination markets.
United States
The United States has long been the top destination market for Saudi nationals. From 2005/06 to 2015/16, after the founding of the KSP, there was a surge of Saudi student enrollment and US institution accreditation.4 The US has benefited from the most exhaustive list of accredited institutions, largely due to the Kingdom's MoE focus on accrediting institutions seen as prestigious or internationally well-regarded.
The chart below shows the number of Saudi students enrolled or working in the US between the 2016/17 and 2019/20 academic years: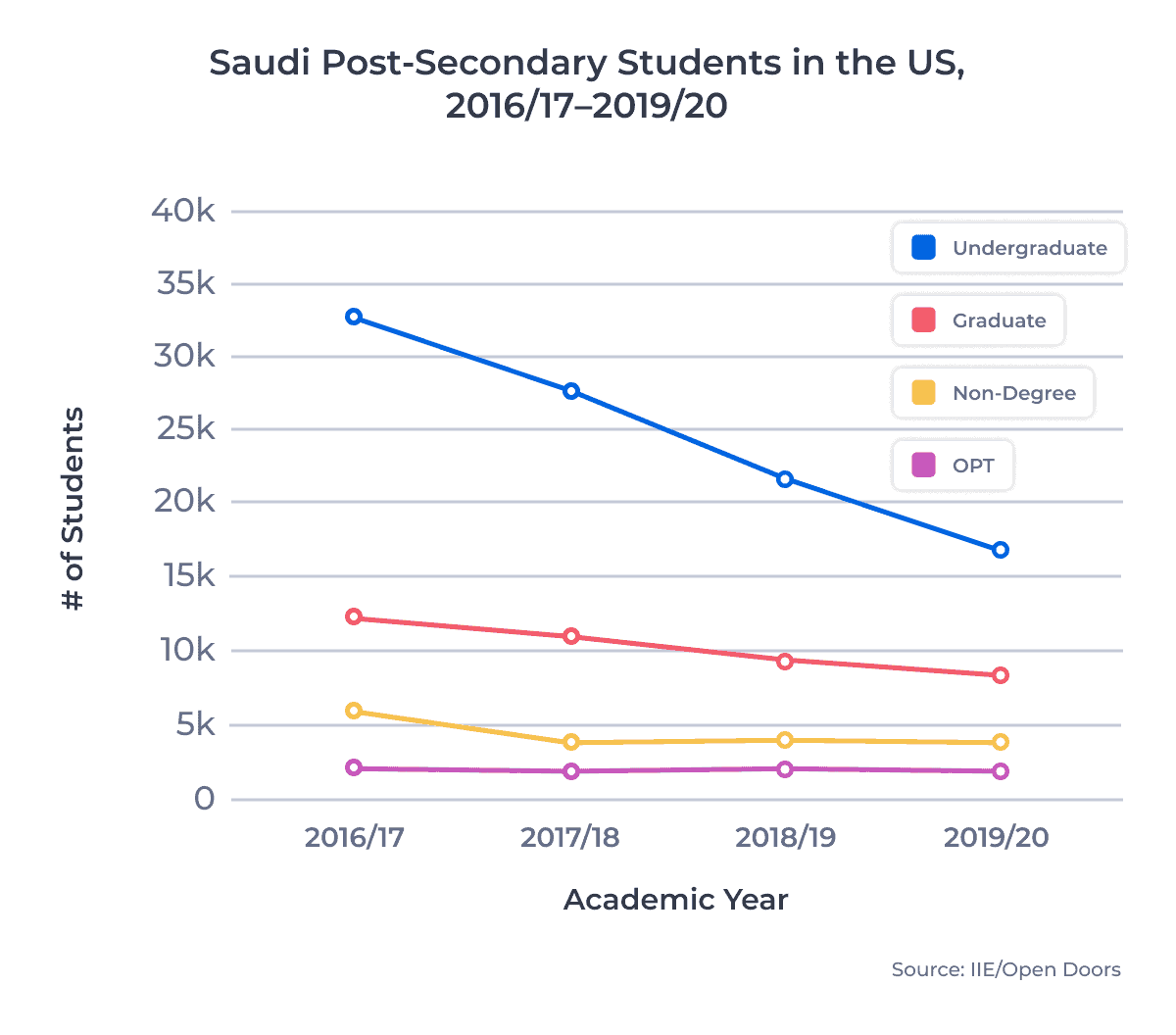 In 2016/17, over 50,000 Saudi students were enrolled or working in the US. By 2019/20, this number fell to just over 30,000, a decline of 41.2%, largely due to changes in KSP eligibility criteria. This led to significant declines in the undergraduate market, which decreased by 48.2% from 2016/17 to 2019/20. Within the US market, the top three destination states for Saudi students in 2019/20 were Ohio, Florida, and Pennsylvania. Saudi nationals were also among the top five largest international student populations in 11 states in 2019/20.
United Kingdom
The UK was the second most popular destination for Saudi nationals from 2016 to 2019.5 UK institutions are highly competitive for Saudi students, especially for undergraduate studies. The following graph shows the number of Saudi students enrolled at UK institutions6 between the 2016/17 and 2018/19 academic years: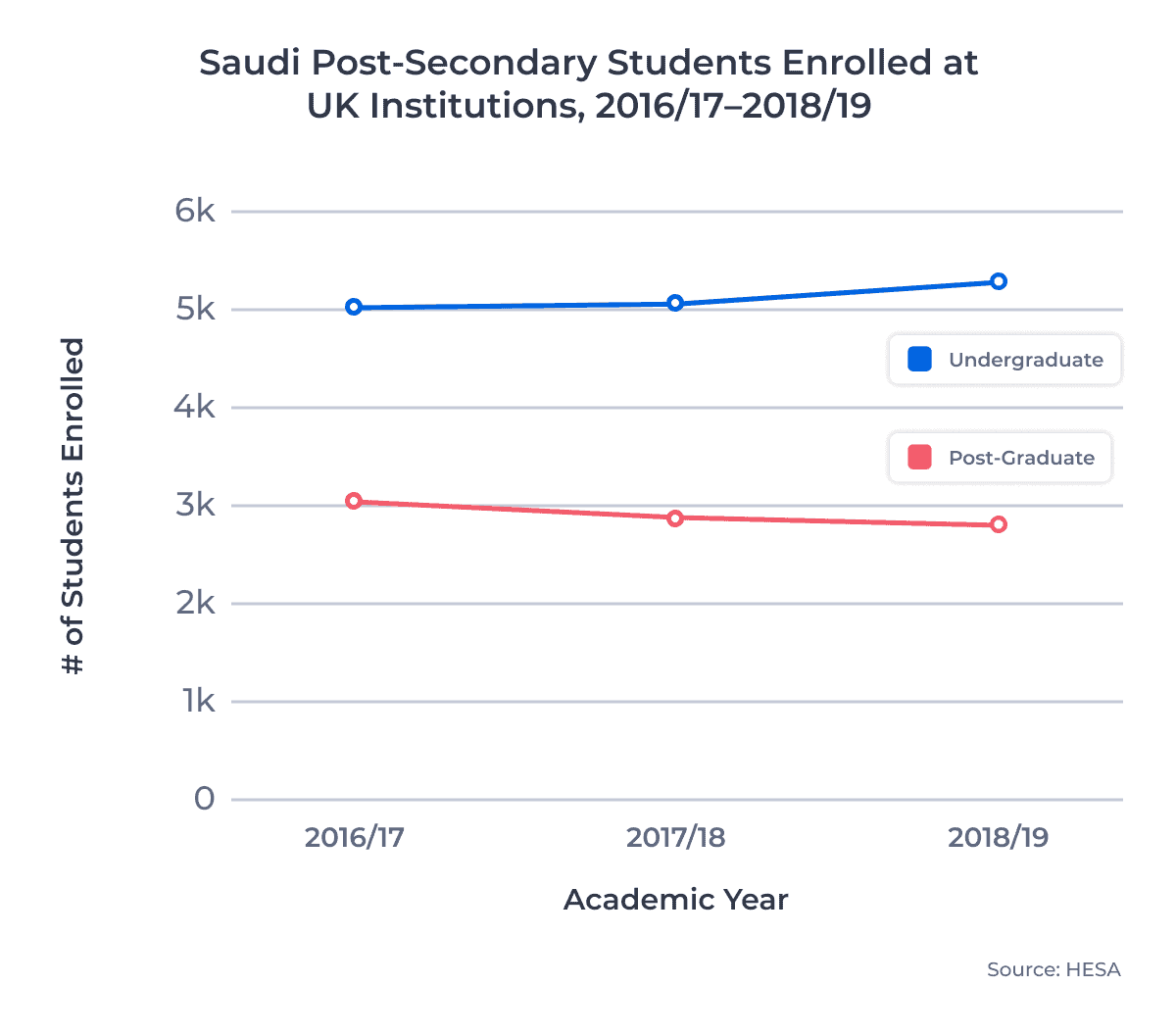 In 2016/17, over 8,000 Saudi students were enrolled at UK universities. By 2018/19, the number of Saudi nationals enrolled in post-graduate studies had declined by 5.2%. By contrast, the number of Saudi undergraduate students increased by 7.7% over the same period. In 2019/20, the most popular regional UK destinations for Saudi students were London, the North West, and Wales. Saudi Arabia was also the top Middle Eastern student source market for six of the twelve higher education provider regions in the UK in 2019/20.
Australia
Australia's popularity as a destination market for Saudi students spiked in 2018/19 before falling in 2019/20 due to the pandemic.7
The graph below shows the number of new Australian student visas issued to Saudi students between the 2016/17 and 2019/20 Australian governmental8 years: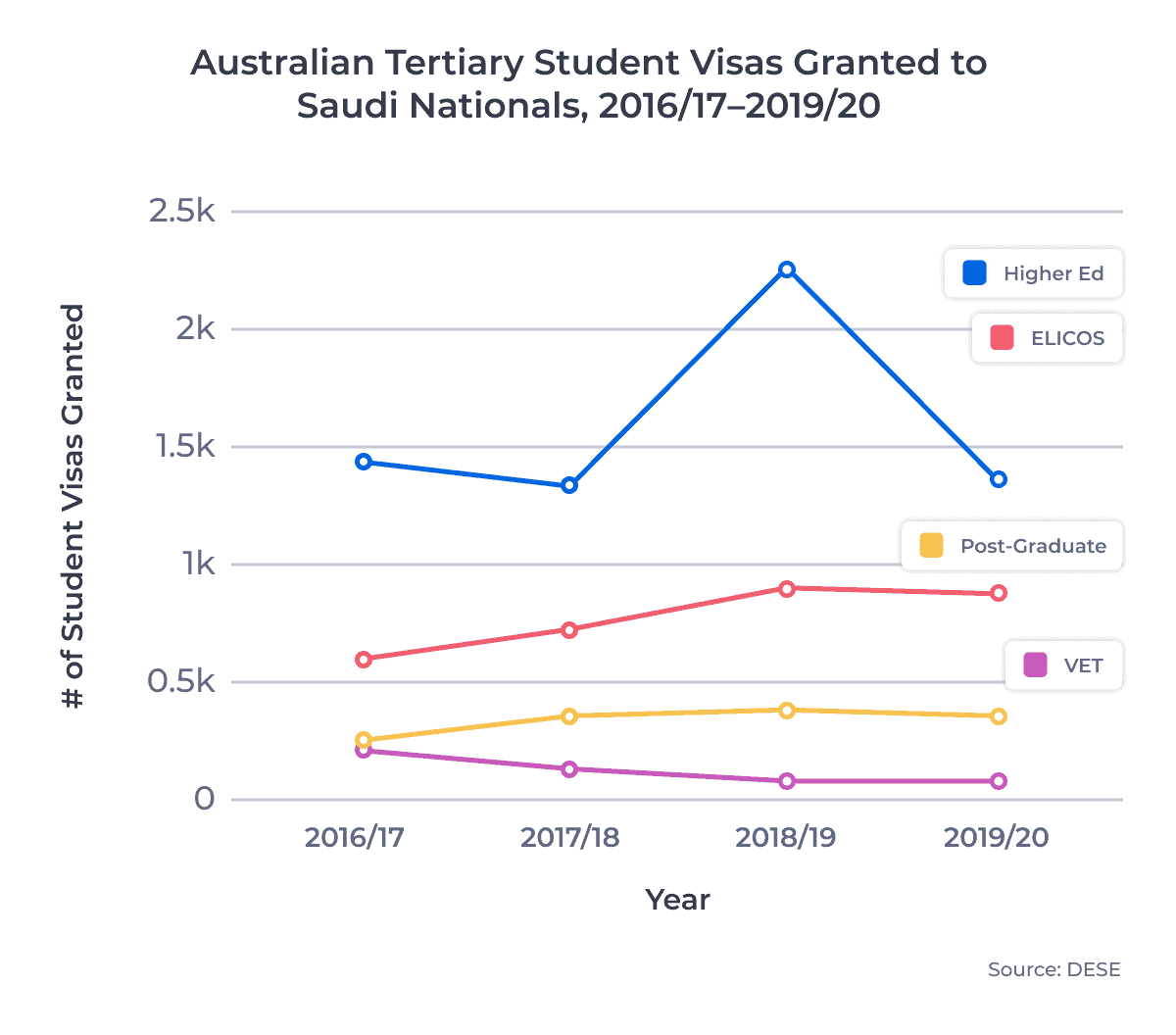 In 2016/17, around 2,500 new Saudi students were granted Australian student visas. By comparison, over 3,500 new student visas were issued to Saudi nationals in 2018/19. This rise was led by a 72.0% increase in new visas for Saudi students for higher ed studies between 2017/18 and 2018/19. In 2019/20, around 40% of Saudi nationals were studying at institutions in Victoria, with another 30% attending institutions in New South Wales. Saudi Arabia was the largest GCC source market and was in the top 25 source markets overall for Australian institutions in 2019/20.
Canada
Canada's popularity with Saudi nationals rose significantly between 2005 and 2018, and it is expected to rise again post-pandemic. There was a steep decline in new study permits9 for Saudi nationals in 2018, 2019, and 2020, as the chart below shows: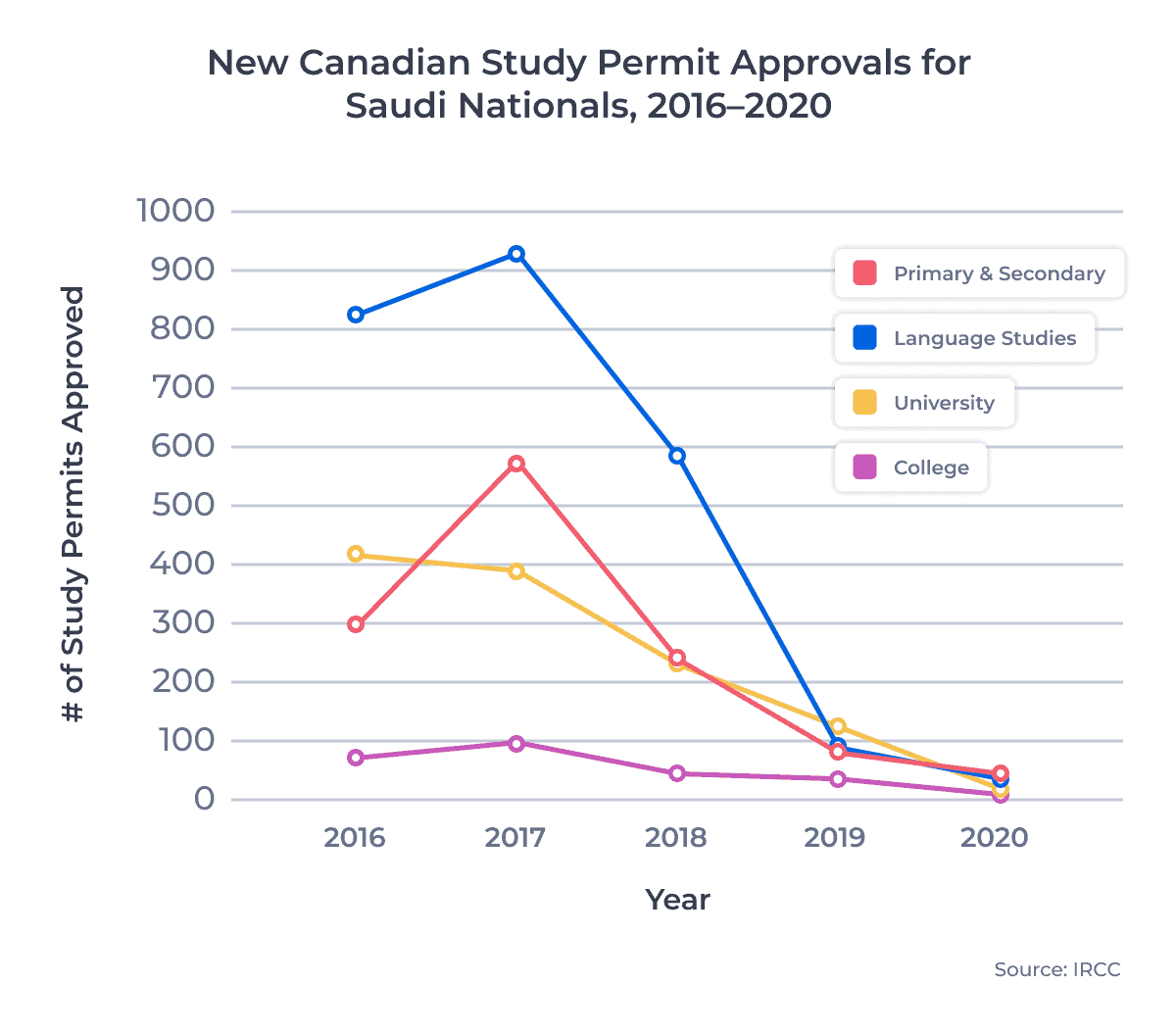 In 2017, over 2,000 new study permit applications from Saudi nationals were approved. In 2020, only 146 Saudi study permits were approved, a decline of 93.4% from 2016. Institutions in Ontario and British Columbia remained the most popular with Saudi students from 2016 to 2020.
What Saudi Students Study Abroad
The most popular fields of study for Saudi students were consistent throughout these four destination markets over the past few years. This is largely because of specifications of Path to Excellence scholarships. Since most Saudi students return home after university, eligible fields of study are based on in-demand sectors in Saudi Arabia and according to Vision 2030.
For Saudi university students in Australia, Canada, and the UK, business programs were the most popular in 2019 and 2020, followed by engineering and then health-related fields. In the US, engineering was the most popular field of study, accounting for 29.5% of Saudi student enrollment in 2020. Though business is the next most popular field for Saudi students in the US, computer science is the third most popular, just ahead of health.
In both Canada and Australia, English language courses10 were in high demand. Before the collapse of the Saudi market in Canada, ESL courses accounted for almost 50% of all study permits issued to Saudi students. In Australia, English courses accounted for nearly 30% of all Saudi student enrollments in 2020.

Future Scholarships and Policies Will Guide Growth
The current iteration of the King's Scholarship Program is set to expire this fall. It's very likely that before that happens or shortly thereafter, the Saudi government will launch a renewed scholarship program. In line with the Crown Prince's strong support for the Kingdom's Vision 2030, it is widely expected that the new program will be expanded to offer greater support for more Saudi students to study abroad. Any such changes, coupled with the large post-secondary student population in Saudi Arabia, could lead to high Saudi student mobility post-pandemic.
I expect Saudi students will once again focus on the US and the UK as primary destinations post-COVID. Further, the UK government has identified Saudi Arabia as a key growth market. The UK government announced in February 2021 that Sir Steve Smith, the UK's International Education Champion, would focus on growing export opportunities in Saudi Arabia. There's good news for the Australian market as well. In 2021 the Saudi Ambassador to Australia said he expects that Australia will see many Saudi students head to Australia post-pandemic. Finally, there is general sentiment in the industry that some Canadian institutions will be accredited for the next Saudi scholarship. If this happens, Canada may see a resurgence of Saudi students, potentially seeing a return to 2017 numbers.
Saudi Arabia's University System
Another major factor that will influence how many Saudi students study abroad is the ongoing development of Saudi Arabia's university ecosystem. The Kingdom has been actively recruiting scholars and professors to develop strong graduate programs that not only keep Saudi students at home, but also draw in international students from other key markets such as Egypt and Jordan.
Recently, the Saudi government has also focused on developing a sustainable undergraduate system and market, with capacity to recruit internationally. As part of Vision 2030, the Saudi government is trying to invigorate their domestic market through innovations that move away from a single commodity (oil) economy.
"Saudi Arabia has made significant investments into higher education of its students for more than a decade, which has resulted in the expansion of excellent institutions inside the country," says Feridun Hamdullahpur, president and vice-chancellor at the University of Waterloo. Hamdullahpur is also a member of the King Abdulaziz University International Advisory Board, and he has significant experience with the Saudi Arabian post-secondary education sector. "That being said, as the country continues to ramp up its talent and knowledge capacity, Canada and other top destination countries will continue to be a natural place for many of Saudi Arabia's talented youth in order to receive a world class education."
Key Takeaways
For accredited institutions, the Saudi Arabian market could be a strong source of international students post-pandemic. Those looking to get ahead of increased competition post-pandemic should:
Focus on promoting in-demand programs for Saudi students such as engineering, business, medicine, and computer science.
Provide updated information to Saudi students and recruitment partners about national pandemic recovery plans, study permit/student visa processing times, letter of acceptance turnaround times, and available program capacity.
Develop marketing materials for Saudi students which focus on campus life, local Saudi communities on and off campus, metropolitan multiculturalism, and the country's acceptance of international students.
Published: June 9, 2021
Subscribe to ApplyInsights
Sign up for the latest insights on international education.

---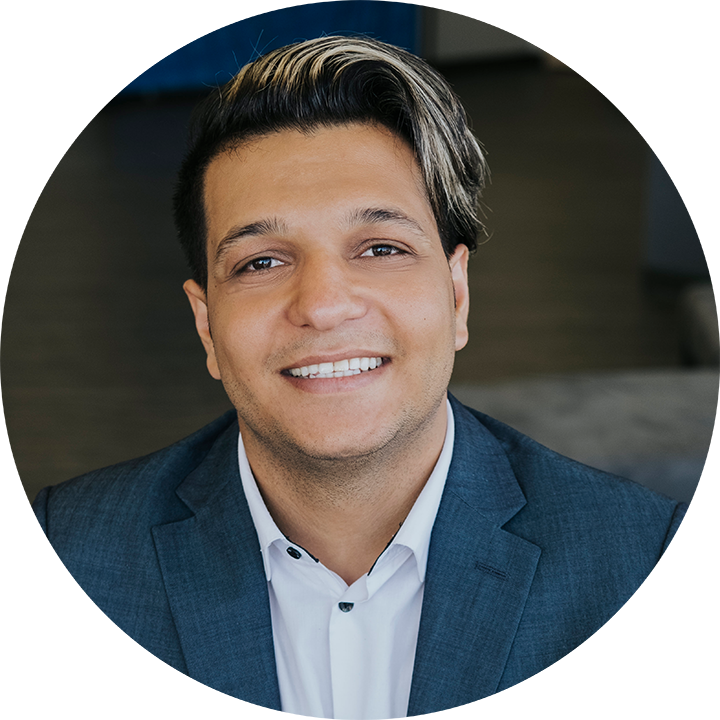 Meti Basiri
Co-Founder and Chief Marketing Officer (CMO)
Meti is driven by the belief that education is a right, not a privilege. He leads the International Recruitment, Partner Relations, and Marketing teams at ApplyBoard, working to make education accessible to people around the world. Meti has been instrumental in building partnerships with 1,500+ educational institutions across Canada, the United, the United Kingdom, and Australia. Working with over 7,500 international recruitment partners, ApplyBoard has assisted over 200,000 students in their study abroad journey. Follow Meti on LinkedIn for more access to ApplyInsights and key industry trends.
---
FOOTNOTES:
1. Data sourced from the World Bank Group's DataBank.
2. Not all accredited institutions are part of the scholarship eligibility list.
3. Hospitality Management, Administration and Public Policy, Economics, National Security, Tourism and Hotel Management, Environmental Science, Political Science and International Relations, and Human Resource (at date of publication).
4. All US figures include undergraduate, graduate, and non-degree programs, as well as students enrolled in the Optional Practical Training (OPT) program. All enrollment numbers are calculated based on academic year. US data courtesy of the Institute of International Education (IIE).
5. Source market data for the UK market in 2019/20 is not yet available.
6. All UK data is based on total enrollments per academic year. UK data courtesy of the Higher Education Statistics Agency (HESA).
7. All Australian data courtesy of the Australian Department of Education, Skills, and Employment (DESE).
8. Australian governmental years span from July 1 of a given year to June 30 of the next year (for example, July 1, 2020 to June 30, 2021).
9. Canadian statistics used in this article are for new study permits only. All such data courtesy of Immigration, Refugees and Citizenship Canada (IRCC).
10. English as a Second Language (ESL) in Canada and English Language Intensive Courses for Overseas Students (ELICOS) in Australia.
---