It's been a busy year at ApplyBoard! We published over 30 ApplyInsights articles in 2020 examining trends in international education around the world. 
Let's take a quick look back at some of our top insights for the year. 
The Impact of COVID-19
The dominant story of 2020 was, of course, the COVID-19 pandemic. Travel restrictions, lockdown protocols, and concerns about health risks led hundreds of thousands of students to defer or cancel their plans to study abroad. In Canada, we observed a 35% shortfall in study permits issued between January and June versus pre-2020 projections for designated learning institutions (DLIs).1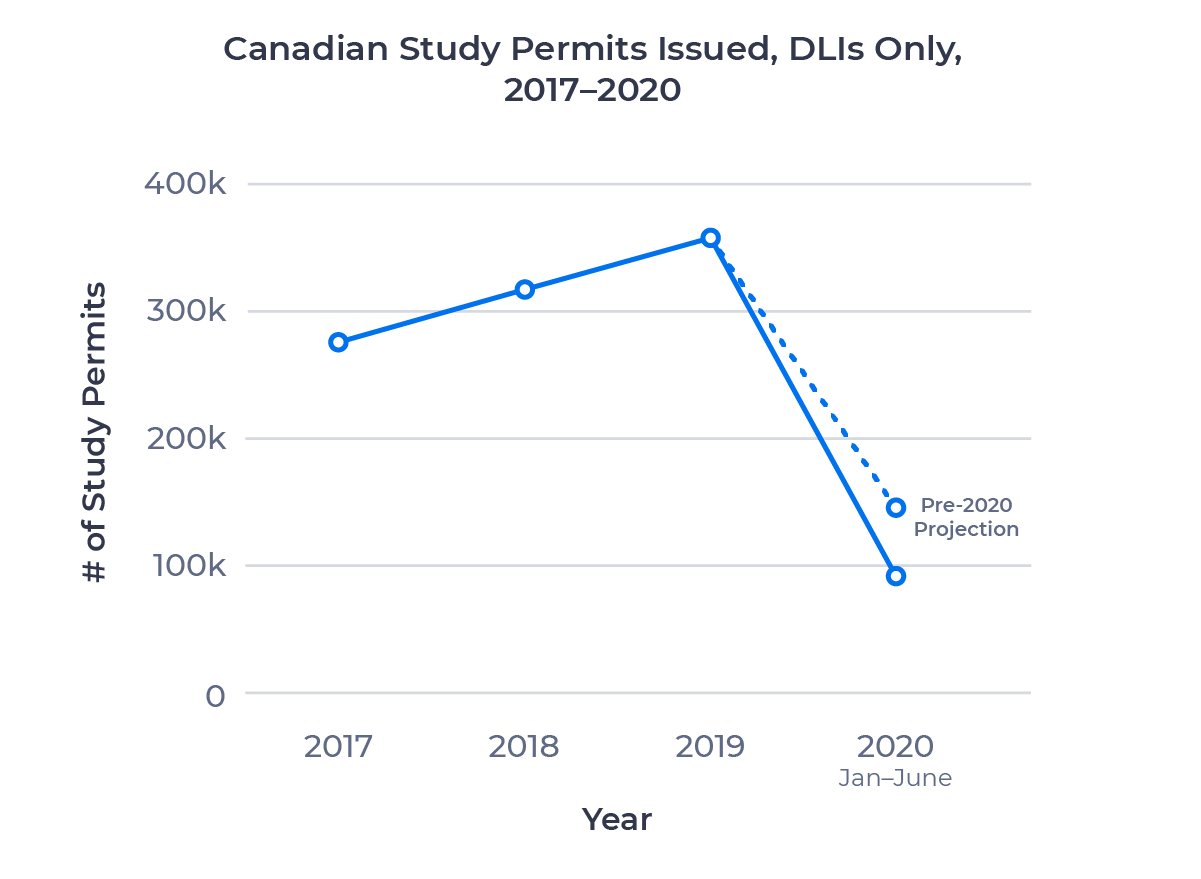 Schools and governments responded to this unprecedented shock to the international education system in a number of critical ways. The Canadian government made a series of changes to the popular Post-Graduation Work Permit Program (PGWPP) to allow students attending classes online from their home country to retain PGWP eligibility. Since October 20, international students have been permitted to travel to Canada provided the designated learning institution (DLI) they are attending has a government-approved COVID-19 readiness plan.  
In the United States, the Institute of International Education (IIE) found that 68% of US institutions responded to the crisis by adapting advising or student services for online international students, while 49% adapted course schedules and online teaching methods to accommodate those students. These accommodations were among those surfaced in our August survey of international recruitment agents as ways to make online education a more attractive option for students.
Mature Students and Study Permit Approval Rate
We recently dug into the data on the age of Canadian study permit applicants. 
Canada's international mature student population, defined as students over 25, grew 41.2% between 2017 and 2019. The population of international students in Canada aged 25 and under grew just 23.6% over the same period. 16.2% of new Canadian study permits were issued to mature students in 2019, up from 14.5% in 2017. 56.3% of Iranian students who came to Canada in 2019 were mature students, tops among the 25 largest source markets for international students. 
Unfortunately for these students, we also found that they are much less likely to be approved for a study permit than their younger counterparts: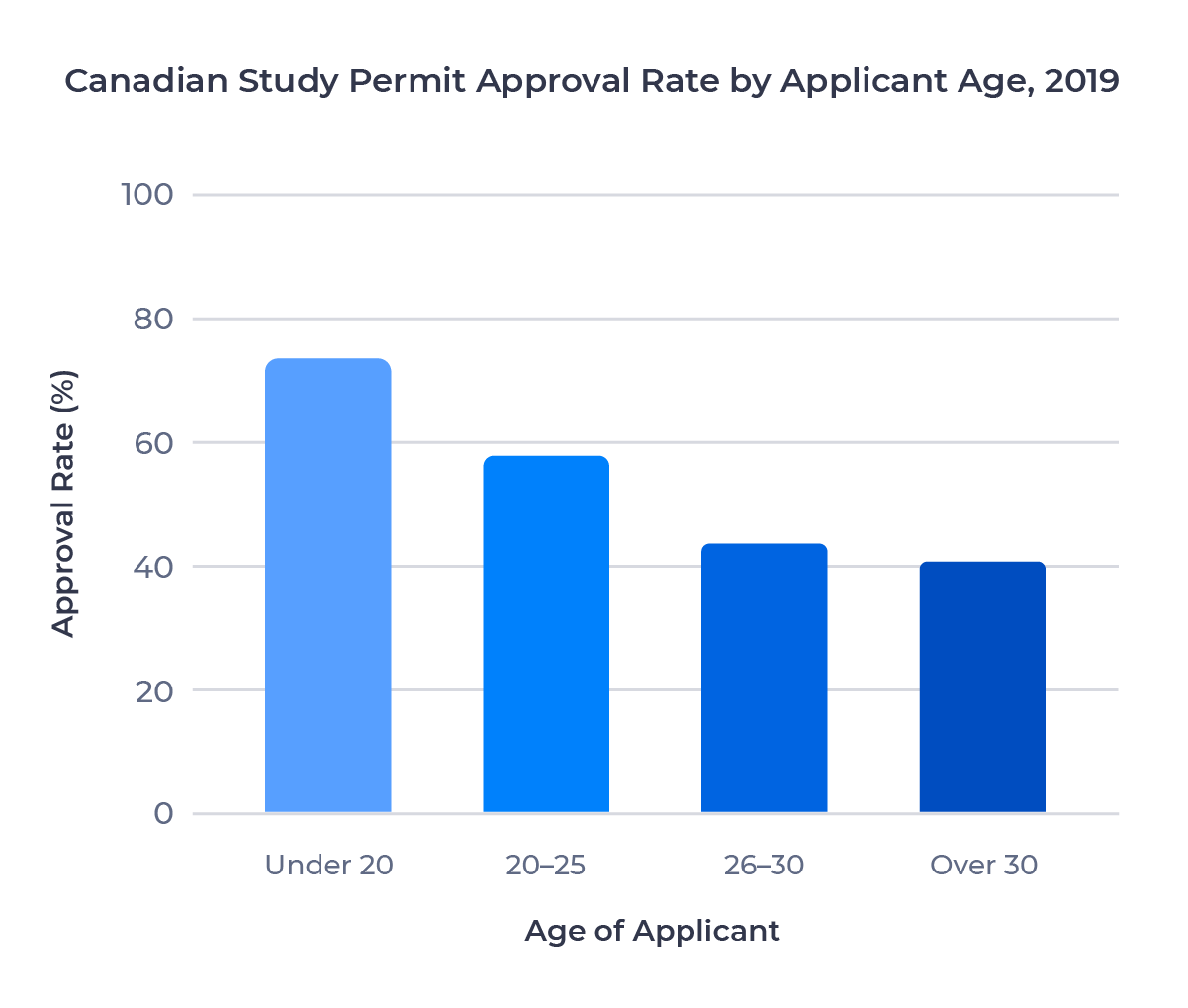 Generally speaking, the older a study permit applicant, the less likely they are to be approved. Students under 20 were nearly twice as likely to be approved for a study permit (73.4%) as students over 30 (40.8%) last year. 
Approval rates fell in 2020 across age brackets as students had difficulty obtaining necessary documentation due to COVID-19 lockdown protocols.2 But this decline was concentrated among younger students. Approval rates for students over 30 actually surpassed those for students 25 to 30 over the first seven months of 2020.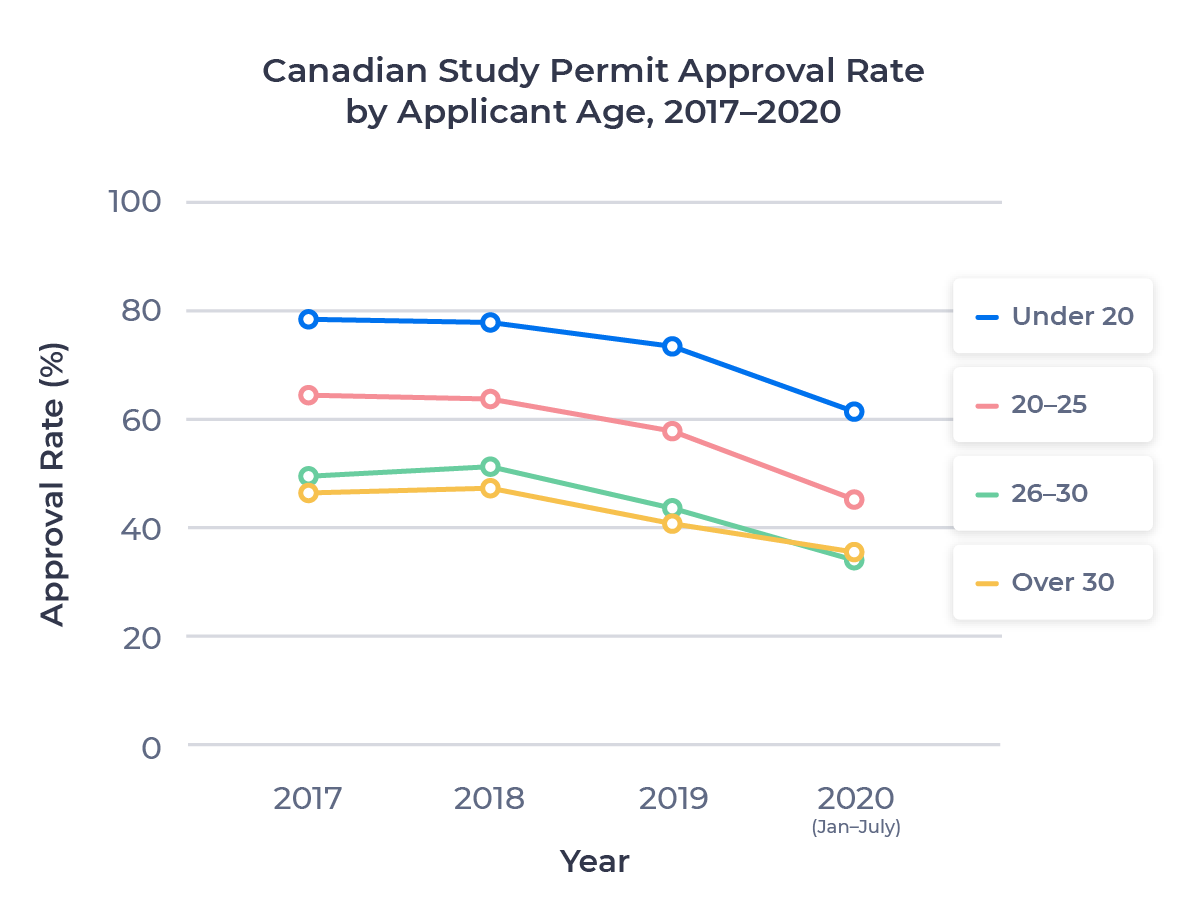 LOA Turnaround Time and Enrollment Rate
Having processed hundreds of thousands of study abroad applications, ApplyBoard had the data to test the critical assumption that international students are more likely to commit to an institution that issues a letter of acceptance (LOA) sooner.
We found that schools have a 17% lower chance of receiving a student's tuition deposit if they take more than four weeks to send out an LOA than schools that issue LOAs within one week of application submission.

I recommend schools issue LOAs within seven days to maximize enrollment rate. ApplyBoard helps our partner schools minimize LOA turnaround time by ensuring students submit complete applications and screening out unqualified applicants.
A Tale of Two Source Markets: India vs. China
ApplyBoard provided comprehensive coverage of the Indian and Chinese source markets for international students in Canada this year. Together, these two markets accounted for more than 56% of the international students in Canada in 2019, but they're trending in opposite directions.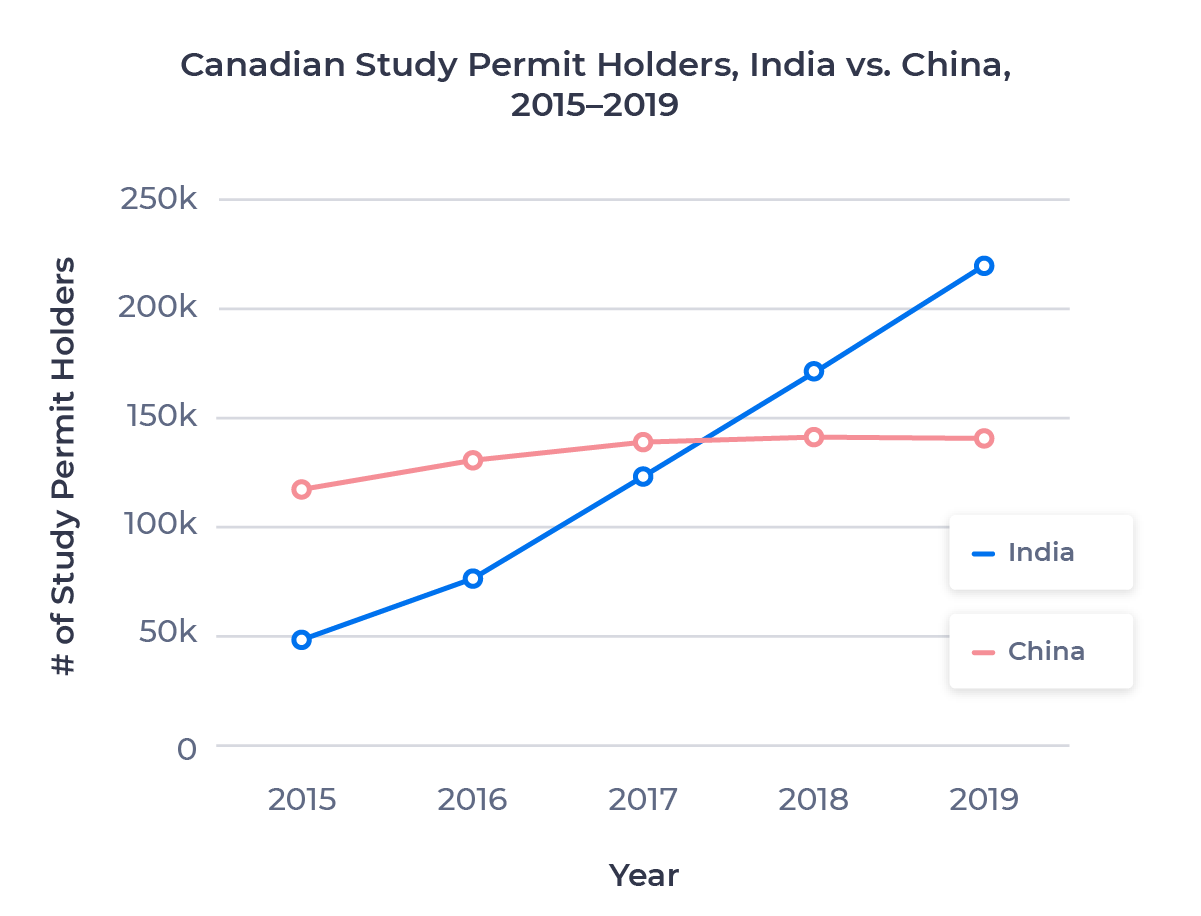 While the number of Indian students in Canada grew by 28.0% last year, the number of Chinese students in Canada fell in 2019 for the first time since 2006.3

The partial-year data for 2020 paints a similar picture. Just 1,748 new Canadian study permits were issued to Chinese nationals between January and July 2020, versus 9,466 for India. South Korea actually outpaced China as well, with 2,132 new study permits issued over the same period. 
China has made a concerted push to keep students in-country in recent years, and I expect the pandemic will accelerate this trend. As for India, the robust enrollment we've seen at colleges across Canada looks primed to continue post-pandemic, despite the market downturn we've seen due to COVID-19.
Other Key Source Markets for Canadian Schools
We covered a number of other important source markets in detail at ApplyInsights this year. Here are a few highlights:
Vietnam
Vietnam saw a 36.5% drop in Canadian study permit approvals in 2019, driven by an 11.8% decline in applications and a 19.0% drop in approval rate that was the second-largest decrease among all source countries.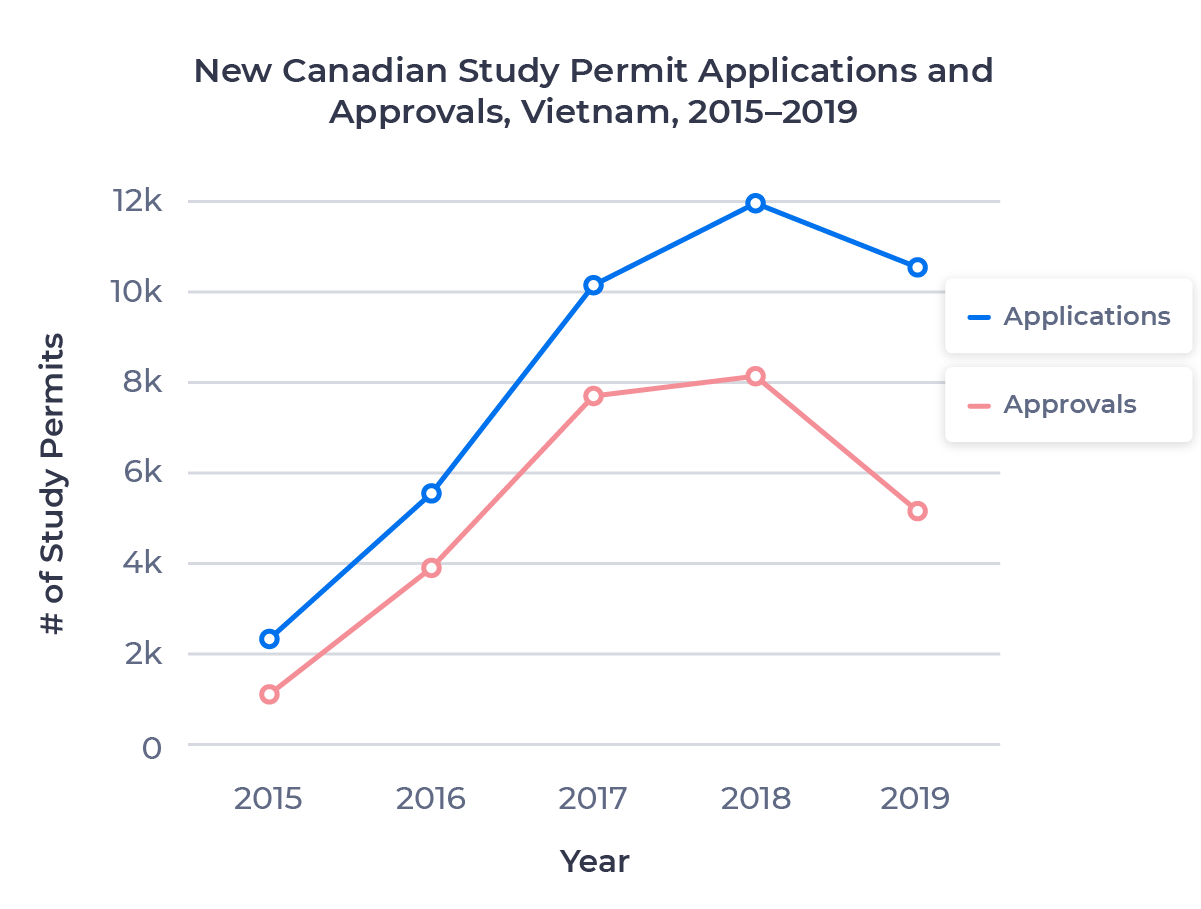 The Canadian government's introduction of the Student Direct Stream (SDS) for study permit processing, which has higher requirements for English language proficiency than the system it replaced, likely drove the decline. Canada saw a slightly larger-than-average decline in applications from Vietnam over the first seven months of 2020. 
Brazil
Brazil, the largest Latin American source country for Canadian international students, saw a 6.1% decline in applications in 2019, which continued a trend of slowing growth. 
A series of economic crises over the past twelve years have shrunk the Brazilian middle class and weakened Brazil's currency, hurting the Brazilian international student market. While interest in studying in Canada remains high among Brazilian students, the country's struggle to contain COVID-19 looks likely to compound Brazil's pre-existing economic challenges, slowing the rebound in the market.
Iran
Iran is a statistical outlier in a number of ways with respect to international education. In addition to having the largest percentage of mature students among the top 25 source countries, Iran supplied the highest percentage of graduate students among all countries that sent at least 100 students to Canada last year. Iran also saw the largest drop in study permit approval rate (26.9%) among all countries with more than 75 applicants. Study permit applications increased 70% year-over-year in 2019.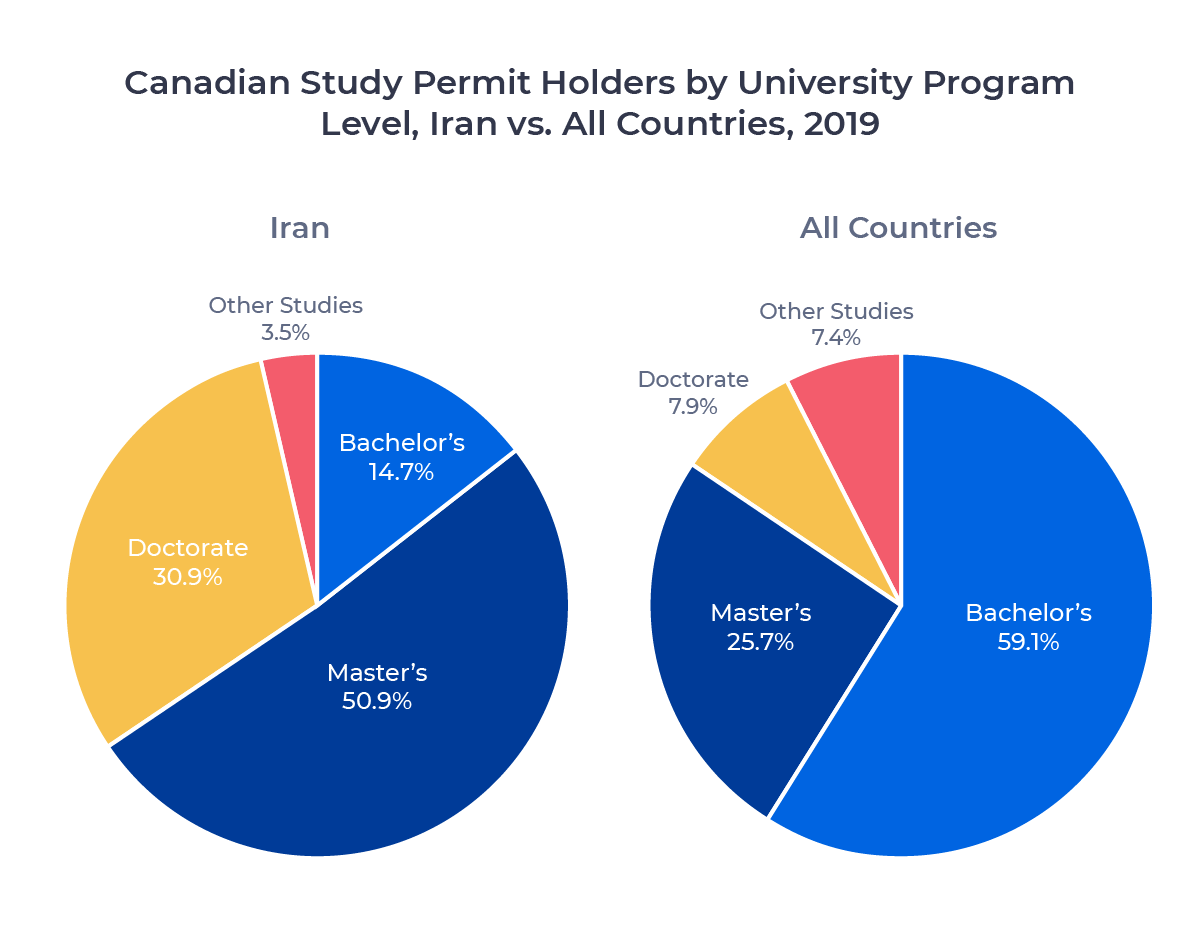 Iran's status as an outlier makes the Iranian market particularly difficult to forecast. It's a market I'll be keeping a close eye on in the new year.  
Philippines
The Philippines saw meteoric growth between 2015 and 2019. Canadian study permit approvals for Filipino students increased more than 600% over that period. 
Almost two-thirds of the Filipino students in Canada studied at the college level in 2019. It's a market that sees a large number of mature students come to Canada with families in tow. 15.6% of study permit approvals for Filipino students in 2019 went to primary students, while Filipinos were the second-oldest applicants on the ApplyBoard Platform in 2019, at 31.8 years. Perhaps because of those demographics, we've seen an above-average percentage of Filipino students we're working with at ApplyBoard move forward with their study plans in 2020.
Colombia
The Colombian student market in Canada also grew rapidly between 2015 and 2019, with study permit approvals up 225% over that period. A decade of strong economic growth has led to increased social mobility in Colombia and grown the market for international education. In particular, ApplyBoard's recruitment partners are hearing growing interest in language training programs offered at colleges and universities.
The Colombian government's prompt, proactive response to the COVID-19 crisis and the country's underlying economic tailwinds have positioned it well for a quick rebound post-pandemic. The Colombian market is one of the markets I'm most optimistic about as we head into 2021. 
ApplyInsights in 2021
The COVID-19 pandemic is primed to once again be the top story in international education in the new year, as vaccines roll out and the post-pandemic future begins to take shape. As we work to provide comprehensive coverage of this and other key stories, we've got some exciting changes coming to ApplyInsights in 2021:
We'll be expanding our coverage to three articles per week in mid-January.

We'll be introducing a subscription option that delivers links to the newest articles straight to your email inbox. Keep an eye out for this feature in the new year to ensure you never miss an article! 

We've launched a blog-specific email address,

applyinsights@applyboard.com

. Please reach out to me at this address if you have questions about any ApplyInsights article. 
I'll be back in January with my thoughts on what the year in front of us holds. Until then, have a safe and happy holiday season!
Subscribe to ApplyInsights
Sign up for the latest insights on international education.

---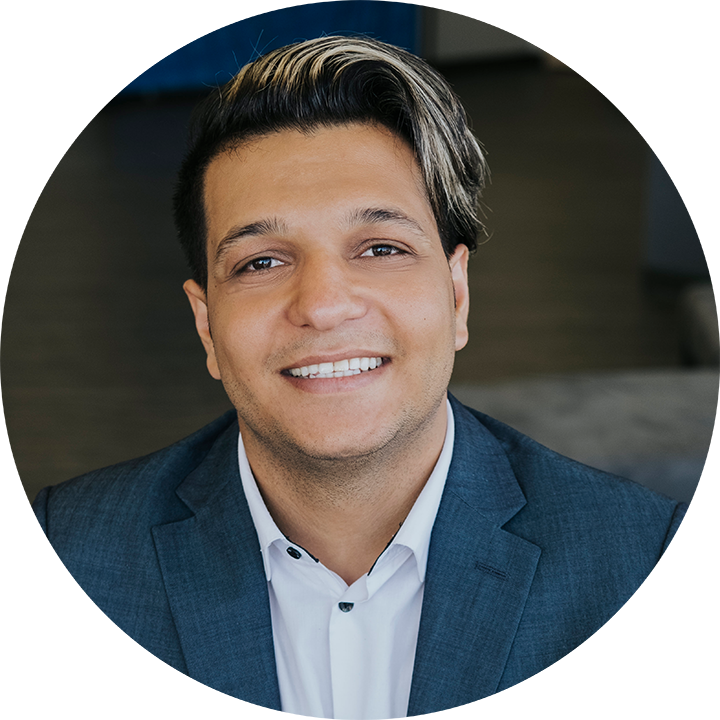 Meti Basiri
Co-Founder and Chief Marketing Officer (CMO)
Meti is driven by the belief that education is a right, not a privilege. In his role as Co-Founder and Chief Marketing Officer (CMO) at ApplyBoard, he leads the International Recruitment, Partner Relations, Sales Enablement, Sales Operations, and Marketing teams along a shared mission to educate the world. Meti has been instrumental in building partnerships with 1,200+ educational institutions across North America, the United Kingdom, and Australia. Working with over 4,000 international recruitment partners, ApplyBoard has assisted more than 120,000 students in their study abroad journey.
Meti was honoured in 2019 by Forbes, being named to three Top 30 Under 30 lists, including Education, Immigrants, and Big Money. Follow Meti on LinkedIn for more access to ApplyInsights and key industry trends.
---
FOOTNOTES:
1. Data courtesy of Immigration, Refugees, and Citizenship Canada (IRCC), except where noted. More recent data not yet available.
2. Only data between January and July 2020 available.
3. Based on the number of students with a valid study permit on December 31 of a given year.
---