The COVID-19 pandemic has reshaped student experiences around the world across all levels of education, from primary to post-secondary. Back in March, as the virus spread worldwide, I looked at how the crisis was impacting ApplyBoard's partner schools, and how those schools were adapting to support international student success and ensure student safety. 
In this edition of ApplyInsights, I'd like to shift the focus to recruitment agents. These agents are the small and midsize businesses that work with students in their home countries to find programs and educational institutions abroad. 
To get feedback on how the pandemic has impacted these agents and the students they work with, ApplyBoard conducted an email survey of over 500 recruitment agents from July 28 to August 2, 2020. A large proportion of these agents serve the South Asian market, with others serving Africa, mainland China, Latin America, the Middle East, and Southeast Asia. Thanks to all the agents who took part. 
What follows is a detailed breakdown of what these professionals are seeing in the market, what they're hearing firsthand from their students, and where they see international education heading in the near future. 
The Business Impact of COVID-19
Our survey shows that COVID-19 has had a profound impact on recruitment agents around the world. 93.7% of survey respondents said that the pandemic has had a negative effect on their business, with 83.9% reporting at least a 40% drop in business. 61.2% reported a minimum 60% drop in business, while 22.8% of respondents reported more than an 80% decline. 
As a result, 64.3% of respondents said they are very concerned about the success of their business moving forward due to the pandemic's long-term impact. Another 31.4% said they are somewhat concerned, while just 4.3% said they aren't concerned at all.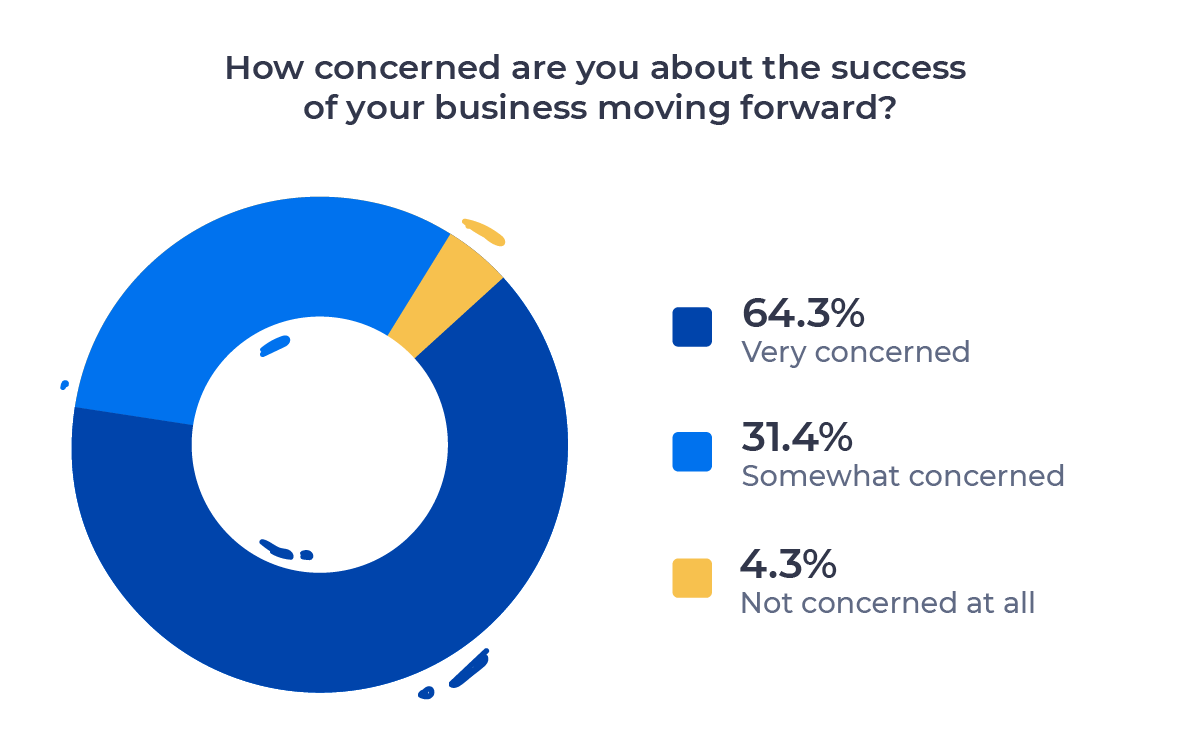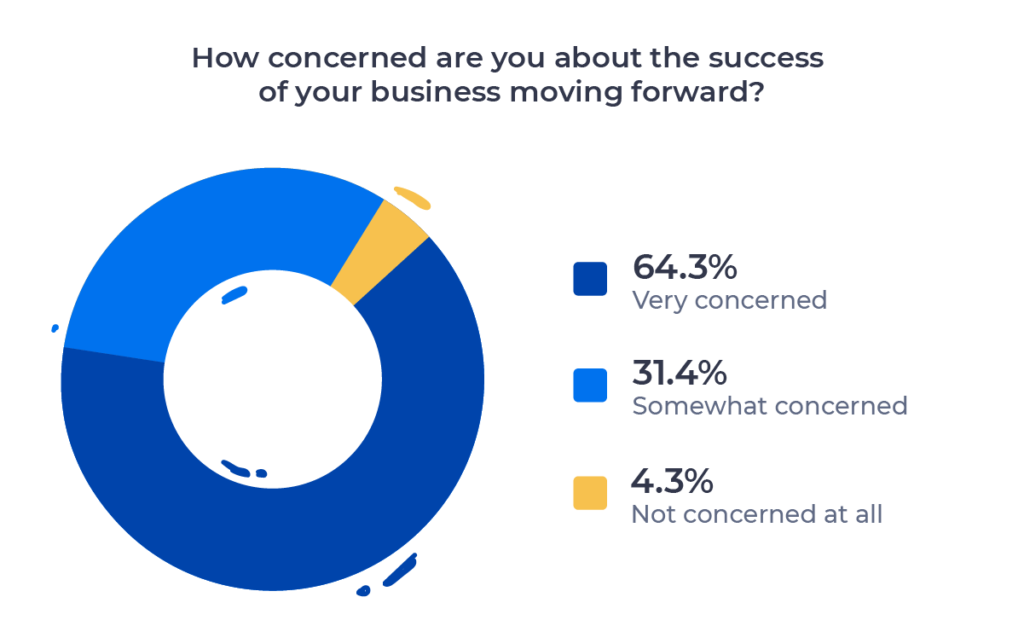 ApplyBoard asked agents what their long-term outlook is if the pandemic continues for the next six months, with limitations still in place on international travel and students' ability to enter destination markets. 10.6% of respondents predicted they would struggle under those conditions, while another 40.4% weren't sure. 
If travel restrictions remain in place for six months to a year, a full 23.1% of respondents predicted they would struggle seriously, while 42.8% were unsure.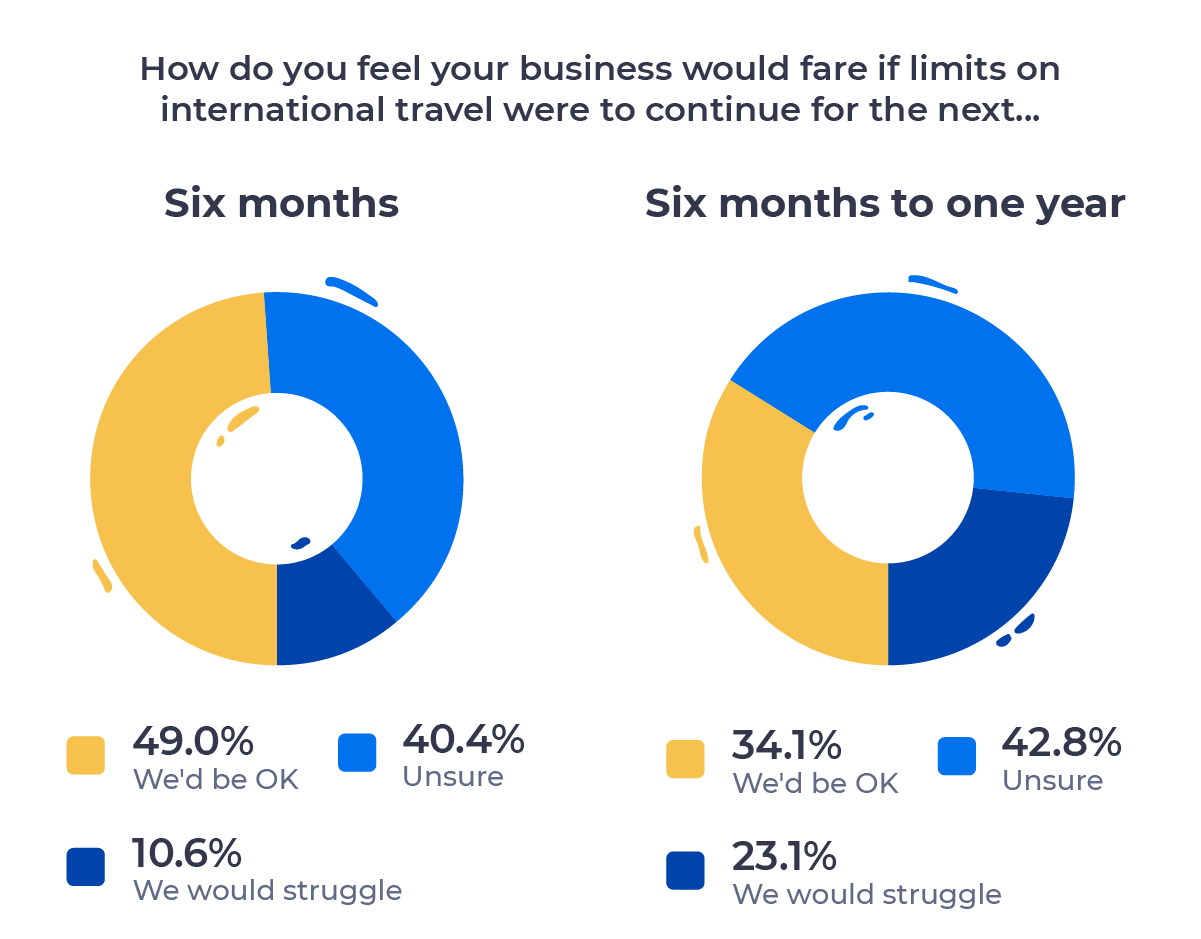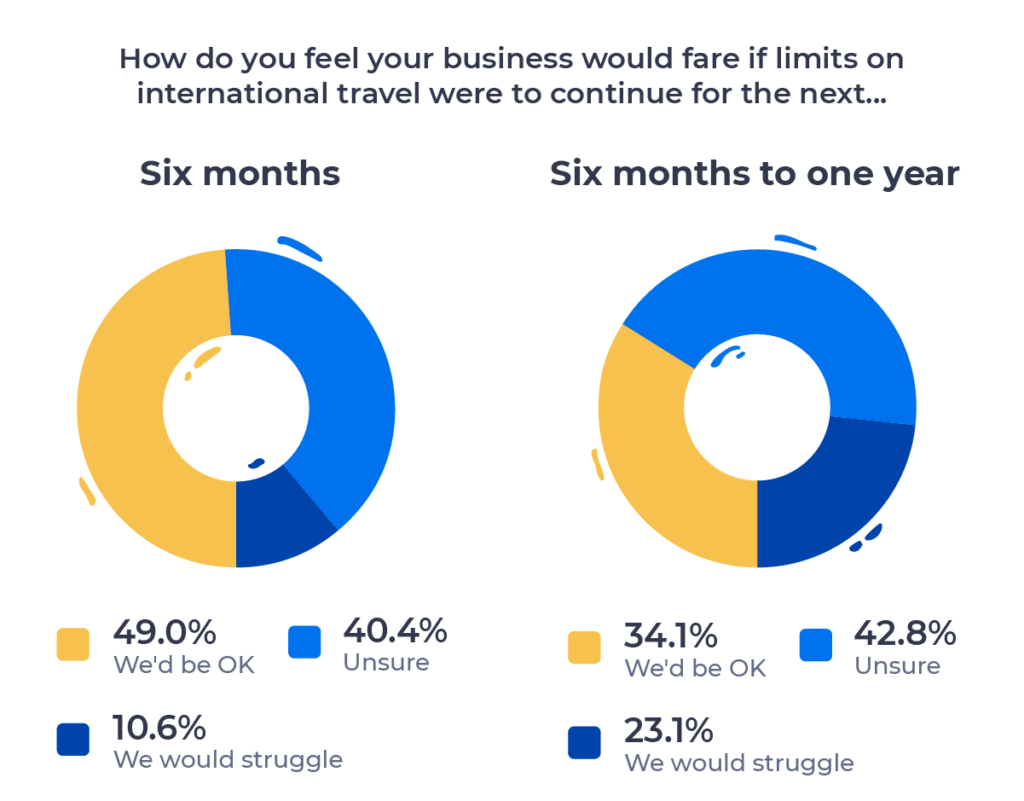 Mindful of the serious challenges the COVID-19 pandemic has posed for agents, ApplyBoard has taken several steps to help our recruitment partners (RPs)—the agents that use the ApplyBoard platform—through this difficult time:
We've invested an additional CA$5 million in our industry-leading technology, including a proprietary customer relationship management system (CRM) to help RPs minimize their administrative work and maximize their time recruiting. 

We launched ApplyBoost, our exclusive student lead generation program, to pass on highly qualified student leads to our recruitment partners.

We're providing financial relief to RPs by offering hundreds of thousands of dollars in savings on application fees and passing on millions in additional commissions.  

We've hosted a number of webinars aimed at helping our recruitment partners refine their skills. These include a

series with our partner schools

on how their processes and outlook have changed in response to the pandemic, and an upcoming

session on using video

to engage prospective recruits.
The response to these initiatives has been extremely positive, and ApplyBoard will continue to work with our RPs to ensure the ongoing success of their business. 
Our survey produced one significant silver lining. While recruitment agents have seen a sharp year-over-year decline in the number of students they have assisted since the pandemic started, nearly 60% reported an increase in business pre-COVID-19 (January to mid-March) versus 2019. 
Like most industries, the international education market will remain fundamentally altered by the COVID-19 pandemic. However, the fact that preceding trends were positive suggests that latent interest in studying abroad remains. As a result, I'm optimistic about the market recovery once the sector is able to achieve some sense of normalcy. 
What Students Are Saying
Even in this era of social distancing, recruitment agents remain in frequent contact with the students they assist. Knowing this, we asked agents what they were hearing from their students: how their education plans had changed, what their concerns were going forward, and how schools and governments could help. 
Students Studying Online in Fall 2020
53.3% of survey respondents told us they are working with at least one student who is enrolled internationally and planning to start their classes online from their home country this fall. 
Among those students, we identified a number of key concerns: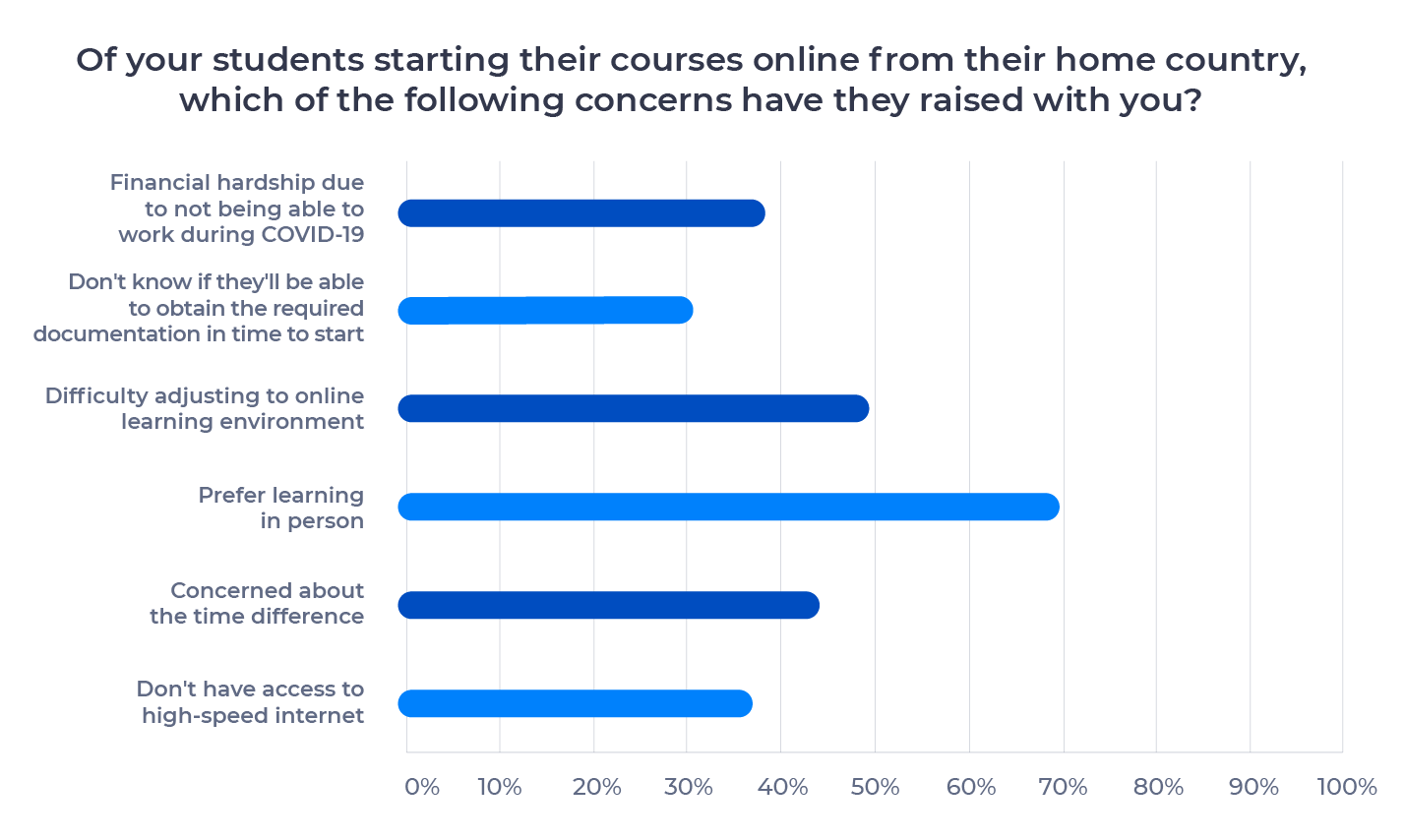 By far the greatest concern among students was a preference for learning in person (69.8%), with nearly half of the agents surveyed (49.8%) hearing students express further concerns about whether they could adjust to an online learning environment, a challenge we looked at recently on our blog. 
44.3% of recruitment agents have heard from students concerned about the time difference studying in a country other than the one they're living in, while 38.4% know of students suffering financial hardship due to not being able to work during the pandemic.
In light of these concerns, agents pointed to a number of things their students had shared that would make online education more attractive for them: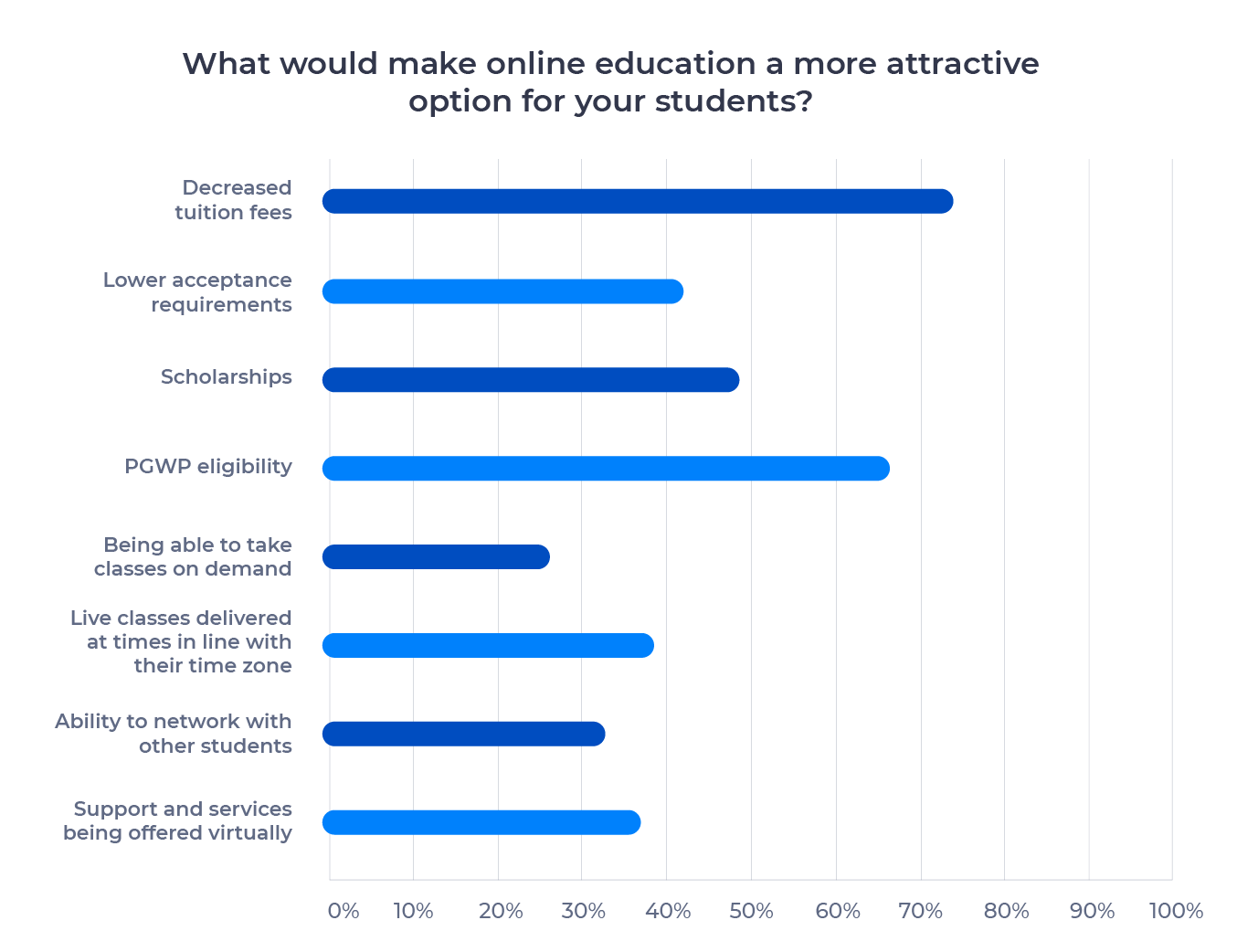 Reflecting the financial hardship that students and their families are facing, 74.5% of agents have heard that decreased tuition fees would help students, while 49.0% have heard from students looking for additional scholarship opportunities. 
Also of note is that more than two thirds of agents surveyed (66.7%) have heard concerns from students around post-graduation work permit (PGWP) eligibility in Canada. This result reaffirms that the PGWP is a critical component of the value proposition for international students in Canada. 
The Canadian government has assured students that they will not have time deducted from the length of a future post-graduation work permit for studies completed outside of Canada up to December 31, 2020. However, many students appear concerned that travel restrictions will extend beyond that date. Others are concerned that they won't be able to complete 50% of their program in Canada, which remains a requirement.
Students Who Have Put Their Study Plans on Hold
Students who have put their international study plans on hold, or who are planning to start at a later date, cite many of the same concerns as those starting online in Fall 2020: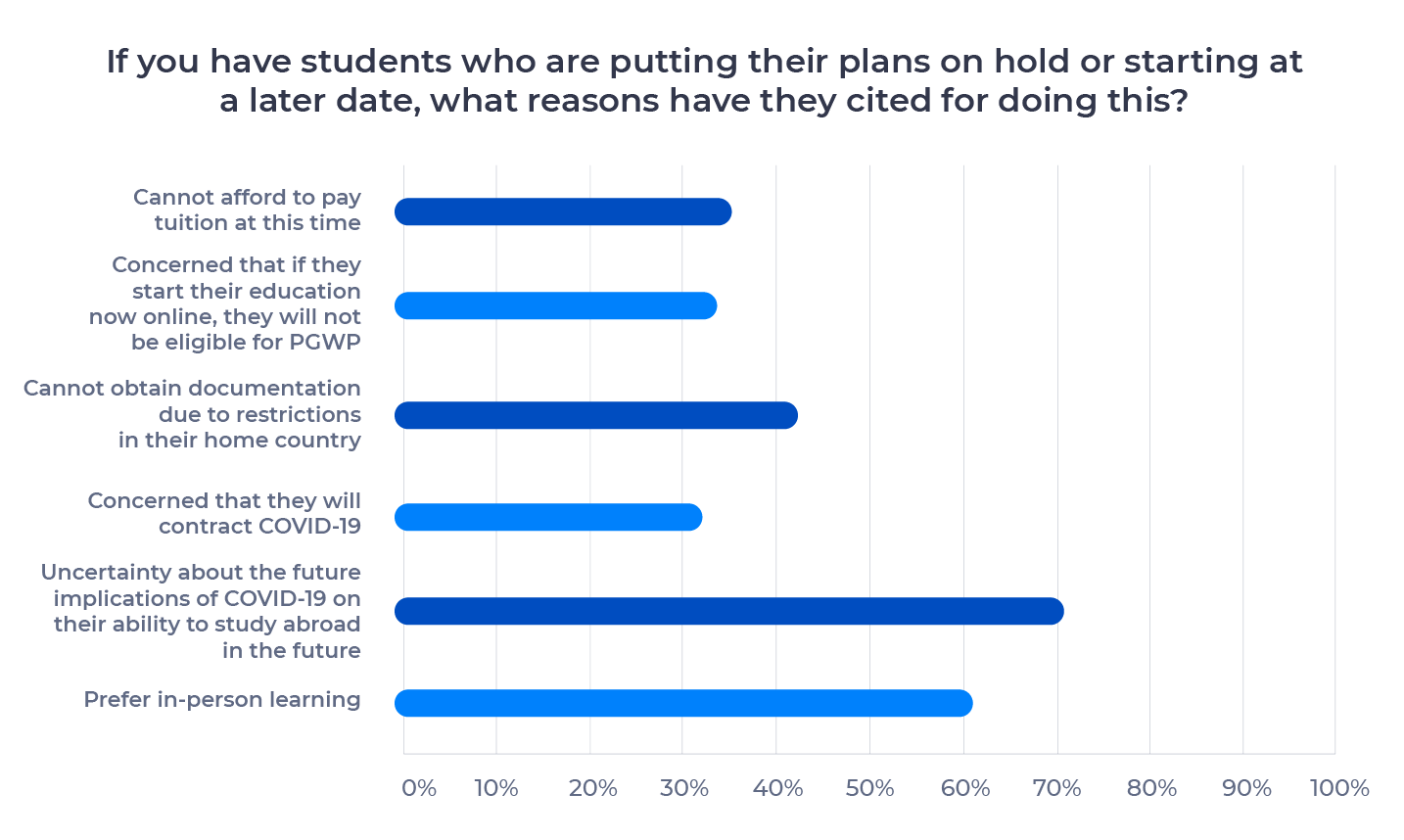 More than 70% of agents surveyed have heard from students who are uncertain about the implications of COVID-19 on their ability to study abroad in the future. Similarly, more than 60% have heard students say that they prefer in-person learning. These results point to the value students place not only on an education from a world-class institution, but on the educational experience of studying abroad through in-class instruction and by being immersed in a new culture.
Looking Forward
Our survey also asked agents what concerns students have looking ahead to when travel restrictions are lifted and they are permitted to travel to their destination country to start their studies in person. The results were as follows: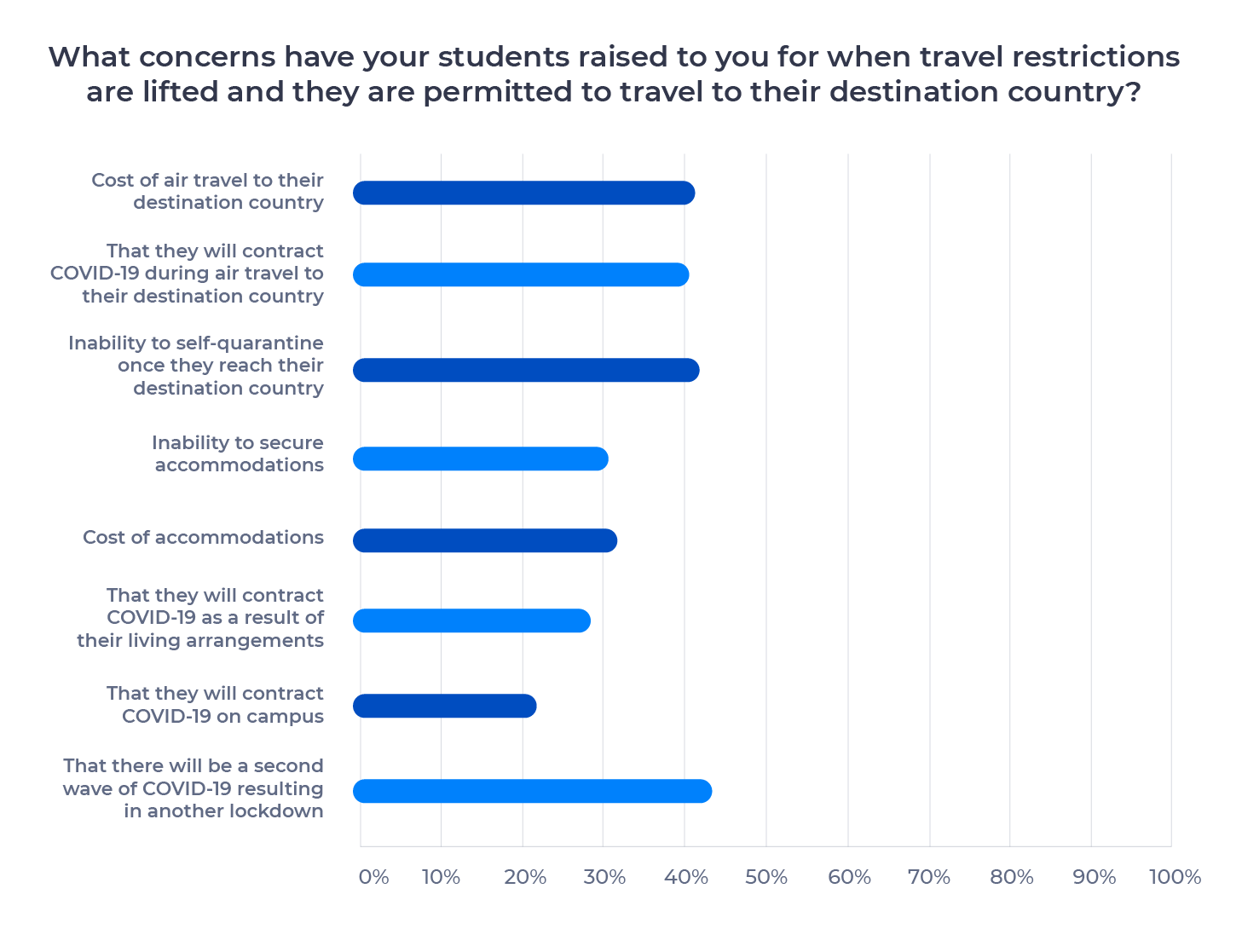 While many heard student concerns about contracting COVID-19 during air travel (40.78%), through their living arrangements in their destination country (28.6%), or on campus (22.0%), even more heard anxiety over quarantine restrictions, whether due to travel (42.0%) or a second wave of COVID-19 resulting in another lockdown (43.5%). 
These results show the real concern students have about becoming isolated in their destination country. At ApplyBoard, we've been pleased to see many of our partner schools put in place services that focus specifically on the needs of international students, whether by conducting special advisory webinars or by providing access to international student advisors and counsellors through video conferencing.
We also asked agents where among Australia, Canada, the United Kingdom, and the United States their students felt most safe during the pandemic. The results showed Canada in first and Australia a close second, with the UK a comfortable third and the US fourth. (Note: These results predate the recent outbreak in the Australian province of Victoria.) When asked how safe their students would feel travelling to those countries to study once COVID-19 restrictions are lifted, agents gave similar responses. 
Final Thoughts
More than any other, the word that came up over and over again in these survey results and in separate conversations with recruitment agents is uncertainty. Students are uncertain whether they can afford tuition, uncertain whether they can obtain work permits and find work after graduation, and uncertain whether they can get the student experience they need—and feel they've paid for—online. Agents are uncertain whether their businesses can survive a prolonged pandemic.
While the past six months have been challenging for everyone in international education, they have also provided an opportunity for schools and governments to show leadership by meeting that uncertainty head on, tackling a real crisis with vision and empathy. I hope that these survey results provide valuable additional insight as all of us continue to make decisions and enact policies that allow access to quality education to students around the world.
Subscribe to ApplyInsights
Sign up for the latest insights on international education.

---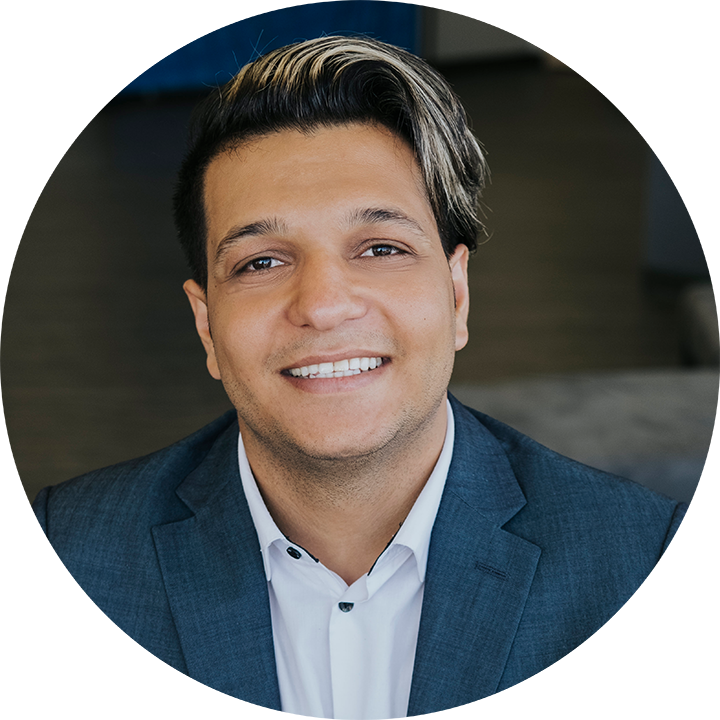 Meti Basiri
Co-Founder and Chief Marketing Officer (CMO)
Meti is driven by the belief that education is a right, not a privilege. He leads the International Recruitment, Partner Relations, and Marketing teams at ApplyBoard, working to make education accessible to people around the world. Meti has been instrumental in building partnerships with 1,200+ educational institutions across North America and the United Kingdom. Working with over 4,000 international recruitment partners, ApplyBoard has assisted over 100,000 students in their study abroad journey. Follow Meti on LinkedIn for more access to ApplyInsights and key industry trends.
---