Earlier this month, we looked at the impact of the COVID-19 pandemic on the international student market in Canada. In today's ApplyInsights, I'd like to dial in a little further to look at the pandemic's effect on Indian students studying in Canada. India accounted for more than a third of all Canadian study permits issued in 2019, so knowing how COVID-19 has impacted the Indian market can tell us a lot about the state of international education in Canada, both now and moving forward. 
Here's what this blog post will cover:
The number of new Canadian study permits issued to Indian students from January to June 2020 versus the previous three calendar years

A comparison of new student enrollment numbers at Canada's top 15 schools for Indian students in 2019 and the first half of 2020

Year-over-year changes in study permit approval rates for those schools 

My thoughts on what the future holds for Indian students in Canada
This article uses study permit data from Immigration, Refugees and Citizenship Canada (IRCC). IRCC issues both new study permits and study permit extensions. In this article, we'll be strictly looking at numbers for new study permits, meaning study permits issued before a student begins their studies. 
Study Permit Trends for Indian Students
The following chart shows the number of new study permits issued to Indian nationals for the 2017, 2018, and 2019 calendar years, as well as the first six months of 2020: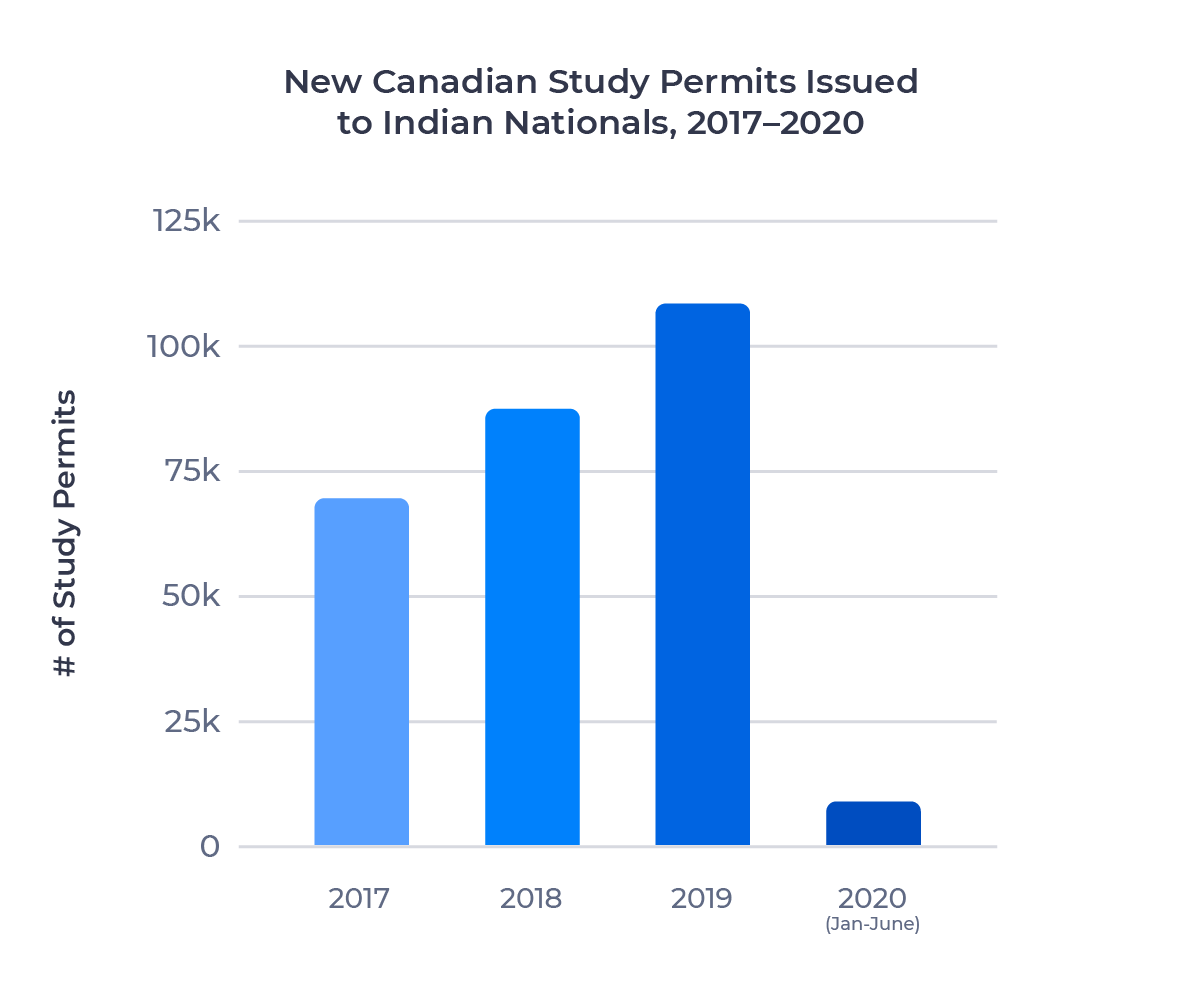 The Canadian government issued 9,147 new study permits to Indian students between January and June 2020. That's just 8.4% of the total study permits issued in 2019.  
8.4% is an alarming number, but it's important to note that it overstates the decline somewhat. On average, only 30% of study permits are issued in the first half of the year. With no year-over-year growth in the Indian market, we would expect to see around 30,000 new study permits issued between January and June 2020. That's a 70% shortfall. If we instead projected 30% growth for the market—in line with the growth we saw over the previous two years—the shortfall is closer to 80%.
Impact of COVID-19 on Indian Student Enrollment
A few weeks ago, we examined the most popular schools in Canada for Indian students. The top 15 schools drive the Indian student market in Canada, together accounting for over 45% of the new study permits issued to Indian nationals in 2019. 
Let's take a look at how enrollment numbers for these schools have changed in 2020:
Top 15 Canadian Post-Secondary Institutions by New Indian Student Enrollment, 2019

| Rank 2019 | Institution | # of Study Permits 2019 | # of Study Permits 2020 (Jan–June) | Change |
| --- | --- | --- | --- | --- |
| 1 | Conestoga College | 7,561 | 464 | -93.9% |
| 2 | St. Clair College | 5,161 | 180 | -96.5% |
| 3 | Lambton College | 4,655 | 90 | -98.1% |
| 4 | Northern College | 3,766 | 134 | -96.4% |
| 5 | Centennial College | 3,721 | 107 | -97.1% |
| 6 | Sheridan College | 3,357 | 97 | -97.1% |
| 7 | Fanshawe College | 2,891 | 98 | -96.6% |
| 8 | Seneca College | 2,887 | 66 | -97.7% |
| 9 | Yorkville University | 2,701 | 147 | -94.6% |
| 10 | Canadore College | 2,390 | 313 | -86.9% |
| 11 | Humber College | 2,320 | 50 | -97.8% |
| 12 | CDI College | 2,183 | 1,551 | -29.0% |
| 13 | Georgian College | 2,051 | 47 | -97.7% |
| 14 | Cambrian College | 1,896 | 125 | -93.4% |
| 15 | Herzing College | 1,879 | 102 | -94.6% |
Just 3,571 study permits were issued to Indian students to attend those 15 schools in 2020. That's 7.2% of the study permits issued to Indian students for the same schools across the 2019 calendar year, a tick worse than the average for all schools (8.4%).
All but two schools in the list saw at least a 93% drop in new student enrollment over the first six months of 2020 relative to full-year numbers for 2019. Canadore College, in North Bay, Ontario, saw an 86.9% drop, while CDI College, a private college with 23 locations across Canada, declined just 29.0%. 
Quebec Private Colleges Resisting COVID-19 Downturn
CDI College wasn't the only private college to outperform the sector over the first half of 2020. Though it didn't make the top 15 in 2019, Canada College also saw Indian enrollment numbers above 45% of their full-year enrollment over the first half of 2020. In fact, Canada College enrolled more Indian students over the first half of 2020 than in all of 2019. 
Why are some private colleges able to continue to attract Indian students during the COVID-19 pandemic while public colleges and universities are struggling? It's worth noting that Canada College is headquartered in Quebec, while CDI has five locations in the province. With a few exceptions, Quebec's private colleges are the only private colleges in Canada that offer programs eligible for a post-graduate work permit (PGWP). 
The PGWP is a key piece of the value proposition for studying in Canada, particularly among Indian students. With private colleges also having easier-to-meet admissions requirements, we may be seeing a greater willingness among less competitive candidates to move ahead with their education, with an eye to taking the first steps toward permanent residency in Canada. 
Impact of COVID-19 on Indian Approval Rates
The first half of 2020 has also seen a significant decline in study permit approval rates for Indian nationals. The chart below shows the change in approval rate for Canada's top 15 schools by Indian student enrollment: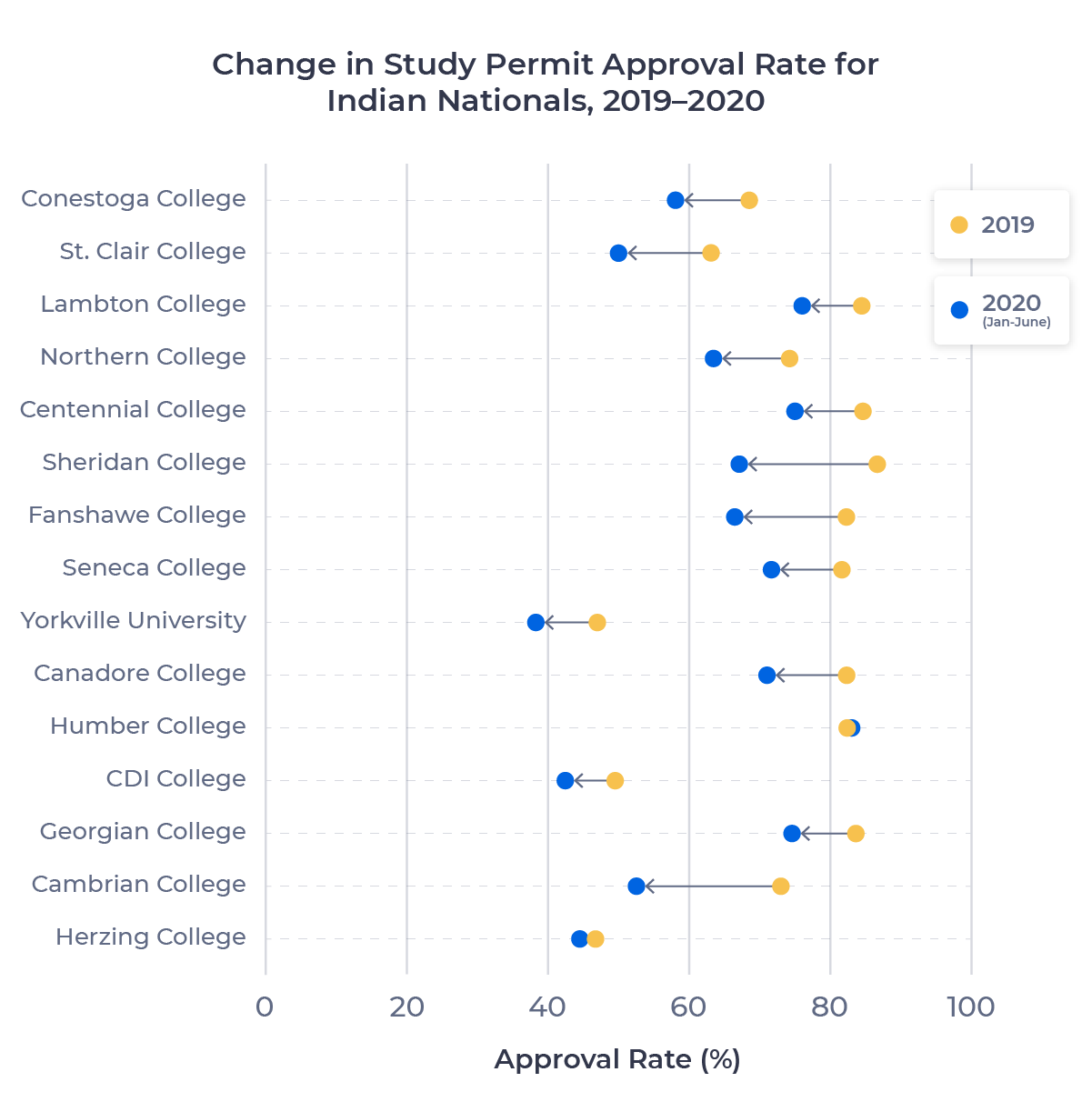 All but one of these schools saw a drop in approval rate in 2020, with the median approval rate for the top 15 falling 9.8%. Toronto's Humber College was the exception, rising 0.3%. Sheridan College and Cambrian College saw the greatest decline among the top 15, at 19.6% and 20.6%, respectively. 
As in the overall enrollment numbers, private colleges saw less of a decline in approval rates than their public counterparts. That said, public college approval rates run ahead of private college approval rates in general, so public rates had further to decline. 
On the university side, the University of Windsor, Canada's top public university for Indian students, saw a 2.4% increase in approval rate. Algoma University, which attracted the fifth-most Indian students among Canadian universities in 2019, went the other way, with a 24.4% drop in approval rate.
Possible Causes of Approval Rate Decline
Why have approval rates dropped so much in 2020? A few factors come to mind: 
Many students have had difficulty

obtaining the necessary documentation due to lockdown protocols. Prior to 2020 and during the early stages of the pandemic, applications missing documentation were rejected outright. In late May, the Canadian government introduced a temporary measure to notify students of missing documents and offer them additional time to submit them.

India's economy shrank 23.9% in Q2 2020,

1 and

current forecasts remain pessimistic

. The Canadian government may be more carefully scrutinizing study permit applications from India and other countries during the pandemic, particularly when it comes to proof of financials, recognizing that prospective students may not be as sound financially today as they were a year ago.

As I suggested above, less competitive candidates may have, on average, shown a greater willingness than stronger candidates to move ahead with their education despite the pandemic. A less competitive pool of applicants would also cause approval rates to decline. 
Either way, I'll be keeping a close eye on study permit approval rates for Indian students moving forward to see how these rates improve over the rest of 2020. 
Looking Ahead
With both enrollment and approval rates for Indian students down almost across the board, it's easy to get discouraged looking at these numbers. But as I've mentioned in previous articles, there's cause for optimism about the Canadian international student market for a few reasons:
The Canadian government has taken critical policy steps to support international students. As of October 20, 2020,

international students can travel to Canada

as long as the designated learning institution (DLI) they are attending has a government-approved COVID-19 readiness plan. 

In our

survey of recruitment agents on the impact of COVID-19

on their business, agents ranked Canada above Australia, the UK, and the US for its handling of the pandemic, leaving Canada well positioned relative to those other countries.

Q3 typically sees a large volume of applications come in, and at ApplyBoard, we've seen a huge uptick in submissions over the past two months. In fact, September 2020 saw the second-highest number of Canadian applications from India ever on our platform.
Despite the downturn caused by the pandemic, India remains by far the number one source of international students to Canada. With this in mind, I know the viability of the Indian market will continue to be a key focus for Canadian schools and government.
Thanks to proactive interventions by these stakeholders and hard work and commitment throughout the industry, the international education landscape in Canada looks better today than at any point since the onset of the pandemic. I'm confident that things will continue to improve despite the ongoing public health challenges, and I hope the numbers I've shared today will provide valuable additional context as we all continue to work together to drive student success in this difficult time.
Subscribe to ApplyInsights
Sign up for the latest insights on international education.

---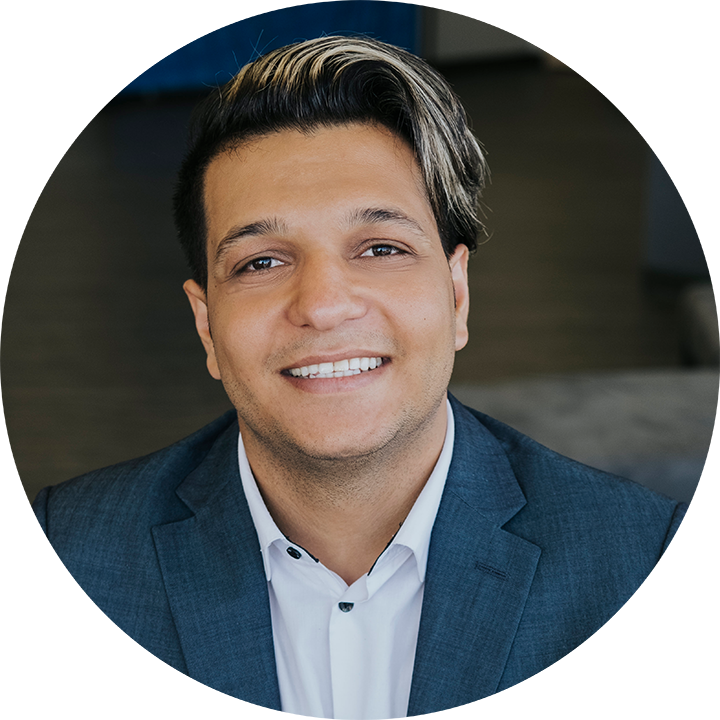 Meti Basiri
Co-Founder and Chief Marketing Officer (CMO)
Meti is driven by the belief that education is a right, not a privilege. In his role as Co-Founder and Chief Marketing Officer (CMO) at ApplyBoard, he leads the International Recruitment, Partner Relations, Sales Enablement, Sales Operations, and Marketing teams along a shared mission to educate the world. Meti has been instrumental in building partnerships with 1,200+ educational institutions across North America, the United Kingdom, and Australia. Working with over 4,000 international recruitment partners, ApplyBoard has assisted more than 120,000 students in their study abroad journey.
Meti was honoured in 2019 by Forbes, being named to three Top 30 Under 30 lists, including Education, Immigrants, and Big Money. Follow Meti on LinkedIn for more access to ApplyInsights and key industry trends.
---
FOOTNOTES:
1. Source: Government of India Ministry of Statistics and Programme Implementation.
---