In this edition of ApplyInsights, I'll be sharing my observations on China as a leader in supplying students interested in studying in Canada. China is the second-largest source market for Canadian institutions, with almost 30,000 students coming to the country to study in 2019.
Here's what this blog post will cover: 
The difference between student visas and study permits 

Trends in the number of student visas and study permits issued between 2015 and 2019, including by province and study level

What these trends can tell us about changes in the Chinese market 

My thoughts about the future of Chinese students in Canada
I'll start by quickly highlighting the difference between student visas1 and study permits.
Visas vs. Study Permits
A visa is a conditional authorization to enter a country. This means that even if a student has a visa for that country, a border officer has the authority to deny them entry. 
A study permit gives students the authority to stay in a country once they're there. It includes details about their purpose: why they're in the country, what course level they're studying at, how long they can stay, and whether there are any work restrictions. 
ApplyBoard examined the differences between visas and study permits in more detail here.
Canadian Student Visa Trends – China
In 2019, Canada received 34,640 applications from Chinese students, a 2.3% decrease from 2018. Of those 34,640 applications, 29,355 were approved. In total, Canadian student visa approvals for Chinese nationals fell 4.8% in 2019, driven by the drop in applications and a 2.2% decrease in visa approval rate. Despite the drop, China's Canadian student visa approval rate remains high, at 84.7%. 
The following table summarizes these changes, including statistics for all countries:
Student Visa Trends, China vs. All Countries, 2018–2019
2018
2019
Change
China
Applications
35,469
34,640
-2.3%
Approvals
30,830
29,355
-4.8%
Approval Rate
86.9%
84.7%
-2.2%
All Countries
Applications
342,702
426,594
+24.5%
Approvals
227,798
256,546
+12.6%
Approval Rate
66.5%
60.1%
-6.4%
Canada's student visa approval rate for all countries declined 6.4% in 2019, driven by large decreases from Iran and Vietnam. China's decrease was much smaller, but it still fell below the median change in visa approval rate for the top 20 source countries for Canadian students (-1.6%). 
More striking is the 4.8% decline in visa approvals for Chinese students. This comes at a time when overall growth in student visas for 2019 was 12.6%. China also fell below the median growth rate for the top 20 source countries (2.6%). 
Interestingly, a number of other East Asian countries mirrored this decline in 2019:
Student Visa Trends, East Asian Market, 2018–2019

| | Change in # of Applicants | Change in # of Approvals | Change in Approval Rate |
| --- | --- | --- | --- |
| China | -2.3% | -4.8% | -2.2% |
| South Korea | -10.6% | -12.1% | -1.6% |
| Japan | -18.0% | -19.0% | -1.2% |
| Taiwan | -5.2% | +1.1% | +5.8% |
I'll be monitoring the East Asian market closely moving forward as it looks to recover from COVID-19 in the context of these already declining application rates. 
Canadian Study Permit Trends – China
Canadian study permits for Chinese nationals fell slightly in 2019, from 85,165 to 84,710—around 0.5%. This continued a trend of slowing market growth over the previous three years.
This slowdown in market growth allowed India to pass China as Canada's top source of international students in 2017. Set alongside the massive growth in the Indian market over the past four years, the decline in the Chinese market is even more pronounced: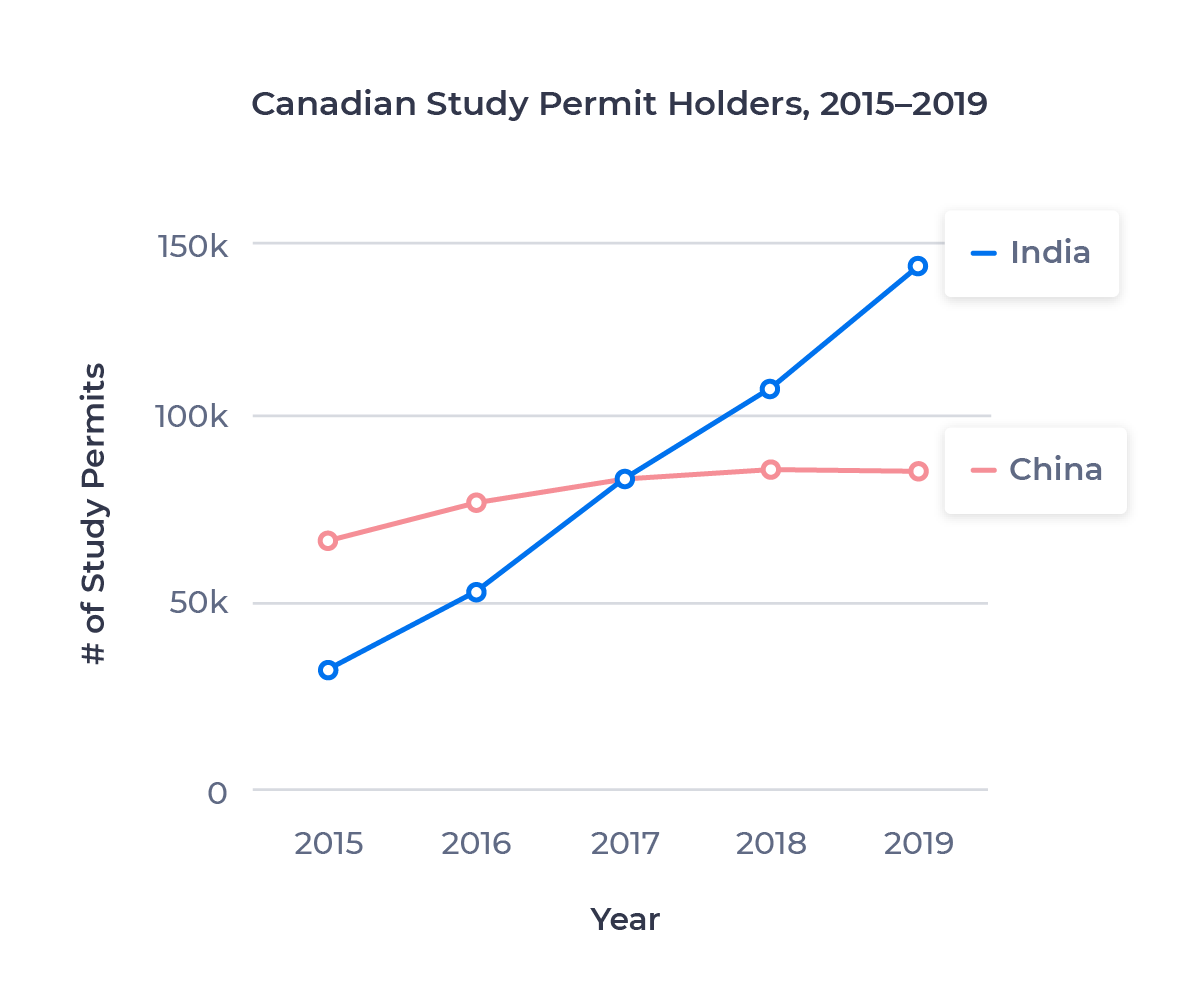 After a fifteen-year period of robust growth, the number of Chinese students in Canada has stagnated over the past five years. Why is this? One possible reason is that China's strong economic growth over the past few years has encouraged students who would otherwise study abroad to stay at home. Canada also faces stiff competition from the UK, where Chinese enrollment grew 34% over the same period. 
Despite the downward trend, China remains the number two provider of foreign students to Canada, responsible for more than 20% of Canada's international student population. Total growth over the 2015 to 2019 period was 28.6%.
Study Permit Holders by Province
With the number of study permit holders from China falling across the country, it's no surprise that that number fell across many of Canada's individual provinces as well. The image below shows the number of study permit holders by province in 2019, along with the percentage change between 2018 and 2019: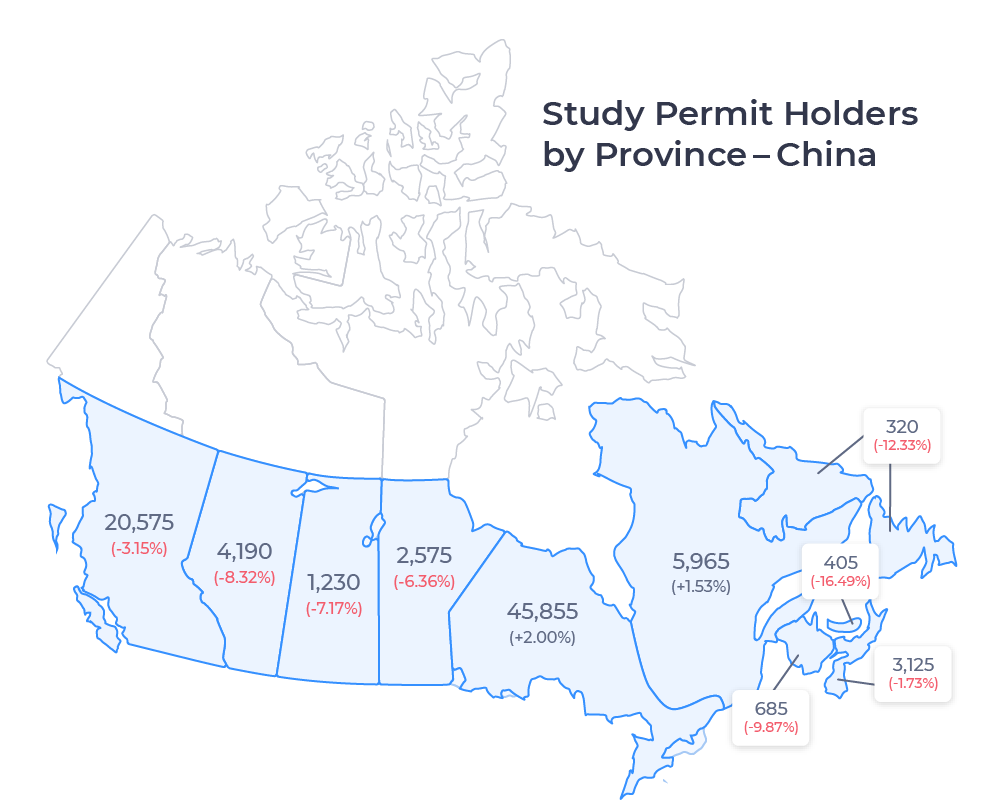 With the exception of Ontario and Quebec, which added 900 and 90 students, respectively, every province saw a decline in study permit holders from China. Ontario's 2% growth and the net decline across the remaining provinces increased its share of the Chinese market to 54%. The two smallest provinces by Chinese enrollment saw double-digit decreases, with Newfoundland and Labrador dropping by 12.3% and Prince Edward Island by 16.5%. 
Study Permit Holders by Study Level
The figure below shows the distribution of Chinese study permit holders by study level: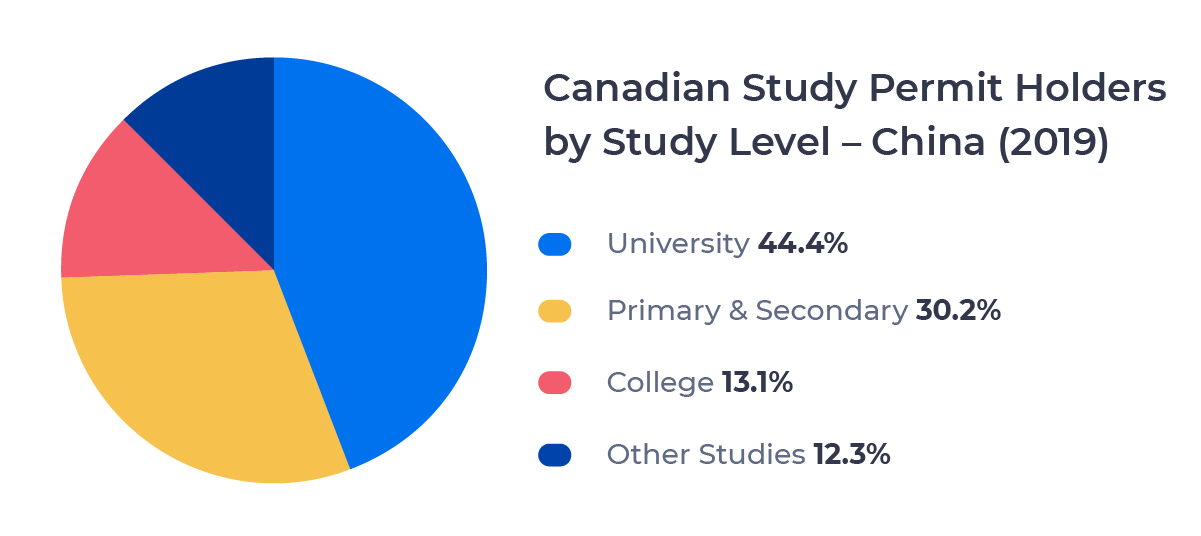 A university education remains the highest draw for Chinese students coming to Canada. Of the 84,710 study permits issued by Canadian schools in 2019, 44.4% were issued by universities. This represented a 5.2% growth rate, bucking the larger trend down among all institutions. 
Primary and secondary schools remain another key driver of study permits to Chinese nationals. This sector comprises 30.2% of the market and stayed largely flat from 2018, posting a 1.7% decline. College enrollment fell 0.6% and remains 13.1% of the market. 
The other studies category was responsible for most of the decline in study permits, dropping 16.2% year-over-year. This category includes ESL and FSL programs, Quebec-based training and vocational programs, and any spouses or children of international students that hold a study permit themselves.
The Future of Chinese Students in Canada
The COVID-19 pandemic has reshaped the international education landscape around the world across all levels, from primary to post-secondary. Yet despite the toll that COVID-19 has taken on the international student market, the future for Chinese students in Canada remains bright.
China is still the number two source country for international students in Canada, and Canada's relative success at managing the pandemic could make it more attractive to students as travel restrictions are relaxed and in-person classes return.
The continual growth of Chinese enrollment in the UK suggests there remains growth potential for the Chinese market in Canada despite its maturity. The pandemic arrived before we could obtain data on the effects of updates to the Student Direct Stream (SDS) in late 2019. However, I believe these changes could help Canadian institutions compete with the UK moving forward.
Either way, the Chinese market is one I'll be keeping a close eye on for the rest of the year—and beyond.
Subscribe to ApplyInsights
Sign up for the latest insights on international education.

---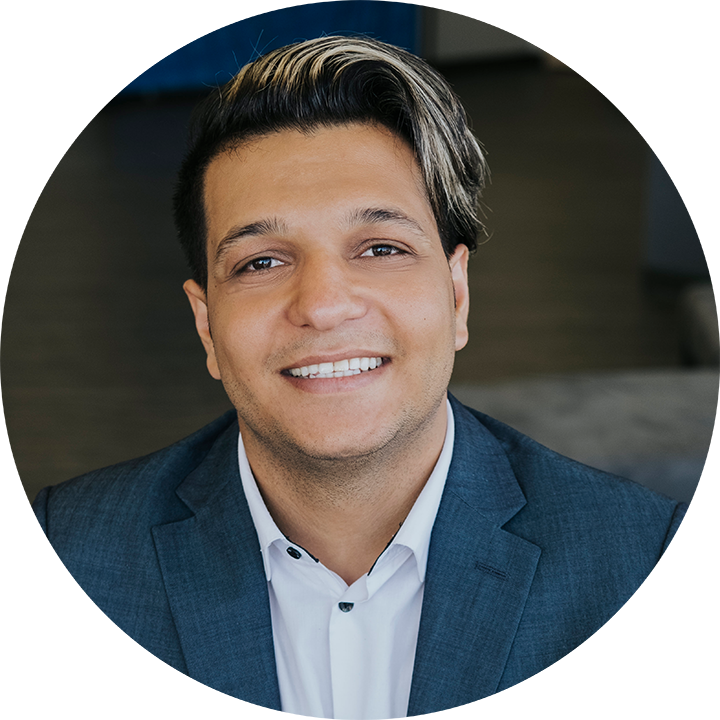 Meti Basiri
Co-Founder and Chief Marketing Officer (CMO)
Meti is driven by the belief that education is a right, not a privilege. He leads the International Recruitment, Partner Relations, and Marketing teams at ApplyBoard, working to make education accessible to people around the world. Meti has been instrumental in building partnerships with 1,200+ educational institutions across North America and the United Kingdom. Working with over 4,000 international recruitment partners, ApplyBoard has assisted over 100,000 students in their study abroad journey. Follow Meti on LinkedIn for more access to ApplyInsights and key industry trends.
---
FOOTNOTES:
1. The terms student visa and study permit are often used interchangeably when discussing Canadian international education and immigration. Students need a visitor visa to enter Canada, but one is often issued with an approved study permit.