This week marks a monumental milestone in ApplyBoard's history, our fifth anniversary! ApplyBoard's story is an inspiring one, filled with rapid growth and a strong sense of community. So let's take you on a journey of the last five years; from the story of our Co-Founders to hitting a milestone of 100,000 students assisted with their educational journey, here's what we've been up to.
2010: The Founders' Journey
ApplyBoard's Co-Founders—Martin, Meti, and Massi Basiri—were raised knowing that education had the power to change lives. Their parents instilled in them the importance of getting a quality education and were determined to help them achieve that.
As the oldest of the three brothers, Martin was the first to consider educational opportunities outside of their home country of Iran, and began looking into how to study abroad. When Martin decided to pursue his master's degree in Canada, he wasn't prepared for the challenges he would soon face searching for and applying to programs abroad.
The application process lasted more than a year, and was full of challenges and frustration, from language barriers and complex application processes to complicated visa paperwork. Thankfully Martin persevered and was able to navigate this difficult process himself, ultimately being accepted to the University of Waterloo in Ontario, Canada.
After beginning his studies, Martin wanted to help his younger brothers—Meti and Massi—with their study abroad applications to post-secondary institutions in Canada. With his help and guidance, Meti and Massi joined Martin in Kitchener-Waterloo to study at Conestoga College.
While in school, the three brothers were bombarded with requests from other international students for help applying to study abroad opportunities. Like the brothers, these international students were facing similar challenges: confusing application requirements, heavy paperwork, and no one to guide them through the complicated process.
Hearing these stories, the brothers wanted to create something that would allow others to build a better future for themselves, and more easily search for and apply to educational opportunities abroad. And thus, ApplyBoard was born.
2015: The Early Years
Martin, Meti, and Massi had all started their careers after graduation but left them to pursue ApplyBoard full-time, officially founding the company in 2015. Having never built a business before, the brothers applied and were accepted into Velocity, a University of Waterloo-powered technology incubator.
ApplyBoard moved into the Velocity Garage in the Communitech Hub and the brothers hired their first employees. There, they were supported in everything from building the foundation for a strong business to product development. This world-renowned incubator connected the co-founders with mentors like Velocity's then-Director, Jay Shah at every level of the startup process. The team spent hours in a one-room office, bolstered by the larger Kitchener-Waterloo tech community in a time that became pivotal in shaping the company we see today.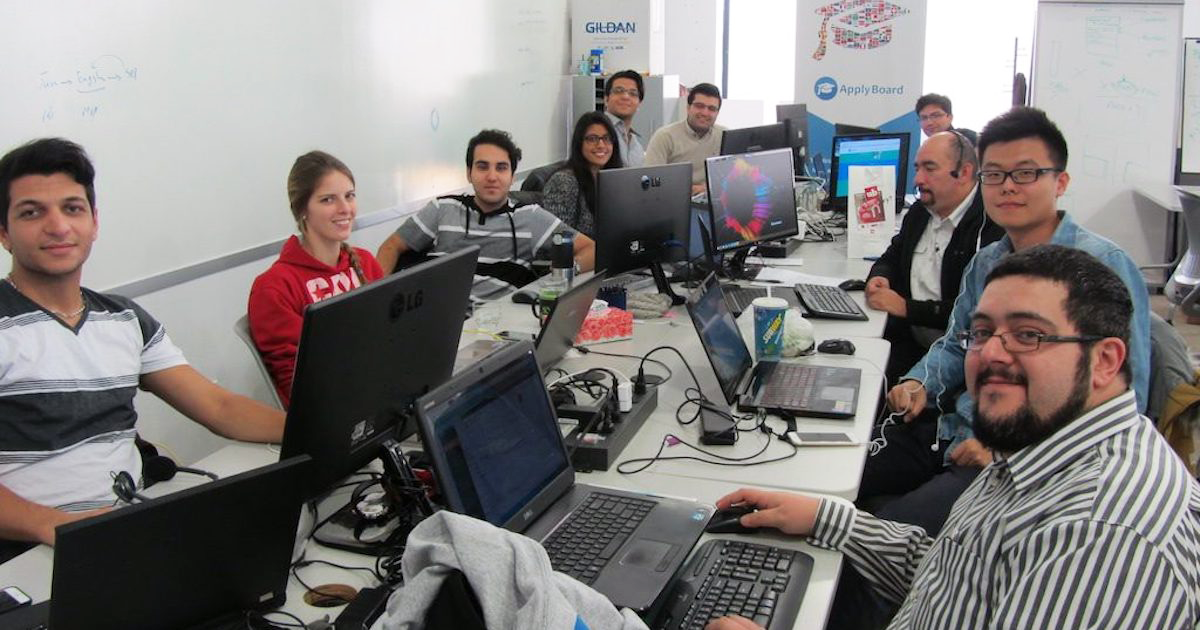 2016: Out On Our Own
Moving out of the Velocity Garage and into our own office on Duke Street in downtown Kitchener marked the beginning of exponential growth for ApplyBoard. This move represented the next step in scaling up the company and gave us the space to come into our own. There, we built the foundation for the company's future by further developing our platform, forming more partnerships, growing our employee headcount, and reaching thousands of students.
2018: Our First Round of Funding
2018 launched a new era for ApplyBoard as we reached 20,000 students assisted on their study abroad journeys and raised our Series A funding round of C$17 million. This first round was led by Silicon Valley-based Artiman Ventures, with earlier investors 500 Startups, Candou Ventures, Think+, and others coming on board. This funding was raised to fuel ApplyBoard's initial expansion by enabling us to hire developers to build out our technology, grow our sales team, launch marketing programs, and add more schools to our platform.
Our hard work in the company's first three years enabled us to bring over 750 high schools, colleges, and universities in Canada and the United States onto our platform. Despite moving into a bigger office at the beginning of the year, space became tight quickly once we surpassed 100 employees.
2019: So Much to Celebrate
At the beginning of 2019, we moved into our current office on Frederick Street in Kitchener, Ontario. To celebrate the move, we threw an official grand opening party in April (after taking some time to settle in due to our rapid growth). This party was to celebrate not only the new space but our success as a thriving tech company.
The celebration brought out representatives from our partner schools and recruitment partners, as well as local representatives, including Kitchener Centre MP Raj Saini, University of Waterloo President Feridun Hamdullahpur, and Kitchener City Ward 10 Councillor Sarah Marsh, who spoke about what ApplyBoard's success meant not just for the region, but Canada as a whole. Co-Founder and CEO Martin Basiri led an opening address and ribbon-cutting ceremony. We also unveiled a mural from local artist Stephanie Scott, representing the company's "student first" values and our strong belief in diversity.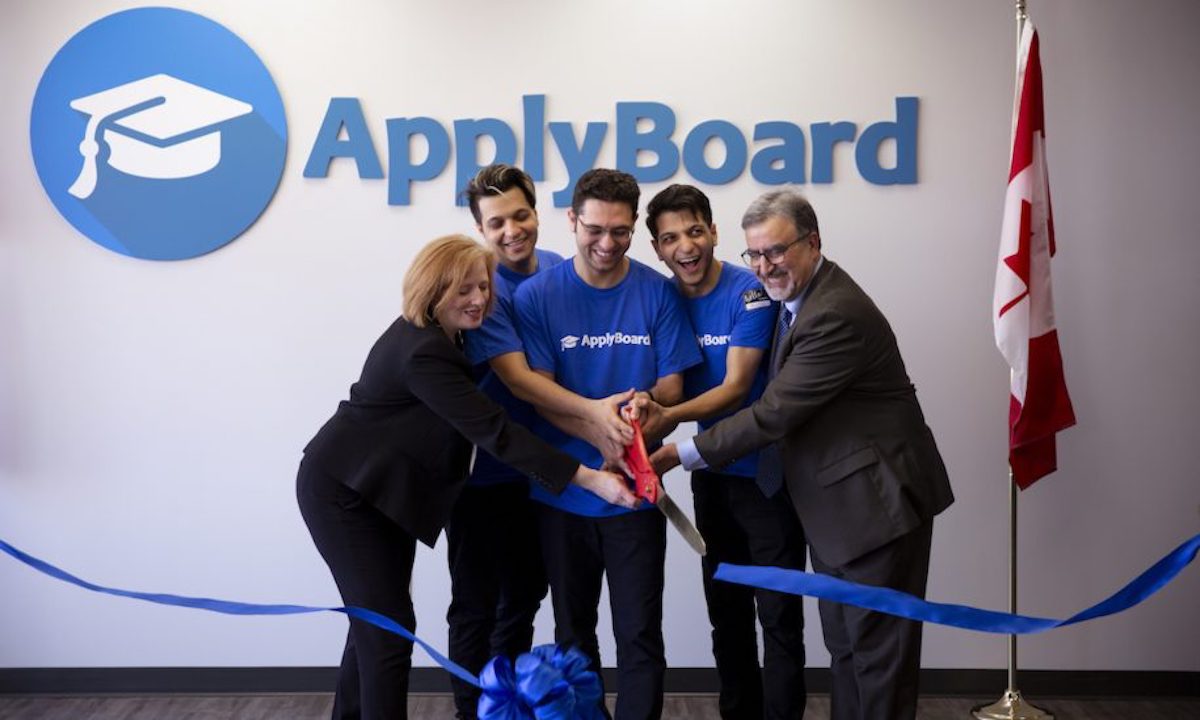 Within the same week, ApplyBoard hosted the Honourable Ahmed Hussen, Minister of Immigration, Refugees and Citizenship, and met with Prime Minister Justin Trudeau. ApplyBoard's Co-Founders were able to share their story and mission with Prime Minister Trudeau at Communitech during a federal funding announcement to help Canadian tech companies scale.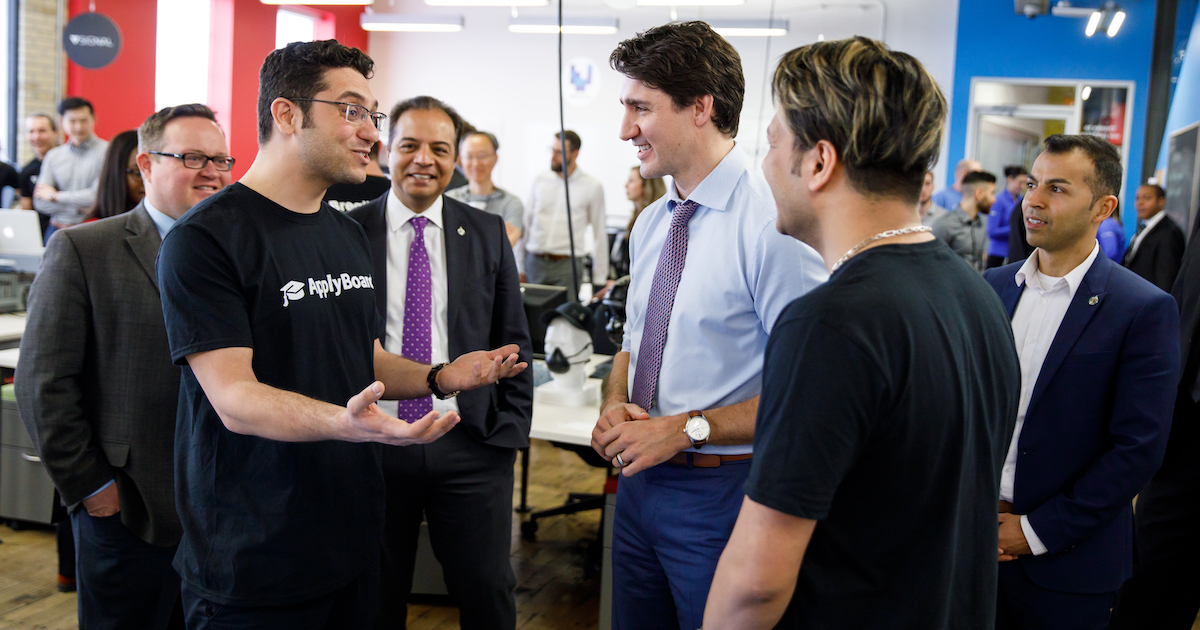 This year also marked ApplyBoard's first ever Top Recruiters Workshop in India. The event brought together ten of ApplyBoard's  Canadian partner schools to discuss the challenges and opportunities faced in the international recruitment market with 450 recruitment partners. The workshop was a fantastic opportunity for schools to directly address recruiters, while recruiters were able to network and take away key information for their students. This event launched what would become a series of successful international and virtual events connecting partner schools and recruitment partners.
In 2019 we raised a monumental Series B funding round of C$55 million, led by California-based investment firm Anthos Capital with participation from previous investors, including Artiman Ventures, who led our Series A in 2018. This investment enabled our company to further our platform to better support our students, partner schools, and recruitment partners, and accelerate expansion into new markets. ApplyBoard's growth was also reflected with milestones of over 70,000 students helped, and our rapid expansion to 300 staff.
ApplyBoard quickly became unstoppable! In a landmark achievement for the entire team, we were named the fastest-growing technology company in Canada by Deloitte, ranking #1 on the Technology Fast 50™ list. The company was also named a CIX Top 10 Growth innovative Canadian technology startup. The brothers received recognition as well, with Martin awarded the Young Alumni Achievement Medal by the University of Waterloo, and Meti and Massi included on three of Forbes' 30 Under 30 lists: Immigrants, Education, and Big Money.
2020: Five Years of Educating the World
Only five months into 2020 and ApplyBoard has already accomplished some amazing things. We've expanded to 60,000 square feet of office space and opened a new office in India. We've run countless initiatives in our Kitchener office to raise cultural awareness and support local education-focused charities.
In February, we named The Right Honourable Jo Johnson—former Minister of State for Universities, Science & Innovation—as Chairman of our Advisory Board. The next month, we officially launched in the United Kingdom, welcoming some of the UK's top schools onto the ApplyBoard Platform.
In the last five years, ApplyBoard has become the world's largest online platform for international student recruitment, assisting over 100,000 students from more than 110 countries with their educational journeys. Our staff have travelled the world, from Pakistan to Brazil, running and attending events with our recruitment partners and partner schools.
We've built a team of over 400 people around the world in 20 different countries. It is these staff members that give ApplyBoard the resources and innovation needed to improve access to education globally. With over 100 open roles, we're continuing to invest in the right people to power our mission to educate the world. If you're ready to join a high-growth, top-performing team and want to #BuildABetterFuture, apply today.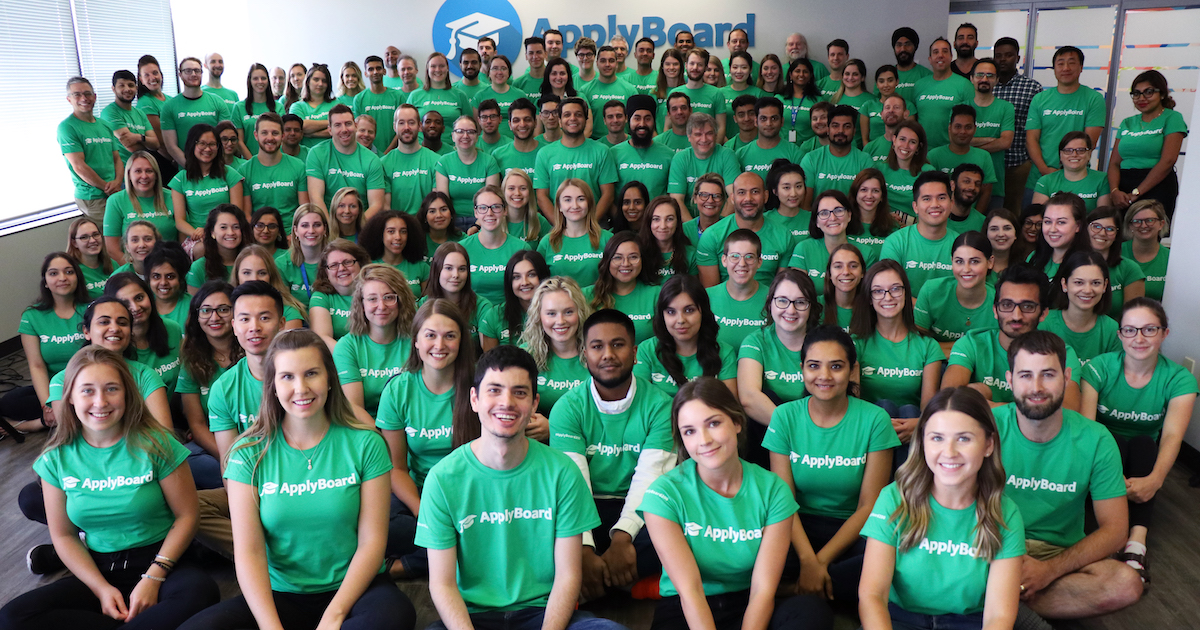 Looking Forward to #BuildABetterFuture
ApplyBoard has made huge strides towards making education more accessible for all. We couldn't have gotten to where we are today without the support of our staff, recruitment partners, and educational partners around the world. The partnerships and support from our community are invaluable in driving our mission.
As we reflect on our fifth anniversary, we can't help but wonder what the future will hold. We still have so much to do to make education a right and not a privilege. To get there, ApplyBoard will further invest in its technology, partner with educational institutions in new destination countries, and serve a broader diversity of students and recruitment partners globally.
Each step we take is one step toward our vision, but we can't do it alone. Every milestone we accomplish is the result of hard work and collaboration, fueled by our shared passion to help students achieve success. As ApplyBoard enters the next chapter, we believe that together, we can unlock new possibilities and create new opportunities for students everywhere. Together, we will #BuildABetterFuture for international students through access to education.
---