You may have heard rumblings about ApplyBoard's significant growth in the last couple years. Our team of 160 people at the beginning of 2019 is now well over 400 (and counting)! To accommodate our expanding company, we moved into our current Canadian headquarters in early 2019.
Our April 2019 Grand Opening brought staff, local government officials, tech-industry leaders, and educators together to celebrate the milestone. Taking up the entire 6th floor and part of the 5th floor in the Galleria buildings, ApplyBoard now has 50,000 square feet of office space, with plans to expand.
The Kitchener office joins downtown's tech corridor, near some of the city's best food and entertainment, including THEMUSEUM and Apollo Cinema. It's also easily accessible by public transit, nearby several bus lines and ION light rail.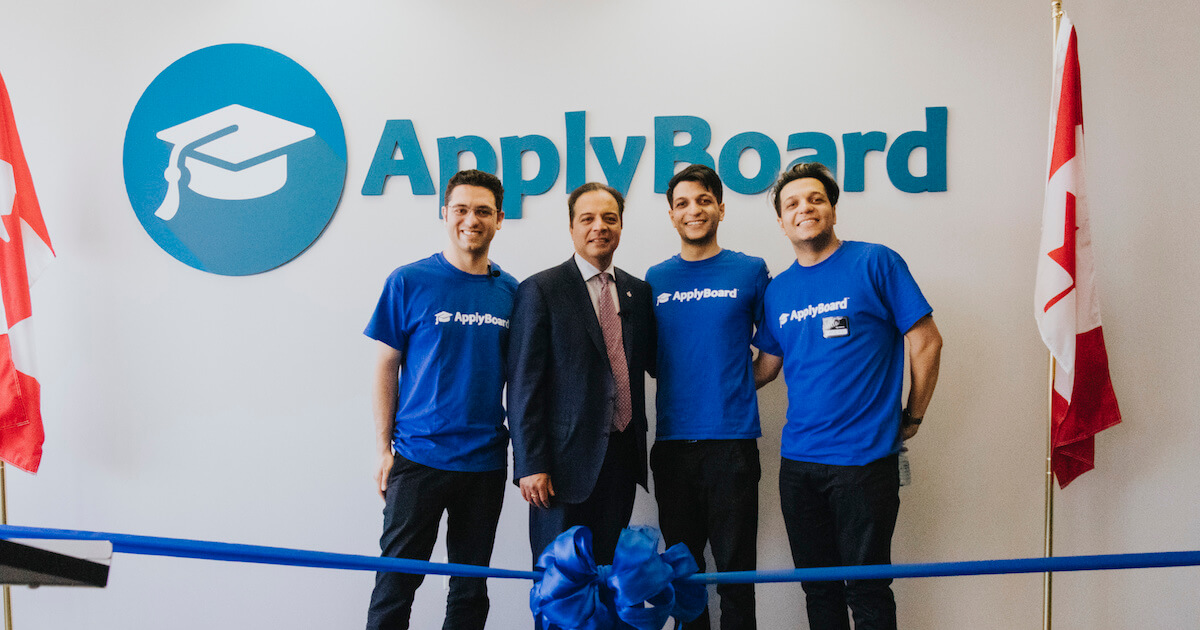 Curious about where our teams spend their days? Let's take a peek inside ApplyBoard's Canadian headquarters:
Lunch Room
As the largest common space in ApplyBoard's HQ, the lunch room serves many purposes. This area is home to countless lunchtime gatherings, as well as our weekly catered lunches (previous highlights include pot pies and the beloved Zoup!) Shelves on the back wall store games and puzzles that can be played over lunch.
This multifunctional space, emblazoned with the ApplyBoard logo, is a great spot to take a casual meeting. It's also used for company-wide presentations and ApplyCommittee events, including fundraisers, cultural lunch-and-learns, and game nights.
Kitchens
The ApplyBoard office has three kitchens. Always stocked with snacks, tea, and hot chocolate, staff can come here to find any sustenance they need to fuel their day. We even have a classic popcorn machine! Looking for your coffee fix? Espresso and coffee machines are armed and ready.
Meeting Rooms
ApplyBoard's meeting rooms are named after countries, as a further reflection of our mission. You'll learn your flags quickly if you join the team! Meeting rooms fit anywhere from 1 person to 20. Whether you need to schedule a call or book time to get some quiet work done, there's space for everyone. One of our meeting rooms also acts as a designated prayer room, with time booked off for staff who observe the practice of daily prayer.
Mural and Map
Diversity is at the core of ApplyBoard's strength as an organization – our staff come from over 27 nationalities, and speak 53 languages. This diversity is also represented in our students, who have traveled from over 100 countries to study abroad.
Stephanie Scott
, a local artist, painted the mural at the centre of our office to encapsulate our "student first" company values and strong belief in diversity and community. She used textiles like tiles and quilts from our largest markets to inspire the patterns found throughout. On the other side of this wall, you'll find a large map and some clocks. Every blue dot on the map represents a city where an ApplyBoard student has come from – we love watching this grow! Meanwhile the clocks show our local time alongside the time in some of our biggest regions.
Workspaces
The ApplyBoard office uses giant lego dividers to organize each floor into departments. Each staff member is equipped with a standing-optional desk, and different tables and chairs to work at can be found throughout.
Solarium
The office's solarium is a favorite among the ApplyBoard team – and how could it not be? This work and relaxation area has two-story glass windows, treadmill desks, and massage chairs.
Want a closer look at the ApplyBoard office? Watch CMO Meti Basiri's video tour below:
---