In March 2018, ApplyBoard hosted an open house in its then-new downtown Kitchener office. It took less than a year for the company to outgrow its space. On April 17, 2019, ApplyBoard hosted another Grand Opening event for its new, much larger office space just up the street from the old location. While the open house was a great networking opportunity for staff and local government officials, tech-industry leaders, and educators, it also reflected the company's rapid growth over the previous year.
"Today is our high school graduation. Now, the next four years start. It's our bachelor degree," said ApplyBoard CEO and Co-Founder Martin Basiri during his opening address. "We came from 35 people last year at the same time and now we are 170 people in more than six countries, and we have another 70 jobs open."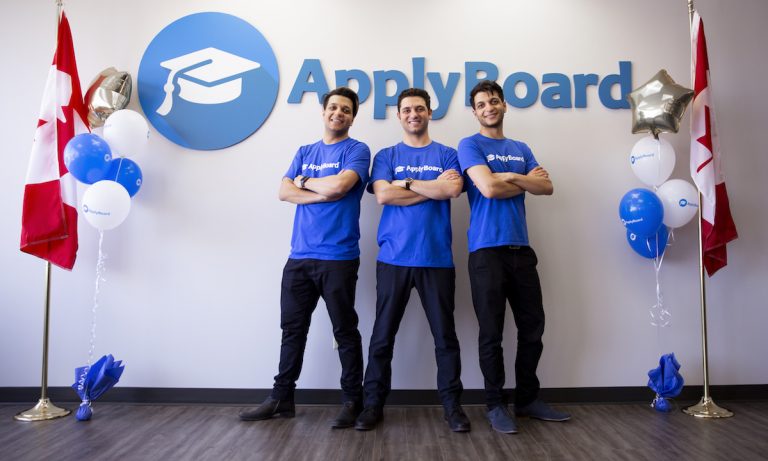 Kitchener Centre MP Raj Saini, University of Waterloo President Feridun Hamdullahpur and – on behalf of Kitchener Mayor Barry Vrbanovic and Waterloo Mayor Dave Jaworksy – Kitchener City Ward 10 Councillor Sarah Marsh, also gave speeches on what ApplyBoard's success means. Not just for Waterloo Region, but Canada as a whole.
"[Canada has] always been committed to immigration and diversity," said Raj Saini. "[ApplyBoard] resembles the best of our country. Right now, there's people from 29 different nationalities who work here. You have 50/50 gender parity. This is the example we need to show people across this country and around the world of how diversity and inclusion are our strength."
"I am tremendously happy ApplyBoard decided to [set-up] here in Canada and here in our region," said University of Waterloo President Feridun Hamdullahpur. "This is just the beginning. This is the tip of the iceberg and I can't imagine what your company will be doing in ten years. It's going to be fabulously more exciting."
We would like to warmly thank everyone who attended our Grand Opening or "graduation party." From our partner schools and recruiters to our friends and family, these last four years would not have been possible without your belief in our mission. As we look to the next four years, it is our goal to become the world leader in promoting the study abroad industry. We have many exciting plans in the works for the rest of 2019 and beyond.
If you'd like to help make a difference in the lives of students around the world, consider applying for one of our open full-time positions or drop us a line at info@applyboard.com.