While 2021 isn't over just yet, it has already been a strong year of recovery for many post-secondary institutions worldwide. More travel restrictions are being lifted every week, and the demand for in-person international education opportunities is surging. Here at ApplyBoard, we're on track to help more than twice as many students in 2021 as we did in 2020!
In today's ApplyInsights, I'm excited to be once again sharing some of our ApplyBoard Platform data. I'll be diving deep in to see what subjects were the most popular with ApplyBoard students and recruitment partners through the first ten months of 2021.1 I'll also be zooming in on user search data2 based on program tuition to see how these trends have shifted since last year.
Key Insights at a Glance
Business, Management, and Economics programs remained the most popular among ApplyBoard applicants, though Health and Science programs are of growing interest.
Over half of the students and recruitment partners using the ApplyBoard Platform in 2021 searched for programs with tuition fees of less than $30K a year.
Student interest in studying in the United States and the United Kingdom grew considerably from 2020 to 2021.
This search data can help predict what the international education landscape will look like in 2022 and beyond, so let's get started!
ApplyBoard Student Application Trends
Students are once again travelling abroad and starting their international education journeys, and student visa application volumes in most destination markets have returned to near pre-pandemic levels. We've seen this substantial return first-hand. From March to October 2021, ApplyBoard student applications for UK institutions rose by more than 300% and Canadian applications grew by over 200%, compared to the same period in 2020. But this growth was outpaced by the exploding US market, with US applications spiking by 750%.
International students applying to Canadian institutions through ApplyBoard were nearly 20% more likely to receive student visa approval than the all-applicant average.
Though total applications are up, student preferences for specific program categories have shifted somewhat from 2020. When I looked at our ApplyBoard Platform search data for 2020, I found that searches for business programs rose significantly from 2019. But did business program applications rise accordingly?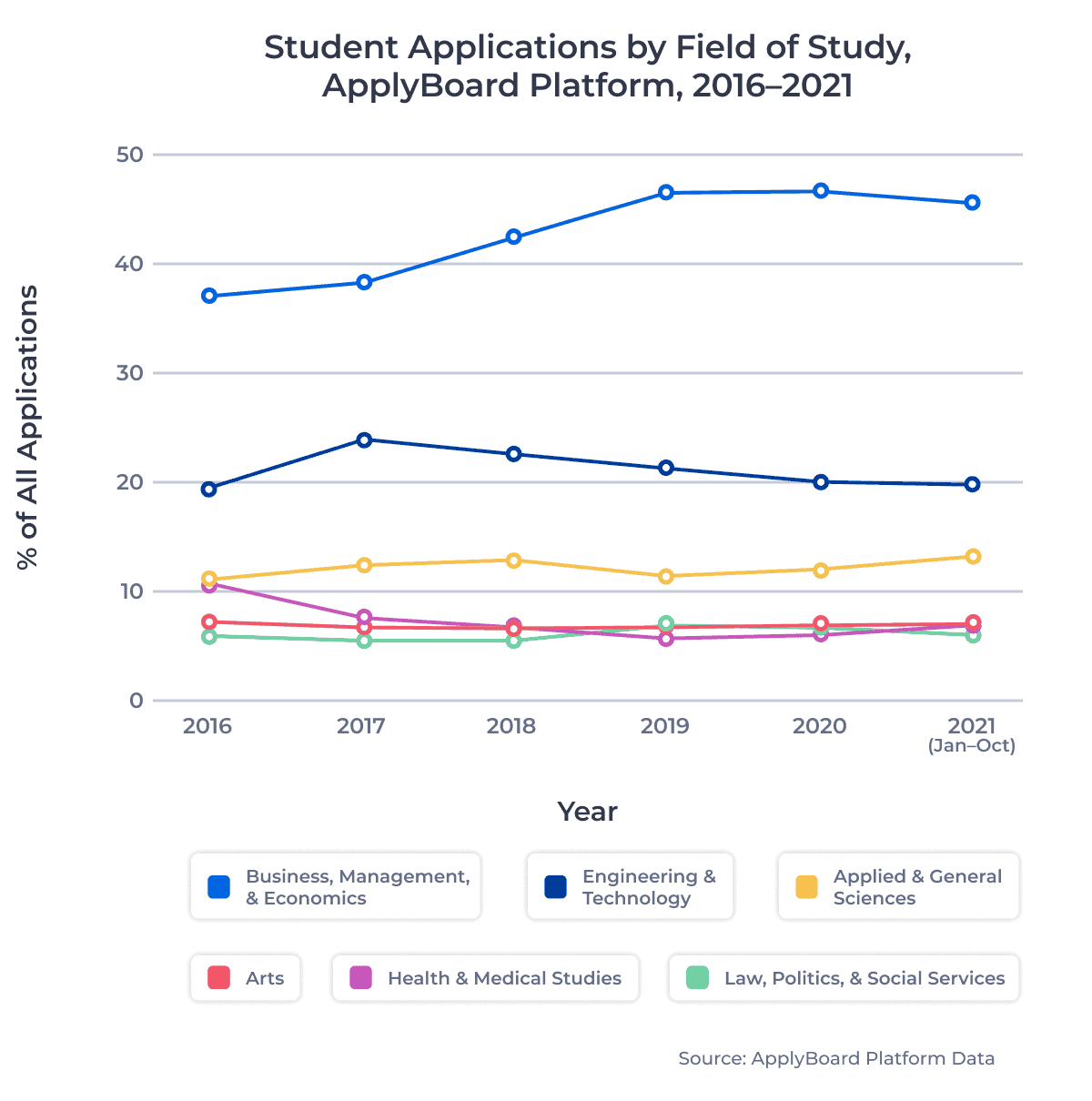 Over 45% of all ApplyBoard students applied to Business, Management & Economics programs in the first 10 months of 2021. This was a drop of around 1% from 2020, but this program category remained the most popular by far. The second most popular category, Engineering & Technology, accounted for around 20% of all applications in 2021, as it did in 2020.
Among the remaining program categories, we saw some potential long-term trends emerge in 2021. The demand for applied and general science courses, as well as health and medical studies programs, is on the rise. This likely reflects the large global demand for health professionals with scientific and technical skills. According to the World Economic Forum, the STEM3 skills gap4 expanded throughout the pandemic, and resolving this growing problem will rely on students choosing educational pathways that enable them to pursue careers in these fields.
There were nearly 110,000 job vacancies in Canada's healthcare and social assistance sector in June 2021, and the demand for Canadian health tech jobs is expected to hit nearly 120,000 by 2022.
The pandemic not only reinforced the critical importance of medical and health professionals, it also demonstrated the value of scientific innovation in solving new and pressing world issues. I'm confident that the success of the COVID-19 vaccine, as well as emerging medical and digital technology companies, will help accelerate the demand for STEM programs in 2022.
ApplyBoard Platform Search Trends
Our ApplyBoard Platform search data reinforces my confidence that STEM demand is on the rise among international students. Students are looking for programs that provide clearly defined career paths to ensure their success at home or abroad after graduation. This means that field of study search trends are one of the strongest predictors of prospective international student behaviour.
Field of Study
On the ApplyBoard Platform, users can filter program results by predefined and grouped field of study categories. This helps users explore related programs without requiring specific program names, which can vary from institution to institution. Among users of this filter feature, the following percentage bar charts show what percent viewed specific fields of study on the ApplyBoard Platform in 2019, 2020, and the first 10 months of 2021: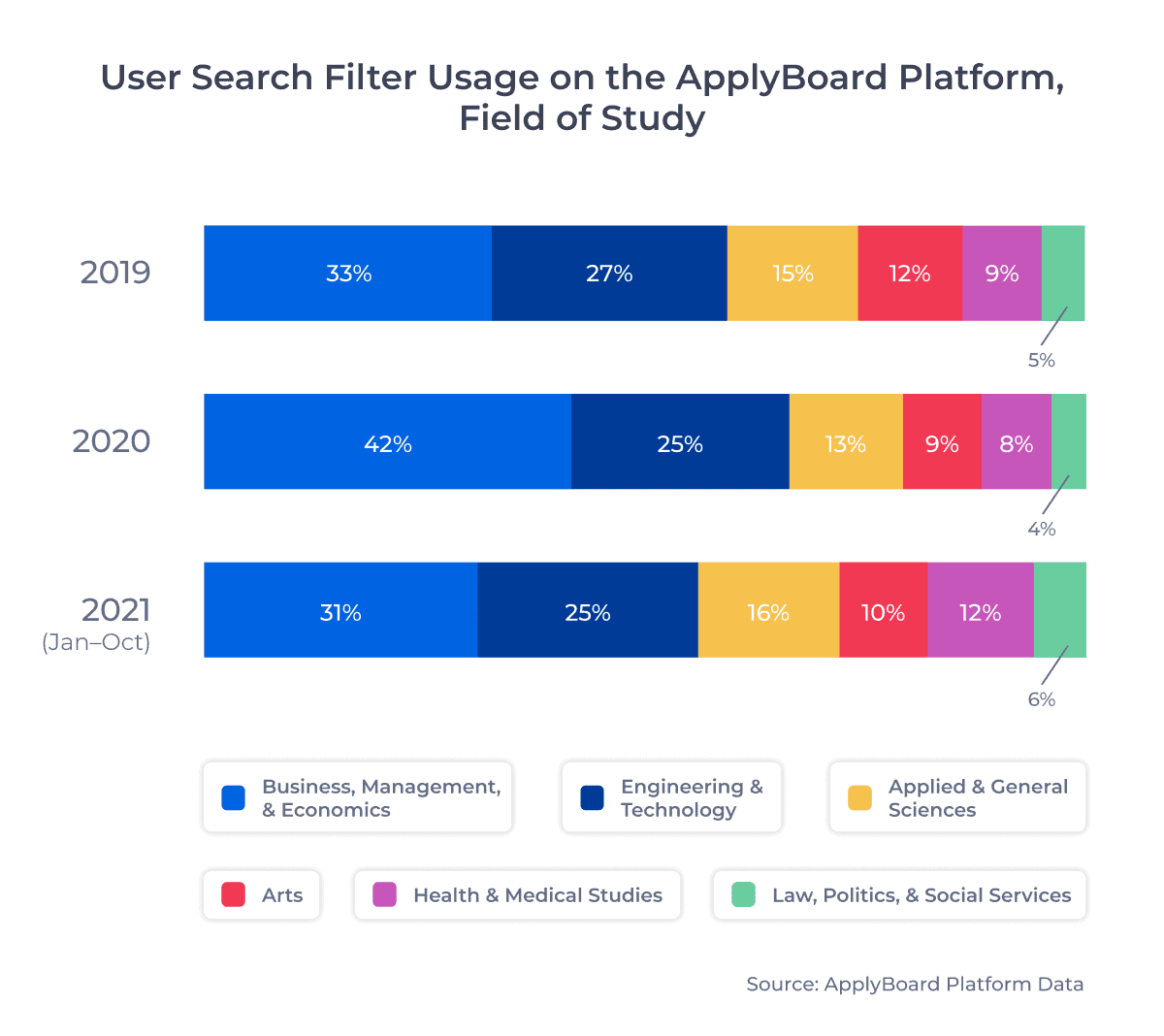 Just under a third of all those who have used the program category filter so far in 2021 looked for business, management, and economics programs. Though this remained the largest search category, its popularity fell by over 10 percentage points compared to 2020. By contrast, Applied & General Sciences and Health & Medical Studies accounted for a higher percentage of user searches in 2021 than in 2020 or 2019.
Top Search Terms
Beyond the program category filters, users of the ApplyBoard Platform can also input their own unique text to search for specific programs of interest. In 2020, common field of study search terms didn't align perfectly with popular program filters. However, the results for these two search functions were much more in-sync through the first ten months of 2021:
Most Popular Field of Study Search Terms on the ApplyBoard Platform, 2021 (Jan–Oct)

| Rank 2021 (Jan–Oct) | Rank 2020 | Program Search Term |
| --- | --- | --- |
| 1 (↑) | 2 | Business |
| 2 (↓) | 1 | Computer Science |
| 3 (↑) | 24 | Health |
| 4 (-) | 4 | Project Management |
| 5 (↑) | 7 | Nursing |
| 6 (↑) | 10 | Marketing |
| 7 (↑) | 17 | Hospitality |
| 8 (-) | 8 | Psychology |
| 9 (↓) | 4 | Mechanical Engineering |
Business surpassed Computer Science as the most common field of study search term in 2021. But the biggest story is the surge in searches for Health programs, with Health jumping up from 24th to take the third spot in 2021. Throughout 2021, health programs accounted for 15% of all unique text program searches while nursing programs accounted for an additional 7%. Higher interest in these fields can be directly tied to the pandemic and worldwide shortages of medical staff.
Two other fields of study, Marketing and Hospitality, also attracted more user searches in 2021 than in 2020. As international tourism slowly returns to normal, there will be an immediate need for employees throughout the industry. I suspect this field will become less popular in 2022 as the industry stabilizes, but I anticipate that marketing will remain in the top search terms. As the pandemic drove incredible growth for digital companies and marketplaces, the need for marketing professionals won't dry up anytime soon.
Canada remained the top destination market search term in 2021, but searches for the USA and the UK rose substantially from 2020.
Tuition
The pandemic negatively impacted student finances worldwide, and higher education is becoming less affordable every year. It's no surprise that the cost of living and tuition have become the top concerns for students looking to study in the United Kingdom, the United States, Australia, and Canada. But student interest in studying abroad is stronger than ever, and students are adapting their preferences to fit the education, and destinations, that they can afford.
To see how student priorities have changed in 2021, let's take a look at maximum tuition limits set by ApplyBoard Platform users over the past three years:ApplyBoard search and application data shows that international student interest in STEM programs and Health Studies is growing, but high tuition costs pose a significant barrier. The pandemic shifted student priorities, and lower tuition courses attracted stronger interest in 2021. Institutions need to consider how they can help students afford in-demand programs.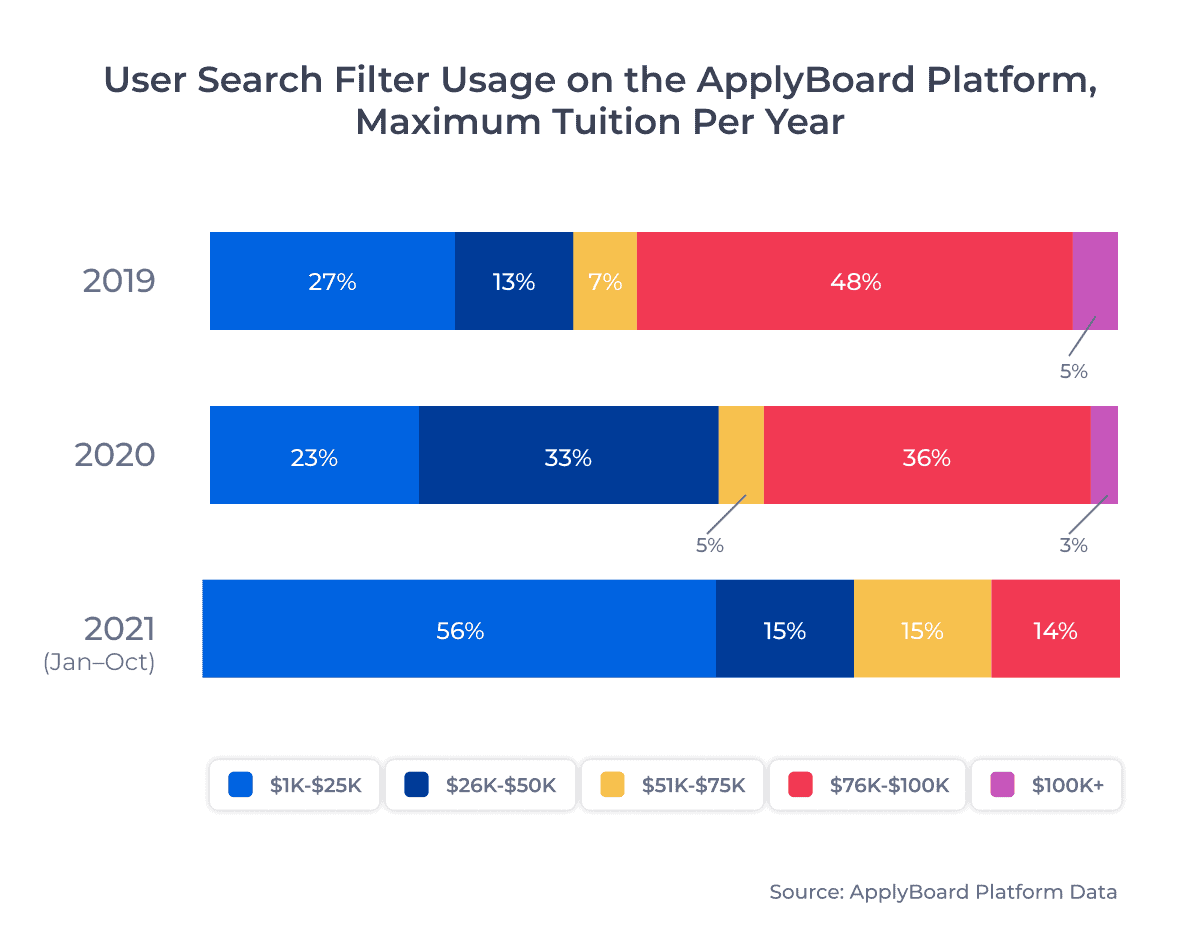 Before the pandemic, most students were willing to consider programs with annual tuition costs upward of $75,000. Throughout 2020, student preferences shifted toward programs with tuition fees under $50,000. And through the first ten months of 2021, over 55% of students and recruitment partners searched for post-secondary programs with tuition under $25,000 a year. This is a dramatic shift from 2019 and a dramatic confirmation of the lower tuition trend we saw in 2020.
I anticipate that tuition costs will remain a major concern for international students in 2022 and 2023. Economic recovery is likely to remain regionally uneven throughout 2022 as vaccination rates climb. And though many institutions froze their tuition rates in 2020 because of the pandemic, tuition fees generally increased again for 2021 and 2022 intakes. To combat financial barriers for international students, I'm a firm supporter of providing loans to students who need them to follow their study abroad dreams.

Key Takeaways
Prospective international students affected by the pandemic are adapting their preferences and priorities to the new post-pandemic world. They're attuned to the growing need for health professionals and employees with STEM skills. But they're also more cautious about their finances, limiting their view to affordable programs regardless of their intended destination market.
As the international education sector continues to recover in 2022, competition for these students will be intense. Nearly every institution is looking to increase their student diversity and recruit larger populations of international students. Despite booming student populations around the world, institutions need to be conscious of shifting student priorities or else they risk repelling the very students they hope to attract.
Based on ApplyBoard Platform trends in 2021, institutions looking to recruit more international students in 2022 and beyond should consider:
Developing and promoting high-value or multi-year scholarships for international students, especially for students from markets severely affected by COVID-19
Increasing international student capacity for high-demand STEM programs and working with government officials to increase student capacity in medical programs
Freezing international student tuition rates and offering discounted tuition fees for hybrid or fully online programs
Published: November 24, 2021
Subscribe to ApplyInsights
Sign up for the latest insights on international education.

---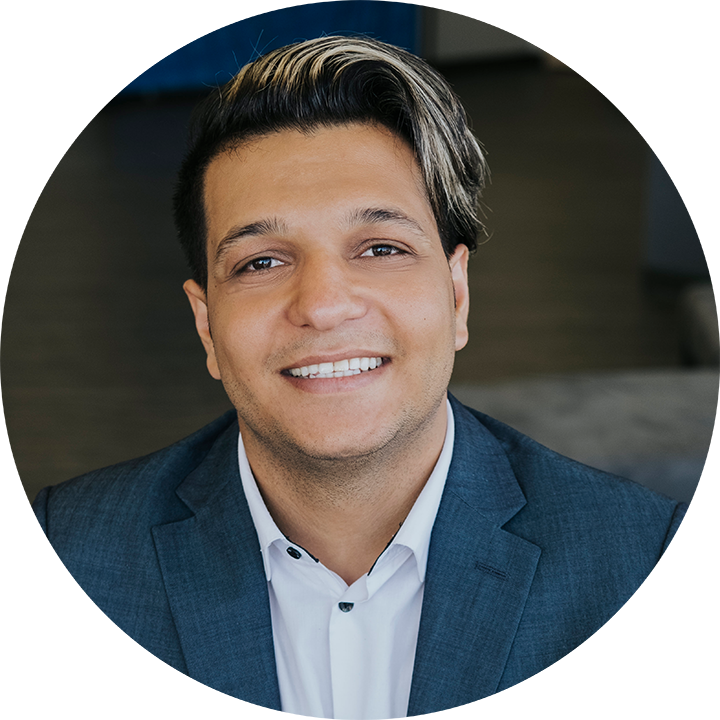 Meti Basiri
Co-Founder and Chief Marketing Officer (CMO)
Meti is driven by the belief that education is a right, not a privilege. He leads the International Recruitment, Partner Relations, and Marketing teams at ApplyBoard, working to make education accessible to people around the world. Meti has been instrumental in building partnerships with 1,500+ educational institutions across Canada, the United States, the United Kingdom, and Australia. Working with over 7,500 international recruitment partners, ApplyBoard has assisted more than 200,000 students in their study abroad journey. Follow Meti on LinkedIn for more access to ApplyInsights and key industry trends.
---
FOOTNOTES:
1. Users of the ApplyBoard Platform in 2021 were primarily searching for and applying to programs with intake dates in Fall 2021 or throughout 2022.
2. Users of the ApplyBoard Platform include prospective students and recruitment partners.
3. Science, technology, engineering, and math.
4. The skills gap is the difference between the number of individuals with the skills to fulfill a certain position and the number of positions available for individuals with those skills.