ApplyInsights: What International Students are Searching For – ApplyBoard Trends in 2020
The demand for international education opportunities continued to grow in 2020, despite some signs of declining interest during the early months of the pandemic. We saw an average of 420,000 searches through the ApplyBoard Platform per month in 2020, totalling over 5,000,000 searches for study abroad programs.
I'm excited to be sharing some of our ApplyBoard Platform data in this article. In this ApplyInsights, I'll be analyzing user search data from the ApplyBoard Platform to see how the pandemic has shifted international student intentions and considerations. This search data can help us predict what the international education landscape will look like in 2021 and beyond.
Key Insights at a Glance
Student interest in business studies continued to grow in 2020, with over 40% of all users on the ApplyBoard Platform looking at business programs.
Computer Science was the most popular field of study search term on the ApplyBoard Platform in 2020.
Prospective students and recruitment partners searched for programs with lower per-year tuition costs in 2020 than in 2019, with the most common tuition search limit dropping from over $75K to under $50K.1
I'll look at field of study search trends for post-secondary programs throughout 2020, and I'll contrast user2 search and student application data. I'll also compare user tuition searches in 2019 and 2020 and explore tuition trends related to submitted student applications. Let's get started by looking at which fields of study were most popular among ApplyBoard Platform users in 2019 and 2020.
ApplyBoard Platform Trends – Field of Study
According to the QS International Student Survey (ISS) 2020, the first decision that a prospective international student makes is what field of study they'd like to pursue. Students are looking for clearly defined career paths to ensure that their study abroad journey leads to their desired outcome. This means that field of study search trends are likely the strongest predictor of prospective international student behaviour.
The ApplyBoard Platform allows users to filter program results using predefined and grouped field of study terms. This can help users explore related and similar programs without limiting their search to specific program names. Among users who used this filter feature, the percentage bar charts below show what percent of users filtered programs available on the ApplyBoard Platform by grouped fields of study in 2019 and 2020: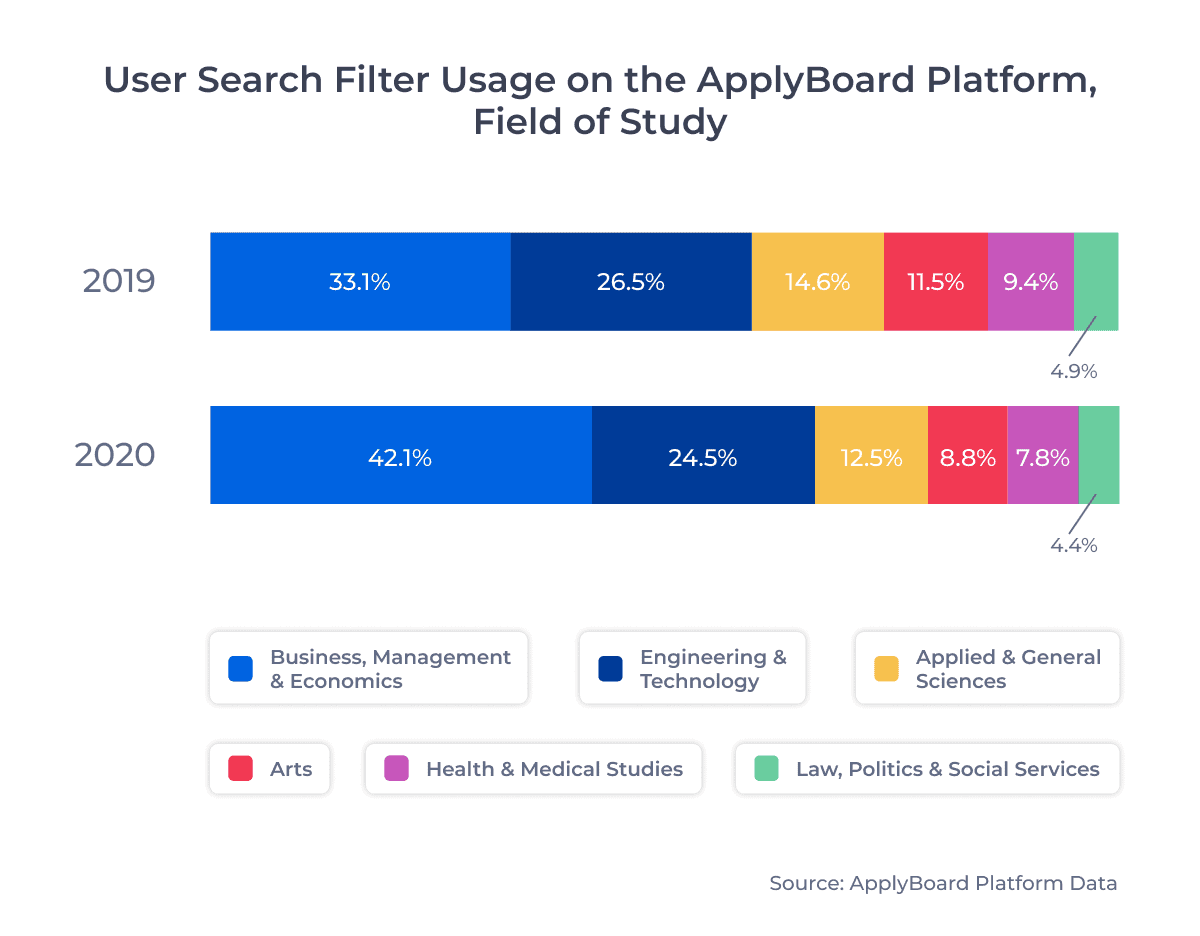 Around a third of users utilizing the ApplyBoard Platform in 20193 looked for business, management, and economics programs. Though our ApplyBoard Platform data includes all of our destination markets,4 the frequency of users applying the business field filter aligns closely with the overall interest in Canadian post-secondary business programs. 30% of all new Canadian study permits5 issued to college and university students in 2020 were for business, commerce, and marketing programs, up from 27.8% in 2019.
Just as 2019 user search data can help us understand 2020 study permit trends, 2020 user search data can help us predict future study permit trends. Looking at ApplyBoard Platform data, student interest in business studies increased even further in 2020, with over 42% of users specifically looking for post-secondary business programs. I expect that student demand for business programs will continue to grow in 2021 and 2022 as global economies recover post-pandemic.
Want to know which post-secondary programs were the most popular among ApplyBoard students in 2020? Check out my previous article on the topic.
The booming popularity of business programs masks some other field of study trends that I've previously observed. The demand for medical and health studies programs at Canadian institutions, especially at Canada's U15 universities, has increased substantially over the past five years. Likewise, the US has seen expanding demand for STEM programs, with over 50% of international students studying or working in STEM6 fields in the 2019/20 academic year.
I anticipate that demand for these fields will only accelerate post-COVID. The pandemic has reinforced the critical importance of medical and health professions in every country. As well, new technological challenges, arising from businesses shifting to work-at-home models, have demonstrated an increased need for STEM-educated employees.
Field of Study Top Search Terms
When users are searching with the ApplyBoard Platform, they can not only filter program results by predefined field of study terms, they can also input their own unique text to search for specific programs. It's interesting to note that the most common field of study search terms didn't always line up with the most popular program filters. The table below shows the top 10 most popular field of study search terms input by users into the ApplyBoard Platform in 2020:
Most Popular Field of Study Searches on ApplyBoard, 2020

| Rank | Field of Study |
| --- | --- |
| 1 | Computer Science |
| 2 | Business |
| 3 | Project Management |
| 4 | Mechanical Engineering |
| 5 | Accounting |
| 6 | Architecture |
| 7 | Nursing |
| 8 | Psychology |
| 9 | Supply Chain Management |
| 10 | Marketing |
Computer Science was the most common field of study search term on the ApplyBoard Platform in 2020. The frequency of computer science searches grew steadily throughout 2020, growing more than 30 times from December 2019 to December 2020. This might show a growing interest from international students in computer science and IT fields, possibly due to the surge in demand for IT services during the pandemic.
From 2017 to 2020, the number of Canadian study permits issued for computing and IT fields increased by 2.4%, second only to business programs.
Our ApplyBoard Platform data also shows the rising popularity of users looking for nursing programs when looking at search trends in 2020. In April 2020, near the beginning of the pandemic, nursing fell just outside the top 25 field of study search terms. In October 2020, nursing was the fourth most searched field of study. Similarly, user interest in supply chain management exploded in 2020. More students and recruitment partners searched for supply chain management on the ApplyBoard Platform in December 2020 than in the last five months of 2019 combined. Elevated interest in both of these fields is likely directly related to the pandemic, which has demonstrated localized shortages of nursing staff and compromised supply chains in many industries.
ApplyBoard Platform Trends – Tuition
The pandemic has had a substantial impact on economies across the world. These poor economic conditions have resulted in more price-conscious behaviour from many international students. In the 2020 ISS, almost half of the students polled cited affordable tuition as a key consideration for their study abroad plans.
To evaluate the impact of the pandemic on student cost considerations, let's take a look at maximum tuition limitations selected by users pre-pandemic and mid-pandemic. The percentage bar charts below show what percent of users filtered programs available on the ApplyBoard Platform by different maximum tuition amounts in October 2019 and October 2020: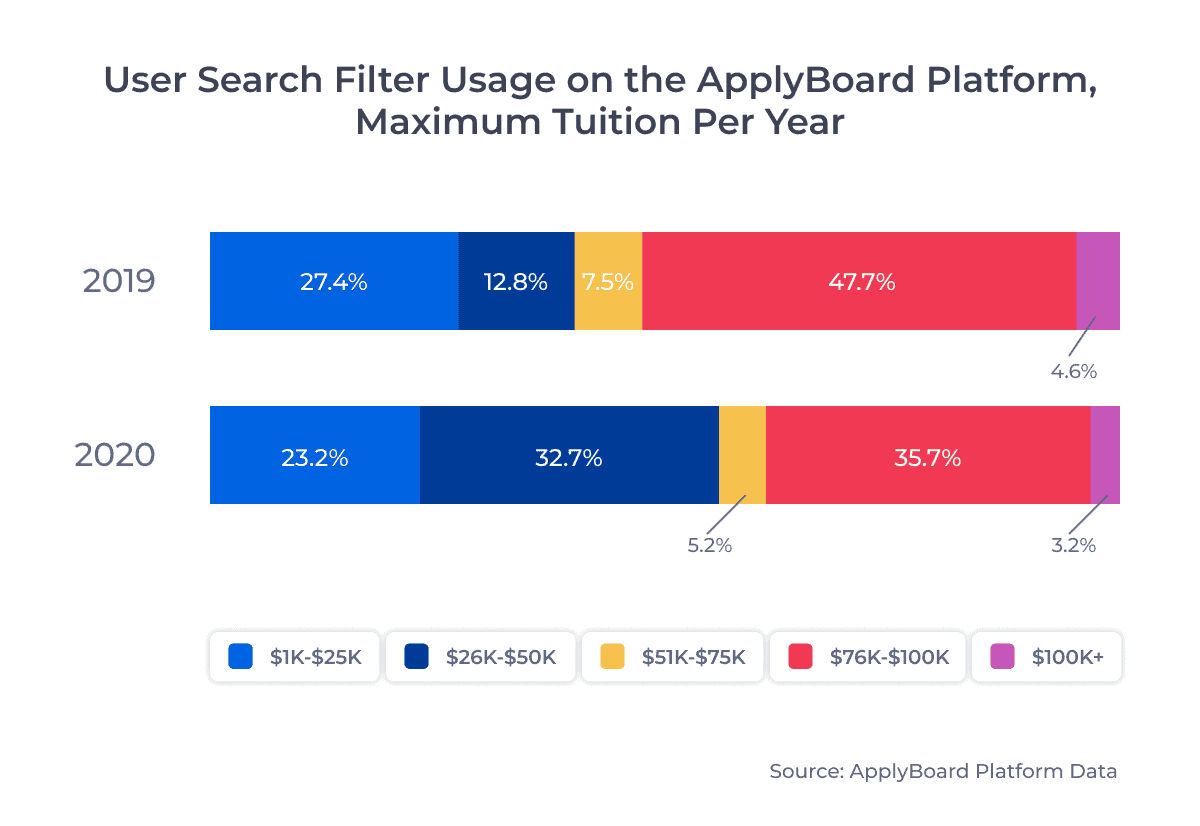 The effects of lower personal incomes and greater economic uncertainty throughout 2020 are clear. Pre-pandemic, many students and recruitment partners using the ApplyBoard Platform were searching for post-secondary programs with maximum per-year tuition costs of over $75,000. By October 2020, users were much more likely to search for programs with tuition of no more than $50,000 per year. This trend was most evident in April 2020, when users were more than 250% more likely to search for a program with a tuition of less than $50K than over $75K.
This shift towards programs with lower tuition rates was also apparent in our ApplyBoard application data. In 2020, most students applied for programs with tuition rates of $10,000 to $40,000 per year.
Despite having the highest average tuition costs in Canada, the top institution city search term on the ApplyBoard Platform in 2020 was Toronto, Ontario.
In December 2020, students from South Asia and Southeast Asia were slightly more likely to apply for programs with lower tuition costs than they were in January 2020. This is likely due to significant declines in the Indian and Chinese markets, which were both severely affected by the pandemic in 2020. By contrast, students from Latin America and the Middle East paid slightly higher tuition costs on average in December 2020 compared to January 2020.
Maximum tuition search limits and average tuition paid amounts rose back to pre-pandemic levels in November and December 2020. While I expect that less costly programs will remain more popular throughout 2021 and 2022 than they were in 2019, there is an opportunity for institutions to show strong value for higher tuition programs.
Key Takeaways
Student priorities have shifted over the course of the pandemic. Students have shown greater interest in growing industries such as business, computer science, and health studies more than ever before. But students are also less willing to pay higher tuition prices, a direct reflection of the poor economic conditions in many source markets. It's likely we'll see these trends continue throughout 2021 and well into 2022, especially because many students have delayed their study plans.
Despite COVID-19, more students applied through the ApplyBoard Platform in 2020 than in 2019, and we've seen a significant growth in demand in 2021 already. I expect that once significant travel restrictions are lifted, the international education industry will recover quickly in Canada, the US, and the UK.
International student interest in these destinations has grown over the past few months, based on the strength of their vaccination programs and overall openness to international students. Institutions in these countries should prepare for high student demand in 2022, but they should also recognize that student finances will not be as stable as they were pre-pandemic.
Based on 2020 ApplyBoard Platform search trends, institutions looking to recruit more international students should consider:
Developing and promoting high-value or multi-year scholarships for international students, especially for students from markets severely affected by COVID-19
Increasing international student capacity for high-demand programs such as business, computer science, and engineering
Recommitting or increasing student recruitment resources to prepare for greater competition for international students once travel restrictions are lifted
Published: May 19, 2021
Subscribe to ApplyInsights
Sign up for the latest insights on international education.

---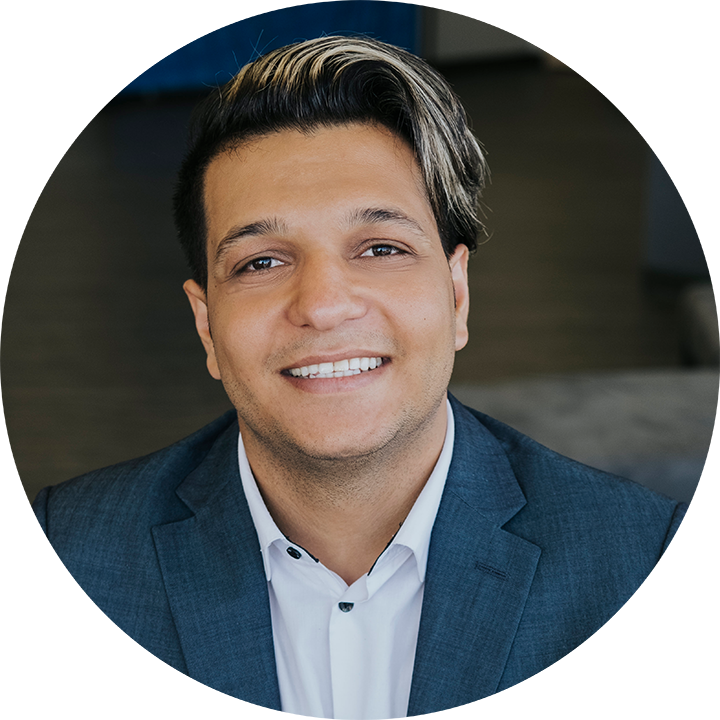 Meti Basiri
Co-Founder and Chief Marketing Officer (CMO)
Meti is driven by the belief that education is a right, not a privilege. He leads the International Recruitment, Partner Relations, and Marketing teams at ApplyBoard, working to make education accessible to people around the world. Meti has been instrumental in building partnerships with 1,500+ educational institutions across Canada, the United, the United Kingdom, and Australia. Working with over 5,000 international recruitment partners, ApplyBoard has assisted over 150,000 students in their study abroad journey. Follow Meti on LinkedIn for more access to ApplyInsights and key industry trends.
---
FOOTNOTES:
1. Tuition limits are calculated in the currency of the destination institution.
2. Users of the ApplyBoard Platform include prospective students and recruitment partners.
3. Users utilizing the ApplyBoard Platform in 2019 were primarily searching for and applying to programs with intake dates in Fall 2019 or throughout 2020.
4. Canada, the United States of America, the United Kingdom, and Australia.
5. Study permit statistics used in this article are for new study permits only. All study permit data courtesy of Immigration, Refugees and Citizenship Canada (IRCC), except where noted.
---