In today's ApplyInsights, I'm looking at the most popular post-secondary field of study for international students coming to Canada: business and commerce. Business and commerce programs have always been attractive to international students, but their popularity has exploded in recent years.
For the first time, I'll be sharing study permit data that captures the full 2020 year.1 This data provides a clearer picture of how the COVID-19 pandemic has shifted program study trends. It also shows which schools have been better able to capture the growing online student market.
Here's what this blog post will cover:
New Canadian study permits issued by field of study for 2020
Trends in the number of Canadian study permits issued for business programs between 2017 and 2020
A list of the 10 most popular colleges and universities for business studies in 2019 and 2020
My thoughts about international students and the global startup economy
Let's start by looking at just how popular Canadian business programs are for international students.
Study Program Market Share
The pandemic has caused lower international enrollment for all Canadian institutions as students put off their study plans. Study permits across all fields of study declined by 74.5% from 2019 to 2020. But despite the pandemic, field of study popularity trends remained relatively consistent between 2017 and 2020.
The table below shows the market share of new study permits issued by field of study between 2017 and 2020:
Market Share of New Canadian Study Permits Issued to International Students by Field of Study, 2017–2020

| Field of Study | 2017 | 2018 | 2019 | 2020 | Change 2017–2020 |
| --- | --- | --- | --- | --- | --- |
| Applied and General Science | 16.1% | 15.0% | 13.7% | 10.9% | -5.2% |
| Arts, Fine Arts, Humanities, and Social Sciences | 10.8% | 10.1% | 9.9% | 8.4% | -2.4% |
| Business, Commerce, and Marketing | 22.7% | 25.0% | 27.8% | 30.0% | +7.3% |
| Computing and IT | 12.3% | 12.3% | 13.0% | 14.7% | +2.4% |
| ESL and FSL | 11.5% | 10.4% | 8.1% | 6.5% | -5.0% |
| Hospitality and Tourism | 3.6% | 3.9% | 3.7% | 3.7% | +0.1% |
| Medical, Biomedical, and Health Sciences | 6.2% | 6.4% | 6.6% | 7.8% | +1.4% |
| Trades and Vocational | 1.0% | 1.1% | 1.2% | 2.4% | +1.4% |
| Other2 | 15.7% | 15.8% | 16.0% | 15.6% | -0.1% |
The market share for business programs rose substantially, growing every year from 2017 to 2020. This amounted to a net market share gain of 7.3%. By comparison, the market share for ESL/FSL and Applied and General Science programs fell consistently year-over-year. Their market share dropped a combined 10.2% between 2017 and 2020.
To get a better picture of the growth of business programs at Canadian institutions, let's break down business program study permits a little further. The chart below shows the number of new study permits issued based on business program fields3 from 2017 to 2020: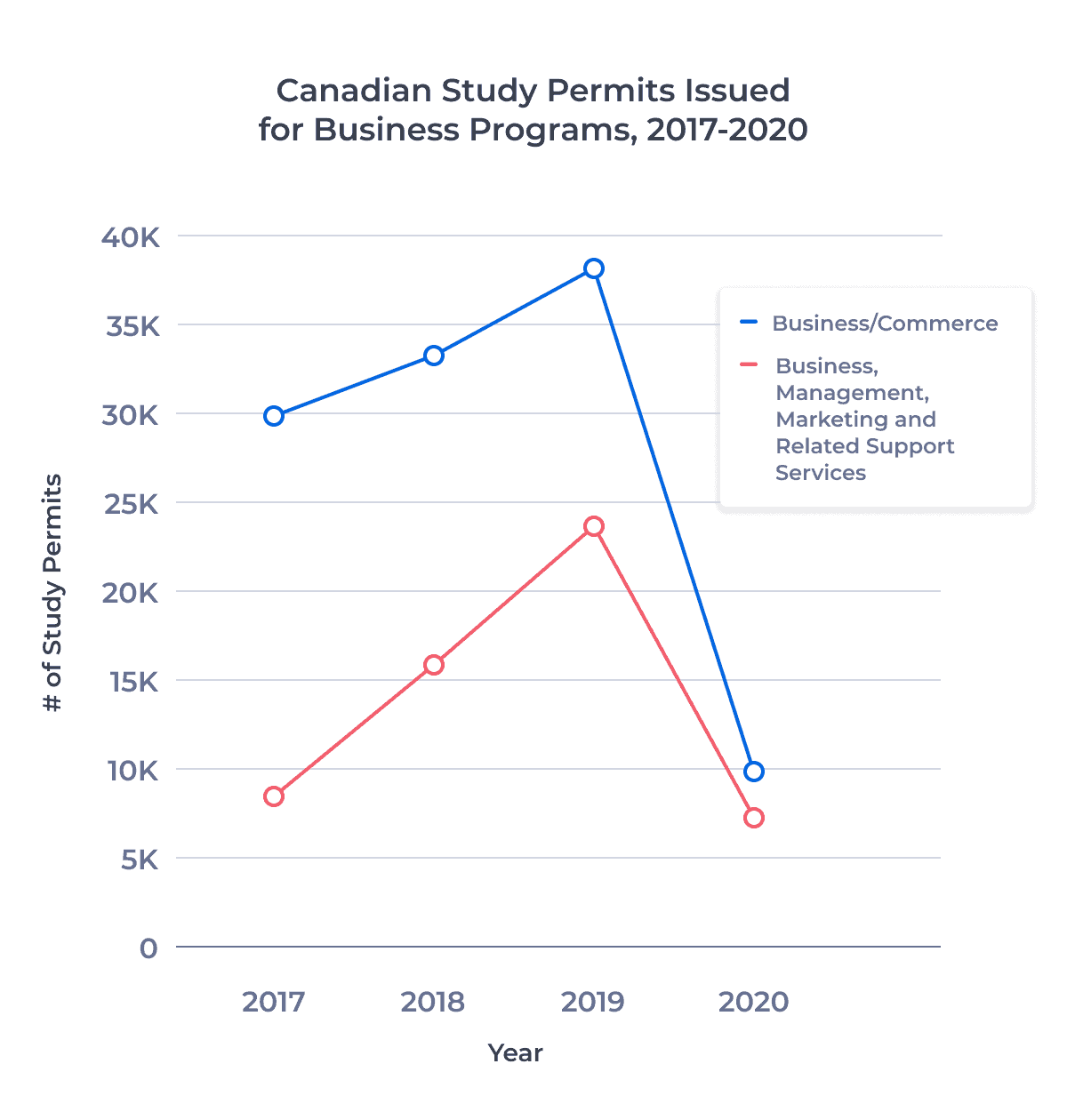 While business/commerce programs grew by 28.5% between 2017 and 2019, this was actually 3.7% less than the average growth across program fields (32.2%). Business, management, marketing, and related support services (BMMR) programs saw explosive growth between 2017 and 2019, expanding by 179.9%. This was over five times the average growth during that period.
Both program fields experienced steep declines due to the pandemic. But BMMR programs attracted nearly the same number of students in 2020 as they did in 2017, thanks to strong growth in 2018 and 2019. BMMR program enrollment dropped only 15.7% over the four year period, compared to a 74.5% decline across all programs.
Much of this growth was driven by the rapid strengthening of the Indian market. The number of study permits issued to Indian students for BMMR programs grew by 256% between 2017 and 2019. In fact, more study permits were issued for Indian students for BMMR programs in 2020 than in 2017 (+201). Other notable markets with higher 2020 enrollments than 2017 enrollments for BMMR programs include Iran (+178), the Philippines (+145), Morocco (+54), and Mexico (+47).
Most Popular Canadian Business Schools for International Students
Which schools were at the forefront of these business program enrollment gains? Let's compare the 2019 and 2020 leading institutions. Many of these schools, and the business programs they offer, appeared in the top 20 college and university programs for ApplyBoard students in 2020.
Top 10 Canadian Institutions by New Study Permits Issued for Business Studies,
2019–2020
Rank 2020
Rank 2019
School
# of Study Permits,
2020
# of Study Permits,
2019
1 (↑)
5
Lambton College
930
1,972
2 (↑)
7
University Canada West
888
1,778
3 (↑)
8
Northern College
752
1,599
4 (↓)
1
Conestoga College
690
2,827
5 (↓)
2
St. Clair College
554
2,286
6 (↑)
43
CDI College
527
396
7 (↑)
53
Canada College
523
333
8 (↓)
4
Centennial College
502
2,000
9 (↓)
3
Seneca College
452
2,126
10 (↓)
9
Fanshawe College
435
1,328
Despite the pandemic, many of the top 10 institutions persisted between 2019 and 2020. Two new additions to the list, CDI College and Canada College, benefited from spiking Indian student enrollment numbers throughout Quebec.
Many of the other institutions, but especially Lambton College, University Canada West, and Northern College, showed strong resiliency for their business programs. Despite a 74.5% in international student enrollment across Canada, these schools managed to maintain around 50% of their 2019 business program numbers.
International Students and the Global Startup Economy
While not all business students go on to be entrepreneurs, and many entrepreneurs don't have business backgrounds, growing business programs point to a bright future for Canadian start-ups. That's why many post-secondary institutions have developed start-up incubator and accelerator programs, such as Velocity at the University of Waterloo.
According to the 2019-2020 UBI Global World Rankings of Business Incubators and Accelerators, Canadian post-secondary institutions are home to some of the best start-up incubators.
The DMZ at Ryerson University ranked within the top 5 university incubators globally.
McGill University, University of Toronto, and University of Alberta incubators also ranked in the top 20 globally. This strong incubator network helped Canada achieve the fourth-highest startup staying power4 ranking between 2001 and 2016, according to the OECD. The Canadian government has also provided strong entrepreneurial support through the Start-up Visa Program, helping incubators and schools attract top talent.
Start-ups founded by international students have a huge impact on national economies. In 2018, 23% of all billion-dollar US start-ups had at least one international student founder. These companies created nearly 30,000 jobs and were worth a combined US$96 billion. In the UK, student-led start-ups under the Creator Fund brought in £1 billion in 2019, and 57% of these companies had international student founders. In Australia, 71% of Chinese-born start-up founders came to Australia as international students. It's clear that international students around the world start new and innovative companies at home and abroad, just like ApplyBoard.
As data for 2021 begins to come in, I'll be watching to see if business programs continue their incredible growth. In the meantime, I'll be digging into more 2020 study program numbers in upcoming ApplyInsights. Stay tuned!
Published: February 16, 2021
Subscribe to ApplyInsights
Sign up for the latest insights on international education.

---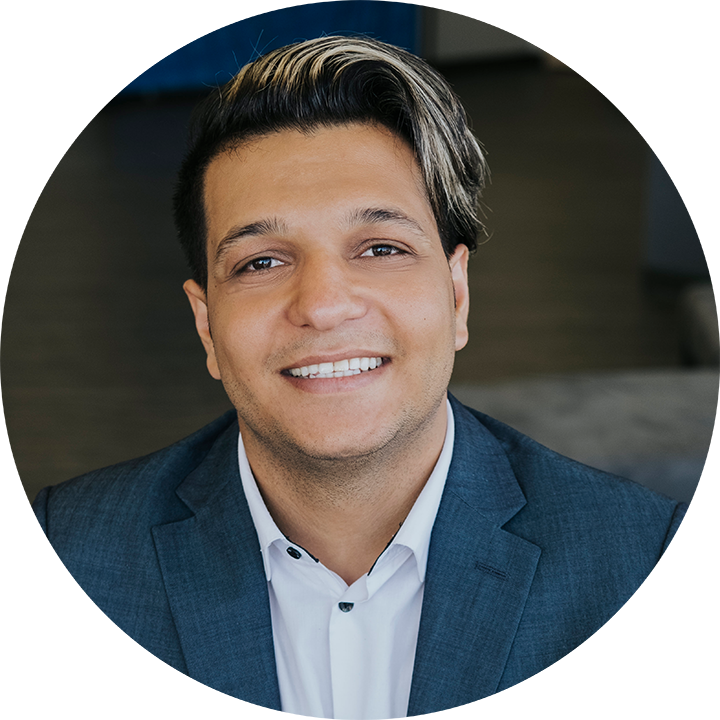 Meti Basiri
Co-Founder and Chief Marketing Officer (CMO)
Meti is driven by the belief that education is a right, not a privilege. He leads the International Recruitment, Partner Relations, and Marketing teams at ApplyBoard, working to make education accessible to people around the world. Meti has been instrumental in building partnerships with 1,500+ educational institutions across Canada, the United, the United Kingdom, and Australia. Working with over 5,000 international recruitment partners, ApplyBoard has assisted over 150,000 students in their study abroad journey. Follow Meti on LinkedIn for more access to ApplyInsights and key industry trends.
---
FOOTNOTES:
1. All data courtesy of Immigration, Refugees and Citizenship Canada (IRCC).
2. Includes Agriculture, Architecture, Flight Training, Law, Theology/Religion, Unspecified, and other programs.
3. As per the Field of Study classifications set forth by Immigration, Refugees and Citizenship Canada (IRCC).
4. Organisation for Economic Cooperation and Development (OECD) Science, Technology and Industry Working Papers 2018/02: A portrait of innovative start-ups across countries. For the purpose of the working paper, staying power means the number of startups that were founded during the 2001 to 2016 period which were still in operation in 2016.