Each year, the QS International Student Survey delivers a wealth of information on what drives the behaviour of international students. The 2021 US edition collected responses from over 105,000 students at 115 institutions, representing 191 countries around the world1. It's packed with insights detailing how the COVID-19 pandemic has impacted students' mindsets and expectations around studying abroad in the United States.
As we prepare for the next phase of recovery from a turbulent 2020, this survey offers a comprehensive outlook that American institutions can leverage to make themselves attractive destinations for international students.
Key Insights at a Glance
54% of prospective students said they are more interested in studying in the US as a result of President Joe Biden's election.
63% of prospective students say that COVID-19 has affected their plans to study abroad next year.
81% of students believe that tuition should be discounted if in-person instruction is delayed and courses remain partially online.
Students are pointing to an increased need for financial and health and safety support, making it important for institutions to clearly articulate what is being done to support their students, before, during and after the student journey.
In the first of two blog posts on this report, I'll be highlighting statistics that describe COVID-19's impact on the US international student market, colour them in with industry trends I'm seeing, and make recommendations for how US schools can put themselves in a stronger position moving forward. Let's dig in!
Perception of United States Has Improved
America's reputation was not in a good place at the beginning of the year. In a 2021 survey conducted by QS Trends, students were asked to indicate how well major English language study abroad destinations were handling COVID-19. The US was consistently ranked at the bottom of a list of these study abroad destinations. Just 8% of students surveyed thought the US handled the virus "very well."
As the Biden administration took office and began swiftly rolling out vaccines across the United States, student perceptions of America as a study destination began to shift. 54% of students surveyed this year said that they viewed the US as a more attractive place to study as a result of its handling of the vaccine rollout.
This lines up with what we're seeing from international applicants around the world at ApplyBoard. As a general rule, countries without a firmly established vaccine distribution plan and without steadily decreasing case numbers do not appeal to international students of any kind.
Considering the Needs of Student Mobility
I've always believed that if schools want to attract capable international students, they need to place an emphasis on learning together. Ask them questions. Listen to their needs. Treat education as a two-way street of joint learning and growth.
As global travel restrictions and visa complications persist, the term "student support" has evolved to encompass more than just educational needs. Students are factoring health and safety risks into their decision-making processes more than ever. In order to get international enrollment numbers back to where institutions want them, institutions need to prioritize these items even more than they already do.
The impact of the pandemic on students' decision-making process is undeniable, with 63% of international students saying that COVID-19 has affected their plans to study abroad. 54% of students surveyed said that the pandemic has caused them to defer their studies until 2022.
In my view, a lack of information is what's driving part of the student reluctance to study abroad right now. Schools need to be clear about their plan for a return to action and effectively communicate it to prospective students so there's no confusion about health and safety protocols. Beyond H&S, communication with students, in general, is extremely important right now.
Here are some simple ways schools can stay connected with students:

Create student onboarding journeys that help them keep track of their progress and milestones ahead of beginning classes
Bi-weekly newsletters providing updates around campus
Offer online checklists outlining actions international students need to take ahead of classes starting
As students stayed home, abiding by health and safety protocols during the past year and a half, most of them got accustomed to online learning. But despite their familiarity with remote learning, how willing are they to continue it as we move through the tail end of the pandemic?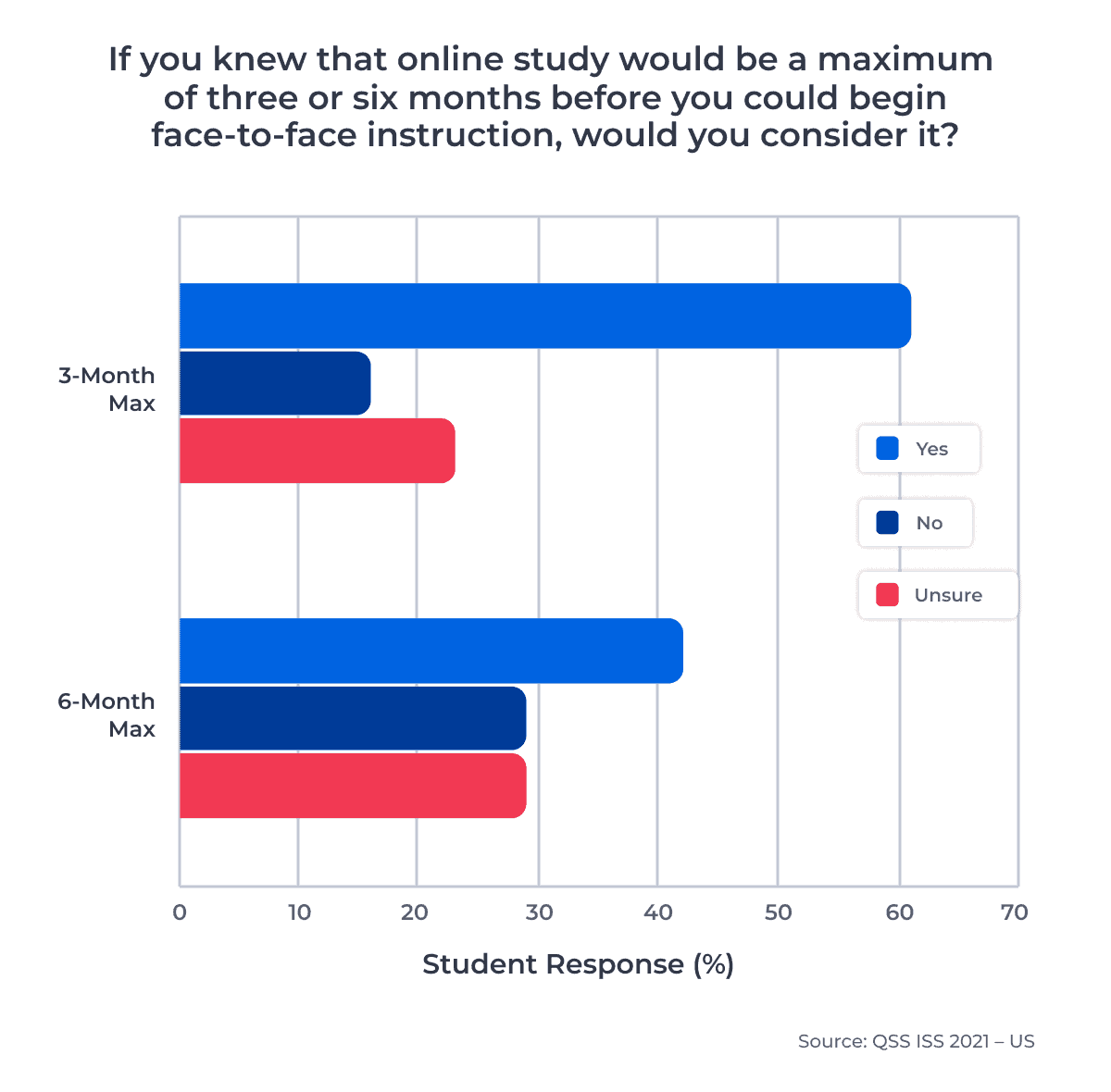 When asked if they would be willing to start their courses online, students were divided, with 58% of students either unsure about or against an online study component lasting no longer than 6 months.
Reasons for Prospective Students' Deferral
Why, exactly, are students averse to consecutive months of online study? When it comes to considering risks from a health and safety standpoint, only 20% of students said they were "extremely" or "very" interested in online study due to the risks of COVID-19.
This aligns with conversations I'm having with our recruitment partners. They point towards a host of factors affecting students' comfort with resuming travelling and studying overseas. Face-to-face instruction is only part of the equation that could help American institutions continue to be an attractive option for students. That much is clear from the responses seen below: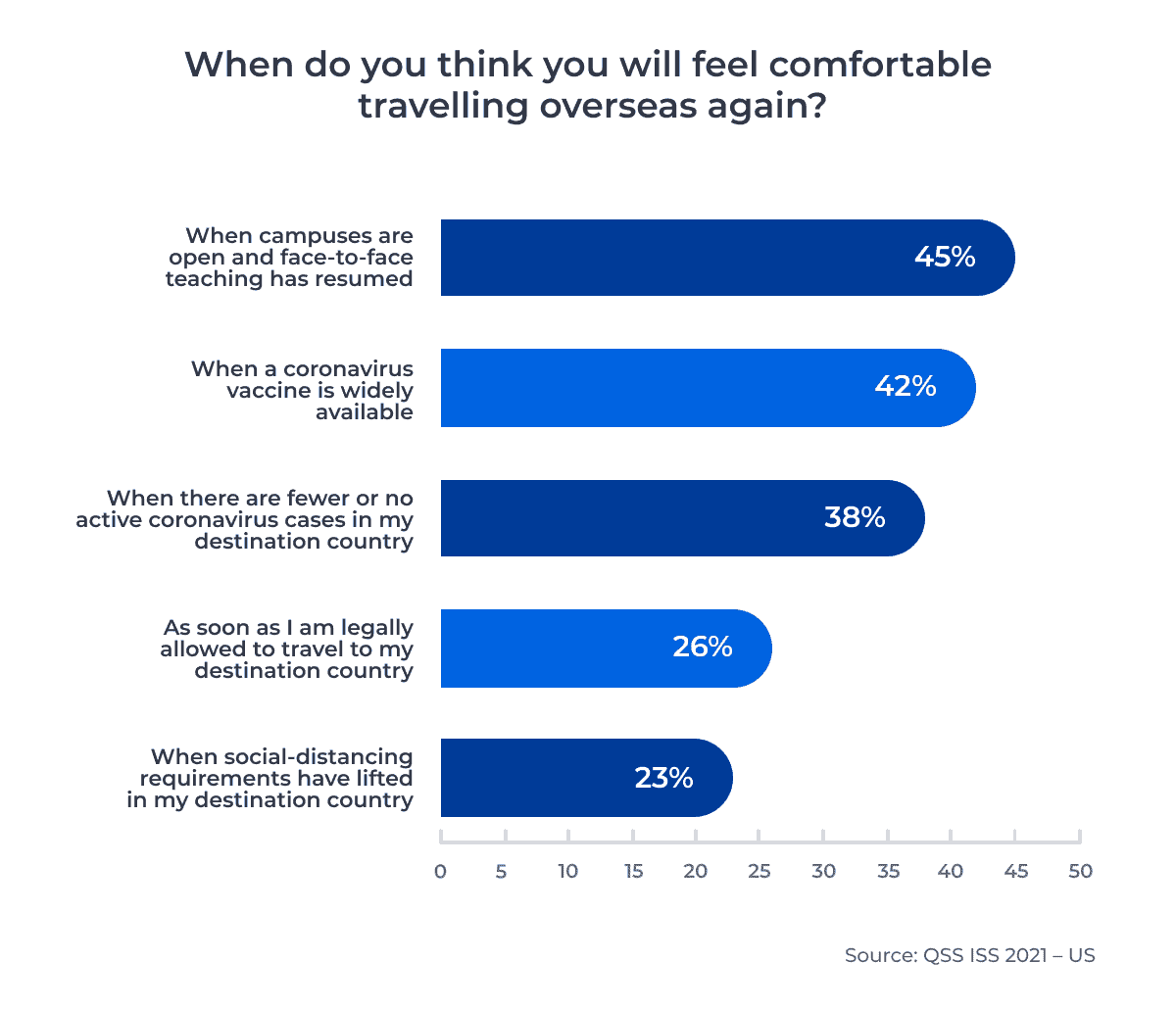 Student responses suggest that far-reaching vaccine distribution and low COVID-19 case numbers in destination countries are also paramount to post-pandemic recovery for schools.
As institutions look to build on the momentum of increased student interest seen so far in 2021, they need to consider what's important to their international applicants. I think a swift recovery for American institutions will hinge on the availability of open campuses and the continuation of a successful nationwide vaccine rollout. I expect that educational institutions in states that have had a more successful vaccine rollout will bounce back much faster.
Ultimately, the onus falls on institutions to ensure they're effectively communicating with students. Schools need to be transparent on the status of their campus reopening plans and update prospective students on vaccine distribution plans. If local case numbers are low, they should communicate this to students as well. Students need to be able to trust that their higher education institutions will be in constant communication with them, providing helpful updates on progress.
COVID-19's Impact on Student Expectations
International students have cited convenience, flexibility, cost, and the ability to study while working as reasons why online study became an appealing option for them during the pandemic. However, 38% of students surveyed said they weren't interested in an online-only degree, despite the pandemic preventing in-person learning from taking place.
No access to campus facilities, a desire to meet other students in person, and skepticism around the quality of teaching received online were the main reasons students cited for their hesitancy to shift to online learning. This shouldn't come as a surprise to our partner schools, who have repeatedly told me that international education is more than just a degree or diploma. The opportunity to immerse yourself in a new culture, establish connections and learn a new language is unique to the study abroad experience.
Students remain somewhat divided in their stance on online learning as we emerge from the pandemic. Interestingly enough, the older a student is, the more likely they are to express interest in an online degree.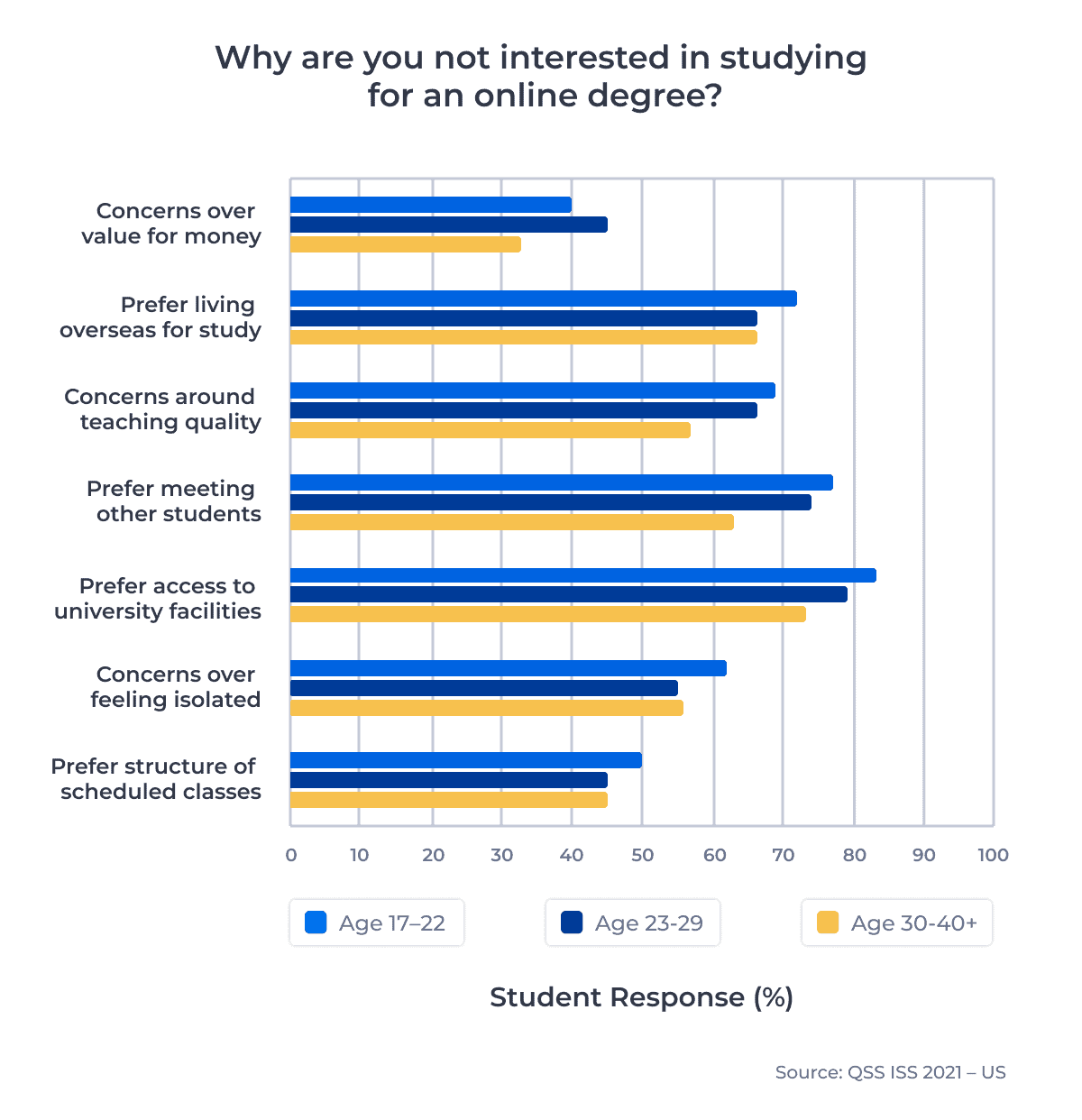 Older students typically have more expenses than younger students. They often have families to support and need to earn an income while getting their education. It's something I saw in my analysis of the Filipino market in Canada—older students seek out colleges in areas with more abundant job opportunities. These older students see online education as another kind of opportunity: more time for them to work while attending school.
On the other end of the spectrum, younger students (17 to 22) care much more about the experience of learning in-person. They want access to school facilities that they don't have at home, such as libraries, powerful computers, lab equipment and even study spaces.They want the structured experience of learning in person, and they want to form relationships with other students.
Given the low case numbers, strong vaccination rates and business returning to full capacity across the country, US institutions look to be quickly approaching a return to in-person learning. Where I think American schools need to take a big step forward is in the degree of openness they speak to their students with. They should be talking about their plans early and often to prospective students and even those who have received a letter of acceptance, to help them feel supported and entice them not to defer.
Students Agree: Tuition for Online Learning is Too High
All students, regardless of age, agree that tuition fees need to be modified if students are required to take classes online ahead of face-to-face instruction in 2022. 81% of respondents believe that tuition should be discounted if in-person instruction is delayed and courses must continue to be taken online.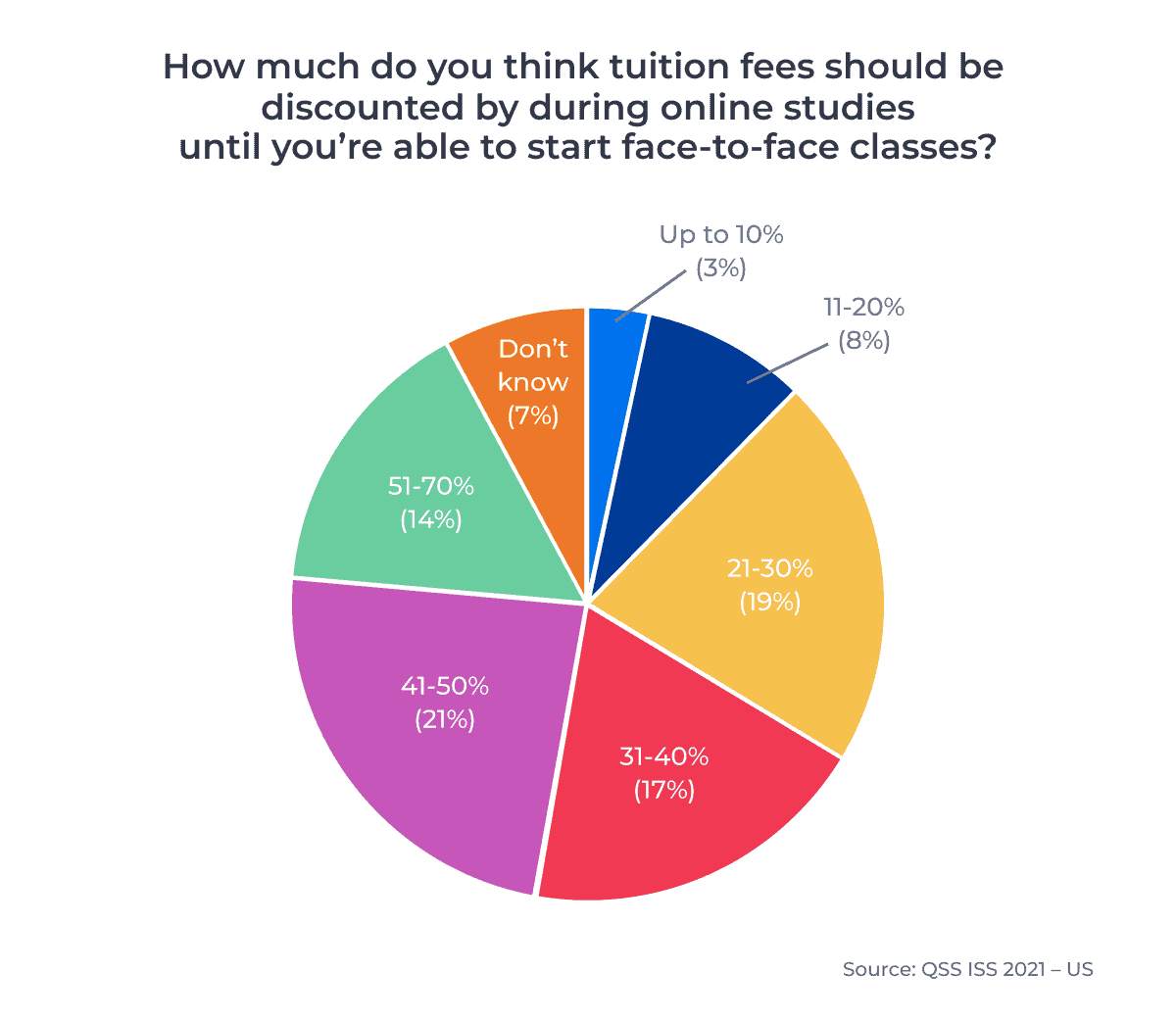 While the degree to which students want tuition lowered may seem astronomical to institutions, I think it's important that schools listen to the overarching message. Students of all ages have made it clear that they do not view online learning as equivalent to face-to-face instruction.
Given the emphasis placed on cost by international applicants, schools should consider adjusting their tuition rates for programs that incorporate significant online learning, or they may risk losing students quickly. I expect that American learning institutions which listen to students' needs and scale back tuition costs for online courses will see a significant rise in international applicants next year.
Key Takeaways
As American institutions turn their focus to creating welcoming and competitive environments for international students once again, it's important for their strategies to reflect student needs. These institutions should make an effort to:
Cutting tuition rates as a temporary fix is unlikely, but US schools should consider offering a mixture of grants and bursaries to students that are required to engage in extended periods of online learning.
Prioritize clear and consistent communication with prospective students around local COVID-19 updates and plans for returning to campus.
Ensure that online learning still factors into the curriculum once students are back on campus, but that students still have access to the community and facilities that make the international student experience so unique.
Published: June 18, 2021
Subscribe to ApplyInsights
Sign up for the latest insights on international education.

---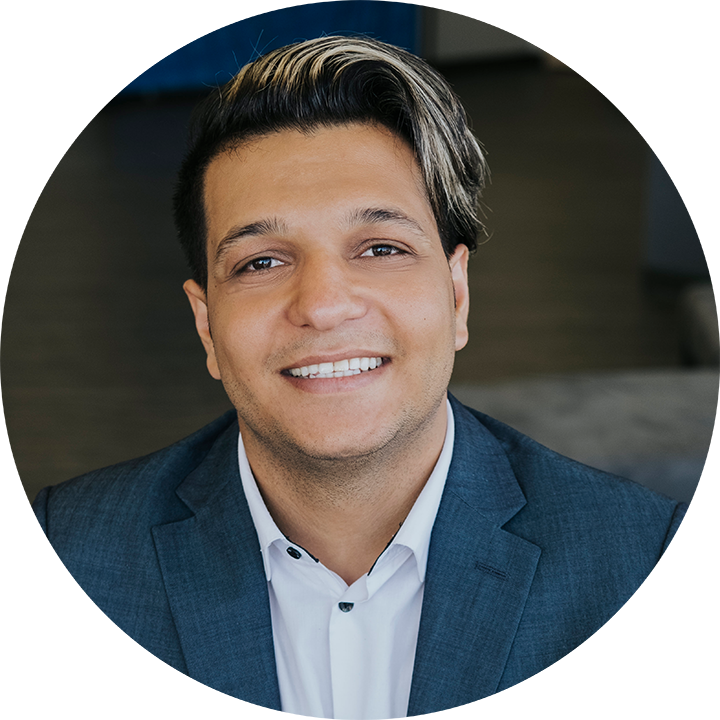 Meti Basiri
Co-Founder and Chief Marketing Officer (CMO)
Meti is driven by the belief that education is a right, not a privilege. He leads the International Recruitment, Partner Relations, and Marketing teams at ApplyBoard, working to make education accessible to people around the world. Meti has been instrumental in building partnerships with 1,500+ educational institutions across Canada, the United, the United Kingdom, and Australia. Working with over 7,500 international recruitment partners, ApplyBoard has assisted over 200,000 students in their study abroad journey. Follow Meti on LinkedIn for more access to ApplyInsights and key industry trends.
---
FOOTNOTES:
1. Data sourced from the QS International Student Survey – US edition.
---