Australia's international education sector had a difficult year in 2020, and 2021 has shown only marginal improvement so far. Despite ongoing travel restrictions, many in the sector have been advocating for limited student entry trials with strict quarantine protocols. As these pilot programs gain momentum, it's the perfect time to take a look at international student opinions on Australia and its post-pandemic recovery.
The 2021 QS International Student Survey on the Australian market interviewed over 30,000 students from 27 different institutions who stated that they were interested in studying in Australia. The survey asked for their thoughts on Australia's pandemic response and the future of online learning, as well as for their post-COVID well-being concerns. In this article, I'll be diving deep into those student responses and detailing what key actions Australian institutions should take to keep international students engaged and interested.
Key Insights at a Glance
87% of students interested in studying in Australia thought the Australian government handled the COVID-19 pandemic very or fairly well.
85% of prospective international students would be willing to complete a two-week quarantine in Australia if it would allow them to attend in-person classes.
Cost of living and tuition costs have become a key concern, with 78% of prospective international students looking for more information on scholarships and cost of living taking the top spot among international study concerns.
Interest in online studies has dropped by over 10% since 2020, though short-term online studies before in-person classes and lower online tuition fees are attractive to prospective international students.
56% of respondents stated that government pandemic responses have caused them to reconsider their top international study destinations. With that in mind, let's start by taking a look at student opinions on Australia's pandemic response.
For QS ISS 2021 results for the US market, check out my previous article.
Student Opinions on Australia's Pandemic Response
Most international students who are considering studying in Australia have a favourable view of the government's response to the pandemic. 53% of students interviewed thought that the Australian government handled COVID-19 very well, while an additional 34% thought they handled it fairly well. When asked about the pandemic response in other major English international study destinations, the students were less impressed. 75% responded that Canada dealt with the pandemic very or fairly well, but only 49% felt the same way about the UK, and the US received only 34% support.
The chart below breaks down student answers to the survey question regarding national pandemic responses: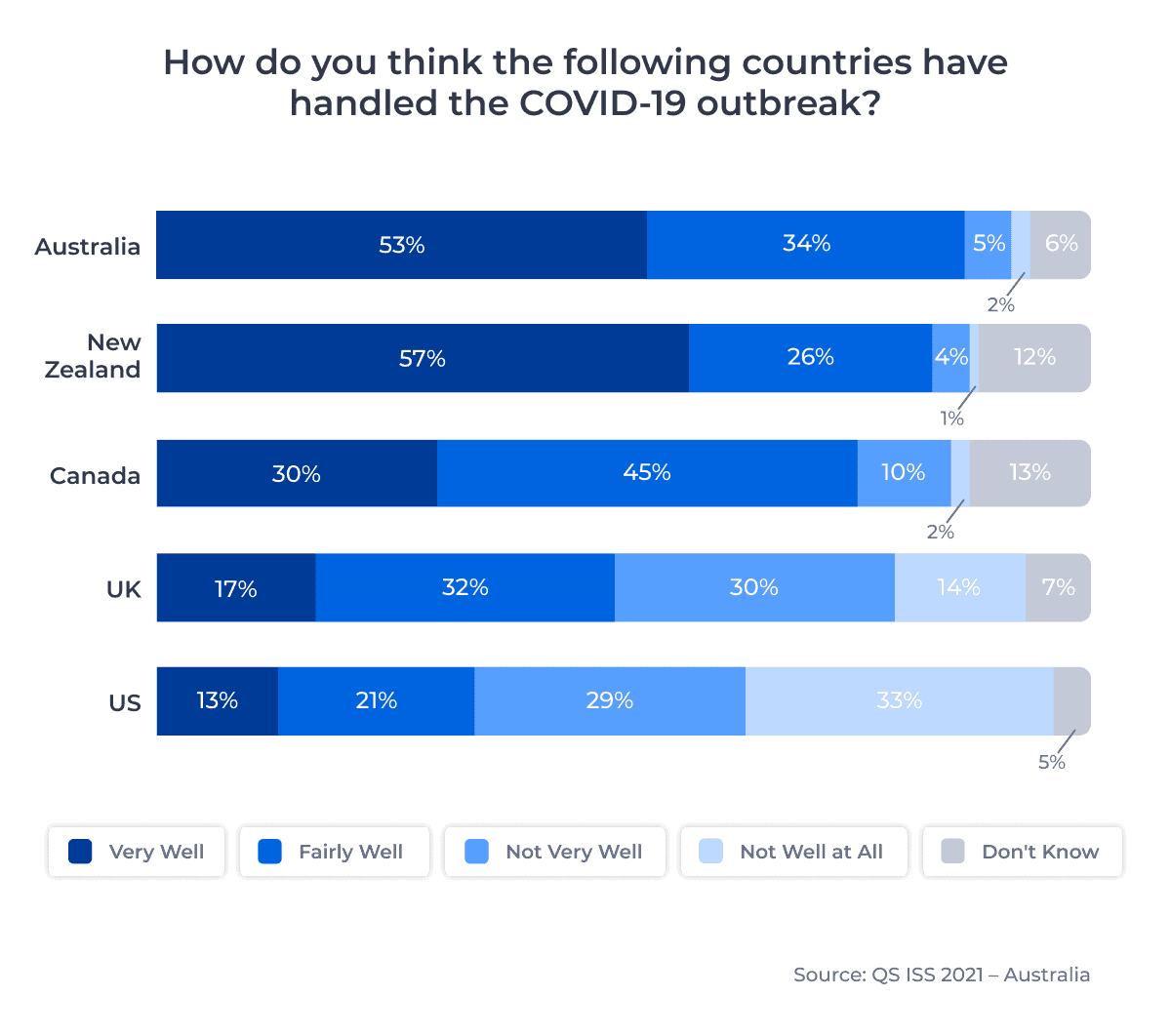 These results show that student viewpoints can be highly dependent on where the student would like to study internationally. In a recent Navitas survey, Australia's pandemic response was rated as generally poor. Many recruitment agents have seen decreased interest in Australian studies, and few are confident that international students will return to Australia in 2021. Students also did not see Australia as an overly welcoming international study destination in 2020.
According to the 2020 QS International Survey, 57% of students said it was important that their destination be safe and welcoming to international students.
But the 2021 QS results show that students who see Australia as a top destination are more likely to have maintained a positive opinion towards Australia throughout the pandemic. 52% of student respondents stated that Australia had become slightly more or much more welcoming to international students during the pandemic.
Quarantine and Safety Measure Expectations
It's clear that there is still a large population of international students looking to study in Australia post-pandemic. But 58% of survey respondents stated that they would look to study in a country that is already open for international students, rather than wait for their preferred country to be open. While we can't say when Australia will begin accepting international students again, we can look at student safety expectations when they arrive.
Students have shown a strong willingness to quarantine before beginning their studies in Australia. 85% of student respondents agreed that they would be open to quarantining for two weeks, with over 90% of students from Vietnam and Thailand in favour of quarantine measures. However, students don't think they should bear the full cost.
68% of respondents indicated that students should be at least partially reimbursed for costs incurred as a result of quarantine.
Students are also thinking more about the risks associated with studying internationally as a result of the pandemic. 54% of respondents stated they would not travel to a destination without low COVID-19 case counts, and 52% want access to a vaccine before they travelled. Only 12% of students said they would travel as soon as possible regardless of what safety measures the destination market enacted.
International Students Want In-Person Classes
While students are waiting to find out when they can return, schools are trying to figure out what kinds of programs they should offer in 2021 and beyond. Before the pandemic, student interest in online, blended (in-person and online), and massively open online courses (MOOCs) rose year-over-year. However, being forced to study online or to delay their studies altogether has caused many students to lose their interest in online education.
The chart below shows the percentage of respondents who indicated that they were very or extremely interested in specific program delivery options: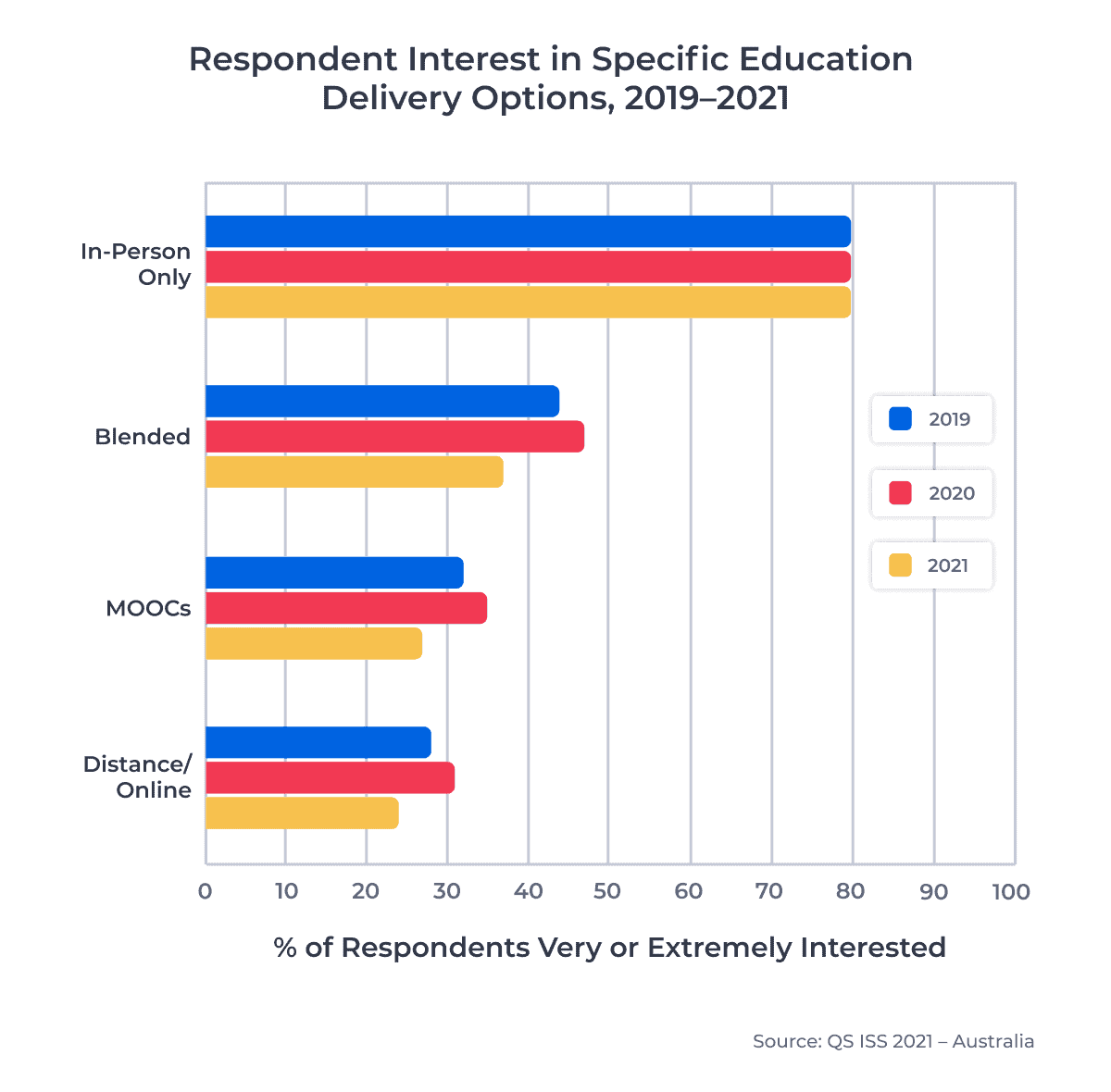 Overall, the percentage of students very or extremely interested in at least partial online education fell by around 10% from 2020 to 2021. Some of the main barriers that students identified with online studies included a lack of face-to-face time with their instructors and minimal engagement with their fellow students. Students who identified in-person instructor interaction as more important were also more likely to prefer at least partially live-streamed lectures if they enrolled in online classes.
It's not all bad news for the future of online courses. 57% of students said that the pandemic has made them at least slightly more interested in completing their degree online. 44% of prospective students said they would be interested in starting their studies online if they could then travel to their planned destination once it was safe to do so. And 39% of students stated that lower tuition fees for online courses would make them more likely to consider an online degree.
I expect that many institutions will opt to maintain at least some online courses post-pandemic, particularly for large classes. Online courses can offer students a more flexible and accessible study schedule, which is especially important for older students with families. But in the short term, the popularity of these programs may actually fall from pre-pandemic numbers. Students want the choice to study in-person or online, and that choice was taken away from them throughout the pandemic.
Cost of Studying Internationally a Major Post-Pandemic Concern
Tuition fees, scholarships, and cost of living are all top of mind for international students looking to start (or restart) their studies in Australia post-pandemic. Nearly 75% of survey respondents stated that cost of living was their top worry about studying internationally. The chart below shows the top five respondent concerns about completing their education in a different country:
Three of the top five concerns—cost of living, scholarship availability, and housing and accommodations—are directly tied to broader concerns about the cost of studying internationally. Student concerns around safety increased by 3 percentage points from the 2020 QS ISS, while the other top concerns remained largely unchanged.
Cost of living was within the top three concerns for students from five major source markets for Australian institutions. For students from India, Vietnam, and South Korea, cost of living was the main concern. For Chinese and Thai students, cost of living was the second largest concern. When respondents were asked what international study topics they would like more information about as a result of the pandemic, almost 80% of students selected funding and scholarships.
These results have led Australian universities to proactively offer and promote different scholarship programmes to encourage prospective students to start online. Institutions with higher tuition costs may have a difficult time recruiting post-pandemic if they do not offer financial assistance or clearly demonstrate higher wages or increased job prospects after graduation.
Key Takeaways
International students want to study in Australia, and Australian institutions need international students. The drop in new international student enrollments during the pandemic cost Australian universities more than $1.8B in 2020. The Australian international education sector needs to take substantial steps to address student concerns before Canada, the UK, and the US pull too far ahead in the post-pandemic recovery race. A significant drop off for even one year will likely create knock-on effects that could have long-term implications for the sector.
Ongoing initiatives to bring students back to Australia are promising. The Australia-Singapore travel bubble is expected to prioritize international students and could pave the way for similar programs with other countries. New South Wales and Victoria have pilot plans to bring students back as soon as possible.
Most exciting of all, the Australian government recently announced their approval of South Australia's student travel pilot program. This pilot will bring cohorts of 160 students to the Parafield Airport facility to quarantine for two weeks.
The Australian government has also shown increased support for international students who have remained in Australia during the pandemic. Recently, the government announced that all working international students who work or reside in a Commonwealth-declared hotspot would be eligible for emergency government payments.
Ultimately, schools will need to make extra efforts to ensure that students have the information they need to feel safe and valued. Australian institutions looking to prepare for the return of international students in 2021 or 2022 should consider:
Researching and posting cost of living data for nearby neighbourhoods, along with providing links to local accommodation rental providers and websites
Creating and promoting scholarships for international students, including those who elect to enroll in online studies
Providing regular communications to prospective students detailing ongoing safety efforts, on-campus policies, and government policy updates
Published: June 23, 2021
Subscribe to ApplyInsights
Sign up for the latest insights on international education.

---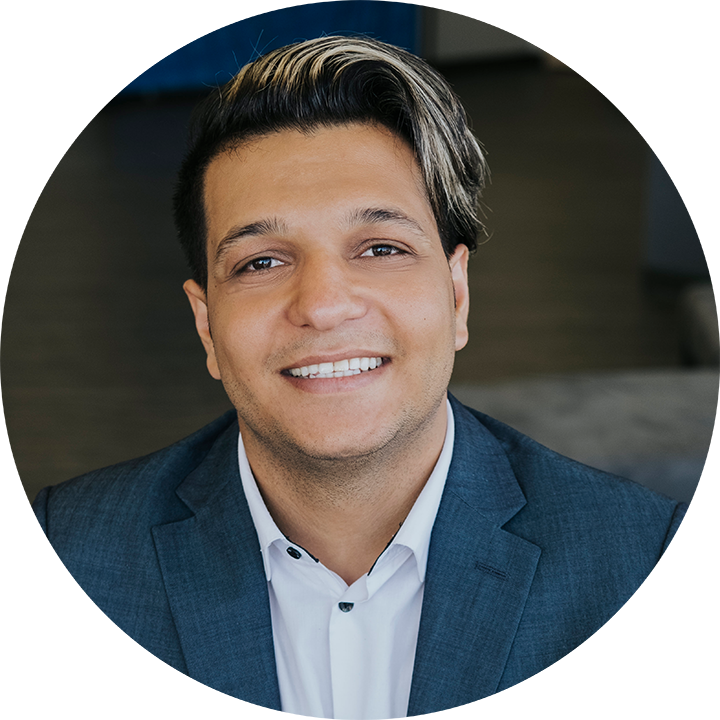 Meti Basiri
Co-Founder and Chief Marketing Officer (CMO)
Meti is driven by the belief that education is a right, not a privilege. He leads the International Recruitment, Partner Relations, and Marketing teams at ApplyBoard, working to make education accessible to people around the world. Meti has been instrumental in building partnerships with 1,500+ educational institutions across Canada, the United, the United Kingdom, and Australia. Working with over 7,500 international recruitment partners, ApplyBoard has assisted over 200,000 students in their study abroad journey. Follow Meti on LinkedIn for more access to ApplyInsights and key industry trends.
---
---