Last week, I sat down with The PIE's Amy Baker as part of The PIE Live Student Journey conference. We chatted about the democratization of education, ApplyBoard's plans for tackling some of the bigger hurdles within our industry, and our commitment to students amid this rapid growth.
I wanted to capture our dynamic conversation for those that weren't able to join us live. In today's ApplyInsights, I'm writing down some of my thoughts in response to the great questions I received from Amy and our audience members.
Key Insights at a Glance
ApplyBoard is forming partnerships with RBC, Flywire, Air Canada, and other services in an effort to build an ecosystem that supports students throughout their application journeys.
Commitment to preserving a quality application experience for students is essential as we consider expanding into new markets.
Our ApplyBoard Counsellor Courses (ABCC) and ApplyProof platforms are examples of the in-house work we are doing to make education more accessible to international students.
What gave you and your brothers the confidence to enter the EdTech market and believe that you could do this?
It all started with solving a problem. I've always believed that the people who face their customers' problems in their personal lives are the ones who are best suited to solve those problems as entrepreneurs. The ultimate question we wanted to answer was, "What can we do to simplify the application process for other international students?"
As qualified Iranian citizens who struggled to receive our Canadian study permits, we knew how important it was to break down the barriers international students were facing. Before we understood everything about how the landscape worked, we were passionate about solving this problem. That passion motivated us to bet on ourselves as we began to build the business.
Are you concerned about loan financing? What's your view on democratizing loan financing for prospective students?
Only 39% of people entering the global workforce have access to college-level education.1 By 2030, 1.3 billion people are projected to be of working age. Since 1997, US tuition has increased by over 200%, while wages have only risen by 75%.2
These numbers tell us two things: a growing number of people in the world are going to need access to higher education, and that education is becoming even less affordable.
For these reasons, I'm a big supporter of providing loans to students who need them. If we don't work to finance the 61% of students with no access to higher education, they could be left on the sidelines for too long.
In what ways is ApplyBoard planning to "disrupt the industry"?
Here are a few ways we're shaking up the EdTech industry:
Using AI and predictive modelling to improve enrollment outcomes for our partner schools

Leveraging our

ApplyProof

platform to streamline the document verification process for students

Offering our ApplyBoard Counsellor Courses (ABCC), which provide market-specific knowledge to empower counsellors to better assist students
We'll continue investing in technology that aims to improve the student experience, rather than playing the game of continuously trying to cut down submission times. Whether an application takes six or 12 hours to process doesn't change a student's life. Being enrolled in the right program that caters to their skills and interests does.
We believe that a focus on quality over speed or quantity will be our biggest disruption within the industry.
As ApplyBoard looks to expand into new markets, what different factors are you considering?
Privacy drives the strength of our relationships with our partner schools. We won't sign any contract without first establishing that all of our privacy and security requirements are met. At ApplyBoard, we have an entire security team devoted to keeping the personal information and data of our students safe.
As we continue to grow across Canada, the US, the UK, and Australia, we're doing so while maintaining the level of integrity and trust that we've built with our partner schools to date. We're not focused on expanding fast, we're focused on doing it right. We want each partner school that we work with to trust their students' information is protected with us.


When it comes to moving into new markets, we have to be mindful of preserving the high-quality experience that we're committed to providing our students. It goes far beyond any recruitment or earning potential in a given country.
We need to ensure we've collected enough data to support students during the application process. When I attended college in Canada, there were just 86 international students in the entire college. This year, they have over 14,000. Part of this growth stems from the word of mouth referrals by students to friends and family in their home countries.
When we enter another market, it will be when we're confident we can adequately support every student through their journey in that market. We're currently working on collecting enough data to ensure that's possible.
How do you ensure that students who want counsellor guidance and interaction are getting that with ApplyBoard?
We want students to feel comfortable during their application process. A key ingredient of that comfort is having a counsellor who understands how to cater to their needs. Our ApplyBoard Counsellor Courses (ABCC) were built to develop those skills for counsellors. We understand that students need counselling, and that we need to provide more knowledge to counsellors and educate them on how to best support students as they apply to school.
As we continue to invest in the development of ABCC and leverage new technology to strengthen our application process, the ultimate beneficiaries will be ApplyBoard students.
In a previous Q&A with The PIE, I explained why the introduction of AI and new technologies will enhance the human element of applications.
Do you track students' progression beyond their first semester or does it end there?
We track students' journeys all the way to their graduation. A student's success is realized long after their enrollment. That's part of the reason we've invested in sharing data through our ApplyInsights blog, so we can be an educational resource for recruitment partners and institutions regardless of whether we're partnered with them.
Helping industry members understand the pain points international students face can help inform recruitment practices, program structure, and many other factors that contribute to creating a quality student experience.
How do you monitor the student experience through ApplyBoard?
Our investment in technology has helped us not only monitor each student as they progress towards enrollment, but also leverage student data to create benchmarks. We now have the ability to compare student progress within similar program streams and source markets to ensure students are progressing at the right pace.
Our partnerships with RBC to provide GICs to students, Flywire to facilitate tuition payments, and Air Canada to discount flights are helping to create an ecosystem where students are supported in multiple phases of their journey.
We're using our data to inform how we can form strategic partnerships with service offerings that cater to what international students value today. If the student gets what they need, it means more success for them and our partner schools.
What are the main challenges in managing the information flow and relationship between ApplyBoard, institutions, and students after the acceptance phase?
The biggest bottleneck that we're currently experiencing is confirming students' acceptance with some of our partner schools. It's an issue that we've already resolved with most of our high-volume partners, and one that we're working towards fixing with every school that we work with.
Most of the delays we see in confirmation of acceptance come from smaller institutions or institutions that are in the early stages of working with us. The delays stem from the sheer volume of acceptances our partner schools are experiencing. It's encouraging to know that more students are being accepted to their desired institutions, but we obviously want to streamline their confirmation of acceptance as best we can.
Every day, we're getting more familiar with coaching our partner schools on how to manage the volume of applications they will be receiving from ApplyBoard students. This allows us to better manage their expectations. Between strengthening these relationships and investing in technology to speed up the approval process, we're working towards a reality where ApplyBoard students aren't held in suspense for too long as they await a verdict on their application.
Are there training opportunities for new recruiters, or does ApplyBoard only work with established recruiters?
ApplyBoard is open to welcoming recruitment talent from a variety of backgrounds, but they must meet our recruitment partner requirements which are calculated through a host of different data points. 54% of our recruitment partner applications are approved—this is because we only want to onboard partners who can provide students with the best possible experience.
I encourage anyone who is interested in working with us as a recruitment partner to invest time into educating themselves about the destination market of the students they wish to help. Our ABCC courses are available for Canada, the UK, and the US, and Australia is coming soon! They are free of charge and can provide candidates with the baseline knowledge that we value in our recruitment partners.
How is ApplyBoard planning to incorporate FinTech into its platform offerings?
I remember when I was a student, I had to walk to the bank with my passport and a host of other forms in order to obtain my GIC. In order to create a more seamless financial experience for students, we're looking at all options.
Through ApplyProof, we're launching technology in 2022 that will allow students to link their banking information to our platform so they can verify that they have the funds available to proceed with their applications. We're constantly trying to think proactively about the ways we can provide a solution to our students' problems.


For example, one of the biggest challenges for Nigerian students is verifying their documents to make them eligible for academic financial support. These issues are what drive us to brainstorm solutions for other students experiencing these challenges.
Our recent partnership with RBC and discussions with other banking institutions are helping to inform our problem-solving process as we help students overcome financial hurdles in all markets.
Your expectations for growth in Canada are phenomenal. Do you ever worry about certain destinations in Canada becoming so popular that the number of students outnumbers the accommodations available to them?
Not anytime soon. Over the next three years, Canada is aiming to welcome over 1.2 million immigrants. Government officials tell me that the number one problem they experience with these lofty immigration targets is integrating immigrants into society—this can cost them thousands of dollars per immigrant.
In a recent ApplyInsights, I examined how international students are making Canada's most ambitious immigration plan ever possible.
Who is better suited to comfortably settle into Canadian life than international students who are already living in the country and have a strong motivation to contribute to the economy?
Canada has seen more international graduates turned permanent residents so far in 2021 than ever before.3 There is a strong need for skilled immigrants who are already integrated into Canadian society. International students are a group of people who directly fill that need.
Published: November 2, 2021
Subscribe to ApplyInsights
Sign up for the latest insights on international education.

---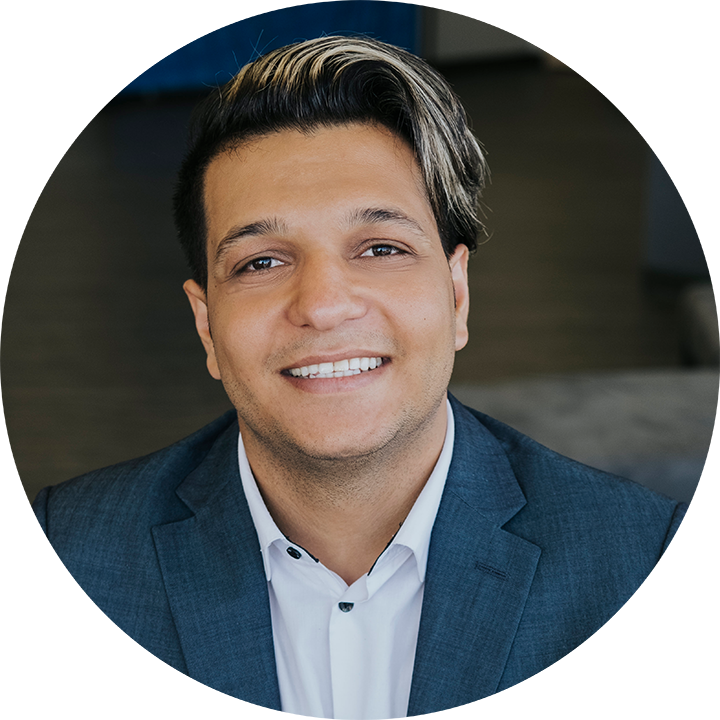 Meti Basiri
Co-Founder and Chief Marketing Officer (CMO)
Meti is driven by the belief that education is a right, not a privilege. He leads the International Recruitment, Partner Relations, and Marketing teams at ApplyBoard, working to make education accessible to people around the world. Meti has been instrumental in building partnerships with 1,500+ educational institutions across Canada, the United States, the United Kingdom, and Australia. Working with over 7,500 international recruitment partners, ApplyBoard has assisted more than 200,000 students in their study abroad journey. Follow Meti on LinkedIn for more access to ApplyInsights and key industry trends.
---
FOOTNOTES:
1. Source: UNESCO, Towards Universal Access to Higher Education: International Trends, 2021.
2. Source: United Nations, Population 2030—Demographic challenges and opportunities for sustainable development planning, 2017.
3. Source: Immigration, Refugees and Citizenship Canada (IRCC). Data collected from January 1, 2021 to August 31, 2021.