ApplyInsights: Record Number of International Students Pursuing PR Drives Canada Toward Immigration Targets
In 1913, Canada welcomed just over 400,000 new permanent residents into the country. This still stands as Canada's all-time single-year immigration record. This year, Canada is aiming to break that record, planning to bring in 401,000 new permanent residents by the end of 2021.
International students are helping make Canada's most ambitious immigration plan ever possible. Since former study permit holders make up a steadily growing share of permanent residents each year, I wanted to dig deeper into their decision patterns.
In this edition of ApplyInsights, I'll be examining where international graduates ultimately choose to settle down. I'll analyze which provinces attract students for certain reasons, consider how provincial application trends gel with Canada's lofty immigration goals, and offer my thoughts on what the future holds for international students turned permanent residents.
Key Insights at a Glance
The Atlantic Immigration Pilot Program (AIPP) is on track to help a record number of international graduates gain permanent residency in Canada's Atlantic provinces in 2021.
The number of international student graduates granted PR in Ontario has increased by 100% in the first 9 months of 2021, compared to all of 2020.
Over the next three years, Canada is targeting its highest-ever immigration totals.
As of August 31, 2021, every province in Canada has either met or exceeded its number of international graduates1 who were granted PR in 2020. The 12,695 international graduates turned permanent residents so far this year marks the highest annual total in Canadian history.
The following map shows the provincial distribution of these former students thus far in 2021: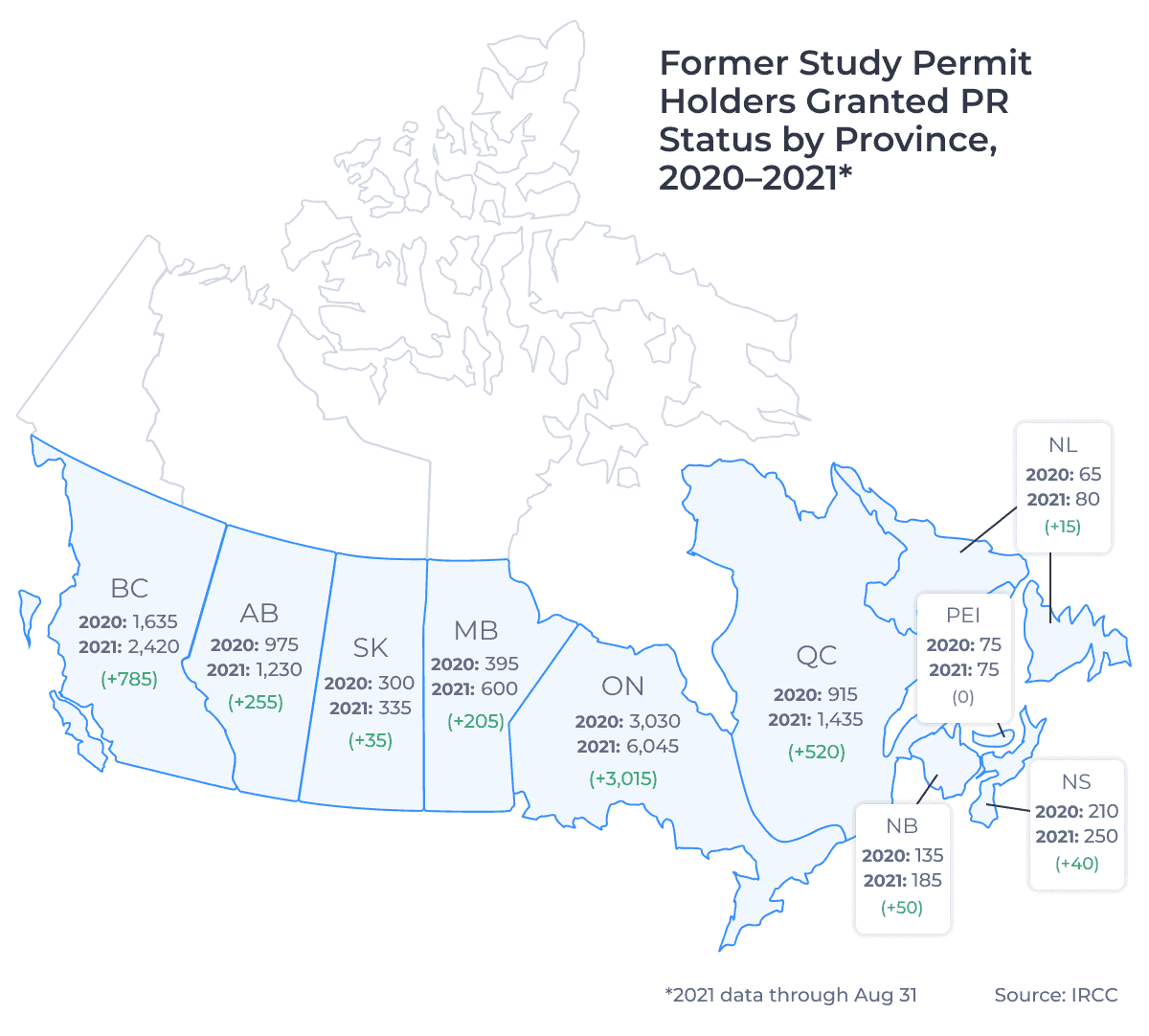 Let's dig a little deeper on some of these provinces to see what's driving this growth.
Ontario
Ontario is both the most popular province to gain PR status in Canada and the top study destination among international students, with 46% of all study permits being granted in Ontario last year. One in every two permanent residencies granted to former international students in 2021 was also in Ontario.2
The majority of international graduates in Ontario gain PR through the Canadian Experience Class (CEC), with 58% of them leveraging this program to become permanent residents in Ontario during 2021. The additional PRs are ushered in via Skilled Worker Programs, Spousal Sponsorship, and the Protected Person in Canada Program.
For more information on Canada's immigration programs, check out ApplyBoard's program overview.
While most provinces are on track to surpass their pre-pandemic PR numbers so far in 2021, Ontario is experiencing major growth:
The provincial growth of international graduates' pursuit of PR is very interesting, especially during the past three years. Let's dive deeper into a few of the stories behind these racing lines.
The 2021 spike in PR status granted to international graduates in Ontario is largely driven by the Express Entry draws being held by IRCC. These draws were created in response to the 22-year low 184,000 immigrants Canada welcomed last year due to COVID-19 disruptions. In light of these disruptions, Canada is prioritizing transitioning temporary residents to permanent residents during the pandemic.
Express Entry draws have targeted candidates in the Provincial Nominee Program (PNP) and Canadian Experience Class (CEC). As a result, CEC has comprised the overwhelming majority of successful Express Entry candidates so far in 2021.

Atlantic Canada
With the exception of Newfoundland and Labrador (NL), every Atlantic province in Canada has experienced its highest year-over-year population growth3 since 1971 in 2021.4
Prince Edward Island (+2.2%), Nova Scotia (+1.2%), and New Brunswick (+0.8%) are gaining more attention from immigrants than ever before. Let's dig deeper into how international graduates contributed to each province's increase.
Nova Scotia
There's been a large focus this year in Nova Scotia on the Atlantic Immigration Pilot Program (AIPP), which has accounted for 100 of the 140 worker program PRs to international graduates so far in 2021.5 This shows strong growth, as the AIPP accounted for just 35 such PRs in 2018.

The Emerging Nova Scotia Tech Sector
Nova Scotia is quickly becoming one of the most desirable provinces for international students to settle down in. The number of international graduates granted PR in Nova Scotia has risen by 176% since 2016 and should continue on this upward trajectory.
Aside from the low-cost rural areas and regional immigration pathways which make Nova Scotia a favourable place to pursue PR in, the province's recent tech boom is something for students to watch. Over the past 10+ years, the tech job market in Nova Scotia, specifically Halifax, has given Vancouver, Waterloo, and even Toronto-bound students a reason to think twice about where they settle down.
Halifax is home to Volta, the second-largest tech startup hub in Canada outside of the Toronto-Waterloo Region corridor; Creative Destruction Lab, a massively popular seed-stage program; REDspace, a software engineering company with 220+ employees; and the second office of Magnet Forensics, a publicly traded Canadian tech company.
The Government of Nova Scotia is doubling down on their capital's offerings to immigrants. They recently announced they're launching a $2.5-million marketing campaign to attract immigrants to Nova Scotia's shores and entice foreign workers living elsewhere in Canada to move there.
Between this large investment from the government, Halifax's growing tech sector, and the upward trajectory of the AIPP, I expect to see a large increase in the number of international graduates who pursue PR in Nova Scotia in 2022 and beyond.
Newfoundland and Labrador
While Newfoundland and Labrador hasn't seen the boost in permanent residents that its neighbouring provinces have, the data still provides ample reason to be encouraged for its future.
NL experienced the highest rate of PR growth among international graduates in the Atlantic provinces from 2017 to 2019, welcoming 163% more permanent residents in 2019 than in 2017. I suspect this growth is largely due to the AIPP, which has recently been an especially big draw for Vietnamese students studying in Atlantic Canada.
There were 2,000 Nigerian Canadians living in Newfoundland and Labrador last year. That number continues to grow each year and should attract more Nigerian students who are warm to the idea of settling down in NL.
In 2019, the Canadian government invested $1.7 million to open up a S&P Data call center in St. John's. The call center produced more than 500 jobs that qualify for PR and is staffed primarily by new international graduates.
With NL welcoming an increasing number of international students each year, I'd encourage provincial governments to invest further in similar initiatives to encourage these students to stay. International students are laser-focused on post-graduation work opportunities and will pursue PR in a province that offers them the best shot at landing work in their preferred industry.
The Growth of the Atlantic Immigration Pilot Program
The AIPP offers Canada's Atlantic provinces the opportunity to reap the benefits of former international students who hope to settle down in Canada. The following chart shows the growth of this program since its inception in 2017: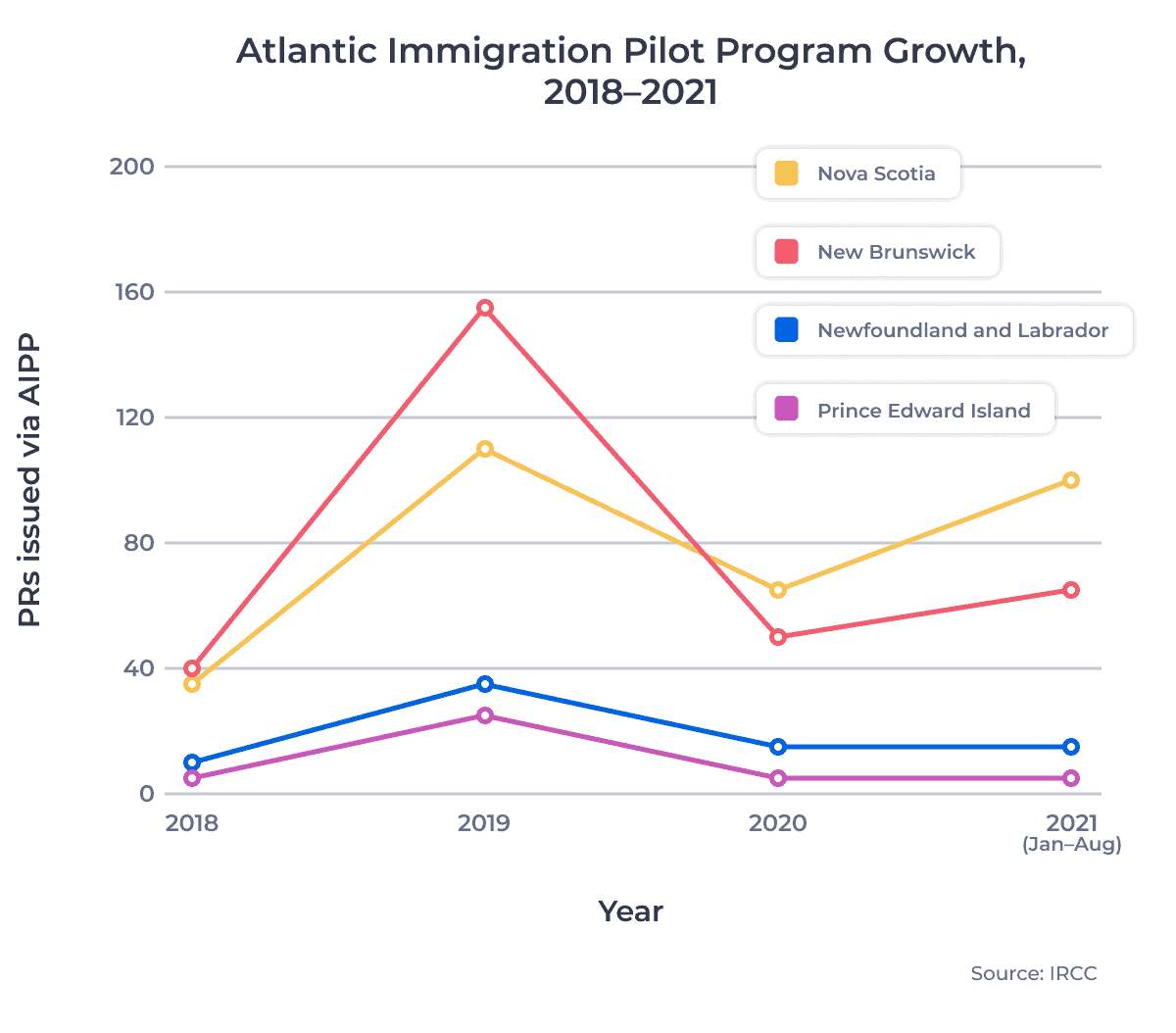 Pre-pandemic AIPP enrollment in New Brunswick nearly quadrupled from 2018 to 2019, rising from 40 to 155.6 PRs granted in Nova Scotia via the AIPP this year have already almost climbed back to 2019 levels. While the number of AIPP enrollments in PEI and NL are smaller, I believe the program provides both provinces with their biggest opportunity to attract international graduates moving forward.
The immigration deficit experienced by the Atlantic provinces may well end up piquing the interest of former study permit holders, as several sectors are expressing a need for work.
While the pandemic decreased AIPP PR conversions overall, we're on our way to surpassing 2019 numbers, and I have confidence that the rapid growth we saw pre-pandemic will continue as COVID-19 enters the rearview mirror.
Canada's Future Immigration Plans
Nine million baby boomers in Canada will reach the retirement age of 65 between now and the year 2030. This means the country is on track to have less of its population in the workforce at a time when its social spending on healthcare will rise. In order to combat that challenge, Canada is targeting its highest ever immigration totals over the next three years:
In addition to the Express Entry draws, IRCC launched six new PR streams in May of 2021 that aim to transition 90,000+ essential workers and international graduates to PR. The English-speaking international graduate stream reached its quota of 40,000 applicants in just over 24 hours.
The data I'm analyzing only covers up to August of this year; I fully expect many study permit holders invited under Express Entry last year, as well as the 40,000 international graduates who leapt at the chance to pursue PR via the new PR streams, to substantially lift these numbers.
It's also worth noting that PR carries a large aspect of seasonality. Permanent residence landings typically spike over the warmer months of the year. PR applications submitted following graduation and in the summer months will start being granted later this year. Taking both these tailwinds into account, a record number of international graduates should help Canada surpass its ambitious immigration goals.
I recently wrote about the increased industry demand for workers in healthcare and skilled trades across Canada. As the interest shown in both these industries by international students has steadily increased from 2016 to 2019, I predict a post-pandemic spike in demand for these fields of study as students leverage them as pathways to PR.
Looking Forward
Immigration will be fundamental to the post-pandemic economic recovery of Canada. In order for the country and its ambitious group of international students to see the most mutual benefit, it's important that institutions, recruitment partners, and students all use this information to their advantage.
Here are my recommendations for these groups as they look to cash in on the opportunity that lies ahead:
Recruitment partners should educate their students about IRCC's new PR streams and encourage them to consider fields of study which lead to careers in industries with rising job vacancies, such as healthcare, IT, and skilled trades.
Students should consider the growing opportunities being offered across Canada's Atlantic provinces and read up on the Atlantic Immigration Pilot Program as they search for the right institution for them.
Schools should pursue co-operative education and other partnership opportunities with businesses that fall within their province's most popular PR streams and promote those partnerships to prospective international students.
Published: October 22, 2021
Subscribe to ApplyInsights
Sign up for the latest insights on international education.

---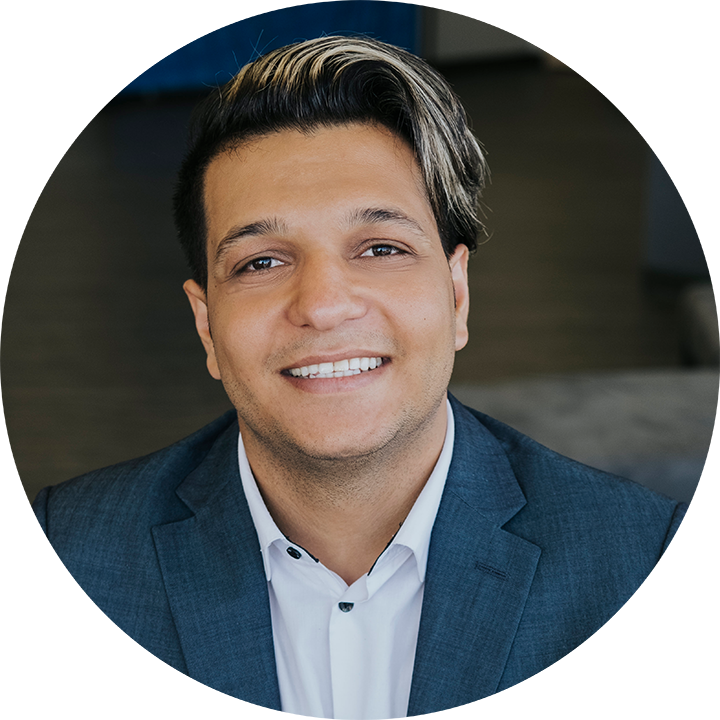 Meti Basiri
Co-Founder and Chief Marketing Officer (CMO)
Meti is driven by the belief that education is a right, not a privilege. He leads the International Recruitment, Partner Relations, and Marketing teams at ApplyBoard, working to make education accessible to people around the world. Meti has been instrumental in building partnerships with 1,500+ educational institutions across Canada, the United States, the United Kingdom, and Australia. Working with over 7,500 international recruitment partners, ApplyBoard has assisted more than 200,000 students in their study abroad journey. Follow Meti on LinkedIn for more access to ApplyInsights and key industry trends.
---
FOOTNOTES:
1. For this article, I'll use the term "international graduate" to refer a former Canadian study permit holder.
2. All data sourced from Immigration, Refugees and Citizenship Canada (IRCC) unless otherwise stated. Data collected from January 1, 2021 to August 31, 2021.
3. Source: Annual Demographic Estimates: Canada, Provinces and Territories, 2019, Statistics Canada.
4. The beginning of the observation period.
5. The worker program streams include the Atlantic Immigration Pilot, Canadian Experience, Caregiver, Skilled Trade, and Skilled Worker programs.
6. All values are rounded to the closest multiple of 5 to prevent individuals from being identified when IRCC data is compiled and compared to other publicly available statistics. As a result of rounding, data may not sum to the totals indicated.
---