Earlier this month, US Immigration and Customs Enforcement (ICE) released its annual SEVIS by the Numbers report. This report is a significant release of US government data on the international education industry.
Per SEVIS, the COVID-19 pandemic continued to create hurdles and barriers for international students hoping to study in the US. In calendar 2021, student enrollment continued to decline as the number of active F-1 and M-1 students dropped by 1.2% compared to 2020.1 However, this is a stabilization after an 18% drop in 2020. As such, we believe the long-term outlook for international education in the US remains positive, especially as the country continues to make investments to restore its reputation with students abroad.
In today's ApplyInsights, we'll dive into how the US's four regions performed in 2021, what US schools attracted the most international students, and how the top source markets shifted.
Key Insights at a Glance
Three of the four US regions increased their international student enrollment compared to 2020.
The top 20 most popular F-1 schools accounted for over 20% of all international students in the US in 2021.
In 2021, 72% of all international students in the US were from Asia.
Eight of the top 10 source markets for international students continued to trend downward in 2021.
Join us as we look at where the US succeeded and where it declined for international student enrollment in 2021.
State and Regional Trends in US Education for International Students, 2021
The map below shows how international student enrollment trended in 2021: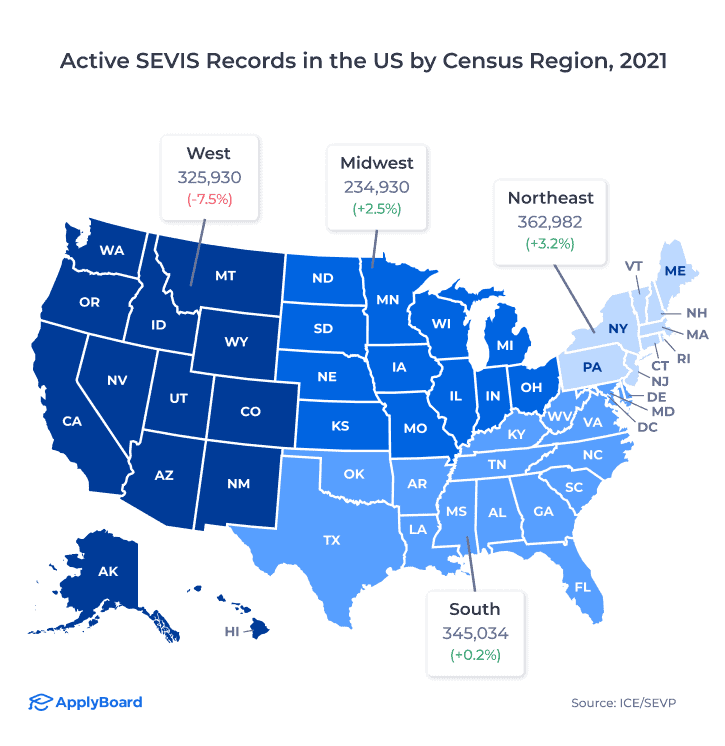 Three of the four regions actually saw a slight increase for international student enrollment last year compared to 2020.
The West hosted the most overall international students in 2020, but fell to third in 2021 after a 7.5% drop. California is the most popular state for international students. It was the only state to host more than 200,000 international students in 2021. But California's total enrollment dipped by nearly 19,000 students last year, a decline of 8%. Utah led the region for proportional gain in 2021, with an increase in student records of 683, representing 5.3% growth.
The Midwest grew by 2.5% compared to 2020. Illinois had the largest overall increase for the region in 2021, growing its student records by nearly 3,000 students. Illinois hosted more than 58,500 international students last year. Michigan, a mainstay in the top 10 US state rankings for international enrollment over the past decade, saw the steepest overall decline in student records (-944) for the region for 2021.
The South, comprising the largest number of states with 16 as well as the District of Columbia, grew by 0.2% in 2021. Texas hosted nearly 88,000 students in 2021. This was an increase of over 2,700 from the previous year and the largest overall gain in the region. Virginia had the largest overall decline, dropping by over 2,400 to a total of nearly 32,000 in 2021.
Texas will be the next state we cover in our ongoing trends series. Look for our article in the coming weeks!
The Northeast grew more than any other region in 2021, increasing student records by 3.2%. New York hosted more than 142,200 international students in 2021, the most in the region. Massachusetts's enrollment gain of nearly 5,700 was the largest in the region, as the Bay State came just shy of 88,400 international student records for the year.
With the chart below, you can see the top 3 US state enrollment changes per region for 2021 by percentage. Selecting a bar will show you the total change.
Top 20 US Schools by Active Student Enrollment, 2021
The chart below lists the US schools which hosted the most students in 2021.
More than 249,000 international students were enrolled in the top 20 F-1 schools in 2021. This represented more than 20% of the entire student population. This is two percentage points higher than last year. Also, 17 of the top 20 schools increased their number of active international students by 12% or more in 2021 compared to 2020. University of the Cumberlands was the only top 20 school to see a drop in active students last year.
Stepping outside of higher education, no US school hosted more than 600 K-12 international students in 2021. This continued a downward trend, as 2019 saw three schools with more than 700 international students in K-12—with one school even exceeding 1,000 enrollments—but only one school reached the 700 enrollment threshold in 2020. This aligns with what we've seen across various destination markets. Parents have been understandably reluctant to send their children abroad during a global pandemic.
Top Source Markets for US International Education, 2021
After every top 10 source market declined in 2020, eight of these markets continued to trend downward in 2021.
Of the top 10 source markets, only India and Mexico grew in 2021, increasing by 12% and 13%, respectively. But, there is some good news. In 2020, nine of these markets declined by 10% or more, but only four markets declined by that amount in 2021. This suggests that the downward trend is slowing, and may reverse in 2022 and beyond.
72% of international students in the US hailed from Asia in 2021. In 2020, Asian students accounted for 74% of all international students in the US, meaning that the student population grew a little more diverse in 2021. The US saw student gains from Africa (9.3%), Europe (7.9%), North America (5.3%) and Latin America (1.3%) in 2021 compared to 2020.
The US's largest source market is China, which dropped by 8% in 2021 compared to 2020. The number of Indian students in the US grew by 12% over the same period. A market worth monitoring is Nigeria. Nigeria was just outside the top 10 in 2021, with an active student count of more than 19,300. Nigeria's active student count grew by more than 2,100 in 2021, representing growth of over 12%.
See why we believe Nigeria is the next major market for international education in our extension to the 2021 trends report.
Looking Forward
The SEVIS report reinforces much of what we've seen in terms of where international students are studying and student visa interview wait times. COVID-19 continued to hinder the application process for students hoping to study in the US in 2021.
But there are many reasons to be optimistic about the US moving forward. In January, the Biden Administration announced policy changes to create additional post-graduate work opportunities for international students studying STEM. This was just one of many recent policy changes that reiterate the US's commitment to restoring its reputation with international students.
With inflation continuing to rise across the globe, the cost of education and employment opportunities post-graduation are more important to students than ever before. The US can gain a competitive advantage in the international education market by leveraging its many world-class institutions in low cost-of-living states. At ApplyBoard, we're excited to continue working with our recruitment partners and partner schools to help more students gain access to education.
Subscribe to ApplyInsights
Sign up for the latest insights on international education.

---



About the ApplyInsights Team

Led by ApplyBoard Co-Founder and CMO Meti Basiri, the ApplyInsights Team analyzes the latest government, third-party, and ApplyBoard internal data, to provide a complete picture of trends in the international education industry. They also work with industry experts and ApplyBoard team members to gather local insights across key source and destination countries, where ApplyBoard has helped more than 300,000 students around the world.
FOOTNOTES:
1. All data courtesy of the US Immigration and Customs Enforcement Student and Exchange Visitor Program (SEVP), unless otherwise noted.