ApplyInsights: What the Latest Biden Policy Change Means for International Student Recruitment
Nearly a year ago, when the Trump administration proposed a change to the student visa rules that forced international students to immediately leave the United States after studying for four years, I was disappointed. The policy change sent a message to prospective international students that their incredible talent and work ethic were not welcome in the United States. It hurt me to consider the effect this would have on students and our partner schools.
Since President Biden took office, he made it clear that he intended to undo any policy adjustments that erected unfair barriers for US immigration hopefuls. In June, that intention became a reality, as the Biden administration withdrew Trump's proposed rule and released a blueprint detailing plans to make the American immigration system more effective and less burdensome for immigration hope.
This is an immensely positive step for international students and the schools recruiting them. It builds on last week's joint announcement from the US Departments of State and Education, which recognized the vital role international students play in contributing to the US's prosperity. In this edition of ApplyInsights, I'll be highlighting the key pieces of Biden's new policy proposals that directly impact students and US institutions. I'll also dive into the industries that are more likely to employ international students, and explore what the trends within that space look like.
Key Insights at a Glance
Biden's recent policy changes are making it easier and more efficient for international students to secure employment visas following graduation.
More than 30% of US employers planned to hire international students in the Class of 2020.
Four of the five industries expressing the most desire to hire international students are in STEM-related fields.
73% of companies in New England plan to focus on hiring international student graduates in 2021.
How Biden's Policy Changes Are Making It Easier for Students to Get Employment Visas
As part of the Department of Homeland Security's Plan to Restore Trust in Our Legal Immigration System,1 Trump's proposed international student visa rule was withdrawn.
Trump's suggested policy change would have eliminated the duration of status rule, which has allowed international students to stay in the US indefinitely without reapplying for a visa as long as they remain enrolled in college.
In addition to the Trump policy removal, Biden has laid out a plan which intends to rebuild and expand the opportunities for immigrants to enter the US—but in a safe and legal way. President Biden's commitment to controlling the COVID-19 pandemic is woven throughout this blueprint. I think this provides reassurance to not only American citizens but also the international students who are weighing the risks of moving during a global pandemic.
In the 2021 QS International Student Survey, students cited nationwide vaccine rollouts, extremely low case numbers, and safe travel to the United States as things that would need to happen in order for them to feel comfortable studying abroad in the US. I think that President Biden is taking the right approach here, building a carefully constructed plan which should give students confidence that studying and living in the US is a wise and safe decision.
Another central element of the blueprint is addressing backlogs in the US immigration system. Many students have faced delays of over a year during the application process due to the global pandemic. Those who want to study in the US simply can't consider it as an option due to the massive increase in visa processing time.
The Biden administration is planning to fast-track immigration applications by expanding virtual interviews and electronic filing, as well as limiting the requests for evidence from applicants. Ultimately, I see this new immigration process as one that will function more effectively and place less of a burden on prospective international students and the schools they hope to attend.
US Companies Eager to Employ International Students
The withdrawal of Trump's proposed rule is incredibly positive news for the education sector. Not only does it bode well for ApplyBoard's 200+ US partner schools and prospective students, but it also benefits the growing collection of US companies that are looking to hire more international students.
In a previous ApplyInsights post examining the post-pandemic interest of international students studying in the US, I highlighted that 84% of students plan on staying in the US after graduating.2 Given that the majority of these students are looking to gain work experience in their field of study, Biden's policy change immediately makes the United States a more attractive destination for international students.
Today, the majority of international student graduates looking to find work in the US will enrol in the Optional Practical Training (OPT) program.3 The OPT program has seen massive growth over the past decade, with the percentage of International Students pursuing OPT growing from 9.8% to 20.8% since 2010. Our US partner schools tell me that they expect this trend to continue alongside the annually growing number of businesses who are planning to hire international students.
The OPT program allows a student to work for any employer that offers training related to their academic program, for 12 months. It's an especially sought-after program by STEM students as it can be extended by up to 24 months for students studying science, technology, engineering, or math.
Let's take a look at the industries across the US which pursue international talent at the highest rates.The chart below indicates the percentage of companies within each industry that said they were planning to hire international students in 2020:
It's no surprise that four of the top five hiring industries for international students in the US are STEM-focused.4 The strong and plentiful talent pool of international STEM students, coupled with the 36 months of work eligibility students qualify for, makes this an attractive partnership for employers and students.
I urge admissions teams at US schools to keep this mutual interest in mind during future recruitment of international students. Post-graduate work opportunities are a huge part of the value proposition to them. US schools should leverage this information to compete with the popular Post-Graduation Work Permit Program (PGWPP) in Canada and the reintroduced Graduate Immigration Route in the UK. Institutions in the US have a particularly strong case to present to STEM students, as several American organizations in those fields are industry leaders.
Earlier this month, I wrote about the increasing rate at which women in STEM programs are being hired for post-graduate jobs.
US schools should inform prospective students—especially those pursuing STEM degrees—that they could have the opportunity to work for large, established companies for as long as three years following graduation. Facilitation of this information should help capable students land jobs, US schools increase enrollment and job placement rates, and grow the ethnic diversity within several industries across the United States.
Regional Interest in Hiring International Talent
The list of potential post-graduate employers for international students in the US is growing fast. There's a wide range of industries that prioritize hiring international talent, but big tech firms are known to account for an especially high rate of it.
Companies such as Microsoft, Amazon, Apple, and Google are revered for boasting workforces rich in international talent. This makes complete sense given the opportunity being extended to STEM students through the OPT program. But how are companies outside of big tech prioritizing their international recruiting efforts?
The map below highlights the percentage of companies within each US region that are planning to focus on hiring international graduates from US colleges and universities in 2021:5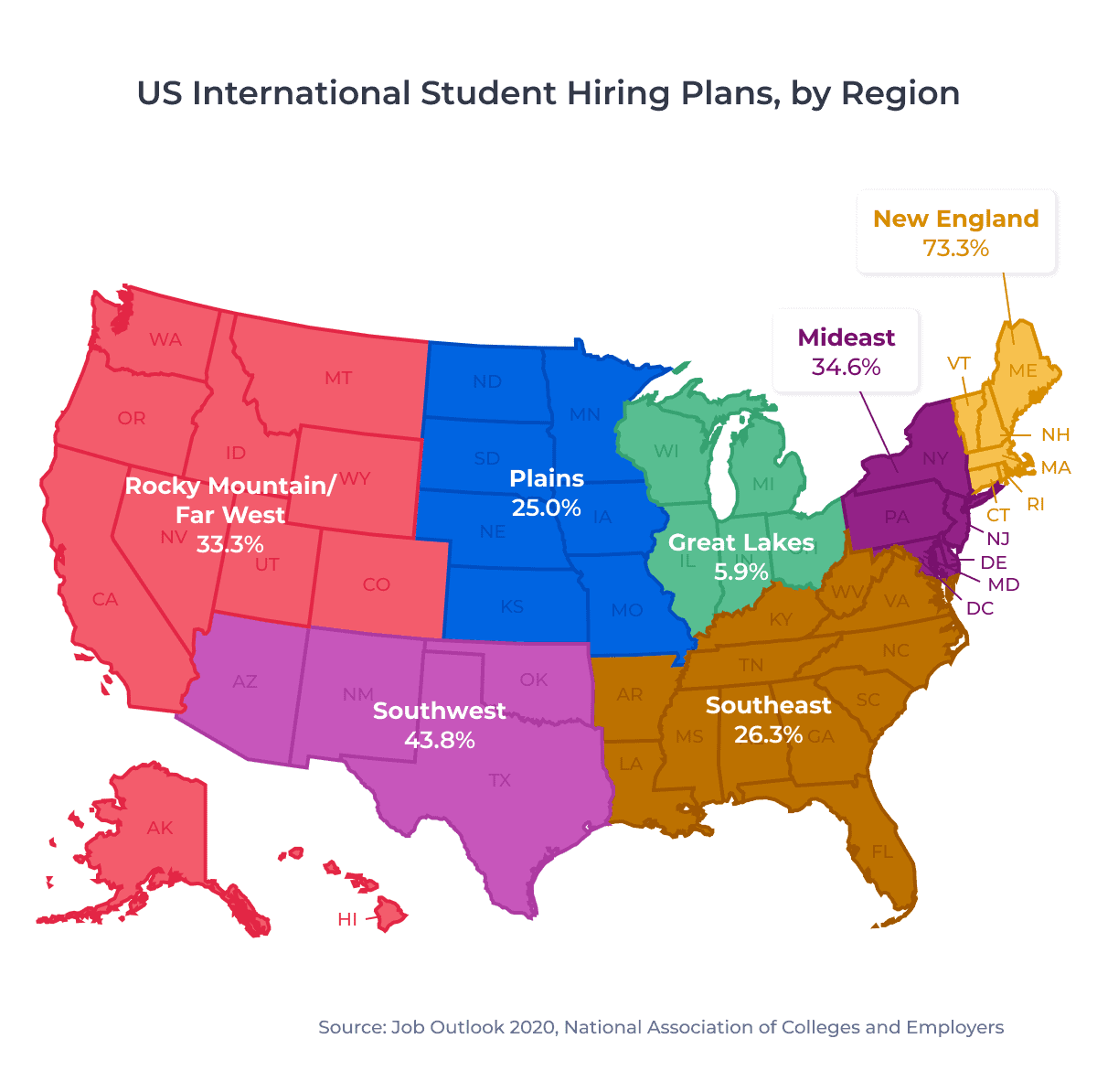 New England is the region showing by far the most interest in hiring international talent, with 73% of firms planning to hire international students this year. Conversations I'm having with our US partner schools tell me that the concentrated interest in international talent from New England is a product of strong schools and the prevalence of STEM organizations across the region.
New England is home to Harvard, Yale, and Brown—three of the top Ivy League schools in the US—so it makes sense that local companies would want to hire strong international talent out of these programs. There are also several cities across NE that are rich in opportunity for the top industries, particularly within STEM. Boston, Providence, and New York City are all based in New England and hold the headquarters of dozens of Fortune 500 companies looking to hire international graduates. This concentration of exceptional talent and employers has developed one of the strongest networks of colleges and universities in the United States.
ApplyBoard's partner schools throughout New England include Clark University, Southern New Hampshire University, and the University of New Haven.
The Southwest (44%) and Rocky Mountain (33%) regions, which rank second and fourth respectively in international hiring, are popular destinations for international students due to the diversity of businesses based in those states. Texas and California, specifically, are likely major sources of organizations prioritizing the employment of non-American talent.
Ultimately, these statistics act as a selling point for US schools looking to attract top international talent. With student interest in pursuing professional US growth opportunities growing each year, schools should highlight the regional organizations looking to hire students following graduation. Allocating resources towards offering unique co-op and internship opportunities with local businesses would be a smart way to gain a competitive edge in recruitment.
Thinking Proactively About the Future
President Joe Biden's suggested changes to US immigration policy give international students and US schools a reason to be optimistic about the future. The first, and debatably most important step, was to rid the US of Trump's restrictive student visa rules.
Bringing about all the seismic changes laid out in Biden's blueprint is likely an impossible task given the current state of US's political landscape. But there's no arguing that the United States has positioned itself as a much more welcoming place to international students today than over the past 4 years. As we await the final results of Biden's opportunity-focused blueprint, schools should prepare for an increase in international student interest.
US institutions looking to stay ahead of the curve and make themselves attractive suitors for international students should consider adopting the following practices:
Create more scholarship opportunities tailored to international students applying to STEM programs.
Distribute educational materials to international students that highlight the post-graduate work opportunities that are offered across different industries.
Work with regional post-graduate employers to offer co-op opportunities and post-graduate work placements at an increased rate.
Published: August 13, 2021
Subscribe to ApplyInsights
Sign up for the latest insights on international education.

---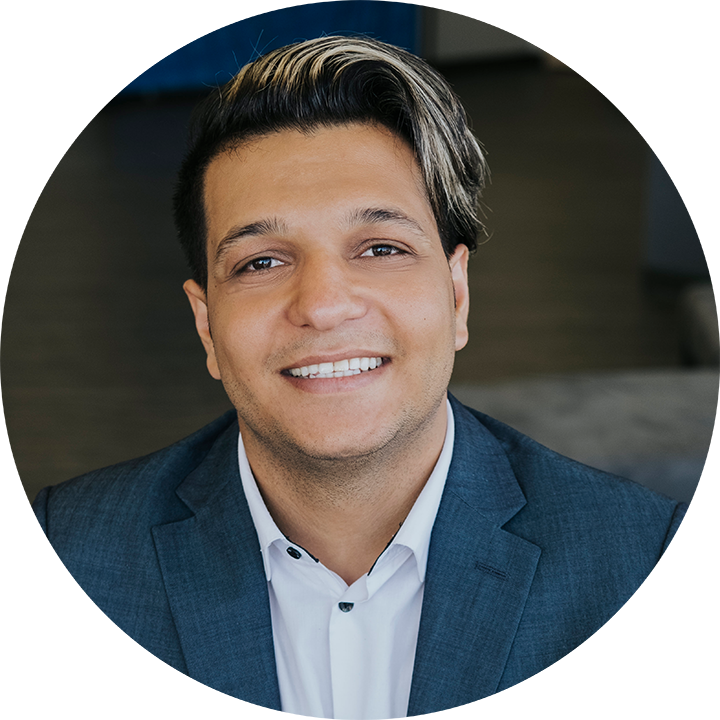 Meti Basiri
Co-Founder and Chief Marketing Officer (CMO)
Meti is driven by the belief that education is a right, not a privilege. He leads the International Recruitment, Partner Relations, and Marketing teams at ApplyBoard, working to make education accessible to people around the world. Meti has been instrumental in building partnerships with 1,500+ educational institutions across Canada, the United States, the United Kingdom, and Australia. Working with over 7,500 international recruitment partners, ApplyBoard has assisted more than 200,000 students in their study abroad journey. Follow Meti on LinkedIn for more access to ApplyInsights and key industry trends.
---
FOOTNOTES:
1. The "Plan to Restore Trust in Our Legal Immigration System" blueprint was obtained by the New York Times on June 4th, 2021. It is a 46-page draft which plans to significantly expand the US legal immigration system.
2. Source: QS International Student Survey 2021, US edition.
3. In the 2019-2020 academic year, 223,000 students participated in OPT (Open Doors).
4. These industries include: Computer & Electronics Manufacturing; Chemical Manufacturing; Finance, Insurance, and Real Estate; and Engineering Services.
5. Source: Job Outlook 2020, National Association of Colleges and Employers.
---