ApplyInsights: Canadian Provincial Study Permit Trends – Atlantic Canada
Atlantic Canada is a small—but not insignificant—destination for international students in Canada. Together, Nova Scotia, New Brunswick, Newfoundland and Labrador, and Prince Edward Island (PEI) accounted for 4 to 6% of all new Canadian study permits approved between 2016 and 2021.1 Which Atlantic provinces are rebounding most strongly post-pandemic? What study levels are booming? And how can Atlantic Canada leverage its competitive advantages to attract more international students in the coming years? Join me as I delve into the data and predict where the Atlantic Canada market is headed.
Key Insights at a Glance
Atlantic Canada is on track to welcome its highest-ever single-year total of international students in 2021.
More than twice as many international students were approved to study at Atlantic universities and colleges in the first seven months of 2021 than in all of 2020.
India and the Philippines are the two fastest-growing source markets for Atlantic Canada. From 2016 to 2021, new study permit approvals from these countries grew by 5x and 9x, respectively.
Atlantic Canada's affordability and permanent residency pathways provide a competitive edge over other regions.
This is the second article in our series looking at the international education market in Canada by province. Previously, I looked at study permit trends in Ontario.
Atlantic Canada vs. the Rest of Canada
Atlantic Canada saw the largest regional decline in the country. However, there is much to be optimistic about as the market for international students rebounds in Canada's post-pandemic landscape. New study permits have already grown 88% compared to 2020 approved in the first seven months of 2021.
The chart below compares the change in new study permits approved in Atlantic Canada versus the rest of Canada since 2019. Note that for 2021, the available data is for January to July:
Change in New Study Permits Approved, Atlantic Canada vs. Rest of Canada, 2019–2021

| | 2019 | 2020 | 2021 (Jan-Jul) |
| --- | --- | --- | --- |
| Atlantic Canada total | 13,551 | 5,188 | 9,751 |
| Atlantic Canada year-over-year | +4% | -62% | +88% |
| Rest of Canada total | 235,683 | 102,396 | 183,517 |
| Rest of Canada year-over-year | +12% | -57% | +79% |
Atlantic Canada is already at 72% of its pre-pandemic peak for new study approvals. With another five months of data to come—including August and September, typically a booming period for permit approvals—Atlantic Canada is on track to post new all-time highs by year-end.
Study Permits Approved by Study Level – Atlantic Canada
The university sector attracts the largest number of international students in Atlantic Canada, though the college and K-12 sectors have produced consistent year-over-year growth since 2016. The chart below shows growth from 2016 to 2021, broken down by study level: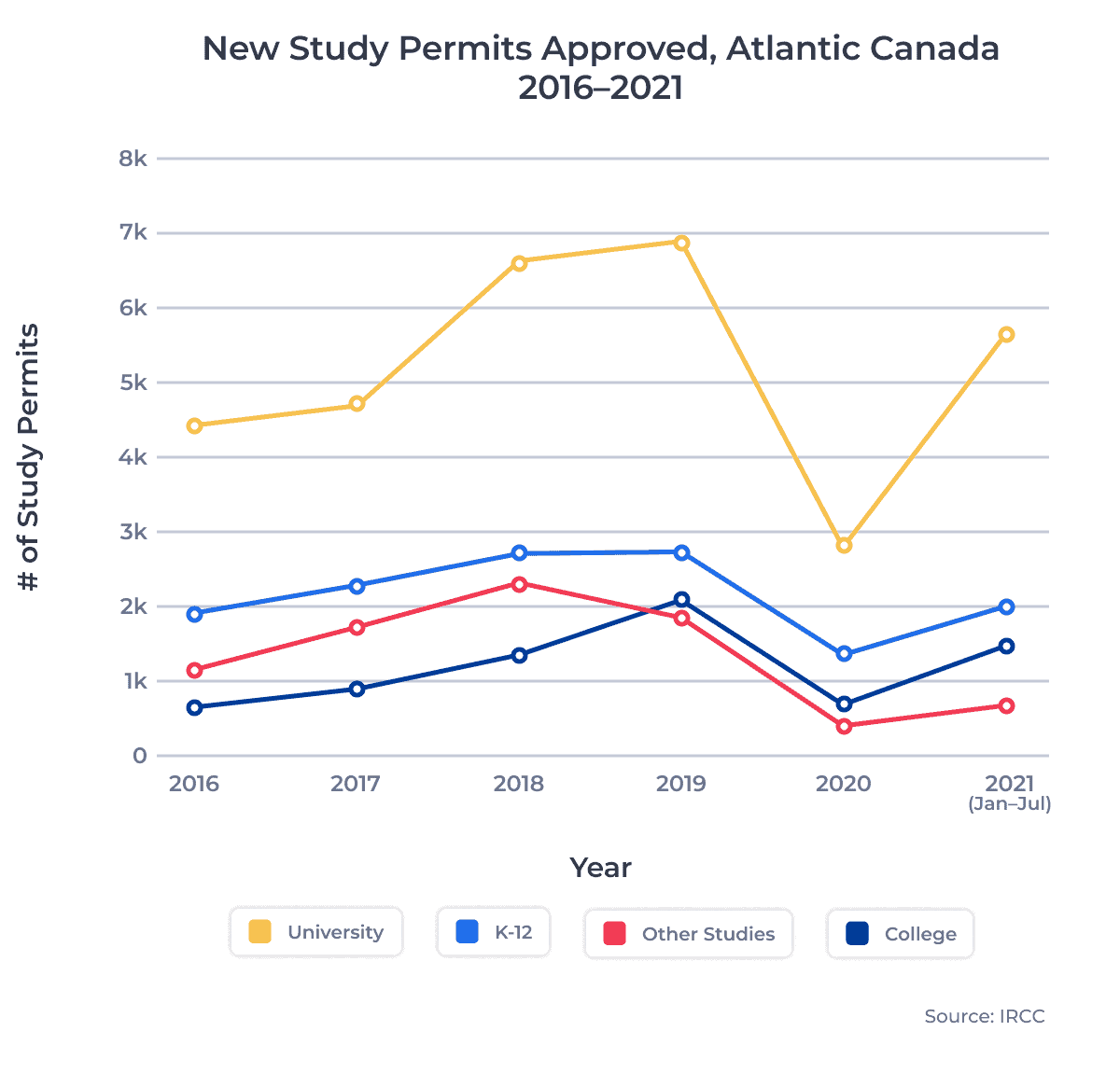 Universities accounted for more than 50% of new study permits approved in Atlantic Canada every year except for 2017 (49%). Atlantic Canada's universities have also rebounded well in the post-pandemic landscape: 5,641 new study permits have already been approved for university study in the first seven months of 2021. This is 82% of the pre-pandemic peak of 6,904 in 2019. Universities should show new all-time highs in study permit approvals by year-end.
Colleges demonstrated the most rapid year-over-year growth over the past five years. From 2017 to 2019, the year-over-year growth in the college sector increased each year compared to the previous one, the only sector to do so in Atlantic Canada. Atlantic colleges have already been approved for 70% of its pre-pandemic peak within the first seven months of 2021.
From 2016 to 2019, new study permit approvals for Atlantic colleges grew by 225%. This sector is on track to match—if not exceed—its pre-pandemic totals by the end of 2021.
Primary and secondary schools (K-12) are another growing field in Atlantic Canada. This sector produced the smallest decline of new permits approved (-51%) among all study levels during the pandemic in 2020. K-12 is on pace to match or succeed its 2019 new permit approvals by year-end, with 73% of its peak total already approved.
Other studies2 is a declining sector in Atlantic Canada. New study permits for these programs dropped 79% during the pandemic—the sharpest decline in 2020—and so far in 2021 this sector has rebounded by only 36% of 2019's totals. I wrote about the difficult recovery that language programs are experiencing in Canada earlier this year.
Study Permits Approved by Province – Atlantic Canada
While the above data examines Atlantic Canada as a whole, how did each individual province fare? The chart below shows the total number of new study permits approved for each province: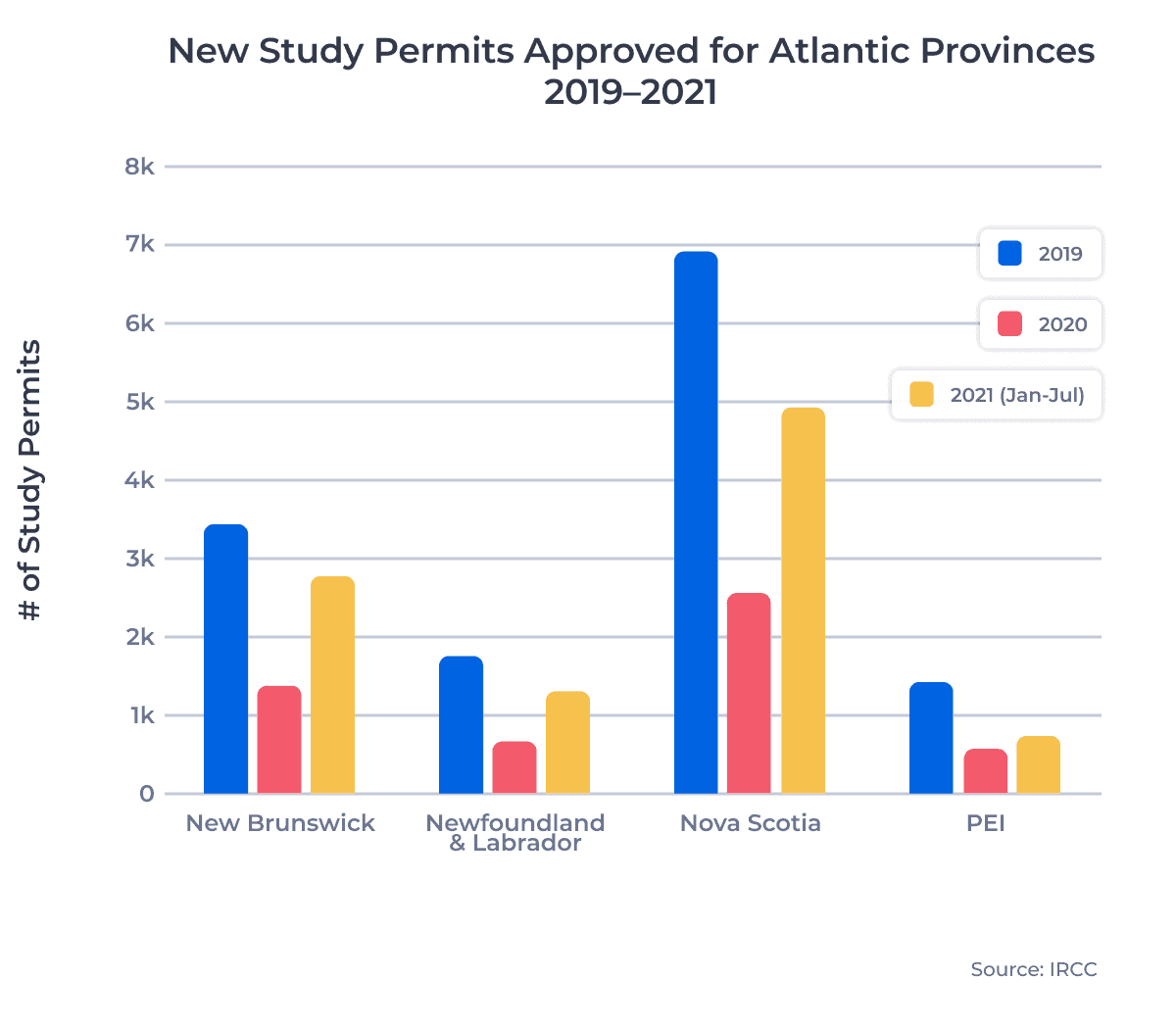 The decline in new study permits for 2020 was substantial, though all four provinces are rebounding well in 2021. Let's dive a little deeper.



New Brunswick's 3,431 new study approvals in 2019 accounted for 25% of the Atlantic total. Additionally, New Brunswick's 60% decline of new study permits in 2020 was the smallest approval drop in the region. The province has already posted 81% of its 2019 peak within the first seven months of 2021, representing the strongest rebound in Atlantic Canada. 2,787 new study permits were approved for New Brunswick institutions from January through July, putting them on pace to smash through 2019's peak of 3,431.



Newfoundland and Labrador was a rapidly growing market for international students prior to the pandemic. The province's year-over-year growth rate increased every year between 2017 to 2019, with 11% more new approved permits in 2017, 17% in 2018, and 21% in 2019. Additionally, the province has come roaring back in 2021, with 1,302 new study permits approved within the first seven months, or 74% of its 1,466 new permits in 2019.
Memorial University of Newfoundland (MUN) is a key driver of international students to Newfoundland and Labrador, and its affordable tuition has been a significant contributing factor. But, due to provincial funding cuts, MUN will increase its tuition in the fall of 2022. As a result, "the cost of international students will balloon to $20,000 annually." This will likely significantly shift the market moving forward.



Nova Scotia leads the way as the most popular Atlantic province for international students. During the height of the pandemic in 2020, Nova Scotia accounted for 49.6% of all new student permits approved within Atlantic Canada: this was the only time the province fell below 50% within the past six years. The pandemic hit Nova Scotia the hardest out of all Atlantic regions in 2020, as 63% fewer new permits were approved for Nova Scotia institutions compared to 2019. The 4,937 new study permit approvals in the first seven months of 2021 represent 71% of the province's pre-pandemic total in 2019.



PEI's post-pandemic rebound has been slow. From 2016 to 2020, the province accounted for around 10% of Atlantic Canada's new study permits approved each year. So far in 2021, this has dropped to 7%. Additionally, PEI's 725 new study permits is only 51% of its 2019 total. This means PEI is the only Atlantic province not on track to match its pre-pandemic total by year-end. Stunting PEI's 2021 growth are stagnant college and decreasing other study approvals: the former has contributed only 1% more new permits than in 2020, and the latter currently sits at a 3% decline.
As I wrote earlier this year, many students are attracted to Atlantic institutions by lower tuition fees compared to other Canadian schools.
Top Source Countries for International Students to Atlantic Canada
Let's take a look at the top five source markets for international students coming to Atlantic Canada in 2021.


India took over the market share for new international students in Atlantic Canada in 2018 and hasn't looked back. The country is on pace to shatter its pre-pandemic peak of 3,269 approved new permits from 2019 by year-end. 78% of Indian students opted for a university-level education, and 65% were approved in Nova Scotia. Cape Breton University leads the way for students from India. New study permits approved for students from India in Atlantic Canada have grown more than 5 times since 2016.



The market leader in Atlantic Canada prior to India's surge in 2018, China saw declining study permit approvals pre-pandemic: its 2019 totals dropped 13% compared to 2018. While the 1,217 new permits in 2021 is a significant rebound from the lows of the 2020 pandemic, it still represents a 45% decline compared to 2016. Chinese students are primarily opting to study in Nova Scotia in 2021, as the 885 approved new permits in the province represent 73% of the Chinese market in Atlantic Canada. Additionally, 54% of new Chinese students were approved at the university level.



The Philippines are the most rapidly growing source country for Atlantic Canada. New study permit approvals for Filipinos grew from 45 in 2016 to 466 in the first seven months of 2021. This 936% growth rate is the highest over this period of countries with more than 50 approvals in Atlantic Canada. The majority of Filipino students opted for institutions in New Brunswick, as the province accounted for 61% of all new permits approved from the Philippines. 62% of Filipino students gravitated toward the college level in Atlantic Canada–with New Brunswick Community College leading the way–and another 29% were approved at the K-12 level.
Earlier this year I fully unpacked the Filipino study permit spike in our Study Permit Trends in Canada series.


Germany is fairly well diversified across three Atlantic provinces. 40% of new German students were approved in Nova Scotia, 37% in New Brunswick, and 22% in Newfoundland and Labrador. K-12 is the leading study level for new German students, as the 341 permits approved at this level represent 86% of all new German students in 2021. Another 13% of German students were approved at the university level.



Bangladesh is another rapidly growing market. The 361 new permits approved for Bangladeshi students in 2021 represents a 134% increase over the 154 new permits approved in 2016. 347 of the 361 new students from Bangladesh were approved at the university level: this 96% rate is the most skewed study level representation among all countries with 20 or more study permit approvals for Atlantic Canada. MUN alone accounted for 192 (53%) of these new study permits. Another 121 (34%) Bangladeshi students chose universities in Nova Scotia, with Dalhousie University and Saint Mary's University leading the way.
Collectively, India, China, the Philippines, Germany, and Bangladesh accounted for 57% of study permit approvals in Atlantic Canada from January to July 2021.
Key Takeaways
Atlantic Canada may constitute only 5% of Canada's overall new study approvals, but the region has potential to grow and become a stronger attraction for international students in the coming years. Here's what institutions in Atlantic Canada can leverage moving forward to capitalize on the region's competitive advantages and continue its growth:
In addition to Atlantic Canada's advantage in tuition cost, other costs of living such as rent and groceries are also usually more affordable in Atlantic regions than elsewhere.
The pathway to permanent residency (PR) is often more accessible in Atlantic Canada than other provinces due to programs that aim to streamline career readiness. These include the New Brunswick Provincial Nominee Program, the Newfoundland and Labrador Provincial Nominee Program, Study and Stay Nova Scotia, and Study & Stay PEI.
If MUN's tuition increase dents its international student intake going forward, this will create opportunities for other institutions to position themselves as alternative destinations and to increase their brand awareness.
Institutions must continuously innovate and improve their course offerings, such as increasing their number of graduate and post-graduate offerings. Diverse and innovative programs help grow brand awareness and fortify against economic downturn.
Published: December 06, 2021
Subscribe to ApplyInsights
Sign up for the latest insights on international education.

---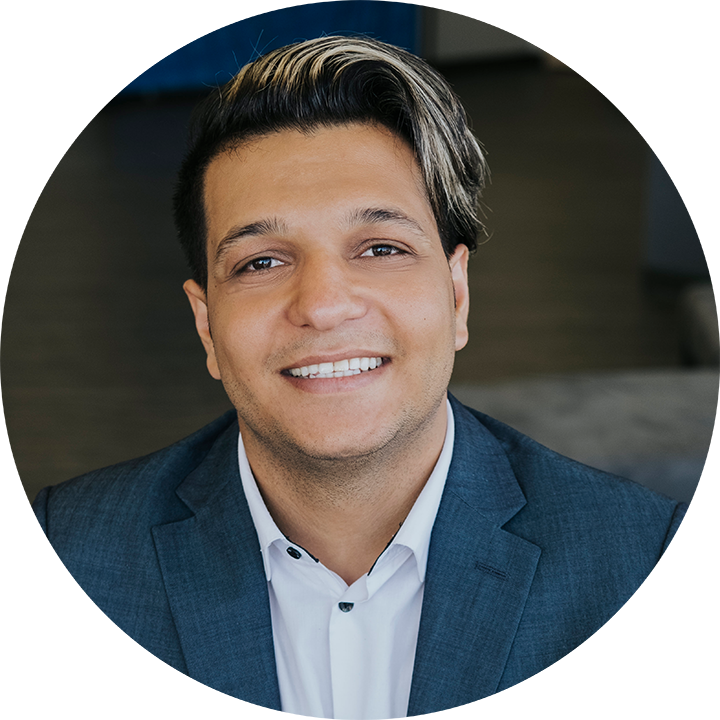 Meti Basiri
Co-Founder and Chief Marketing Officer (CMO)
Meti is driven by the belief that education is a right, not a privilege. He leads the International Recruitment, Partner Relations, and Marketing teams at ApplyBoard, working to make education accessible to people around the world. Meti has been instrumental in building partnerships with 1,500+ educational institutions across Canada, the United States, the United Kingdom, and Australia. Working with over 7,500 international recruitment partners, ApplyBoard has assisted more than 200,000 students in their study abroad journey. Follow Meti on LinkedIn for more access to ApplyInsights and key industry trends.
---
FOOTNOTES:
1. All data courtesy of Immigration, Refugees and Citizenship Canada (IRCC).
2. Includes language training programs. Note that students from certain countries are not required to obtain a study permit to study in Canada for six months or less.
---