ApplyInsights: How the Canadian Language Sector Plans to Rebound Post-Pandemic – A Conversation with Gonzalo Peralta
In 1974, 10-year-old Gonzalo Peralta, his brothers, and their single mother arrived in Canada as refugees. They had nothing. With the help of the Canadian government and a sponsoring body for refugees, the Peraltas were able to secure an apartment and get some clothes and food stamps.
"It took my mother years to become productive," remembers Peralta. "She had to go back to school, learn English, and get an education. It wasn't until almost seven years later that she began giving back and contributing to Canada."
Peralta's mother made that contribution by opening up a language school—an endeavour rooted in the understanding that having a strong command of a country's native language is the secret ingredient to creating opportunities for yourself as an immigrant or worker. 
Fast forward 47 years, and Gonzalo, now Executive Director of Languages Canada, has set his sights on a steep challenge that hits close to home: How to help the Canadian language education sector rebound from a devastating year and create an environment where students' language skills can flourish.
I sat down with Gonzalo to talk about the state of the languages sector and to take a look at what can be done to help this crucial pillar of Canadian education rebound post-pandemic.
Canadian Language Sector Crippled by Pandemic
Language program enrollment rates fell further than any other study segment in Canada in 2020, dropping by 70 to 80%. As the only education segment that depends almost entirely on international students, language programs faced a unique challenge during the pandemic.
However, the root of the massive hit that language programs absorbed during the pandemic boiled down to one thing—the absence of experiential learning.
"It's not just learning English or French that attracts our students, it's the total experience of coming to Canada," says Peralta. "Anyone can learn English or French at home. These students want the authentic Canadian experience."
From his 35+ years in the language industry, Peralta understands that the experience of living with a Canadian family, travelling, the opportunity to pursue a university or college degree in Canada, and even the dream of becoming a Canadian citizen one day are what make this country such a desirable destination for language students.
When COVID-19 hit, and the Canadian government closed borders and implemented international travel restrictions, it upended what it meant to learn a new language at a Canadian institution. 
At ApplyBoard, we've seen large numbers of international undergraduate and graduate students continue to pursue their studies during the pandemic, showing a willingness to pivot to a virtual classroom setting. But we haven't seen the same results in the language sector, with most students deciding to opt out of their programs.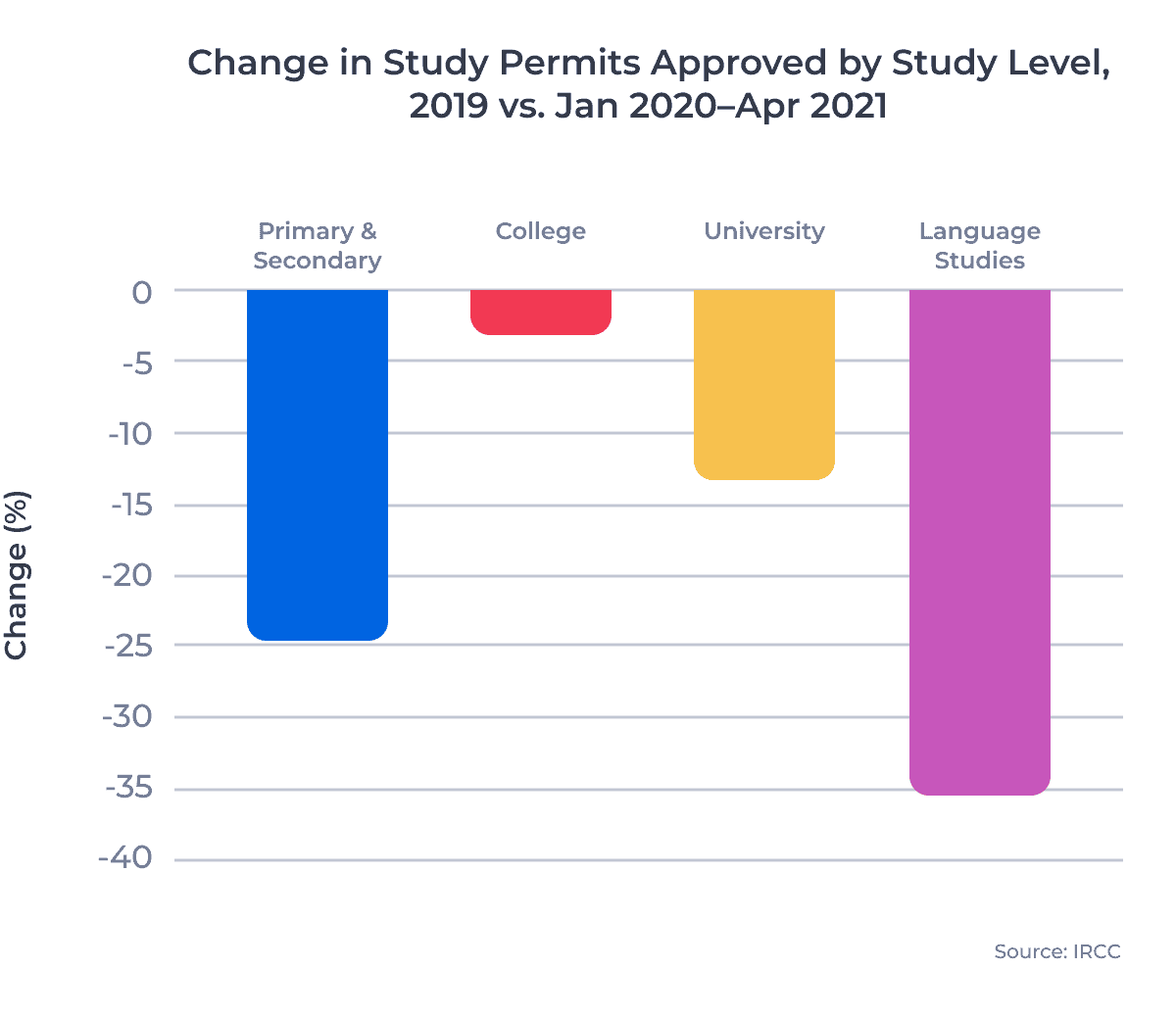 In the language sector, not all international students require study permits. Of the 150,000 international students that enrolled in language programs in 2019, less than 50% of them entered the country on a study permit.1 The rest came from countries whose citizens are allowed to study in Canada for less than 6 months without a study permit. Many language programs are typically shorter than six months, avoiding the study permit requirement.
When looking for the cause of the language sector's seismic gap in enrollment, Gonzalo points to the fact that learning a language from a professor is only a portion of the experience these students are after. "They want to be in an environment where they can put their new skills to use in a real-life setting," he says.
Another item that worries Gonzalo and his colleagues is the seasonal aspect of language programs in Canada. The nature of students' aspirations of travelling to Canada, and their aversion to cold weather, makes summer overwhelmingly the most popular semester for international students.
"Summer is our biggest season," says Peralta. "We lost last year and we're going to lose this summer, too." Languages Canada's focus remains on January, when they believe they can land in a good position to rebound for the summer of 2022, provided the Canadian government executes their vaccine rollout according to plan.
Pathway Programs Critical to International Education Industry
Perhaps the most concerning of all the hurdles for the language sector is the financial pressure on public sector schools, which places additional pressure on institutions to implement cost-cutting measures. Because language programs at public institutions work mostly on a cost recovery basis, it makes them an easy target for cuts.
With several public sector schools struggling to stay solvent as we progress through this pandemic, institutions may begin to shut down their language programs. If this happens, the trickle-down effects of these decisions could have a devastating impact on the public education sector as a whole.
"Instead of continuing to support their language programs, some faculty administrations will decide to cut them. This has a huge impact not just for language programs, but also for the rest of education," warns Peralta.
Of the C$22 billion brought in through international education in 2019, the language education sector enabled $6.7 billion of that revenue. $4.9 billion of that revenue was indirectly generated by pathway programs.2
"That engineering student at the University of Toronto in a four-year degree, who had to learn English prior to her enrollment," says Peralta. "Revenue brought in by her undergraduate degree was made possible because of her language education."
Closing or not investing in struggling language programs may save public sector institutions money in the short-term, but these decisions could stunt the educational sector's recovery in Canada. Language programs are the entry point and pathway to diversity in schools. Public institutions need to value them during difficult times like these, more than ever before.
Working Rights Key Piece of Value Proposition for Language Students
Where does the language sector go from here, and what can be done to help this division of Canadian education find its form? Peralta is adamant that Canada needs to foster an environment that not only offers students a world-class education, but which also allows them to develop their language skills beyond the walls of a lecture hall.
"Where we see a real need to make a change in Canada is around access to work for international language students," says Peralta. 
In 2014, the previous Canadian government under Stephen Harper instituted a policy that cut access to work for language students. The language sector saw an immediate 15% drop in enrollment, a staggering number for a sector that was accustomed to steady annual growth.
"We think the best way our industry can counter the economic fallout students from around the world have experienced is to give them access to work while they study language in Canada," says Peralta.
Peralta sees the decision to allow language students the opportunity to work as a no-brainer, a small policy adjustment that could open up a world of experiential learning and benefit Canada's lofty immigration goals in the process.
Not only does access to work act as a financial incentive for students to choose to study in Canada, but it gives them the opportunity to consolidate their knowledge of English or French through experience. It allows them to learn by doing.
"Students want to work not just for the money or work experience," explains Peralta. "In these four walls, I can only learn so much English or French. The rubber hits the road when I go over to your place and have a drink, or I interact with other native English or French speakers at my place of work. That's where language skills get put to the ultimate test. We call it experiential learning. It's the full package. Canada is selling itself short in many ways by not offering that full package."
Canada Losing Market Share
Canada's recovery faces stiff competition. Other major English language study-abroad markets like the United Kingdom, New Zealand, and Ireland are offering competitive language programs supplemented by the ability for international language students to work. As long as this disadvantage persists, there's growing concern that Canada will continue to lose students to these countries.
Peralta sees a clear generational and global shift that's happening with prospective students in the language sector and worries that governments who aren't paying attention to this trend are going to get caught flat-footed.
"Young people around the world are no longer willing to accept the status quo. They want mobility, they want access, they want modular education," says Peralta. "The inability to work is a huge disadvantage and will continue to be a huge disadvantage for Canadian institutions, and for Canada as a country."
The Future of Language Education in Canada
It's not just Languages Canada that's feeling the impact of the status quo. Public institutions are losing their pathways programs. Canada is sacrificing international talent and diversity. The status quo is forcing students to choose a different destination for their language studies. Not because it's their first choice, but because they value learning through experience.
As the tide of a global pandemic begins to turn, Peralta feels that the responsibility to keep this conversation going falls on the shoulders of everyone across the education sector, to ensure the government hears their cry for change.
"Schools can help themselves by starting conversations with their MPs and MPPs," says Peralta. "Tell them, 'We need a clear plan.' When can I open that door, and how far can I open it?"
Peralta is well aware that his industry is facing an uphill battle in the coming months. But he's also optimistic that positive change will happen if Canadian schools and language organizations work together to have the conversation and state their needs.
Language programs not only need to get their students recruited, but also safely placed within their schools. "For things to really recover, we need that support from the government until borders are open and classrooms are open," says Peralta. "And how do we speak to it? Get out there and say it. It's not enough to ask. We need to apply pressure, together."
Gonzalo Peralta fights for these students' rights because he understands the opportunity and privilege that Canada can offer to those who are fully equipped with the tools to take advantage of it. A strong command of the native language is one of the most important tools a newcomer to a country can have at their disposal. The best way to gain that command is through human interaction and cultural experiences.
When I arrived in Canada as an Iranian immigrant, I could barely speak a word of English. Before anything else, I knew I needed to learn the language to set myself up for success. With the help of my professors at Renison University College's English For Academic Success program, I quickly developed the language skills I needed. But it wasn't until I applied those language skills outside the classroom—spending time with friends, going to events, and meeting new people—that I felt like I had a strong grasp on English. Experiential learning matters.
As Canada charges forward with its national vaccine rollout, one that's scheduled to secure 65 million doses before the end of July, Peralta wants to provide students with hope.
"To students that have wanted to come here, and have not been able to—Canada will be reopening soon," said Peralta. "We value civic duty here in Canada. I encourage students to come to a nation that will be vaccinated and will treat them with kindness and respect. You are welcome here."
Published: June 28, 2021
Subscribe to ApplyInsights
Sign up for the latest insights on international education.

---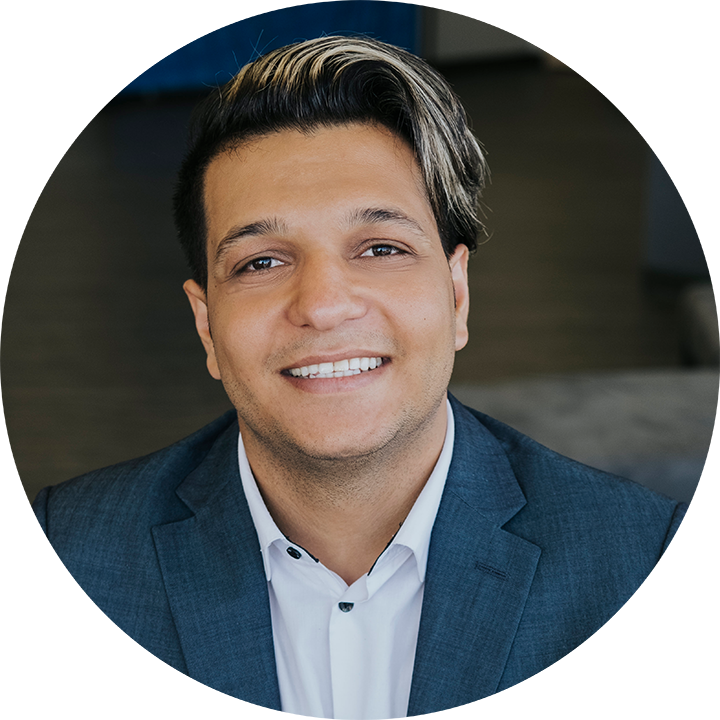 Meti Basiri
Co-Founder and Chief Marketing Officer (CMO)
Meti is driven by the belief that education is a right, not a privilege. He leads the International Recruitment, Partner Relations, and Marketing teams at ApplyBoard, working to make education accessible to people around the world. Meti has been instrumental in building partnerships with 1,500+ educational institutions across Canada, the United, the United Kingdom, and Australia. Working with over 7,500 international recruitment partners, ApplyBoard has assisted over 200,000 students in their study abroad journey. Follow Meti on LinkedIn for more access to ApplyInsights and key industry trends.
---
FOOTNOTES:
1. Approximately 30-50% of international students enrolled in Canadian language studies programs receive study permits on an annual basis.
2. Pathway programs are preparatory courses designed to help international students build the skills, knowledge, and qualifications they'll need to enter a bachelor's or master's degree program.
---