ApplyInsights: Canadian Provincial Study Permit Trends — Ontario
Ontario is the hub of international education in Canada. The number one destination market in the country for 20+ years, Ontario's international student market was growing rapidly right before the pandemic hit and is poised to recover swiftly.
What makes Ontario the most popular Canadian province among international students, which study levels are the most highly pursued in Ontario, and where are Ontario's international students coming from?
Join me in the first edition of our 2021 Canadian Provincial Trends series, as I answer these questions, recommend how institutions can leverage these trends, and predict where Ontario's international student market is headed.
Key Insights at a Glance
By the end of 2021, Ontario projects to welcome its highest-ever single-year total of international students.
Half of all international students approved to study in Canada between January and July 2021 chose Ontario as their destination.
Ontario has welcomed 123% more international students so far in 2021 than in all of 2020—that's three times the increase in the rest of Canada.
14 of the 15 most popular Canadian college destinations for international students so far in 2021 are located in Ontario.
Canadian Study Permits Approved – Ontario
In the 2020 edition of our Canadian Provincial Trends series, I commented on the rapid growth of Ontario's international education industry from 2015 to 2019. During this time, the total number of study permits in Ontario more than doubled. This explosive growth was stunted by the pandemic, but Ontario's enrollment numbers are undergoing a resurgence in 2021.
The following chart shows the progression in the number of study permits approved for Ontario students since 2016. I've also included ApplyBoard's projection for the number of study permit approvals in Ontario through 2022: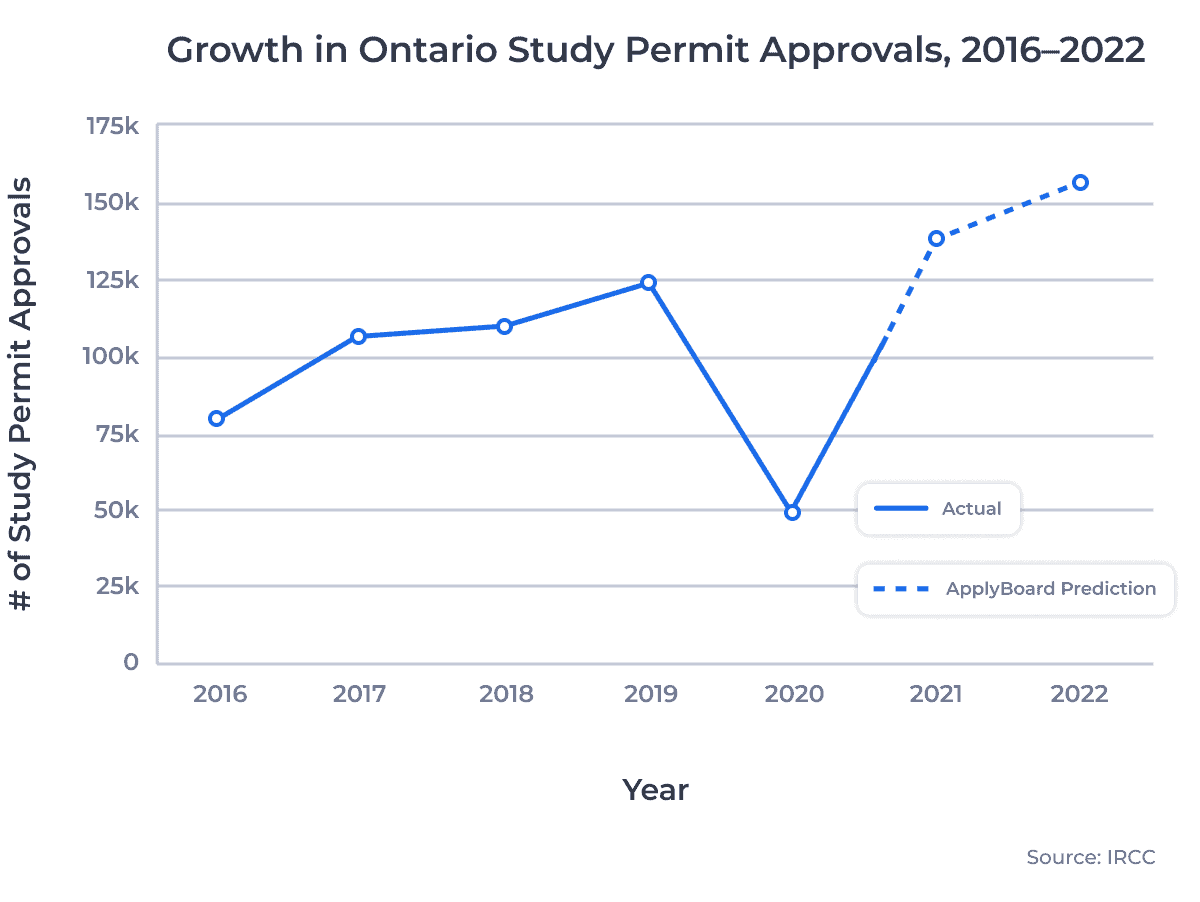 In 2019, Ontario hit an all-time high for new international students when 124,711 new students were issued study permits. This year, Canada's most populous province is on pace to smash that record.1 108,614 international students were approved to study in Ontario between January and July 2021.
Ontario vs. the Rest of Canada
The table below shows the year-over-year growth of the Ontario market versus the rest of Canada since 2016:
Change in New Study Permits Issued, Ontario vs. Rest of Canada, 2016–2021

| | 2016–2017 | 2017–2018 | 2018–2019 | 2019–2020 | 2020–2021 (Jan–Jul) |
| --- | --- | --- | --- | --- | --- |
| Ontario | +34% | +4% | +14% | -61% | +123% |
| Rest of Canada | +20% | +19% | +11% | -52% | +42% |
From 2016 to 2019, Ontario's study permit approval numbers shifted much more than the numbers for the rest of Canada. A 34% spike in approvals between 2016 and 2017 was followed by just a 4% increase the following year. Meanwhile, the rest of Canada grew by around 20% each year.
The increased volatility in Ontario held during the pandemic. From 2019 to 2020, study permit approvals in Ontario fell by 61%, while the rest of Canada saw a (still significant) 52% decline. This year, however, Ontario has come roaring back. 123% more international students were approved to study in Ontario in the first seven months of 2021 than in all of 2020. Over the same period, the rest of Canada welcomed 42% more students than last year.
I think the rapid growth Ontario has experienced so far this year can be largely attributed to two factors: the study levels being pursued by international students and the developing interest of students from emerging markets, such as the Philippines. I'll explore both these items in further detail below.
Canadian Study Permits Approved by Study Level – Ontario
The growth in the international student market in Ontario has also varied significantly between study levels in the last five years. The chart below shows growth between 2015 and 2019, broken down by study level: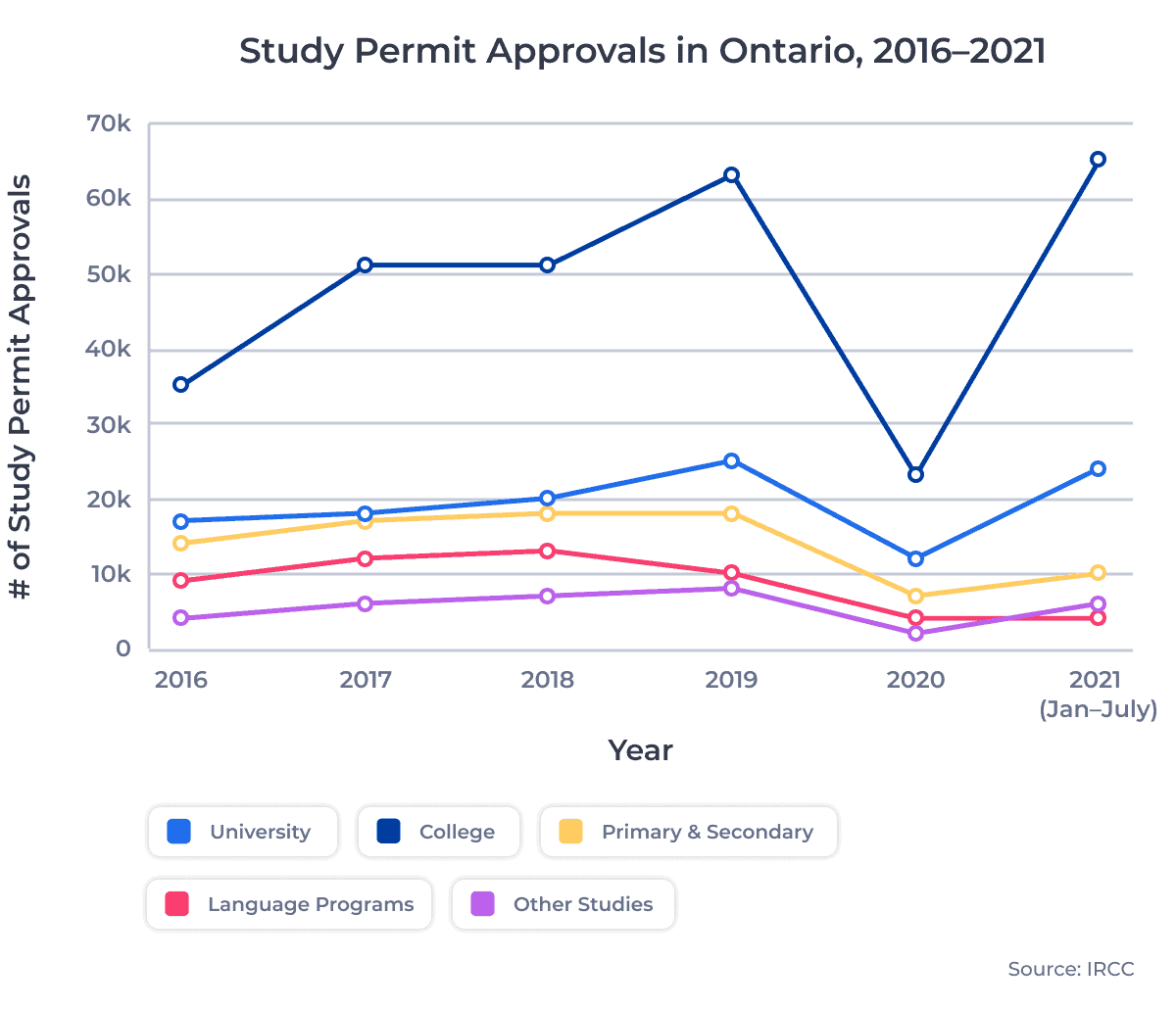 As the chart shows, international students returned to Ontario colleges in droves this year. 178% more study permits were issued for college studies in the first seven months of 2021 versus all of 2020. The university sector has also come roaring back, up 93% over 2020.
In fact, study permit approvals for Ontario colleges and universities have already reached all-time highs in 2021—and that's only accounting for seven months of the year. By the end of the year, Ontario projects to welcome the most international college and university students in its history. I'm confident this growth in post-secondary enrollment in Ontario will continue driving Ontario's international student market into the new year.
From January to July 2021, 20% more study permits were issued for Ontario's hard-hit languages sector than in 2020. This is a modest increase, but it's a positive sign for a sector that was hit extremely hard by the pandemic. It's also important to note that because many language programs run for less than six months, most students aren't required to obtain a study permit. These numbers thus paint an incomplete picture of the sector.
Earlier this year, I interviewed Gonzalo Peralta, the Executive Director of Languages Canada, who explained how Canada's language sector was uniquely impacted by COVID-19.
K-12 numbers are up 37% over full-year 2020 but remain well down from 2019. The secondary school numbers saw a more significant decline (-65%) than the primary school numbers (-51%) in 2020 and have also seen a slower recovery.
As Ontario's secondary school market is typically driven by students going abroad by themselves, I expect this slow recovery is a product of parents' reluctance to send their children abroad during the pandemic. Look for primary and secondary numbers to ease back to their pre-pandemic levels in 2022 as parents feel more comfortable sending their children abroad.
Study Level Comparison: Ontario vs. Rest of Canada
The breakdown of permits approved by study level for Ontario students varies considerably from the breakdown for the rest of the country: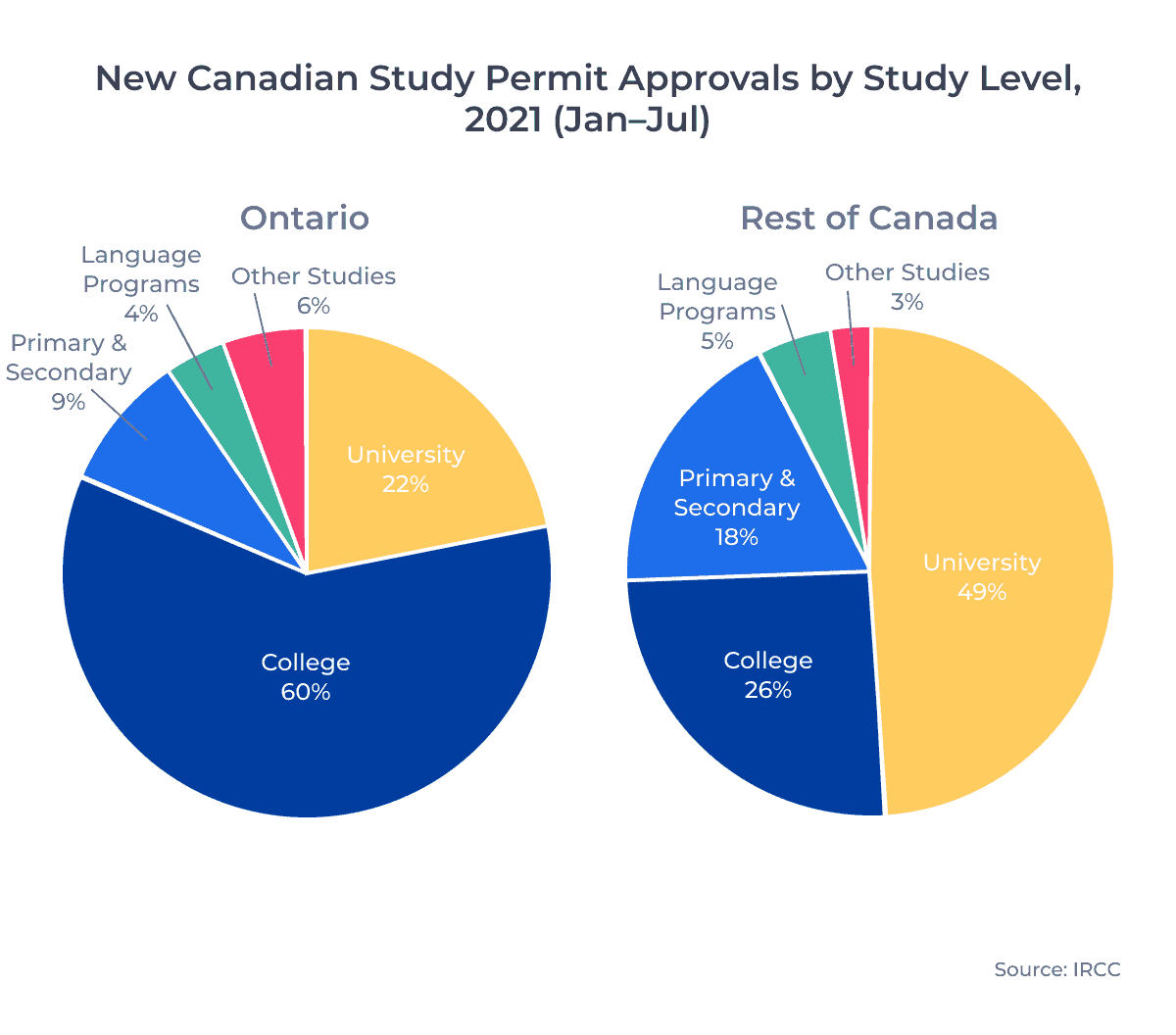 As we see in the charts above, college has been the most popular study level pursued by international students in Ontario so far in 2021, with 60% of study permits being approved at the college level.
This starkly contrasts the national distribution of study levels, where university is by far the most popular option across Canada. Nearly half of the international students who came to a province outside Ontario this year pursued university-level education.
This imbalance of study distribution boils down to the large number of colleges in Ontario, many of which are highly regarded internationally and well-established in the international student market. In fact, Ontario is home to 14 of the 15 most popular colleges in Canada for international students.2 For students who want to study skilled trades, engage in more practical learning, and carry less of a financial burden after graduation, college is a highly attractive post-secondary option.
What's Ontario's Growth Potential?
The concentration of international students at Ontario colleges has grown steadily over the past five years, rising 16 percentage points from a 44% market share in 2016. Looking forward, I truly believe the sky's the limit for international enrollment in Ontario.
International students value referrals from existing students and favour established colleges with a reputation for supporting international talent. Institutions in Ontario will only be collared by capacity issues from a class size and accommodations perspective.
Universities leveraging hybrid learning models face less of a burden to limit headcount for their courses moving forward. But as long as Ontario institutions have the space and time to accommodate international students, they will keep on coming.
India, the Philippines, Brazil, China, and Colombia were the top five source markets for Ontario colleges in 2021.
Aside from India, which accounted for the most study permit approvals at every study level, the Philippines were approved for more study permits at the college level in Ontario than any other country this year. I'll take a closer look at the Philippines and other rapidly growing Ontario markets in the section below.
Top Source Countries for Ontario Students
With Ontario on pace to welcome its highest-ever number of international students in 2021, let's take a look at where those students are coming from: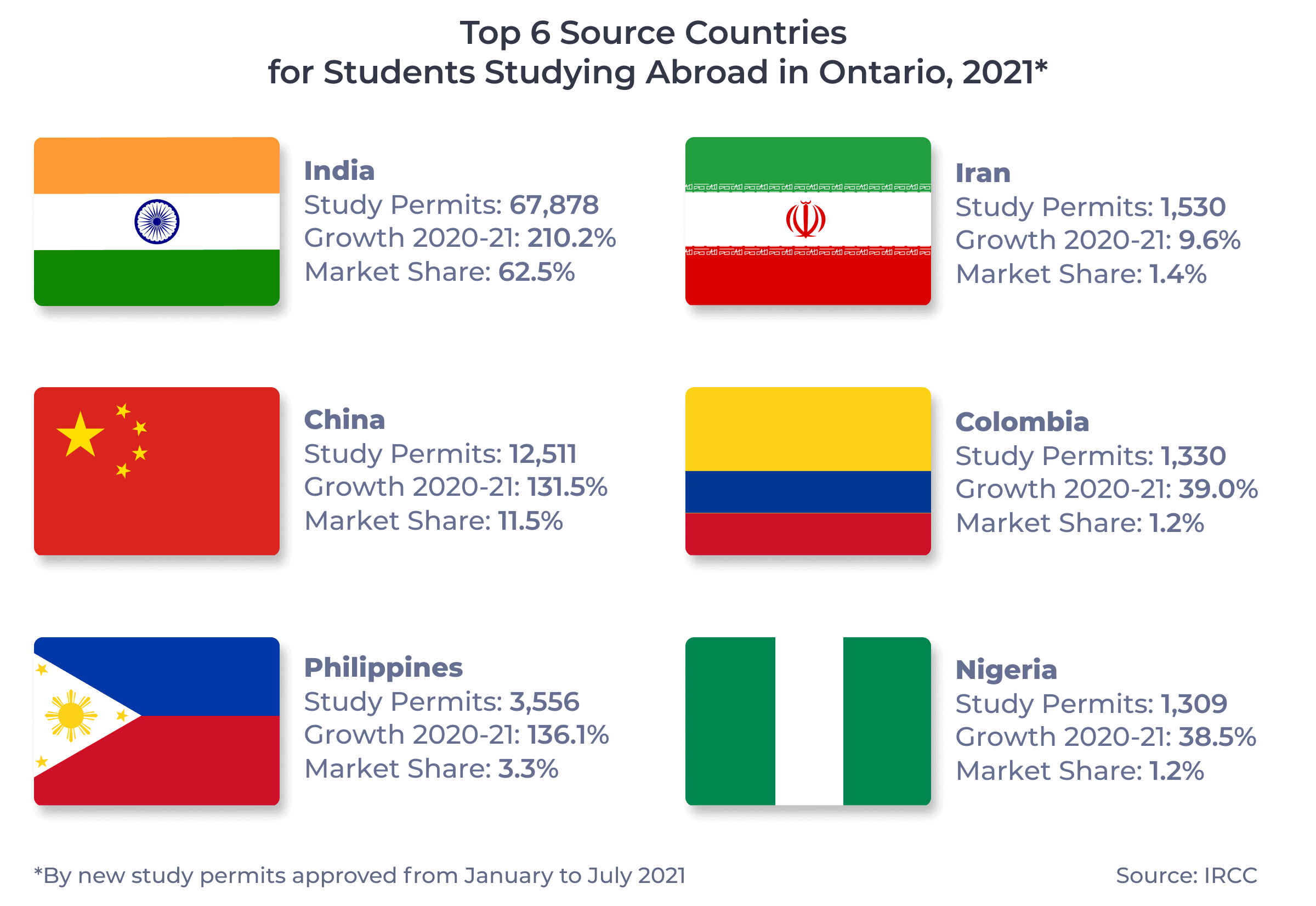 This year, Indian students made up the majority of international students in Ontario, at 62%. India increased its market share by 20 percent in 2021, while China, the number two ranked country by study permit approvals since 2016, grew by just 1 percent.
Collectively, India, China, the Philippines, Iran, Colombia, and Nigeria have accounted for more than 4 in 5 of study permits issued in Ontario in 2021.
Emerging Markets in Ontario
As students from less familiar source markets begin to edge their way into the Canadian education system, let's look at how that growth has unfolded over the last few years.
When considering what the future landscape of international education will look like in Ontario, we have to pay attention to markets with the highest growth potential. The following chart highlights the top 10 markets by growth percentage since 2016:3
Top Emerging Source Markets in Ontario

| Rank | Country | Study Permits Approved, 2016 | Study Permits Approved, 2021 (Jan–Jul) | Change, 2016–2021 |
| --- | --- | --- | --- | --- |
| 1 | Philippines | 419 | 3,556 | +749% |
| 2 | Nepal | 64 | 359 | +461% |
| 3 | Sri Lanka | 129 | 425 | +229% |
| 4 | Bangladesh | 306 | 996 | +225% |
| 5 | Jordan | 135 | 371 | +175% |
| 6 | Iran | 597 | 1530 | +156% |
| 7 | Morocco | 170 | 435 | +156% |
| 8 | Hong Kong (SAR China) | 402 | 1,003 | +150% |
| 9 | Colombia | 593 | 1,330 | +124% |
| 10 | India | 32,053 | 67,878 | +112% |
The Philippines
The massive growth in the Filipino market jumps off the table above. Study permit approvals for Filipino students increased by almost 750% between 2016 and 2021—the highest among source markets during that time.
The racing bar chart below illustrates how different source markets have slid up and down the Ontario rankings since 2016. Pay attention the movement of the Philippines, in yellow:
In 2016, the Philippines ranked 20th among source markets for Ontario study permit approvals. Today, they sit third behind the well-established India and China, accounting for over 3,500 new study permit approvals in 2021.
8 in every 10 Filipino students in Ontario are studying at the college level in 2021, well above the all-market average of 60%. I fully unpacked the Filipino study permit spike in our Study Permit Trends in Canada series earlier this year.
Sri Lanka & Nepal
Coming in at second and third on our chart, Nepal and Sri Lanka are two other budding markets that have experienced considerable growth over the past five years.
Nepali students were issued 460% more study permits in 2021 than they were in 2016, while Sri Lankan students increased by 230% over the same period. A growing interest in college education, competitive tuition fees, and Ontario's expansive job market are driving this growth.
I covered Sri Lanka and Nepal in more depth in our Study Permit Trends in Canada series.
Key Takeaways
Canada's most sought-after destination for international students projects to only grow in popularity over the coming years. Ontario institutions should closely watch these evolving trends and the market that shape them as they continue to build their market share post-pandemic.
Here are my recommendations for institutions looking to capitalize on this exciting time for international education in Ontario:
Regional colleges and universities should highlight their competitive tuition rates and cost of living advantages relative to institutions based in the Toronto area.
Larger schools based in densely populated areas of Ontario (Ottawa, Toronto, Ottawa, Kitchener-Waterloo) should consider offering more seats in programs to accommodate the rising demand among international students.
Colleges should assign additional resources to recruit students from emerging markets such as the Philippines, Sri Lanka, and Nepal.
Ontario institutions with high international enrollment should lean into this strength and work with existing students to bolster programs and activities to create an appealing environment for prospective international students.
Published: November 12, 2021
Subscribe to ApplyInsights
Sign up for the latest insights on international education.

---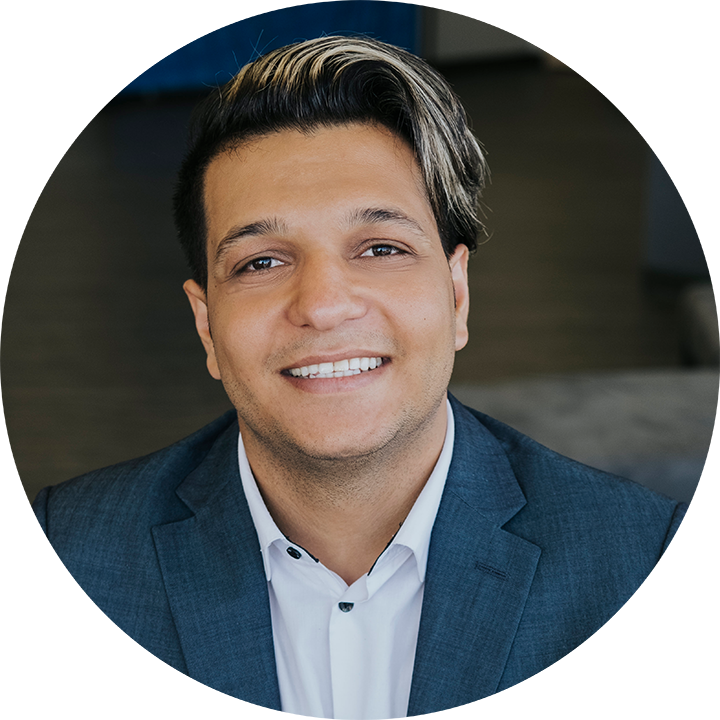 Meti Basiri
Co-Founder and Chief Marketing Officer (CMO)
Meti is driven by the belief that education is a right, not a privilege. He leads the International Recruitment, Partner Relations, and Marketing teams at ApplyBoard, working to make education accessible to people around the world. Meti has been instrumental in building partnerships with 1,500+ educational institutions across Canada, the United States, the United Kingdom, and Australia. Working with over 7,500 international recruitment partners, ApplyBoard has assisted more than 200,000 students in their study abroad journey. Follow Meti on LinkedIn for more access to ApplyInsights and key industry trends.
---
FOOTNOTES:
1. Projections are based on 70% of the average year-over-year growth rate in new study permits approved from 2016 to 2019. All data courtesy of Immigration, Refugees and Citizenship Canada (IRCC), except where noted.
2. By new study permits approved between January and July 2021.
3. Includes markets issued a minimum of 300 study permits during 2019 in Ontario only.
---