Today is STEM Day, a day to celebrate and promote the benefits of pursuing an education in science, technology, engineering, and math (STEM)! However, we must also acknowledge the gender imbalance that continues to exist in this field. This is why ApplyBoard introduced the STEM for Change Scholarship earlier this year. Today we'll chat with one of our scholarship winners, Mercy, who is currently studying Environmental Monitoring and Impact Assessment at Cambrian College.
The Gender Imbalance in STEM
First, it's important to discuss why we introduced this scholarship. According to Statistics Canada, women are still less likely than men to pursue a STEM career, especially in the fields of engineering, mathematics, and computer science. Statistics Canada also found that women comprised just 34% of STEM bachelor's degree holders and only 23% of individuals employed in science and technology. 
Why is this such a problem? STEM fields—especially engineering and computer science-related jobs—are currently some of "the highest-paying and fastest-growing occupations," says Statistic Canada. Not to mention the fact that gender diversity immeasurably enhances both innovation and performance.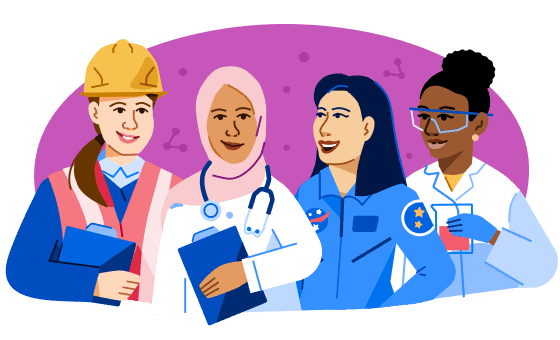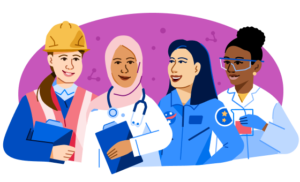 STEM for Change Scholarship Program
ApplyBoard is committed to breaking down barriers to education and being part of the change. The STEM for Change Scholarship Program is designed to drive diversity and inclusion by empowering women worldwide to pursue a STEM education.
In honour of STEM Day 2021, we wanted to check in with Mercy, one of seven STEM for Change Scholarship winners announced in September, to learn more about:
What motivated her to pursue an education in STEM

Why she chose to study STEM in Canada

How her first semester is going so far
STEM for Change Scholarship Winner Q&A
Please note that responses have been edited for brevity.
ApplyBoard: When did you first realize that you wanted to study STEM?
Mercy: As a Nigerian, I've wanted to change my environment since I was 10 years old. My desire became much stronger during my first degree in 2014, when a project on water contamination was assigned to me. Then my eyes opened to the pollution and contamination in the environment around me. This water contamination can lead to death, however, if properly treated it can be avoided. At that point, I became keen to effect a positive change in my environment. Studying STEM became a way to acquire knowledge and increase our chances for a better world.
Why did you choose Canada as a destination country to study STEM?
Canada is my dream country. It is a country that has opened the door of its heart to international citizens. It offers great opportunities for students during and after their studies. It is less populated and has many job opportunities. The country provides all of the qualities that I need for my academic studies.

What motivated you to study Environmental Monitoring and Impact Assessment at Cambrian College?
Cambrian College is located in a part of Canada [Sudbury, Ontario] with high demand for environmental management. Cambrian offers an Environmental Monitoring and Impact Assessment, an affordable graduate certificate program that deals with the more practical aspect of this field.
Environmental Monitoring and Impact Assessment at Cambrian College

Students enrolled in Environmental Monitoring and Impact Assessment at Cambrian College "will gain the skills and knowledge to practice environmental monitoring and biodiversity conservation, along with the ability to promote ecosystem sustainability on the watershed, atmospheric, and landscape scales." 

"Course content is shaped by social needs, industry expectations, and regulatory requirements.  [Students] will learn about environmental impact assessment methods, remediation technologies, and environmental laws and regulations, including their application across industries and organizations involved in various areas of the environmental sector."
How do you think your program will impact your future in the field of STEM?
Environmental Monitoring and Impact Assessment gives me the opportunity to become a researcher, an innovator, and an educator. It also teaches me how to practically apply my knowledge to the real world.
How has your study abroad experience helped you grow as a person so far?
Attending college abroad is challenging and tasking. It keeps you on your feet. It has built my ability to think and reason outside of the box. It has made me see solutions to every problem and increase my speed of achieving success. 
What would your advice be to other women interested in pursuing an education in STEM?
STEM programs are valuable because they offer the ability to be the best version of yourself. Don't give up on your dreams and keep going, because the prize is at the end of the race. 
Learn more about ApplyBoard's STEM for Change Scholarship Program.
---