Founded in 1942, Carleton University is a leader in innovation across research, teaching, and learning. Located in Canada's capital, Ottawa, Ontario, more than 28,000 students study at Carleton—including international students from more than 140 countries.
For all these reasons and more, ApplyBoard is delighted to welcome Carleton University to the ApplyBoard Platform.
"Carleton University is very pleased to launch a new partnership with ApplyBoard to promote our undergraduate programs to prospective students around the world. ApplyBoard's student-focused approach to recruitment, global reach, and the professionalism of its staff make this a natural fit that will complement our wider international student enrollment efforts. We are also happy to support a Canadian company and look forward to a productive partnership in the years to come."

—Robert Finlayson, Manager, Partnerships and Pathways, Carleton University

Your Introduction to Carleton University
Carleton's undergraduate programs are uniquely designed to challenge students' thinking and equip them with the tools they need to excel in a rapidly changing world. Outside the classroom, students get the opportunity to apply their knowledge and skills in real-world scenarios. The university's unique approach has been consistently recognized. Carleton was included in the Academic Ranking of World Universities 2020 and placed an impressive #23 on Maclean's list of Best Universities by Reputation 2021. A close-knit, supportive, and diverse community, Carleton University also offers its students academic support, help to define their career aspirations, counselling, and more.
Studying at Carleton University
Carleton University's computer science, engineering, environmental science, mathematics, and psychology programs have a reputation for excellence and were included in Maclean's Top Universities by Program 2021 rankings. Carleton offers many more highly-regarded programs across an array of disciplines. Many have an optional co-op component, allowing students to get invaluable hands-on experience in their area of study.
Full-time international tuition for a three-year bachelor's program is C$28,183 per year, while a four-year bachelor's program can range from C$28,183 to C$39,798. Please visit the individual program pages on the ApplyBoard Platform for the most accurate information.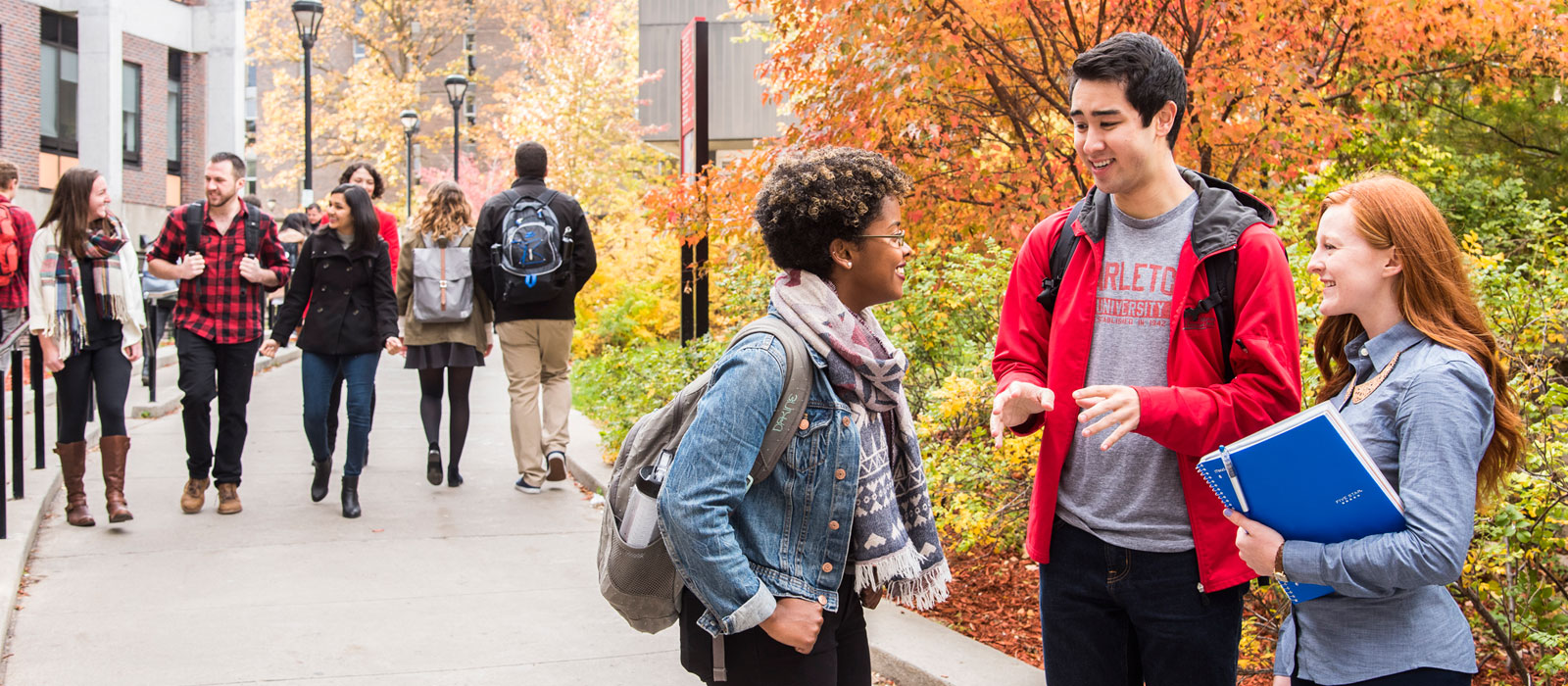 Campus Living
The entirely self-contained, 100-acre riverside Carleton campus, close to downtown Ottawa, is located between the Rideau River, Rideau Canal, and Dow's Lake. Carleton has demonstrated a commitment to environmental sustainability. Its campus was named the most sustainable in Ontario—and number two in Canada—on the UI GreenMetric World University Rankings 2020!
More than 300 student-run clubs and societies at Carleton allow international students to make new friends and immerse themselves in the university community.
On-Campus Accommodation
Carleton offers eight unique residence halls. For first-year students opting to live on-campus, the university's first-year guarantee ensures a traditional double room for students entering directly from high school with an offer of admission made on or before May 15.
Students will also appreciate the convenience of being close to their classes, the library, athletics, and the residence dining hall. Speaking of the dining hall, first-year students living on-campus will also benefit from an all-access meal plan, which offers unlimited entry into the dining hall, the cafeteria, and C$100 Dining Dollars!
Last but certainly not least, the university's award-winning Residence Life program helps students "reach their academic and personal goals, and includes residence counsellors, live-in residence staff, and a focus on learning outside the classroom."
Financial Support at a Glance
Carleton University offers several scholarships for international students. International high school students are automatically eligible for a renewable entrance scholarship ranging from C$4,000 to C$16,000. To be eligible, students must have an admission average of 80% or higher and meet the English language proficiency requirements. Please note that this scholarship is only available for the Fall intake.
International students are also eligible for Prestige Scholarships, the highest awards the university grants. These scholarships are awarded to students with an admission average of 90% or higher entering directly from high school or a CEGEP program.
Ask your ApplyBoard Representative for more information on how you can take advantage of these fantastic scholarships!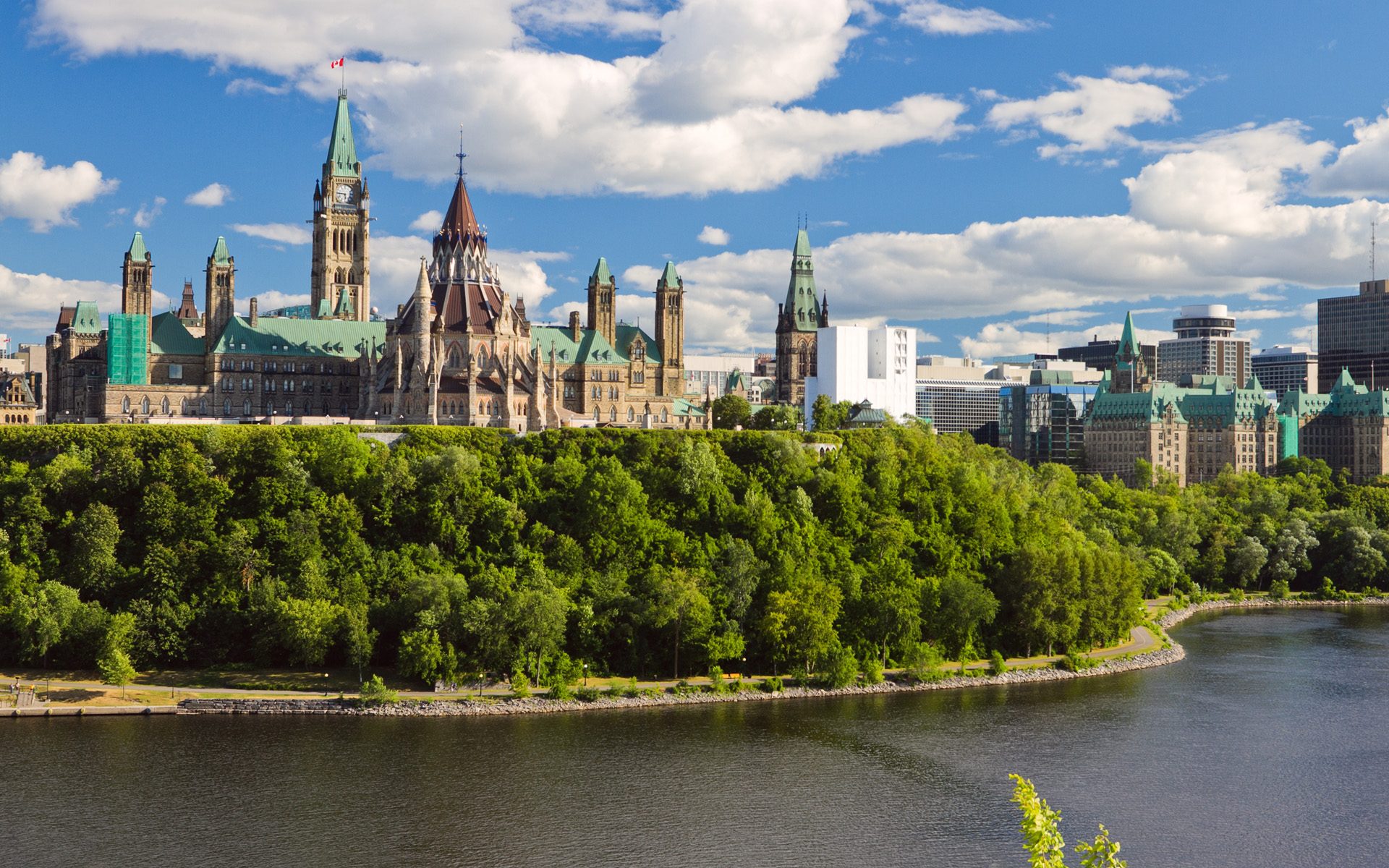 Getting to Know Ottawa
International students will love studying in Canada's capital. Don't just take our word for it: Ottawa ranked fourth in Canada in the QS Best Student Cities rankings—just behind the larger cities of Montréal, Toronto, and Vancouver.
From ice skating on the world-famous Rideau Canal, a UNESCO World Heritage Site, to exploring the city's many cultural institutions, such as the National Gallery of Canada, there is no shortage of things for students to see and do in Ottawa. Ottawa has all the amenities of city living, yet still retains the friendliness and charm of a much smaller town. There are also plenty of green, open spaces to enjoy.
Insider tip: Your time in Ottawa isn't complete without at least one visit to the iconic ByWard Market. Even Barack Obama couldn't resist the temptation of the world-famous BeaverTail pastries when he made his first visit to the city as a newly minted president in 2009.
Life After School
Carleton University's focus on experiential learning and new partnerships ensure that students are job-ready upon graduation, and the results have paid dividends. Carleton rounded out the top 10 in Canada in the QS Graduate Employability Rankings 2020.
One of the many benefits of studying abroad in Canada is the country's Post-Graduation Work Permit Program (PGWPP). It allows eligible applicants the opportunity to live and work in Canada for up to three years after graduating. Many of the country's top medical, clinical, and life science research centres call Ottawa home. With a thriving business sector and more than 1,900 innovative technology companies in the area, there is no shortage of opportunities for Carleton grads right on the doorstep.
Sound like somewhere you'd like to study? Ask your recruiter about applying to Carleton University!
---