ApplyInsights: Top 25 Source Countries for Canadian Colleges and Universities
In this edition of ApplyInsights, I'm sharing my observations on the top source countries for international students for Canadian colleges and universities. While many countries supply a roughly equal mix of college and university students to Canada, others provide many more college than university students, or vice versa. It's those I want to focus on today.
Here's what this blog post will cover: 
Top source countries for Canadian colleges by study permits issued in 2019

Top source countries for Canadian universities by study permits

issued

in

2019

A comparison of the two lists, looking at regional trends

and

other differences between international student enrollment at Canadian colleges and universities
Post-secondary students received 72.8% of all Canadian study permits in 2019. With the sector comprising such a vast proportion of the international student market, countries that supply a large number of college and university students have an outsized impact on the state of international education in Canada. 
Let's take a look at which countries those are, starting with the college market.
Top Source Countries for Canadian Colleges
India is the number one source country for college students in Canada by a large margin. In 2019, Canadian colleges issued 98,055 study permits and extensions to Indian nationals, representing 62.9% of the entire college sector. That was well ahead of India's proportion of study permits across all sectors (34.6%).
Far behind India, but in a comfortable number two, was China. Chinese college students were issued 11,175 study permits in 2019. This represented 7.2% of the college market, well behind China's all-sectors market share of 21.0%. China was one of just two countries among the top 25 source countries for Canadian colleges whose college enrollment dropped between 2018 and 2019. 
Brazil, South Korea, Vietnam, and the Philippines constitute the next tier of source countries, with each sending between 4,000 and 5,000 students to study in Canada last year. Each country accounted for 2.6% to 3.1% of the 2019 college market. 
Mexico was next, with 2,280 study permits and 1.5% market share. Iran, Colombia, and Nigeria rounded out the top 10, each with a little over 1,600 study permits and around 1% of the market. 
For a full list of the top 25 source countries, please see the table below.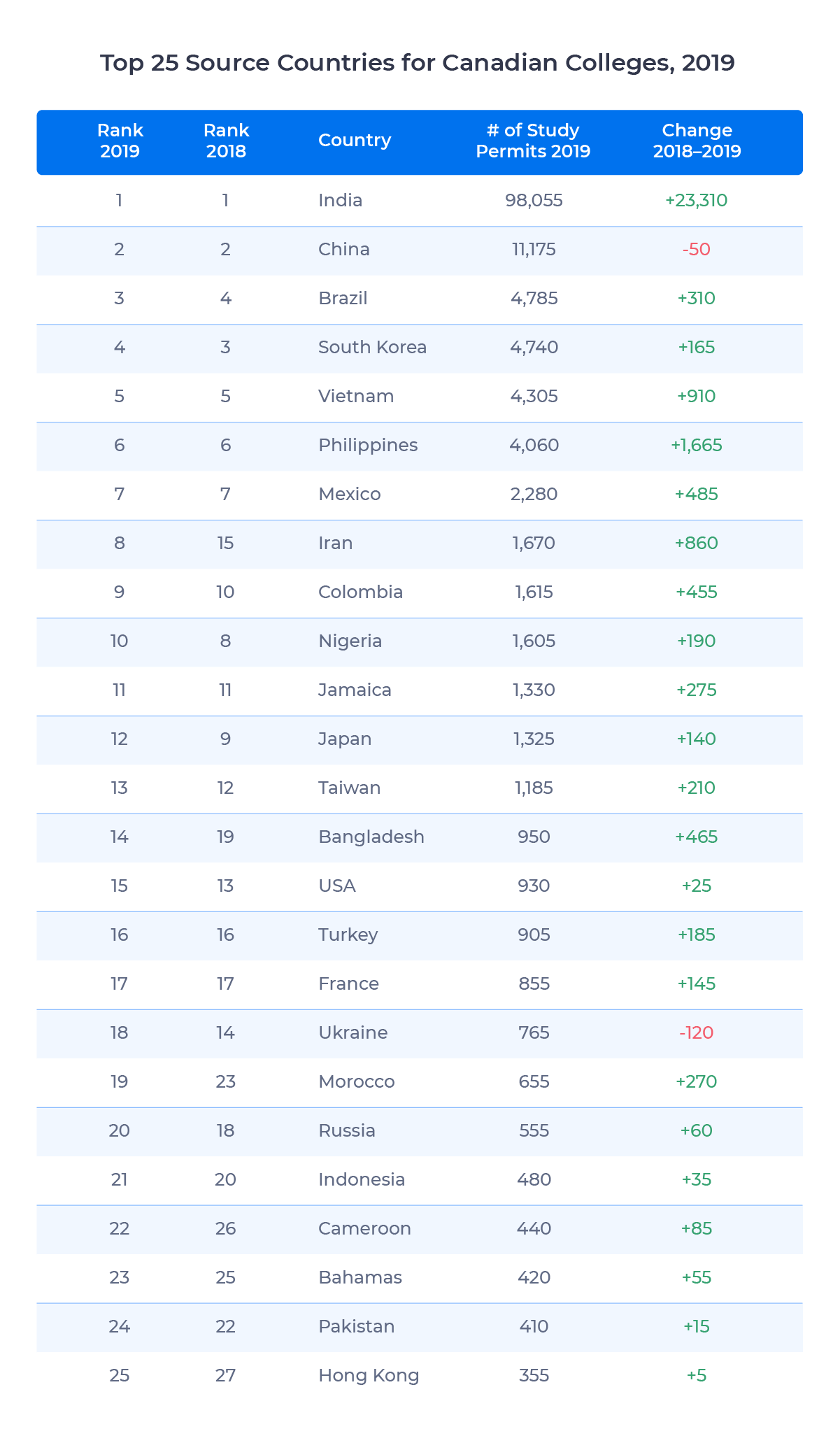 Top Source Countries for Canadian Universities
Perhaps the most remarkable difference between the university and college lists is at the top. Among source countries for university students, China is the clear leader, with 38,300 study permits issued in 2019. This accounted for 28.6% of all study permits issued to post-secondary students. In contrast to China's college numbers, university enrollment for Chinese nationals was up 5.2% between 2018 and 2019. 
India was next, with 27,105 study permits issued in 2019, good for just over 20% of the market. Enrollment increased 24.5% year-over-year, helping India narrow the gap between it and China. I'll be keeping a close eye on these numbers as the market begins to recover from the shock of COVID-19, looking to see whether India is able to overtake China as the top source country for university students in the next few years.
France followed, driven by its dominance of the Quebec market. 8,800 of the 9,945 study permit holders from France studied in that province. This constituted more than 30% of the study permits issued in Quebec. 
Iran was a solid fourth, with 5,325 study permits issued, good for a 4.0% market share. The USA and Nigeria followed, each accounting for just over 3% of the market. Bangladesh, South Korea, Algeria, and Vietnam rounded out the top 10. 
Here's the full top 25: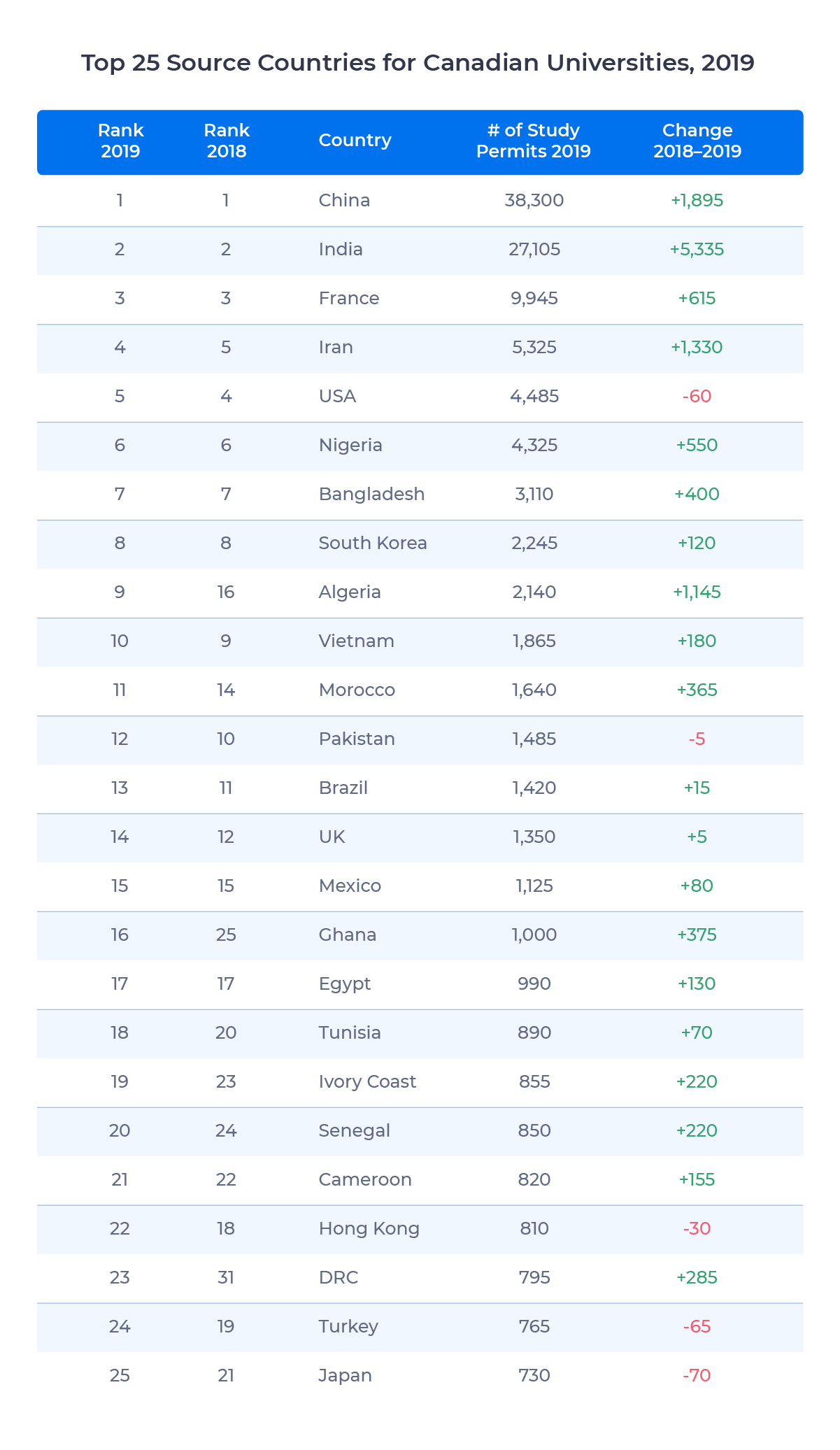 Regional Trends: College vs. University
As these lists show, there are significant differences in the proportion of college and university students coming to study in Canada from certain areas of the world. I'd like to highlight a few of those regional trends. 
Africa
Africa is well represented above, with 10 different countries appearing across the two lists. This is driven in part by strong representation of a number of French-speaking nations in the Quebec market. However, African countries are not equally represented across the college and university lists. 
The following figure compares the number of study permits issued to nationals from all African countries that placed in the top 25 for either university or college enrollment: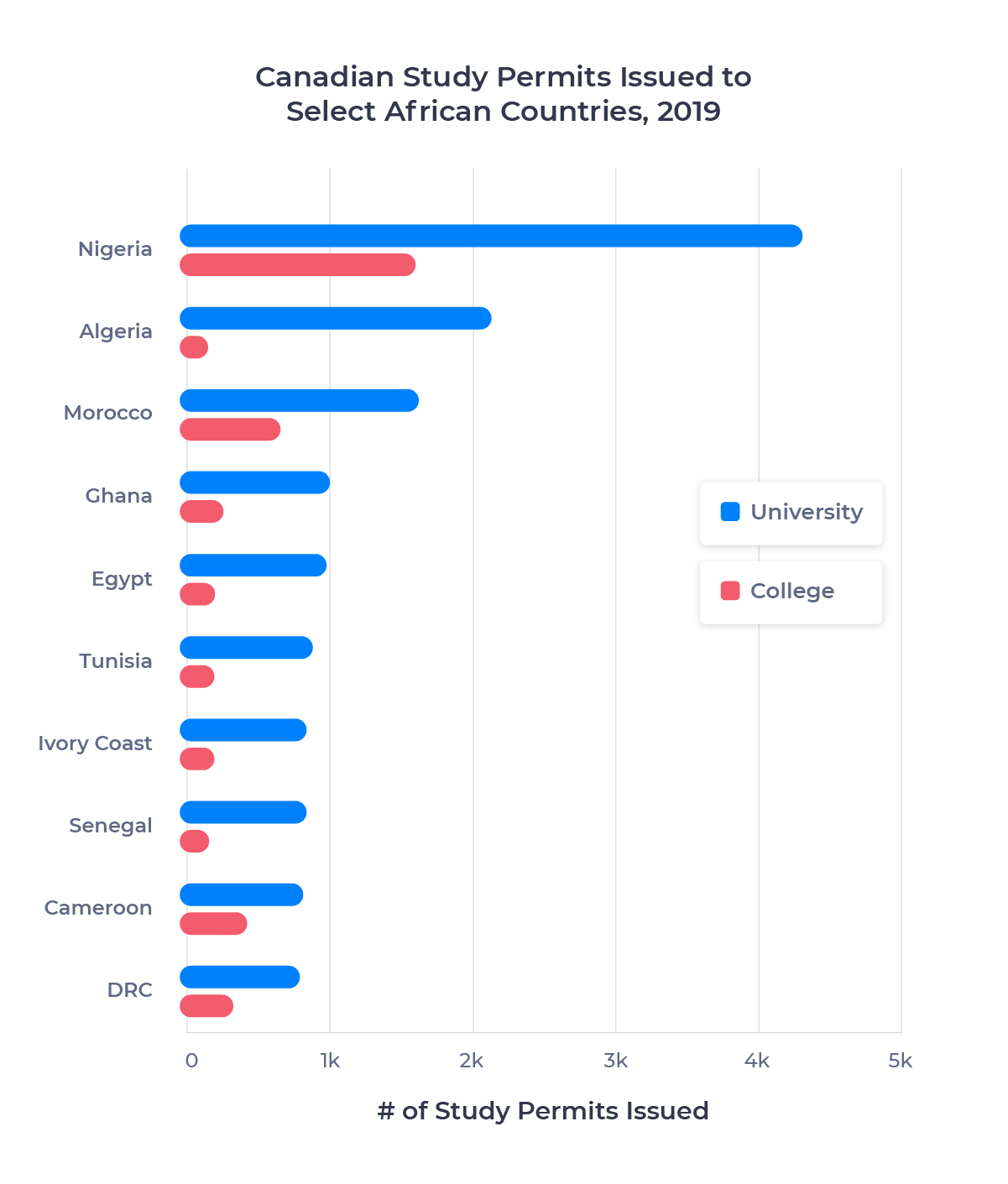 University study permit holders outnumbered college study permit holders in all 10 countries listed, with only Cameroon even crossing the 50% threshold of college to university students. Why is this? An examination of student visa statistics paints a more complete picture. 
While student visa approval rates for these countries were low for both sectors in 2019, they were much lower for college (17.6%) than they were for university (29.1%). There were around half as many student visa applications from these 10 countries for college programs as there were for university programs, despite the cost premium of university studies. This suggests that potential applicants have identified that their chances of getting approved for college study in Canada are low. 
The US, the UK, and France
Three other countries which stand out for their preference for university over college studies are the US, the UK, and France. Each country sends four times as many students to Canada for university as it does for college, driven by a similar ratio of student visa applications. 
This reflects the different motivating factors these students have in choosing where to study. All three countries have robust post-secondary education systems offering a wide variety of study paths. Moreover, citizens of these countries are often able to get Canadian work permits without a Canadian education, negating a key reason to study in Canada.
Latin America
In contrast, the Latin America (LATAM) market, which includes Central America, South America, Mexico, and the Caribbean, sent many more college students than university students to study in Canada, as the following figure shows: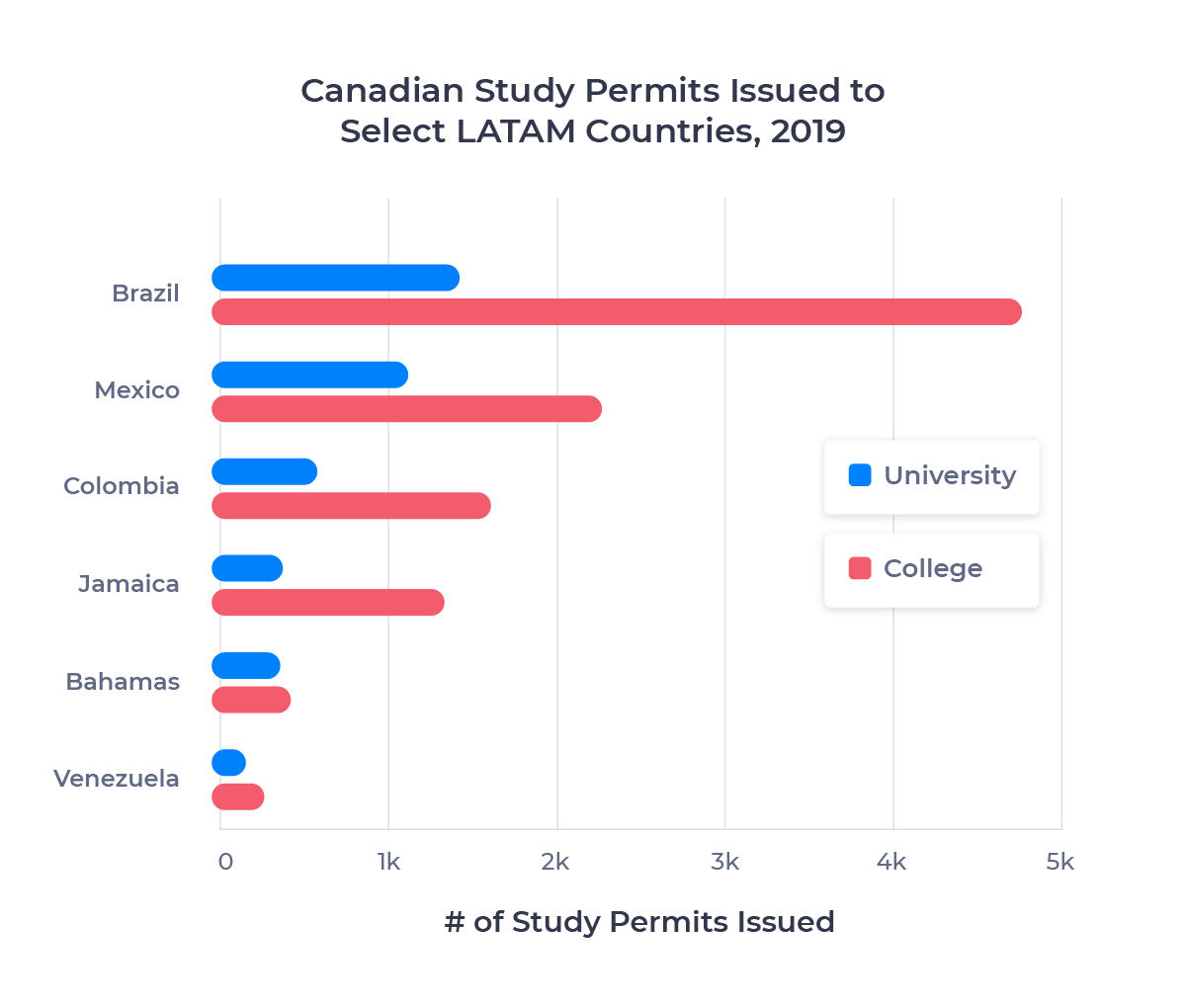 LATAM statistics are complicated by the fact that many students coming from Latin American countries take short-term courses (less than six months in duration) and are not required to obtain a study permit to study in Canada. Nevertheless, the data shows a clear preference for college over university studies, likely due to easier-to-meet requirements and lower course fees. 
A glance at student visa data supports this assertion. Canada saw four times as many student visa applications from these six LATAM countries in 2019 for college as university, despite a 10% lower approval rate (87.1% vs. 77.7%).
Summary
While many countries supply a roughly equal mix of college and university students to Canada, others supply mainly one or the other. One of our strengths at ApplyBoard is our ability to leverage unprecedented amounts of data from our platform to identify these trends and work with our partner schools and recruitment partners to fill gaps in the market. 
With the disruption of the COVID-19 pandemic, we can expect a very different pair of lists in 2021. Once full-year data comes in for 2020, I'll return to this topic to see which groups of students from which countries went ahead with their studies this year and which elected to change course.
---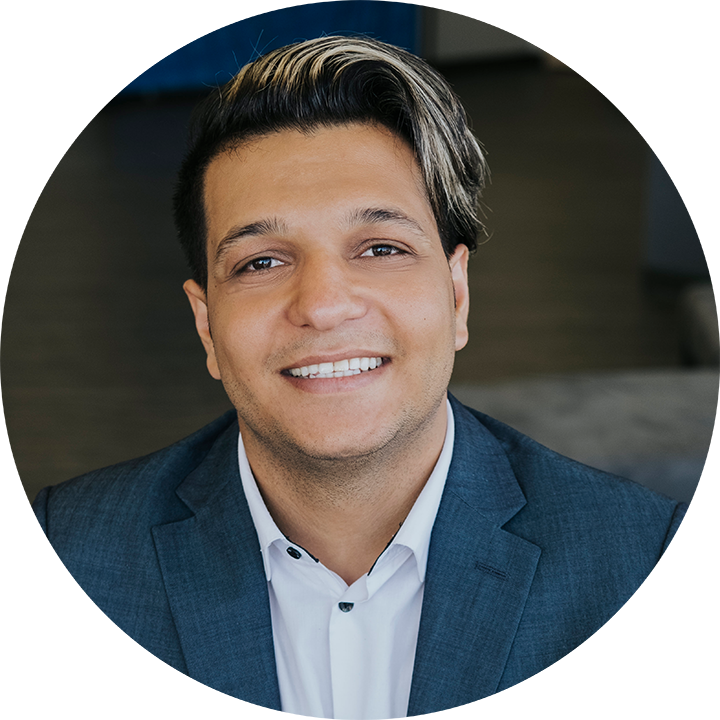 Meti Basiri
Co-Founder and Chief Marketing Officer (CMO)
Meti is driven by the belief that education is a right, not a privilege. He leads the International Recruitment, Partner Relations, and Marketing teams at ApplyBoard, working to make education accessible to people around the world. Meti has been instrumental in building partnerships with 1,200+ educational institutions across North America and the United Kingdom. Working with over 4,000 international recruitment partners, ApplyBoard has assisted over 100,000 students in their study abroad journey. Follow Meti on LinkedIn for more access to ApplyInsights and key industry trends.
---