This week on ApplyInsights, I'll be sharing observations on Latin America (LATAM). Latin America encompasses 20 countries and four main regions: North America, Central America, South America and the Caribbean. With a growing demand for English language skills from governments and employers, Latin America is becoming an increasingly large market for international student recruitment.
In ApplyInsights, we discuss international education and student recruitment topics including student visas and study permits trends. The blog post What's the Difference Between a Student Visa and a Study Permit? can help you understand the differences between the two.
In this analysis, I will assess the number of Latin American students who applied for Canadian visas and study permits. Please note that this analysis does not reflect the total number of Latin American students in Canada each year. Many students coming from Latin American countries, like Brazil, take short-term courses (less than six months in duration) and are not required to obtain a study permit to study in Canada.
Application Trends
In 2019, Canada received 26,087 applications from Latin American students, of which 19,642 new student visas were approved, representing a 75.29% approval rate. Students from Latin America had a 3.24% less chance of getting a visa in 2019 versus 2018. However, this is not a significant drop considering that Canada's student visa approval rate for all countries declined from 66.5% in 2018 to 60.1% in 2019 (-6.4%).
Latin America's 2019 visa approval rate was 15.19% higher than Canada's overall visa approval rate. I've included the chart below to illustrate the comparison between the average visa approval rate and Latin America's approval rate:
Student Distribution by Province
In 2019, 11,590 students from Latin America travelled to Ontario, representing 8.7% growth over 2018. Approximately 7,735 students went to British Columbia, which was 2.5% less than 2018, and 4,075 went to Quebec, marking a monumental 22.6% increase from the previous year. In the graphic below, you'll see the number of study permit holders by province and the percentage of growth (or decrease) over 2018.
Let's break down the top and bottom countries for visa application and acceptance rates.
Top LATAM Countries
The top three countries with the highest number of applications and acceptance are Brazil, Mexico, and Colombia. These countries accounted for 76.9% of Latin American international students in Canada in 2019. Of those students, 34.8% are from Brazil, 23.9% are from Mexico, and 18.2% are from Colombia.
Brazil: While Brazil's acceptance rate has remained the same, at 83.17%, the total number of students applying for visas has gone down. The number decreased from 8,754 to 8,233 with the number of students getting accepted to come to Canada declining from 7,280 to 6,847. These statistics suggest that Canada is becoming less popular among Brazilian students, affecting overall Latin American numbers.
Mexico: On the other hand, Canada saw growth in the number of Mexican applicants from 5,478 to 5,808. However, due to the negative change in the visa acceptance rate from 86.78% to 80.98%, fewer students were eligible to come to Canada despite Canada becoming a popular destination.
Colombia: There was an influx of Colombian students applying to study in Canada, increasing from 3,316 to 4,628. Since the visa acceptance rate remained the same at 77.3%, the number of accepted students went up from 2,565 in 2018 to 3,581 in 2019. This is a positive sign for the Colombian market, indicating that more and more Colombian students are choosing Canada, over other countries, for their higher education.
Other Markets
Outside of the top three countries mentioned above, Canada also had more than 500 permit holders from:
The Bahamas: The number of students from the Bahamas who applied for visas dropped, declining from 765 in 2018 to 743 in 2019. Furthermore, the acceptance rate also dipped from 82.09% to 78.73%; thus, fewer students from the Bahamas came to Canada for long-term courses in 2019.
Ecuador: Ecuador had more applicants in 2019 (680) compared to 2018 (638) with the visa acceptance rate dropping from 85.11% (543) in 2018 to 80.88% (550) in 2019. Due to an increase in applicants, the number of eligible students to come to Canada was higher.
Peru: Like Ecuador, the number of Peruvian applicants surged in 2019 compared to 2018 (684 in 2019 versus 578 in 2018). Although the visa acceptance rate dropped from 77.34% in 2018 to 73.39% in 2019, more Peruvian students were able to enter Canada for their education.
Bottom LATAM Countries
The three countries with the lowest visa acceptance rate while having at least 300 applicants are:
Haiti: Haiti had the fourth-highest number of applicants from Latin American countries. The number of applicants went up in 2019 (1,342 applied) compared to 2018 (1,147 applied). Nonetheless, since the visa acceptance rate went down from 20.31% in 2018 to 16.1% in 2019, fewer students were eligible to come to Canada.
Venezuela: The number of applicants from Venezuela plummeted from 614 in 2018 to 381 in 2019. Simultaneously, the visa acceptance rate went down from 38.1% (234) to 36.75% (140). Therefore, fewer students were eligible to come to Canada.
The Dominican Republic: In contrast with Venezuela, the number of applicants from the Dominican Republic increased from 343 in 2018 to 400 in 2019. However, the visa acceptance rate went down from 57.14% (196) to 46.5% (186). Consequently, fewer students came to Canada from the Dominican Republic.
Application Trends by Study Level
In the images below, we explore the differences between study levels among Latin American international students.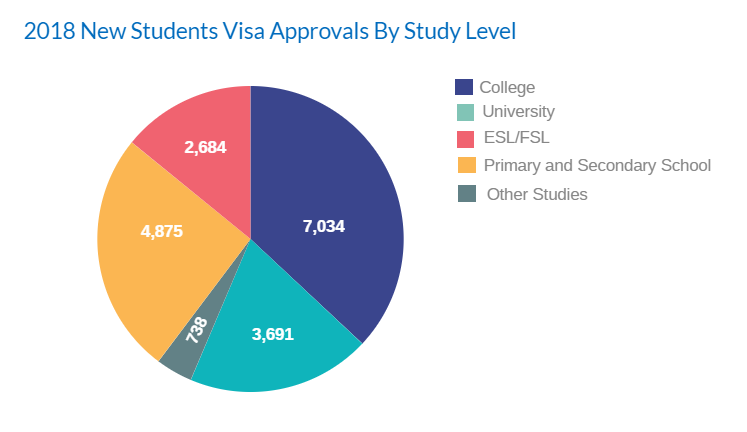 There is a noticeable decline in the number of students enrolled in ESL/FSL programs. This is partly because English and French are becoming more accessible in Latin American countries. Another reason for this trend is that students are opting for less than six-month ESL and FSL programs that do not require a study permit or a student visa.
Another identifiable trend is that the popularity of colleges is on the rise, likely due to easier-to-meet requirements and lower course fees. Additionally, colleges offer students the option to bridge into degree programs from diploma programs, giving students more flexibility in their academic route. On the contrary, universities are becoming less favorable due to higher course fees and more rigid requirements.
Last but not least, primary and secondary school acceptance is also increasing partly due to the immigration of parents. See the table below for a deeper dive into the study level trends of Latin American students:
The Future of Latin American Students
Latin America continues to be a reliable and developing market for international students in Canada.
Despite some minor fluctuations in the number of applicants, more Latin American students are coming to Canada each year. The question right now is, given the impact COVID-19 has had on Latin American economies, will we continue to see this growth next year and the years after? There is also concern around how the pandemic will affect the demand for skilled labour and English language proficiency in Latin America, and whether Canada will remain the top choice for Latin American students.
Subscribe to ApplyInsights
Sign up for the latest insights on international education.

---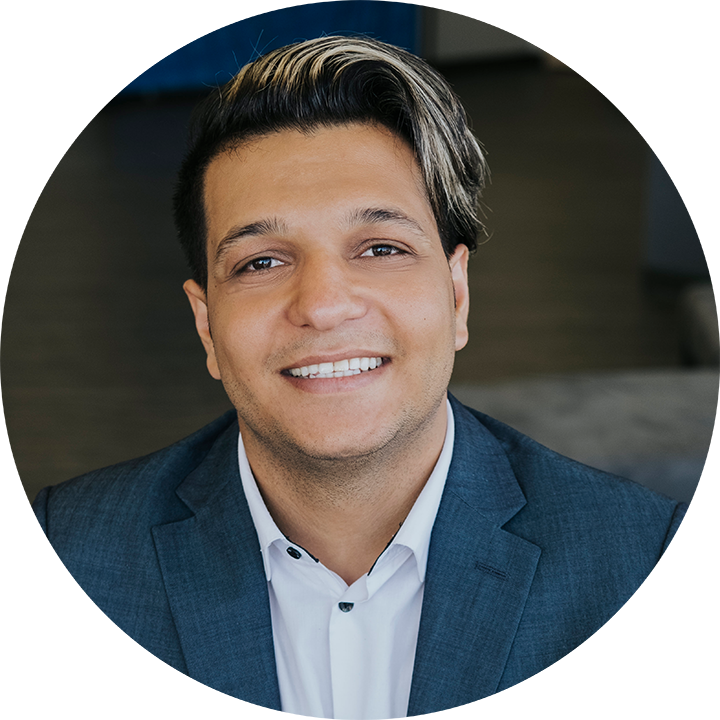 Meti Basiri
Co-Founder and Chief Marketing Officer (CMO) 
Meti is driven by the belief that education is a right, not a privilege. He leads the International Recruitment, Partner Relations, and Marketing teams at ApplyBoard, working to make education accessible to people around the world. Meti has been instrumental in building partnerships with 1,200+ educational institutions across North America and the United Kingdom. Working with more than 3,500 international recruitment partners, ApplyBoard has assisted over 80,000 students in their study abroad journey. Follow Meti on LinkedIn for more access to ApplyInsights and key industry trends.
---