ApplyInsights: International Students Essential to Financial Stability in Higher Ed
In a move that sent shockwaves across higher education in Canada last week, Ontario's Laurentian University announced it had filed for creditor protection. As Ontario Minister of Colleges and Universities Ross Romano remarked, this is truly an unprecedented citation. Laurentian's filing marks the first time ever that a publicly funded Canadian university has declared itself insolvent. 
Laurentian Struggles to Grow International Enrollment
It's no secret that Laurentian had been struggling to balance its budget for some time, as Alex Usher of Higher Education Strategy Associates has noted.
Laurentian reported operating losses in six of the last eight years, with net losses totalling around $12 million. The university lost more than $7 million over the two-year period immediately before COVID-19 hit. In short, Laurentian was particularly poorly positioned to withstand the shock of the pandemic.
As Usher points out, Ontario has the lowest per capita funding in Canada for post-secondary education. Meanwhile, falling birth rates in Canada have led to declining domestic enrollment across the country. While other institutions have been able to bring in enough international students to bridge the financial gap, Laurentian has not. From 2017 to 2019, as the average Ontario university grew its new international enrollment by 23.9%, Laurentian's fell 3.7%.1 This period coincided with the university's largest net losses over the past eight years. 
Regional Institutions Face Recruiting Challenges
Smaller, regional institutions like Laurentian are located far from Canada's major urban centres and often lack an internationally recognized brand. This means they face real headwinds when it comes to attracting international students. 
Scaling up international recruitment to compete with larger, more established universities—travelling to international markets for student outreach and managing relationships with hundreds of recruitment agents—takes both staff and money. Making the decision to allocate those resources can be a difficult proposition for a university already struggling financially.
But I want to be clear: That investment pays off. 
Let's compare Laurentian to the other three Northern Ontario universities—Algoma, Lakehead, and Nipissing—and look at how each school's international enrollment has trended over the past five years.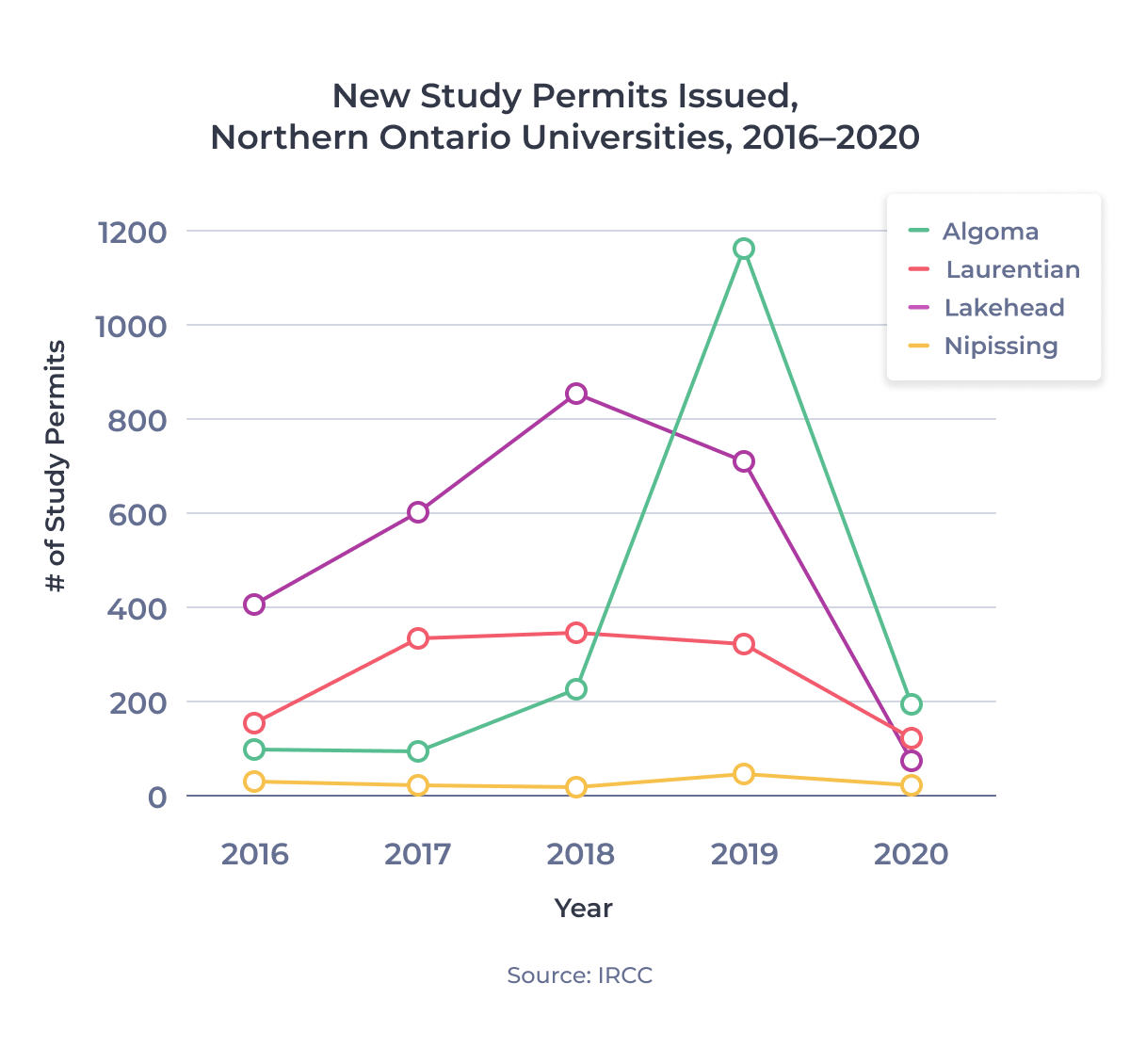 We'll start with a deeper dive into Laurentian itself. 
Laurentian University
As we can see in the above chart, Laurentian's trajectory is interesting in that it shows what might have been. The university grew its new international enrollment by more than 125% between 2016 and 2017, but that growth completely tapered off in 2018. Laurentian was hit hard by a precipitous drop in Canada's Saudi Arabian student market following a diplomatic dispute between Ottawa and Riyadh, and the university failed to grow its student intake from other markets in the years that followed. 
Laurentian actually saw the smallest rate of new international enrollment decline among the four Northern Ontario universities in 2020, at 64.9%, but its weak position pre-pandemic left it unable to weather the downturn. 
Algoma University
Heading the other way is Algoma. One of Ontario's smallest universities, Algoma's new international enrollment exploded by more than 1,200% in just two years, going from 85 students in 2017 to more than 1,500 in 2019. ApplyBoard has worked closely with Algoma to help make the university an attractive destination for international students and to grow its brand abroad. 
Last week, I mentioned the work ApplyBoard has done with Algoma to co-create highly desirable programs for the university's target students. In 2019, ApplyBoard became Algoma's regional representative for the South Asia market. A full-time ApplyBoard team member now represents the school in-market, building Algoma's brand awareness, training recruitment agents on Algoma's program and scholarship offerings, and helping prospective students with all aspects of the application process. 
Algoma's phenomenal growth in 2019 meant that even with an 83.9% drop in new study permits issued due to the pandemic, its new international enrollment for 2020 was roughly in line with 2018 numbers. And its success over the previous two years meant it had a large international student population already studying at the school and the financial cushion to withstand the pandemic. 
Lakehead University
Lakehead is the largest of the four Northern Ontario universities. As the chart above shows, Lakehead had great success bringing in international students from 2016 to 2018, growing its number of new study permits issued by more than 40% in each year. But its new international student enrollment dropped 16.8% in 2019, and Lakehead was down more than 90% in 2020, the largest drop among the four.
A decline in Indian students, by far Canada's top source market, accounted for more than three-quarters of Lakehead's new enrollment losses in 2018. The good news is that Lakehead appears to be in a sound financial position despite the downturn. The school has run operating surpluses in seven of the past eight years. Moreover, its revenue from tuition and other student fees increased almost 60% over the same period, more than three times Laurentian's rate.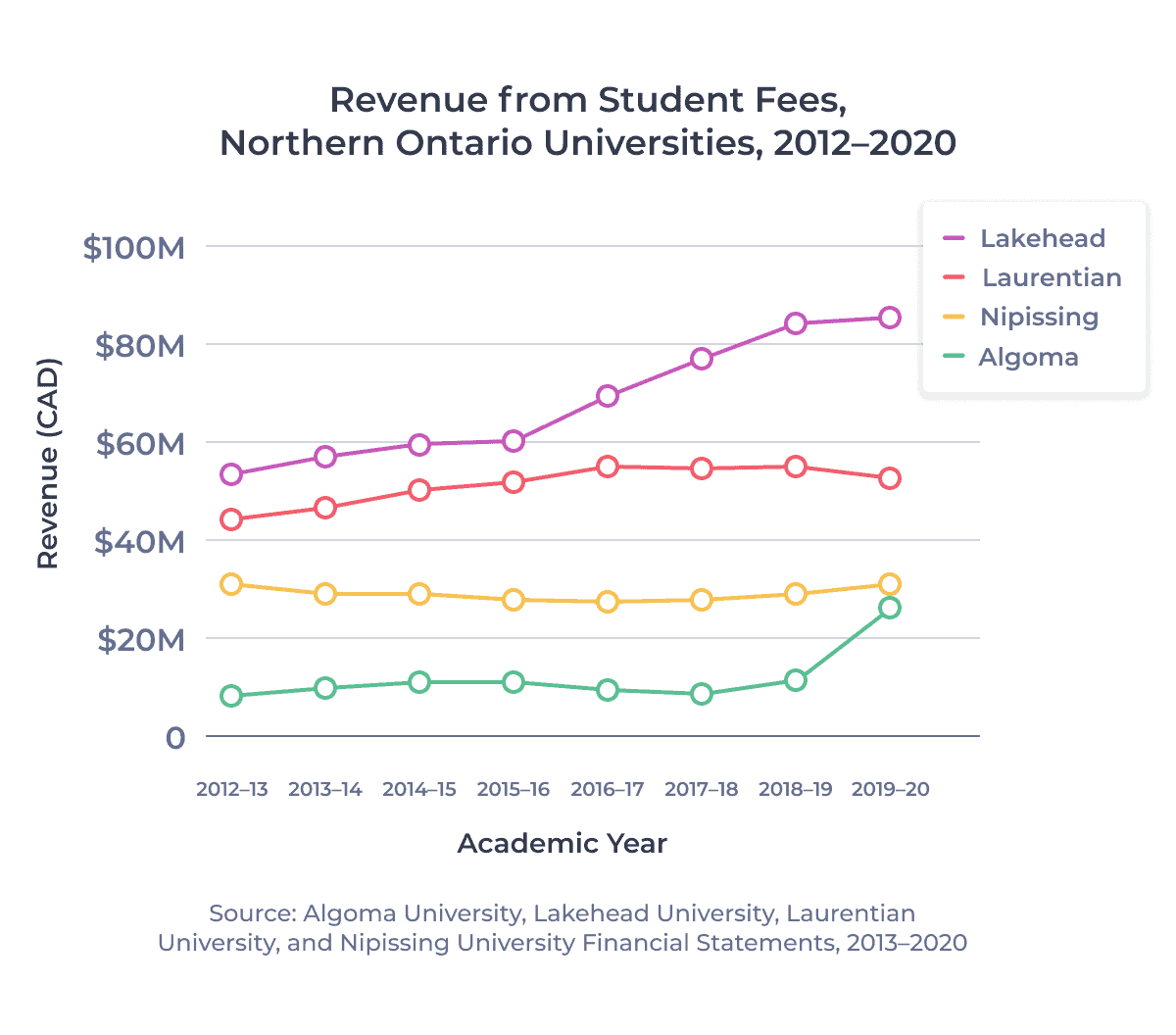 Nipissing University
Nipissing University is an unfortunate outlier in terms of both international enrollment and revenue. The North Bay school had the lowest pre-pandemic international student population of any Ontario university by a considerable margin.2 Just 39 new international students enrolled at Nipissing in 2019, and while that was a big step up from the 8 that enrolled in 2018, Nipissing remains well behind its peers. 
Nipissing's bottom line reflects this fact. As the chart above shows, Nipissing brought in less revenue from tuition and other student fees in the (pre-pandemic) 2019-20 academic year than it did in 2012-13. Factoring in other revenue sources and costs, we can see in the chart below that Nipissing, like Laurentian, sustained net operating losses in six of the last eight years. Net losses totalled almost $15 million over the period.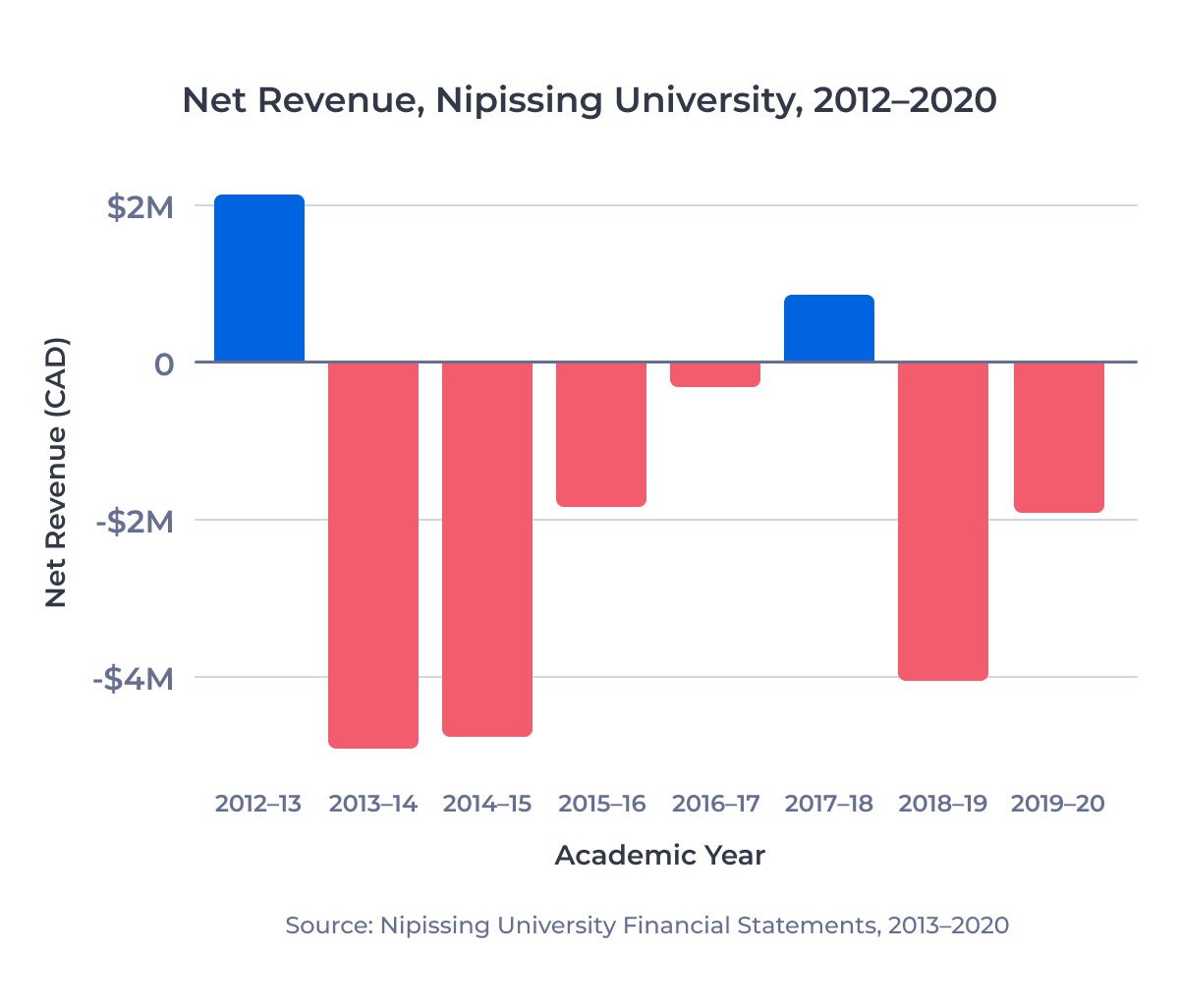 Looking Forward
Algoma's success, and the success of other smaller, regional institutions such as Cape Breton University, shows that schools like Nipissing can overcome the challenges of demographics and underfunding to achieve financial stability through international recruitment. ApplyBoard just recently began working with Nipissing, and we're excited to have the opportunity to help build Nipissing's brand in its target markets and educate our recruitment partners and students about everything Nipissing has to offer. 
Laurentian's path will be a more difficult one, and I'll be following the insolvency process as closely as everyone else in the industry. For now, I want to commend the Ontario government's appointment of Dr. Alan Harrison as a special advisor to Minister Romano on the Laurentian insolvency situation. Dr. Harrison's extensive experience as Provost and Vice Principal (Academic) at Queen's University, and as Executive Director of the Ontario Universities Council on Quality Assurance, makes him well suited to help Laurentian and the Ontario government navigate this unprecedented situation.
I also want to echo Minister Romano's support for the students, faculty, and staff at Laurentian during this challenging time. The ApplyBoard team will be working with our partners at Laurentian to ensure all ApplyBoard students can continue their studies without interruption. We're looking forward to helping Laurentian rebound from insolvency toward a stable future.
Published: February 12, 2021
Subscribe to ApplyInsights
Sign up for the latest insights on international education.

---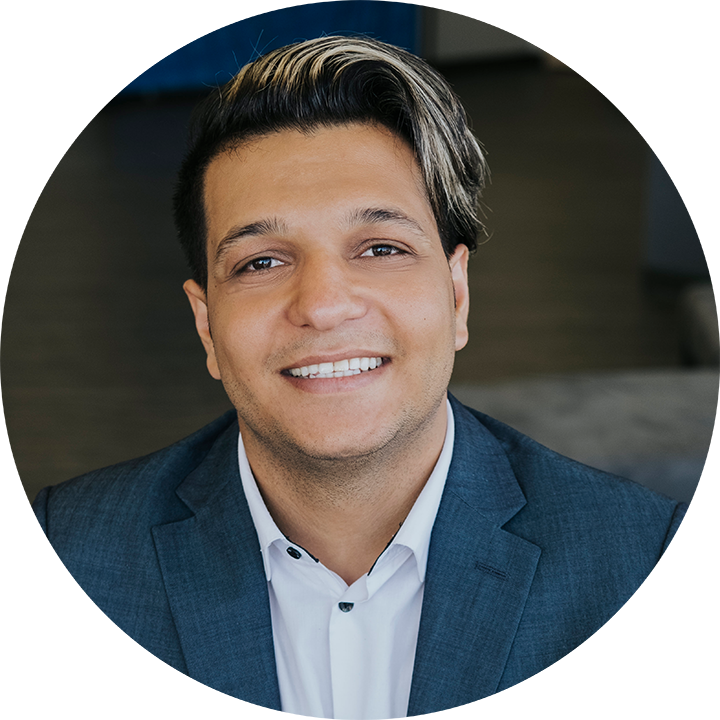 Meti Basiri
Co-Founder and Chief Marketing Officer (CMO)
Meti is driven by the belief that education is a right, not a privilege. He leads the International Recruitment, Partner Relations, and Marketing teams at ApplyBoard, working to make education accessible to people around the world. Meti has been instrumental in building partnerships with 1,500+ educational institutions across Canada, the United, the United Kingdom, and Australia. Working with over 5,000 international recruitment partners, ApplyBoard has assisted over 150,000 students in their study abroad journey. Follow Meti on LinkedIn for more access to ApplyInsights and key industry trends.
---
FOOTNOTES:
1. All data courtesy of Immigration, Refugees and Citizenship Canada (IRCC) unless otherwise noted.
2. COVID-19 drove new international enrollment for 2020 at a handful of schools near or below Nipissing's total.
---