In this edition of ApplyInsights, I'm sharing my observations on Canadian student visa trends for the Middle East. Just two countries from that region, Iran and Turkey, fell among the top 20 source countries for international students in Canada last year. However, together the countries of the Middle East accounted for 4.7% of the market, or 19,140 total students—more than all but two countries. 
Here's what this blog post will cover:
Canadian student visa application, approval, and approval rate numbers for the Middle East, contrasted with all source countries 

Trends in the number of Canadian study permits issued between 2015 and 2019 for select Middle Eastern countries

A breakdown of Middle Eastern students in Canada by province of study

The distribution of study permit holders from the Middle East by study level

My thoughts about the future of Middle Eastern students in Canada
Definitions of what countries make up the Middle East vary. In this blog post, I'll use the term to refer to the countries of the Levant and the Gulf Cooperation Council (GCC), as well as Egypt, Iran, Iraq, Turkey, and Yemen.
The map below shows the 17 countries we'll be looking at, and the number of citizens of each nation who studied in Canada in 2019: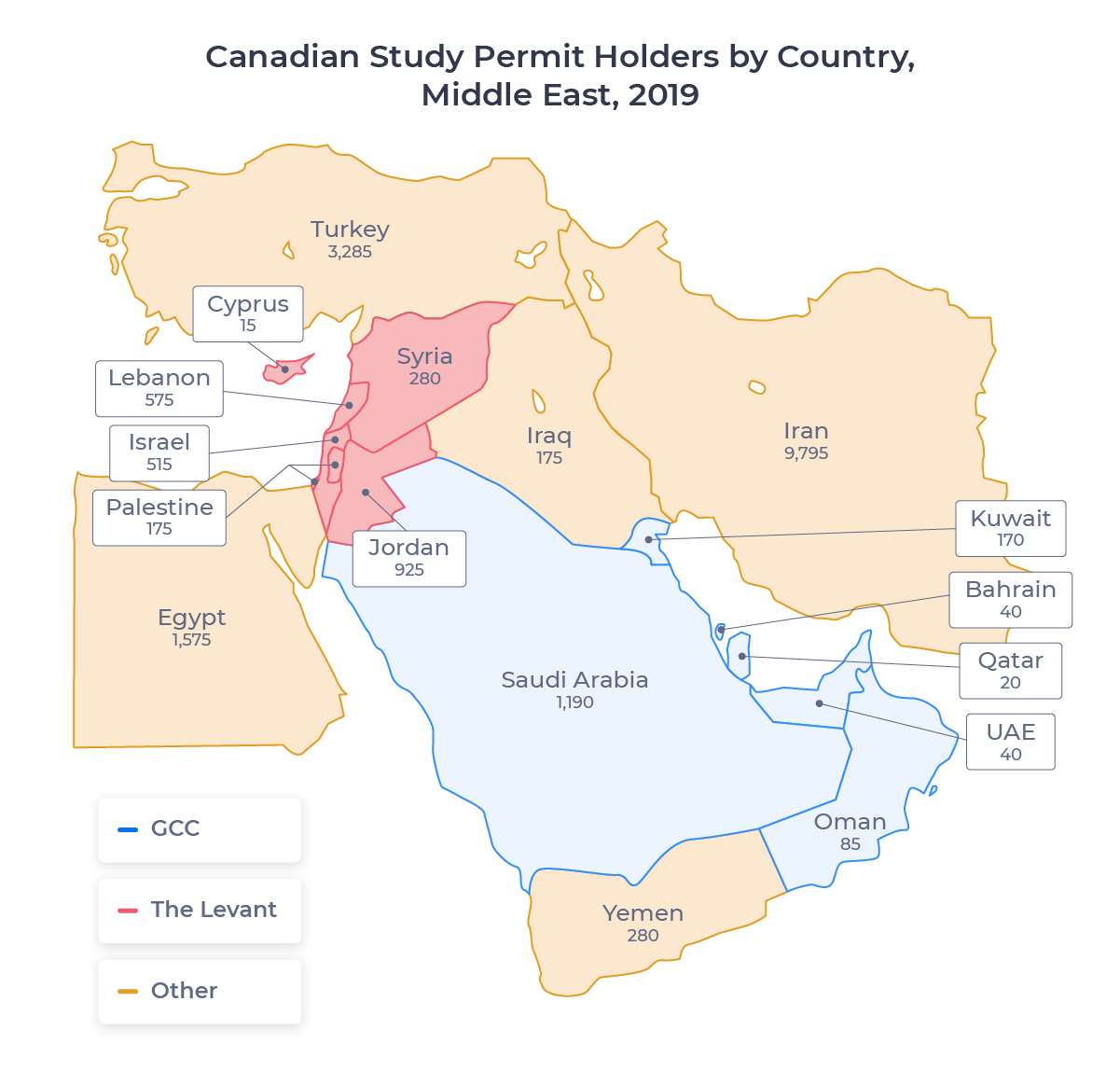 This article will look at trends for Canadian study permits, also sometimes referred to as student visas.1 Check out our blog for an examination of the difference between a student visa and a study permit. 
Study Permit Overview
In 2019, Canada received 24,814 study permit applications from residents of the Middle East. This marked a massive 34.8% increase in applications over 2018. However, a simultaneous 18.6% drop in study permit approval rate led to Canadian student study permit approvals for Middle Eastern students actually falling in 2019, from 12,301 to 11,968. 
The following table summarizes these changes, including statistics for all countries:
Canadian Student Study Permit Trends, Middle East vs. All Countries, 2018-2019
2018
2019
Change
Middle East
Applications
18,404
24,814
+34.8%
Approvals
12,301
11,968
-2.7%
Approval Rate
66.8%
48.2%
-18.6%
All Countries
Applications
342,702
426,594
+24.5%
Approvals
227,798
256,546
+12.6%
Approval Rate
66.5%
60.1%
-6.4%
Large drops in approval rate for students from Iran (26.9%) and Saudi Arabia (13.9%)—the number one and number three source countries in the Middle East—drove most of the decline. However, all but two countries (Yemen and Palestine) saw a drop in approval rate year-over-year. 
This decline brought a student study permit approval rate that was right in line with Canada's overall number (66.8% vs. 66.5%) down below 50%. Canada's student study permit approval rate for all countries dropped a much smaller 6.4% over the time frame. 
Iran and Saudi Arabia were also outliers in terms of student study permit applications, though in opposite directions. Canada saw 5,923 additional applications from Iran in 2019 vs. 2018, a 70.5% increase. Saudi Arabian applications fell by 1,062, a 71.8% drop year-over-year. I'll examine these trends further in our discussion of study permits below.  
Study Permit Trends
The total number of Canadian study permit holders from the Middle East increased 11.4% between 2018 and 2019. This was just below the all-countries increase of 13.8% year-over-year. Exceptionally strong growth in the college sector drove this increase, with Iran doubling its college enrollment to account for more than 40% of the additional study permits issued to Middle Eastern students in 2019.  
Iran and Saudi Arabia
Let's take a look at Iran's all-sectors growth and contrast it with Saudi Arabia's decline: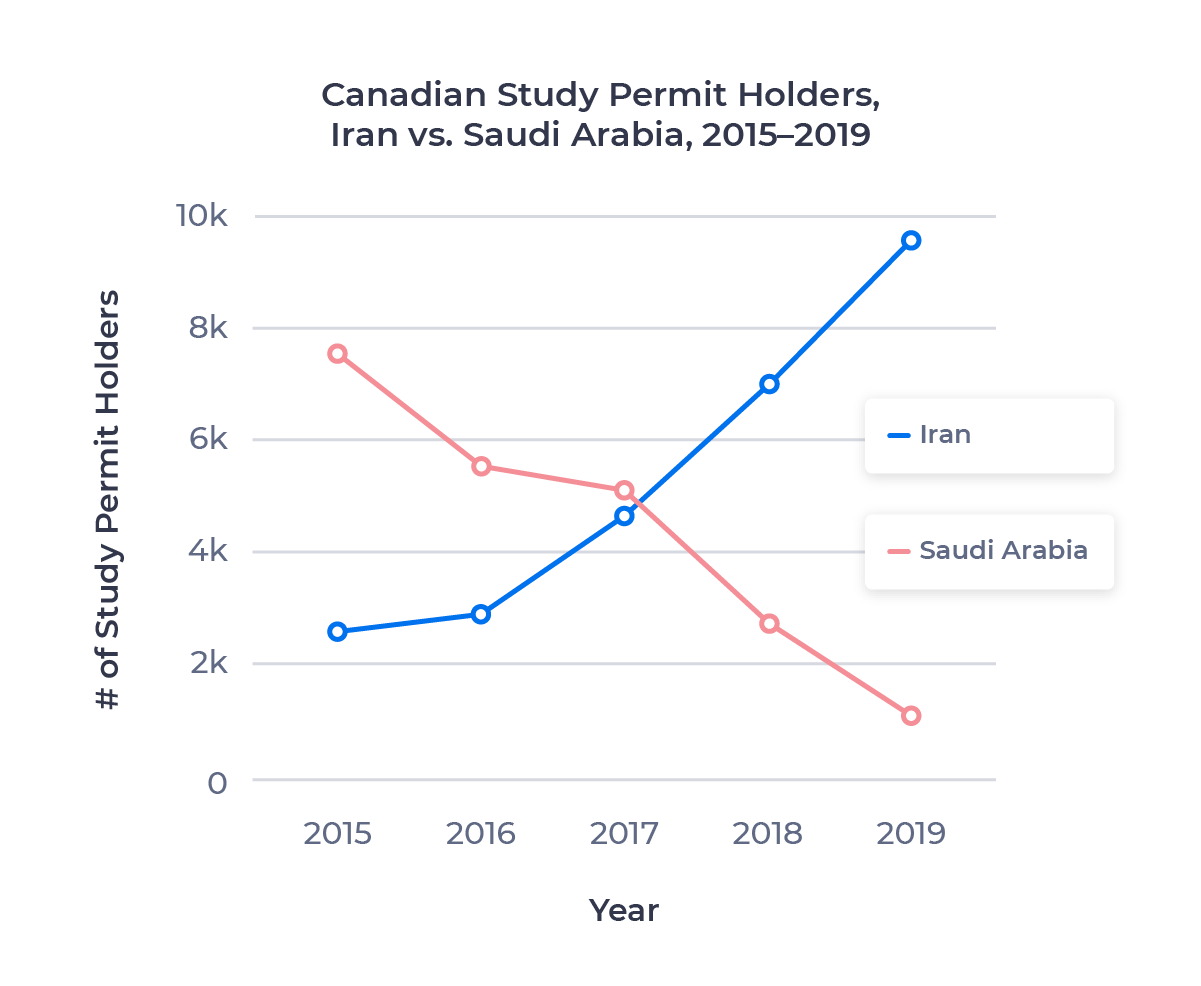 The chart above makes clear the opposite trends in the study permit data. Iran grew more than 300% over the period, adding study permits in each of the four years. In contrast, Saudi Arabia lost 84.5% of its students, falling to a low of 1,190 study permit holders in 2019. 
These trends reflect certain political realities in the two countries. As the relationship between Iran and the United States has deteriorated over the past few years, Iranian interest in studying abroad has shifted to Canada, which is now the most popular study abroad destination for Iranian students. At the same time, a diplomatic dispute between Canada and Saudi Arabia in August 2018 led the Saudi government to freeze all commercial ties with Canada. This included cancelling government-sponsored scholarships for students studying there.
I expect Saudi Arabian enrollment in Canada to continue to fall, with the pandemic accelerating the decline. With COVID-19 hitting Iran particularly hard and a US election looming, there's a lot of uncertainty in the Iranian international student market right now. Given this uncertainty, I'm not comfortable predicting whether we'll continue to see strong growth in that market. However, I'll be watching both the Iranian and the Saudi Arabian markets closely as the calendar shifts to 2021. 
The Levant
The Levant is a historical term referring to the section of the Middle East that lies along the Eastern edge of the Mediterranean Sea. Though the term isn't in frequent use, I'd like to adopt it here as a way of grouping some Middle Eastern countries whose markets bear some similarities. 
The figure below shows the growth in Canadian study permit holders among select countries of the Levant from 2015 to 2019: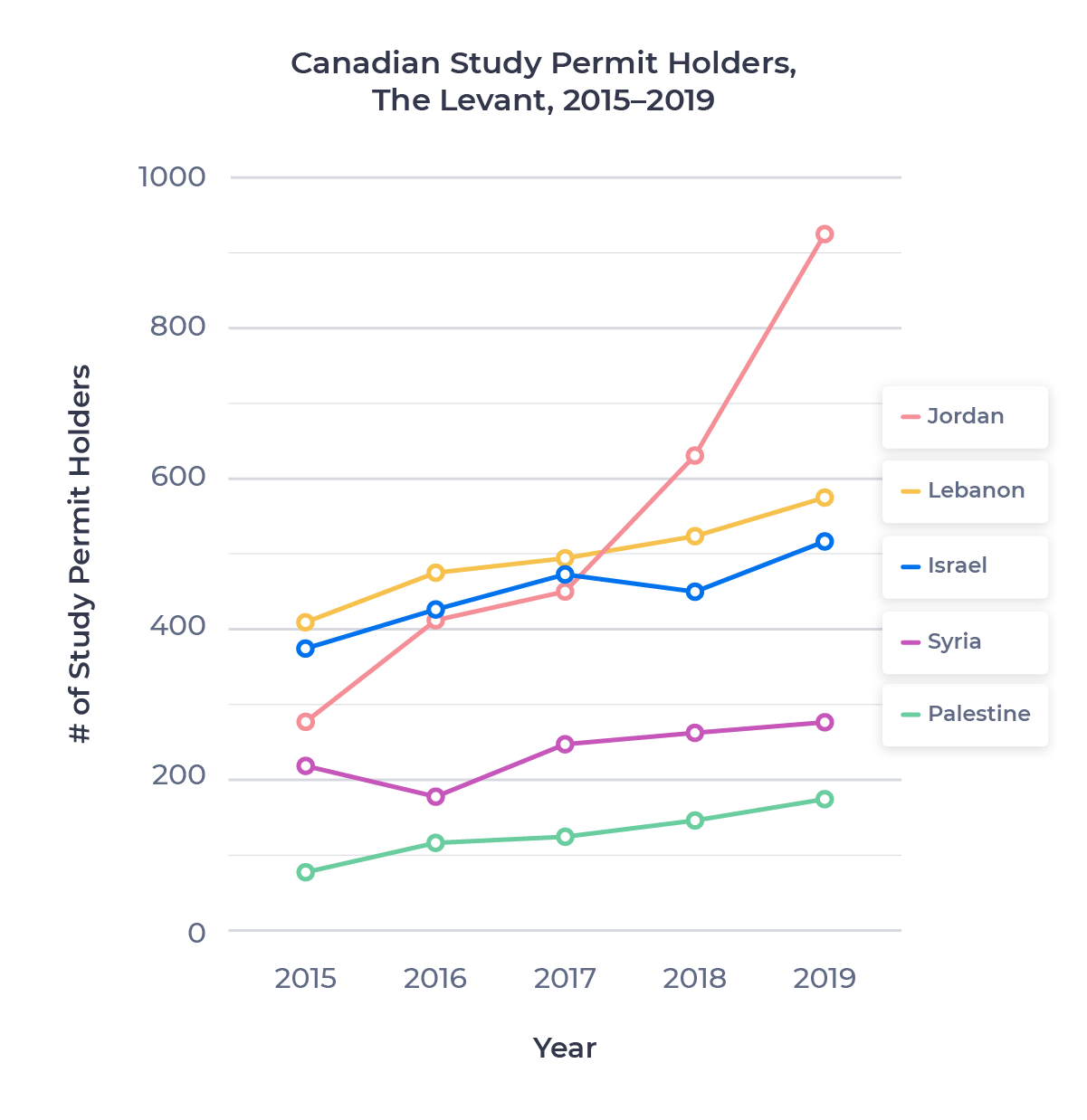 Jordan's growth sets it apart from the other countries shown. The Jordanian market grew more than 230% over the four years, spurred by strong primary and secondary, college, and other studies numbers. 
The other four countries—Lebanon, Israel, Syria, and Palestine—saw slow, steady growth between 2015 and 2019, with only a few blips. All four are minor markets currently, with potential to grow given favourable political conditions. 
Gulf Cooperation Council
The Cooperation Council for the Arab States of the Gulf, often referred to as the Gulf Cooperation Council (GCC), is a political and economic union consisting of all Arab states of the Persian Gulf except Iraq. Because of the economic and cultural similarities among member states, I'd like to group them in our analysis here, with the exception of Saudi Arabia, which we looked at above. 
The figure below shows the growth in the number of study permit holders among the remaining GCC nations from 2015 to 2019: 

Over the period in question, study permit numbers for these five countries started low and remained largely unchanged, with only Kuwait achieving a net gain of more than 10 study permits. 
Set in the context of the 84.5% growth the Canadian international student market saw between 2015 and 2019, the stagnation among GCC countries is particularly disappointing. 
The immense wealth of the GCC countries suggests there is a considerable market to be captured here. ApplyBoard is working with our recruitment partners in the region to make the case for the Canadian post-secondary system, in particular, as a world-class set of institutions offering exceptional opportunities for career advancement.   
Study Permit Holders by Province
The image below shows the number of study permit holders from Middle Eastern countries in each of Canada's 10 provinces in 2019, along with the percentage change between 2018 and 2019: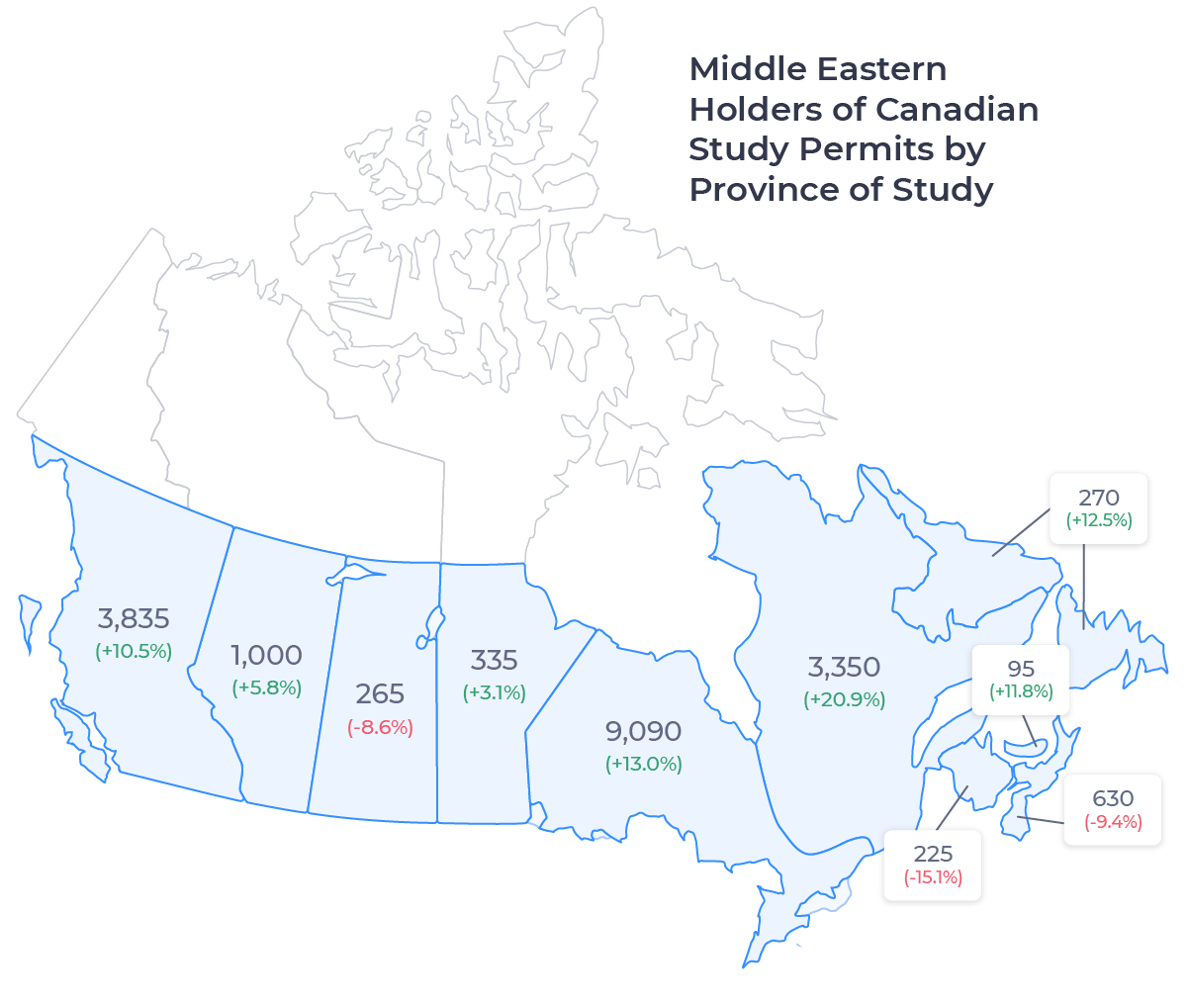 Ontario is the clear number one choice among Middle Eastern students. 47.5% of study permit holders from the region chose to study in Ontario in 2019. This is in line with the 49.1% of study permit holders from all countries who studied in Ontario that year. Large proportions of students from Palestine (68.6%), Jordan (67.0%), and Turkey (62.6%) contributed to Ontario's dominance of the market.  
British Columbia and Quebec followed, accounting for 20.0% and 17.5% of the market. More than 50% of Lebanese study permit holders studied in Quebec, reflecting the country's large francophone population. Quebec also led all provinces in growth between 2018 and 2019, up 20.9% year-over-year. 
Study Permit Holders by Study Level
The figure below shows the distribution of study permit holders from the Middle East by study level: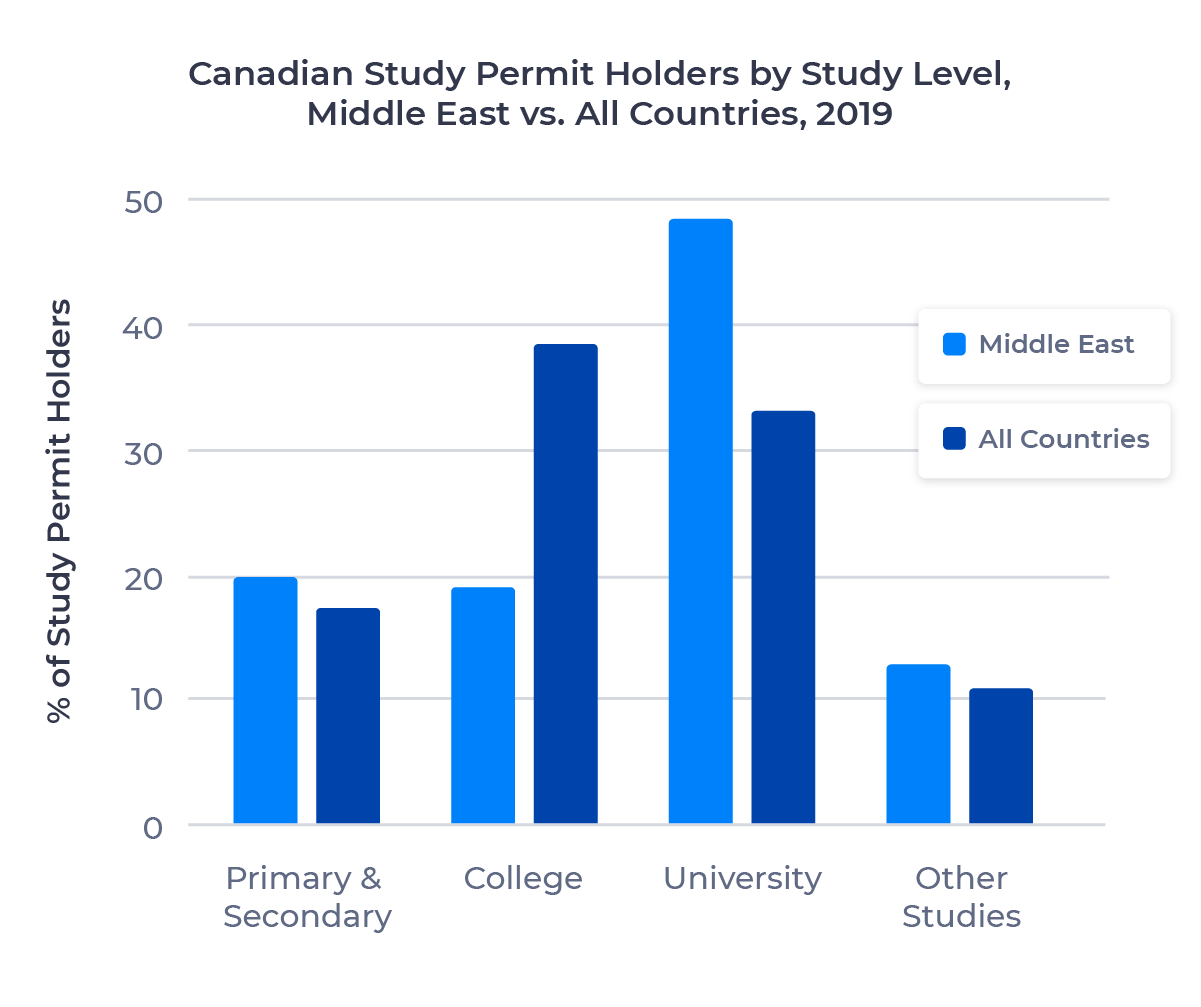 We see a clear preference for university over college education among Middle Eastern countries, with just under 50% of all study permit holders from the region studying at that level. Lebanon and Egypt were the leaders here, with 71.3% and 62.9% of all study permit holders studying at university. All six GCC countries were at or above the 50% mark, as well. But the college sector may be closing the gap: its share of study permit holders from the Middle East increased almost 5% from 2018 to 2019.
One exception to this university-over-college trend was Israel. 35.0% of Israeli holders of Canadian study permits in 2019 were college students, while just 21.4% studied at university. In addition, more than a quarter of Israeli students in Canada were enrolled in primary school, suggesting that many Israeli students brought their children with them to Canada. 
Turkey also supplied a slightly larger percentage of college students (27.5%) than university students (23.3%) to Canada in 2019. But the real story for Turkey was its considerable enrollment in language training programs. 29.1% of Turkish students in Canada were enrolled in ESL or FSL programs in 2019, accounting for more than two-thirds of all Middle Eastern students in those programs. 
The Future of Middle Eastern Students in Canada
The COVID-19 pandemic has disrupted the international education landscape around the world across all levels. That said, I'm optimistic about the post-COVID-19 recovery of the international student market in Canada for two reasons:
The Canadian government has taken critical policy steps to support international students, and at ApplyBoard we're already seeing the results. There has been a

boom in applications on our platform

following recent changes to post-graduate work permit eligibility. 

In our recent

survey of recruitment agents on the impact of COVID-19

on their business, agents overwhelmingly ranked Canada above Australia, the UK, and the US for its handling of the pandemic. 
These facts leave Canada well equipped to rebuild its position in the market and even grab market share from those other countries. Whether that market share comes from the Middle East will depend on a series of factors, from changes to political relationships to the ability of the source countries to recover from the pandemic. 
The growth in study permit applications from the Middle East suggests interest in studying in Canada remains strong in the region. Keeping in mind the challenges outlined above, I see a good chance for a strong rebound in the Levant countries, with the potential for escalating growth. The GCC countries remain a high-interest market, with the potential to send many more students to Canada, but I see this as a longer-term effort requiring considerable attention from schools and government. 
Subscribe to ApplyInsights
Sign up for the latest insights on international education.

---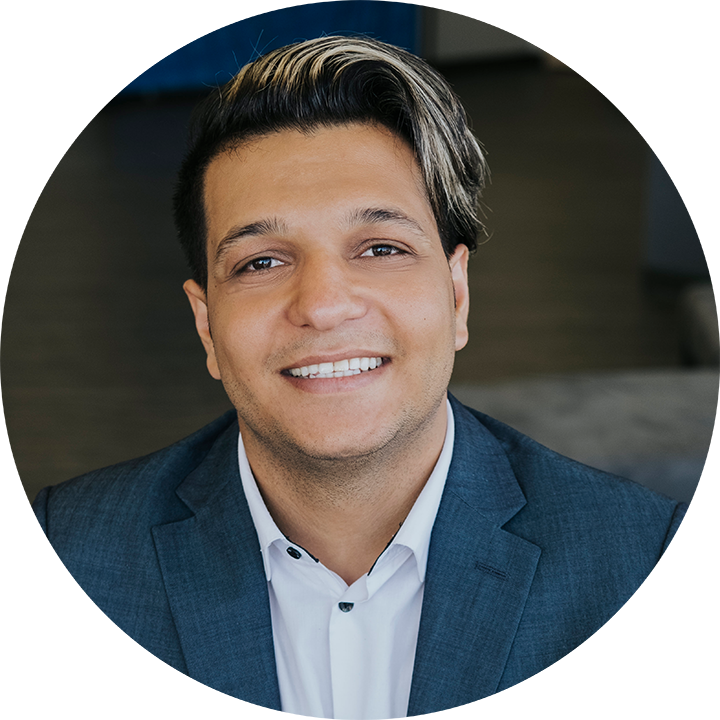 Meti Basiri
Co-Founder and Chief Marketing Officer (CMO)
Meti is driven by the belief that education is a right, not a privilege. He leads the International Recruitment, Partner Relations, and Marketing teams at ApplyBoard, working to make education accessible to people around the world. Meti has been instrumental in building partnerships with 1,200+ educational institutions across North America and the United Kingdom. Working with over 4,000 international recruitment partners, ApplyBoard has assisted over 100,000 students in their study abroad journey. Follow Meti on LinkedIn for more access to ApplyInsights and key industry trends.
---
FOOTNOTES:
1. The terms student visa and study permit are often used interchangeably when discussing Canadian international education and immigration. Students need a visitor visa to enter Canada, but one is often issued with an approved study permit.
---