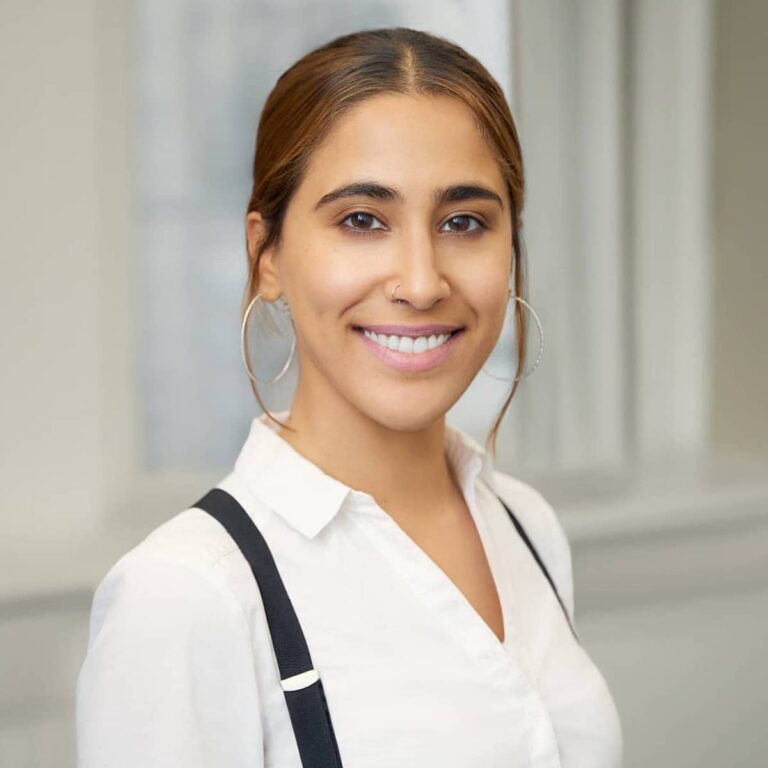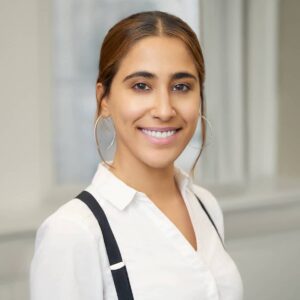 In our Ask a Talent Recruiter series, ApplyBoard's Talent Acquisition Team answers common questions and quandaries. Today we're speaking with one of our Talent Recruiters, Tav Khera, to hear what life looks like for the ApplyBoard team and how candidates can give themselves a leg up.
What's a typical day like at ApplyBoard?
The usual answer? There is no typical day at ApplyBoard! We have so many different roles and departments, that everybody's day looks different.
A typical day for me as the Customer Experience Talent Recruiter looks like getting into the office a little before 9:00 am, settling into my desk, and getting straight to work. I'll check my calendar, go through emails, jump onto our recruiting database, open a few other recruitment tools, and begin responding to team members and candidates.
I usually have a few phone screenings booked for the day, and I regularly go through LinkedIn to stay in the loop. As their Talent Recruiter, I also engage with the Customer Experience team on a daily basis. The constant line of communication between myself, and both the candidates and my CX teammates, is a crucial part of my day-to-day.
Somewhere during the day I eat lunch, and make sure to spend time with the rest of the ApplyBoard team – no matter how busy it gets, I always make time for people. After a busy afternoon, I typically end the day feeling accomplished.
What else is typical about a day at ApplyBoard? Room for fun (it's literally built into our values)! In between phone calls and meetings, you never know when Martin, ApplyBoard's CEO, is going to come by with a cart of chocolate bars, or if you'll be competing in a holiday scavenger hunt.
Ultimately, I love coming into ApplyBoard every morning because I'm passionate about our shared mission and our company culture.
What makes ApplyBoard's company culture unique?
The culture at ApplyBoard is genuine – you can see it and feel it, it's not just a nice idea.
There are so many different kinds of people at ApplyBoard, which really shows ApplyBoard's value of diversity. Our staff come from over 27 countries and speak over 53 languages! And you can really feel the impact of all of those cultures coming together in one organization.
We have ApplyCommittees dedicated to making our office a fun and rewarding place for people to come to work every day. Every couple of months, teams put on cultural lunch-and-learns to teach others about different cultures. We also have trivia and games nights, field trips, clubs, you name it!
Here, you're surrounded by people with unique outlooks, and everyone's contribution is valued. We really nurture our company culture by working together toward our mission, maintaining open lines of communication, and having fun at work.
How does ApplyBoard promote diversity?
ApplyBoard is literally built on diversity, from our staff to the students we represent. That's a value you'll see at the forefront of our daily office life, our mission to educate the world, and how we communicate.
As a recruiter, I love to learn new things and meet new people, so I always keep an open mind whenever I'm connecting with candidates. This applies to how we speak about ApplyBoard to prospective candidates as well.
During phone screenings or recruitment events, I make sure to talk about:
How ApplyBoard is driving diversity on campuses and increasing each educational institution's global presence
Our recruitment partners all over the globe, who assistant students with their application processes (partners from India, Bangladesh, Mexico, China, and Vietnam, just to name a few)
The true gender balance here – ApplyBoard has 50/50 gender parity
What are ApplyBoard's values as an organization?
We renewed our core values last year! We use these values to dictate how we make decisions as an organization, how we approach leadership, and what we hope our teams bring with them every day. We commit to:
Helping students achieve success
Caring about each other
Delivering an A+ customer experience
Taking ownership
Innovating and improving
Making work fun
What qualities is ApplyBoard looking for in a potential candidate?
Each role has specific skills that would add value to the position, but we're always looking for people who embody our core values.
As the CX Talent Recruiter, some qualities which would do very well on the CX Team in particular include:
A passion for education and/or helping others
Previous experience as an international student
Customer service experience
Adaptability in a fast-paced and quickly changing environment
The ability to work well with a team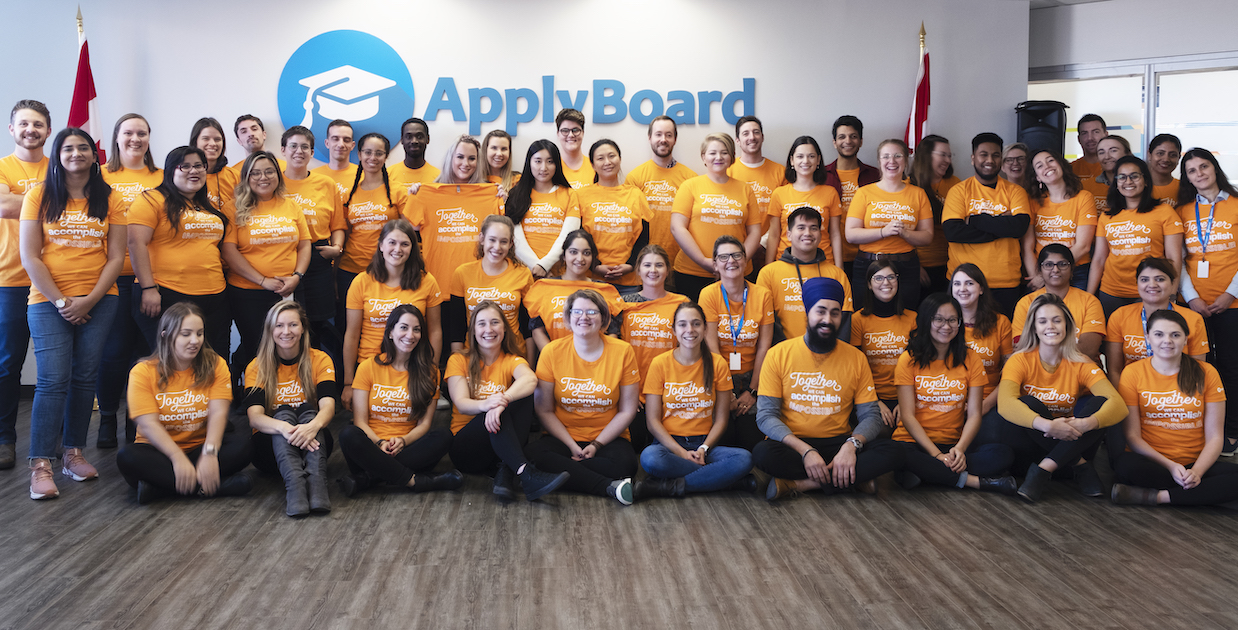 What does the interview process look like?
Again, this depends on the role, but you can generally expect at least a phone screening and an on-site interview with team leaders before discussing an offer. Candidates may also be asked to come in after their interview to meet with other members of the team, or to complete a technical interview for certain positions.
Are there any fun perks to working at ApplyBoard?
Absolutely! Our teams enjoy a kitchen fully stocked with snacks, espresso and popcorn machines, and weekly catered lunches.
Having "fun at work" as one of our core values is a big perk. Staff can join ApplyBoard clubs (like Beer Club) and committees, and there's always something going on at the office. I'm part of ApplyCulture and the Health and Safety Committee.
We also have some perks around the office – did someone say massage chairs?
Are there opportunities for growth at ApplyBoard?
There is plenty of room for growth at ApplyBoard. We're a quickly growing company, and with that comes many opportunities for advancement and professional development.
If you're adaptable and hard working, you'll definitely be able to showcase your skill set to your colleagues and managers. We encourage employees to be open about their career goals and interests!
What sort of challenges might a new employee face?
Given the fast-growing and quickly changing nature of our environment and roles, a new employee might have to absorb a lot of information in a short amount of time. This will sometimes look like making mistakes as you learn, finding meeting rooms, and juggling your evolving workload, but remember – we're here to support you, and we're all on the same team.
What are the best things about working at ApplyBoard?
The people are what make ApplyBoard great! There are so many different kinds of people working at ApplyBoard, that no two conversations are ever the same.
Our teams have done a great job of creating an open environment, both physically and in our communications. The office is fantastic, with tons of windows and light, and there are so many different work environments to choose from.
---
---