Last week, ApplyBoard hosted our fourth annual year-end celebration! This is one of the biggest events of the year for staff at our Kitchener headquarters, bringing the team together for a night of entertainment as we reflect on our accomplishments throughout the year.
Despite the challenges we faced in 2020, ApplyBoard achieved some great things, including:
Last year's event brought team members together for a festive and formal celebration, featuring live entertainment, dinner, drinks, and dancing. The stories (and videos!) from the dance floor last year are still being shared to this day!
ApplyBoard's At Home for the Holidays was a virtual celebration, featuring family-friendly entertainment, games, contests, and the chance to reconnect with colleagues. While this year's celebration may have looked different than those of years past, there was no shortage of holiday spirit and team connection.
The evening began with a pre-show social, hosted on Zoom. This was a chance for staff to chat while showing off their pets, and introducing the team to their families. ApplyBoard Co-Founder and CEO Martin Basiri hosted a live trivia challenge with questions about the history of ApplyBoard and fun facts about team members. He also shared a photo of the holiday celebration from 2016, with just 26 total team members in attendance. It really showcased how much the team has grown in just four years!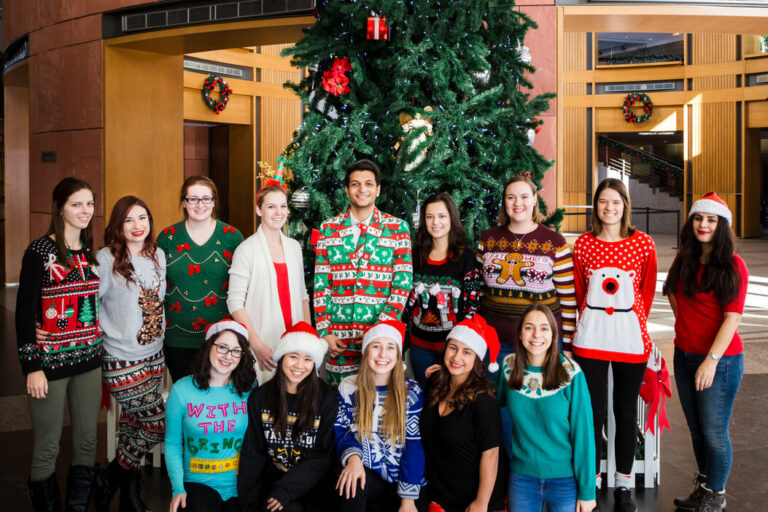 The pre-show celebration wrapped up with a message from a special guest, UFC Announcer Bruce Buffer. It was the perfect way to showcase our accomplishments throughout the year and get the team hyped up for the main event!
Next, team members were invited to join the live stream of our main event, hosted by magician and comedian Sam Pearce. This event brought the team together to celebrate the "magic" of the holiday season, with illusions from the magician, a trivia challenge, a message from Martin, and additional messages from senior leaders across the team.
After the live event, attendees gathered back on Zoom for an awards ceremony. We had tons of prizes to award, starting with door prizes for all attendees and prizes for our trivia winners. Staff were also invited to submit photos and videos of their kids participating in their favourite holiday traditions, with all submissions receiving a prize! 
In advance of the event, team members submitted photos and videos for our holiday photo contests. Submissions covered how their teams celebrated the holidays together, their favourite holiday outfits, and talents they wanted to showcase to the team. We hosted a live vote for staff during this event, with the top three submissions receiving a prize!
2020 was a challenging year for everyone, but we appreciated having the chance for the ApplyFamily to come together, reflect on our accomplishments, and prepare for a successful 2021.
---