ApplyBoard is excited to announce that we ranked #3 on LinkedIn's 2020 Top Startups List in Canada.
The list is "an annual ranking of the emerging startups to work for—globally." LinkedIn uses "a combination of proprietary platform data and editorial expertise. In the wake of COVID-19, the 2020 list reflects the current state of the economy and the world, showcasing emerging and resilient startups and how they're navigating the ever-changing world of work."
"We are thrilled to rank #3 on LinkedIn's 2020 Top Startups List in Canada," said ApplyBoard Co-Founder and CEO, Martin Basiri. "Our team is united in our drive to build a better future for students, where education is recognized as a right, not a privilege. This ranking would not be possible without the passionate employees that we are grateful to have on our team."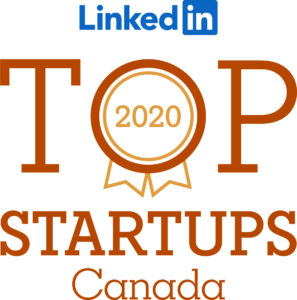 500+ Team Members in Over 20 Countries
ApplyBoard celebrates diversity in all its forms.
"ApplyBoard employees, who come from more than 30 countries, embody what it means to be a diverse and inclusive workforce. Our team of over 500 employees are based in more than 20 countries, speak 56 languages, and are over half female," explained ApplyBoard Co-Founder and COO, Massi Basiri. In addition, 40% are immigrants, 60% identify as a minority, 65% speak a second language, 35% have studied abroad, and 42% have higher than a bachelor's degree.
"We work to ensure that the success of our people, and teams, remains a top priority, whether through diversity initiatives, staff training, open office spaces, or inclusive employee events," continued Massi Basiri.
The Methodology
LinkedIn defines a startup "as a company that is independent and privately held, has 50 or more employees, is 7 years old or younger, and is headquartered in the country on whose list they appear." Staffing firms, think tanks, non-profits, accelerators, philanthropy and venture capital firms, and government-owned entities are not eligible.
To arrive at its results, LinkedIn measures the behaviour of more than half a billion users in four areas:
Employment growth

Engagement with the company and its current employees

Job interest

The attraction of top talent
Traditionally, LinkedIn has pored over data collected over a 12-month period. However, for this year's list, they specifically looked at data from January through July 2020 to only include startups that are "emerging and resilient in the era of COVID-19."
The 14 regional lists include Australia, Brazil, Canada, France, Germany, India, Italy, Japan, Mexico, Netherlands, Singapore, Spain, the United Kingdom, and the United States.
Help Us Educate the World
"As the team continues to grow, we are looking for individuals to join us across all areas of our business on our mission to educate the world," said Massi Basiri. Join the ApplyBoard Team and empower people around the world to access the best education.
We have many open roles across Canada, Bangladesh, China, Egypt, Hong Kong, India, Istanbul, Malaysia, Morocco, Nairobi, New Zealand, Pakistan, South Korea, Taiwan, and Ukraine.
We're also on the hunt for more engineers to add to the team!