While a Canadian winter is important to pack for as an international student, the country's not snow and ice all the time. Wondering what to pack for studying in Canada? In reality, 90% of Canadians live within 100 kilometers of the Canada-United States border, and share latitudes with global cities you might not expect! Calgary, Alberta lines up with London, England; St. John's, Newfoundland and Seattle, Washington are within 50 latitudinal kilometers; and Vancouver, British Columbia matches up with Paris, France. This means the weather across Canada is very seasonal, and much more diverse than many would expect!
No matter where you choose to study in Canada, you'll want the right clothing for all four seasons. You'll also want to pack all your essential student and visa documentation in your carry-on to streamline your student visa interview. For more visa application tips, check out our blog!
Consider a community's climate, culture, and size when deciding where to study in Canada.

Packing Guidelines
Before you go, visit your academic institution's website, as it may have a custom packing list (like this one from the University of Waterloo)! Once you've looked at a couple of lists, build your own. A custom list can make packing easier, as you can check things off as you pack, or see where you're missing something.
Also, learn which items the Canadian Border Services Agency won't allow through Canadian Customs so you don't pack them by mistake. Restricted items include meat and meat products, plants, pets, fireworks, firearms, and fresh fruit. So, if your family gives you a care package, make sure you eat anything fresh before landing! 
Your pet may be able to join you in Canada, but you'll need to know the rules and fill out all necessary paperwork, both before you leave and at the border, to meet Canada's import requirements. It's a good idea to research the airports you'll travel through beforehand so you know what your pet's journey will be like, too.
Use our 6 tips for overcoming language barriers to feel more comfortable meeting other local and international students.

The Essentials
In your carry-on or personal item, store your passport, your identification documents, and any other documents you'll need to start your new life as a student. 
Student documentation includes:
Study permit documents (study permit approval letter OR valid study permit)

Original transcripts and diploma/degree certificates

Letter of acceptance

Temporary resident visa or electronic travel authorization (eTA) 

Proof of sufficient funds for at least the first year of study

The address of your long-term student accommodation

Proof of tuition payment

English language proficiency test scores (TOEFL, IELTS, PTE)

Vaccination proof or immigration medical exam results, if necessary 
Check out our complete list of what you need to study in Canada!
Have photocopies of all of these in your luggage, and leave a second copy with your family in your home country. Also ensure any medications or medical devices are in your hand luggage, so they're within reach. If you're traveling with jewelry, cash, or other valuables, keep those in your carry-on luggage, too (along with a few changes of clothes) in case your larger suitcases are lost or delayed.
Preparing for your Canadian visa interview? Get great tips from our interview guide.

What to Pack for Life in Canada
Canada has a wide range of climates. A community's climate can be impacted by how close it is to large bodies of water (and here, the Great Lakes count)! Nearby lakes or oceans mean more rain or snow, and even when it's sunny, the air is humid. In short: in coastal communities, hot feels hotter and cold feels colder than in central Canada, where the air is drier.
Most students dress casually on campus, and classrooms are heated and air-conditioned, so they'll have a similar temperature year-round. However, for travel between class and life outside of school, you should dress for the season. This means: 
A sweater and jeans with a light coat (and maybe rainproof boots) in the spring and fall.

Light t-shirts and shorts or skirts with sneakers in the summer. 

Layers with a thick winter coat, warm boots, and gloves through the winter.
Winter clothes take up lots of space, so many international students buy winter clothes in Canada. In larger communities, visit second-hand stores for previous seasons' fashions at lower prices–and no matter where you shop, buy before winter for the best selection and prices! Headed somewhere like Edmonton, Quebec City, or Winnipeg, where winter temperatures drop below -20°C? A thermal base layer can help you stay warm while waiting for the bus. 
Local Knowledge: Cotton dries slowly, so base layers made of merino wool or synthetic fleece are best.
Students who plan to work at a part-time job or through a co-op program or internship should bring business-casual clothes. Even if your workplace is casual, one or two formal outfits are good for interviews or special events.
Along those lines, while many brands of skincare and makeup are available in Canada, if there's a regional brand you like, check to see if they are available in (or ship to) Canada. If shipping is really expensive, bring a few extras from home. If you take any medications, check to see what refilling your supply looks like. Some medications which need a prescription elsewhere are over-the-counter in Canada, and vice versa.
Having something small that reminds you of back home can help you feel at home in Canada (think a favorite scent, book, ornament, or even a condiment like a sauce or spice mix)!
Good to go? Check out our arrival guide for new students.
---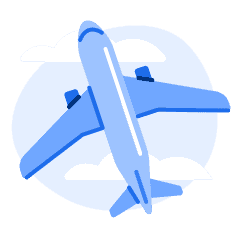 With research and preparation, you'll be ready for your study abroad journey. The night before you travel to Canada, try your best to get a good night's sleep, so you'll have energy for your trip. As you travel, try to drink enough water (planes can be dehydrating) and eat a little, even if you're nervous. You've got this!
Find a Canadian postsecondary program that matches your goals on the ApplyBoard Platform.