Featured Schools and Updated Schedule
ApplyBoard's very first event in China, the China Market Partner Appreciation Event, is a little over one week away! The event is being hosted on October 19th, 2019 at the Grand Millennium Hotel in Beijing. We're looking forward to meeting our valued Chinese Recruitment Partners and connecting them with 13 of our Canadian Partner Schools so that we can achieve our goal of educating the world together!
Partner Schools Participating
At the event, Recruitment Partners will have the opportunity to network with and hear from the following Canadian Partner Schools:
Cape Breton University
Located in Sydney, Nova Scotia, Cape Breton University (CUB) is one of Canada's youngest and most ambitious universities. CBU prides itself on providing personalized undergraduate education focused on academic and research excellence, student services, a vibrant campus life, and cutting-edge technological tools. The university provides one-of-a-kind liberal arts, science, and professional programs within small classes with the most favourable student-professor ratios in the country. CBU welcomes nearly 1,000 students from more than 30 countries, making 30% of their student body populated by international students.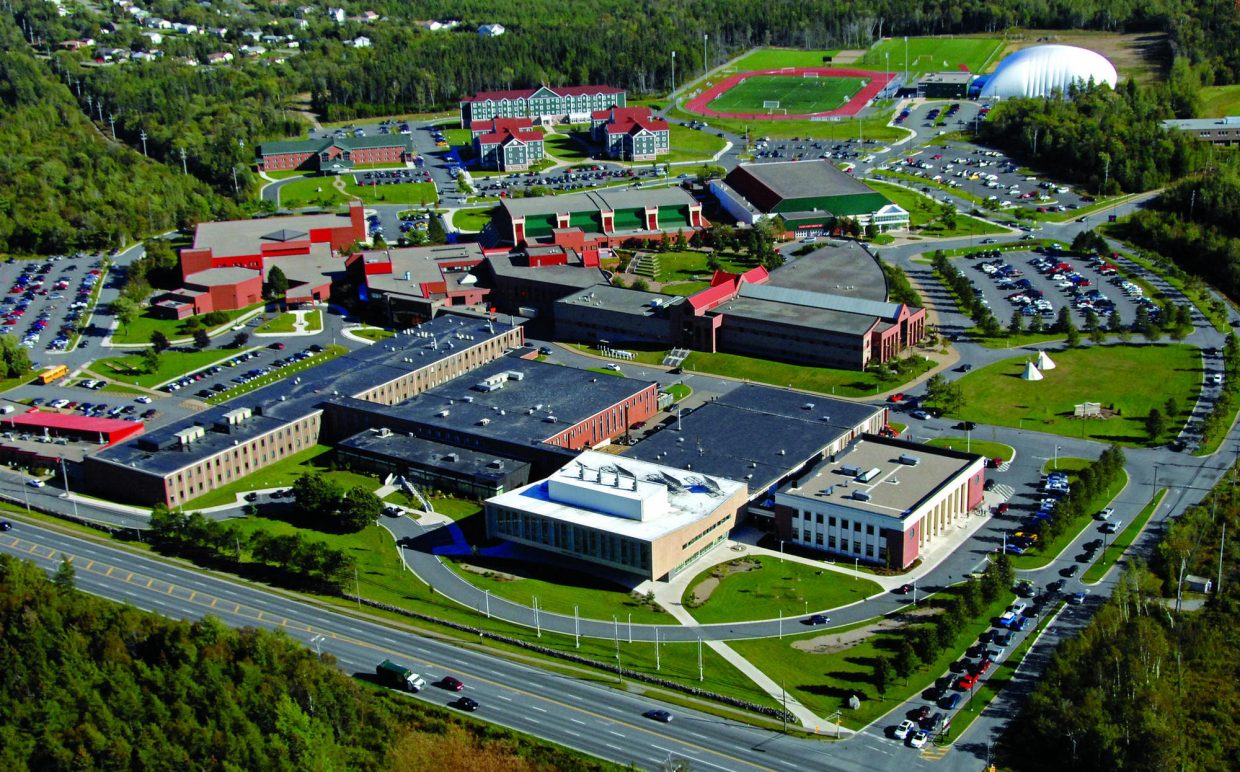 Centennial College
Centennial College believes in education without borders, growing from Ontario's first community college to a worldly institution over the past 50 years. The college has five campuses located in Toronto, Ontario and has a presence in China, India, South Korea, and Brazil. Focused on preparing graduates to enter the workforce and becoming leaders, Centennial offers more than 260 programs across many diverse fields of study. The college is recognized as one of the most culturally diverse institutions in Canada with almost 100 ethnocultural groups and 80 spoken languages on campus.
Douglas College
Founded in 1970, Douglas College is the largest degree-granting college in British Columbia. The college features two major campuses in Metro Vancouver (New Westminster and Coquitlam), as well as several smaller training centres in Surrey, Burnaby, and Maple Ridge. Annually, Douglas College educates close to 17,000 students with 4,210 of those being international students from over 92 different countries. Douglas is noted for combining academic foundations of a university with the career-ready skills of a college, offering the most bachelor's degrees and post-degree programs of any college in B.C.
Fanshawe College
Fanshawe College services the greater London, Ontario region with four campuses in London, Simcoe, St. Thomas, and Woodstock. Fanshawe is a comprehensive college that offers more than 200 degree, diploma, certificate, and apprenticeship programs. Additionally, the college overs 35+ co-operative education programs which are more than any other college in Canada. Annually, over 43,000 students choose to study at Fanshawe College. Fanshawe has welcomed over 3,500 students from more than 100 countries around the world to their campuses.
Laurentian University
Laurentian University is located on a beautiful 765-acre campus in Sudbury, Ontario. Laurentian offers more than 175 high-calibre undergraduate and graduate programs in architecture, forensic science, sports administration, midwifery, human kinetics, Indigenous studies, and more. More than 40 of these programs are offered in both English and French providing students with a bilingual edge. The school provides itself on small class sizes with an 18:1 student to professor ratio and has achieved a 95% post-graduation employment rate. Over the past four years, international student enrolment at Laurentian has increased by more than 14%.
Thompson River University
Nearly 26,000 students study on Thompson River University (TRU) campuses in beautiful  Kamloops and Williams Lakes, British Columbia. TRU is a leading destination in Canada for international students with international enrolment now exceeding 3,000 students from 90 nations. From traditional academics to trades, from certificates to graduate degrees, TRU offers over 140 on-campus programs and 60 open learning programs to choose from.
University of the Fraser Valley
Located in the beautiful Fraser Valley just east of Vancouver, British Columbia, the University of the Fraser Valley (UFC) is a fully accredited, public university with campuses in Abbotsford, Chilliwack, Mission, Hope, and Agassiz. Approximately 15,000 students choose to study at UFV annually. The school offers master's degrees, undergraduate bachelor's degrees, college certificates and diplomas, and comprehensive English Language Studies (ELS) upgrading options.
University of Saskatchewan
Located in the heart of Saskatoon, the University of Saskatchewan (USask) is one of Canada's top research-intensive, medical doctoral universities. The school's diverse campus is made up of 25,700+ students, with 3,400+ international students from 130 countries around the world. The school offers a range of programming, from introductory classes all the way through full degree programs in some disciplines.
University of Saskatchewan
Located in the heart of Saskatoon, the University of Saskatchewan (USask) is one of Canada's top research-intensive, medical doctoral universities. The school's diverse campus is made up of 25,700+ students, with 3,400+ international students from 130 countries around the world. The school offers a range of programming, from introductory classes all the way through full degree programs in some disciplines.
Western University
Since 1878, Western University has been an institution of choice for the world's brightest minds seeking the best learning experience at a Canadian research university. Western offers more than 400 undergraduate and 120 master and Ph.D. programs. Students have the opportunity to learn from world-renowned professors and researchers. Ranked among the top 1% of higher education institutions in the world, Western offers an exceptional student experience. Over 30,000 students are enrolled at Western with 4,200+ international students representing 127 countries.
Sault College
Sault College is a fully-accredited Canadian public post-secondary institution located in Sault Ste. Marie, Ontario. The college grants diplomas, certificates, and graduate certificates in over 50 full-time program areas including engineering technology, health studies, community services, information technology, media and design, and businesses. The school welcomes 2,400 full-time and 4,500 part-time annually.
Seneca College
Seneca College offers more than an education. With campuses throughout the Greater Toronto Area (GTA) in Ontario, Seneca's size and diversity give students the advantage of partnerships with industry leaders, the latest in hands-on computer technology, and a variety of class sizes. Over 30,000 full-time students are on-campus annually including 7,000 international students from 150 countries. Seneca offers 500 career options with more than 180 full-time programs and 140 part-time programs. These programs are offered at the baccalaureate, diploma, certificate, and graduate levels.
Sheridan College
Founded in 1967, Sheridan College has grown from a local college of 400 students to one of Ontario's leading post-secondary institutions. The school educated 24,500+ full-time and 18,500+ continuing and part-time studies students, including 6,800+ international students representing 80+ countries. Sheridan has three campuses in Ontario – Oakville, Brampton, and Mississauga. The school offers over 120 programs across five faculties incluing 25-degree programs.
Southern Alberta Institute of Technology
The Southern Alberta Institute of Technology (SAIT Polytechnic) is Calgary's oldest post-secondary institution and Canada's first publically funded polytechnic. SAIT now has over 50,000 students and offers two baccalaureate degrees, four applied degrees, and 84 diploma and certificate programs, as well as apprenticeship trades, continuing education, and corporate training programs.
Event Schedule
We've got an exciting day of presentations, networking, and activities planned for you at this event on October 19th in Beijing. Please see below for our updated schedule:
TIME
ACTIVITY
1:00 – 2:00 PM
Registration and Welcome (Tea and Coffee Served)
2:00 – 2:30 PM
Welcome Speech: Anna Guo, Senior Manager of International Recruitment at ApplyBoard
Keynote Presentation and Secret Partnership Announcement: Meti Basiri, Co-Founder and CMO at ApplyBoard
2:30 – 2:40 PM
Presentation: Why Choose the University of Saskatchewan
2:40 – 3:20 PM
University Representative Panel Discussion: Applying for Masters Programs in Canada: From Admission Requirements to Career Prospects Featuring Western University, Laurentian University, Thompson River University, and Cape Breton University
3:20 – 3:50 PM
Afternoon Tea Break
3:50 – 4:50 PM
College Representatives Panel Discussion: What Makes Colleges an Important Part in the Canadian Education System: Study for the Future Featuring Seneca College, Centennial College, Southern Alberta Institute of Technology, Sheridan College, Fanshawe College, and Douglas College
4:50 – 5:00 PM
Presentation: Why Choose the University of the Fraser Valley
5:00 – 5:20 PM
Presentation +Q&A: Undergraduates Programs in Canada – Tank Huang, International Recruitment Manager for China at ApplyBoard
5:20 – 5:30 PM
Prize Draw and Closing Remarks
How to Register
If you're interested in attending ApplyBoard's China Market Partnership Appreciation Event, please send your name, company name, email address, and phone number to china@applyboard.com.
Due to limited seating availability, we ask that companies send no more than two (2) people to this event.
If you have any questions, please email info@applyboard.com or connect with your ApplyBoard Representative.
We look forward to seeing you in Beijing!
---