ApplyInsights: Quebec's Share of Canada's Indian Student Market Spikes During Pandemic
The explosion of the Indian student population in Canada has been one of the biggest stories in international education over the last five years. For today's ApplyInsights, I'll be digging into the question of where in Canada these students go. 
This article is the first in a series looking at trends in international education in Canada at the provincial level. Keep an eye on ApplyInsights for future articles focusing on other top source countries. 
Ontario Dominant Market for Indian Students
Ontario is by far Canada's most popular destination for international students. An even 50.0% of Canadian study permit approvals in 2019 were for Ontario institutions.1 
India's numbers were even more slanted toward Ontario. 61.9% of Indian students approved to study in Canada in 2019 chose Ontario as their destination. Ontario colleges accounted for 22 of the 30 most popular schools in Canada for Indian students in 2019. 
While Ontario's market share for all source countries has remained roughly stable, its share of the Indian market is decreasing. The chart below shows Ontario's share of study permit approvals over the past four years for the Indian market and all source markets together: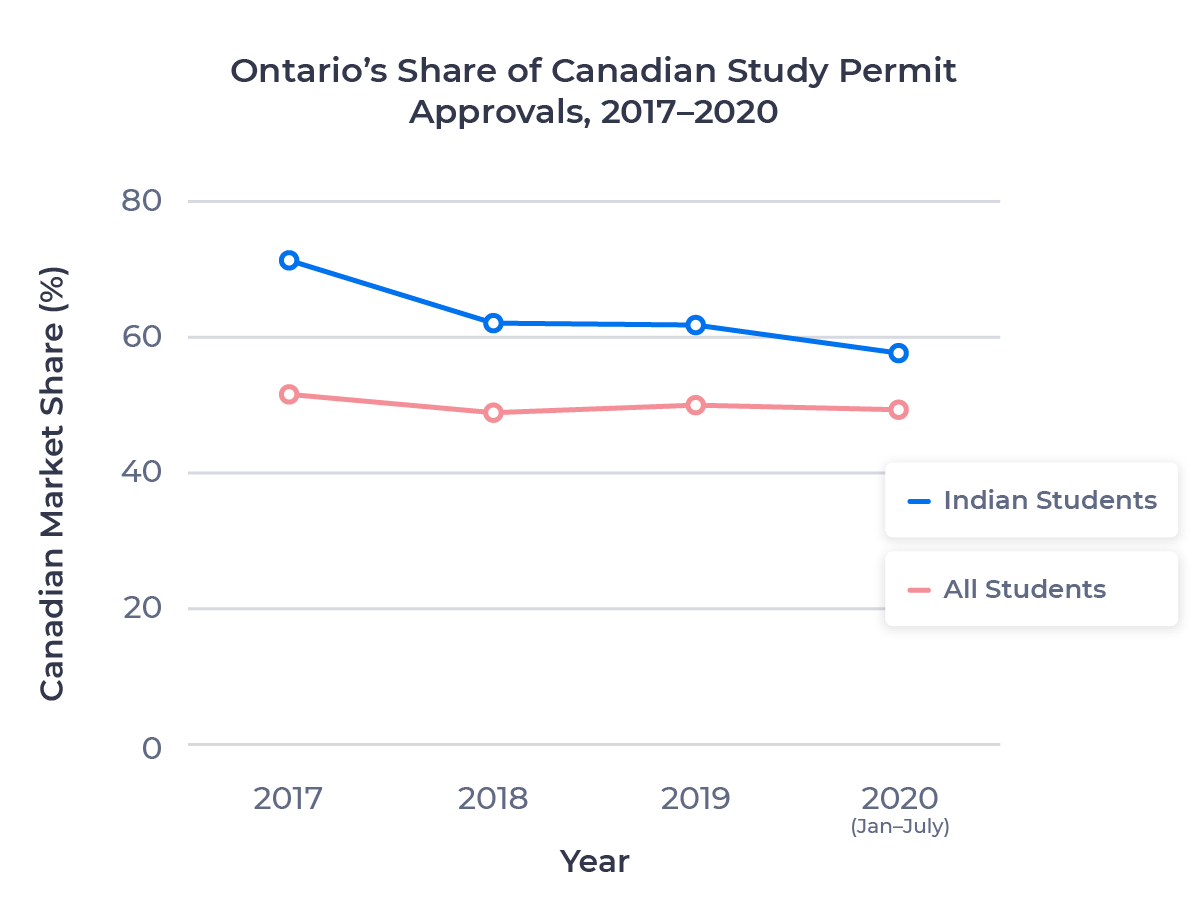 Ontario's share of the Indian student market fell from a remarkable 71.3% in 2017 to 61.9% in 2019. Over the first seven months of 2020,2 it fell further, to 57.6%. Pre-pandemic, the Ontario market continued to grow at a robust 30% year-over-year. Ontario does remain the destination of choice for a majority of Indian students, but its dominance of the market is shrinking. 
Quebec's Share of Indian Student Market Rising
At the same time, Quebec's share of the Indian market has risen remarkably. The chart below shows Quebec's share of study permit approvals between 2017 and 2020 for Indian students and all international students: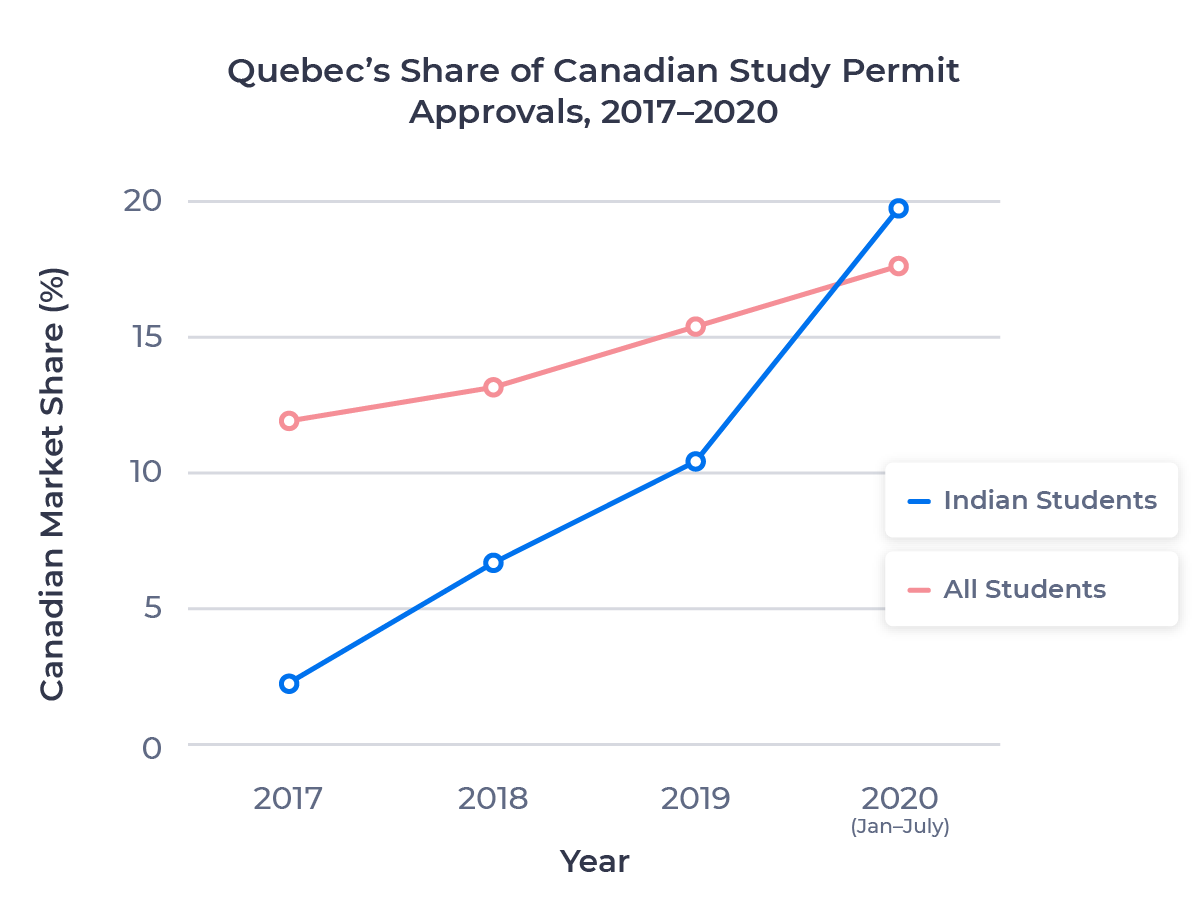 Quebec has long been a top Canadian destination for international students, driven by strong numbers from France and other francophone countries. Quebec's Indian market has been slower to develop, but it took off between 2017 and 2019, growing from 1,568 approvals to 11,428. This made Quebec the fastest-growing provincial market for Indian students pre-pandemic by a considerable margin. 
In 2019, India passed France to become the number one source of international students to Quebec. India was responsible for 70% of the growth in the Quebec market between 2017 and 2019.
Quebec gained even more market share over the first seven months of 2020. The image below shows the number of study permits approved for Indian students in each province and territory between January and July 2020.3 The percentage of each region's total 2019 approvals is given in parentheses.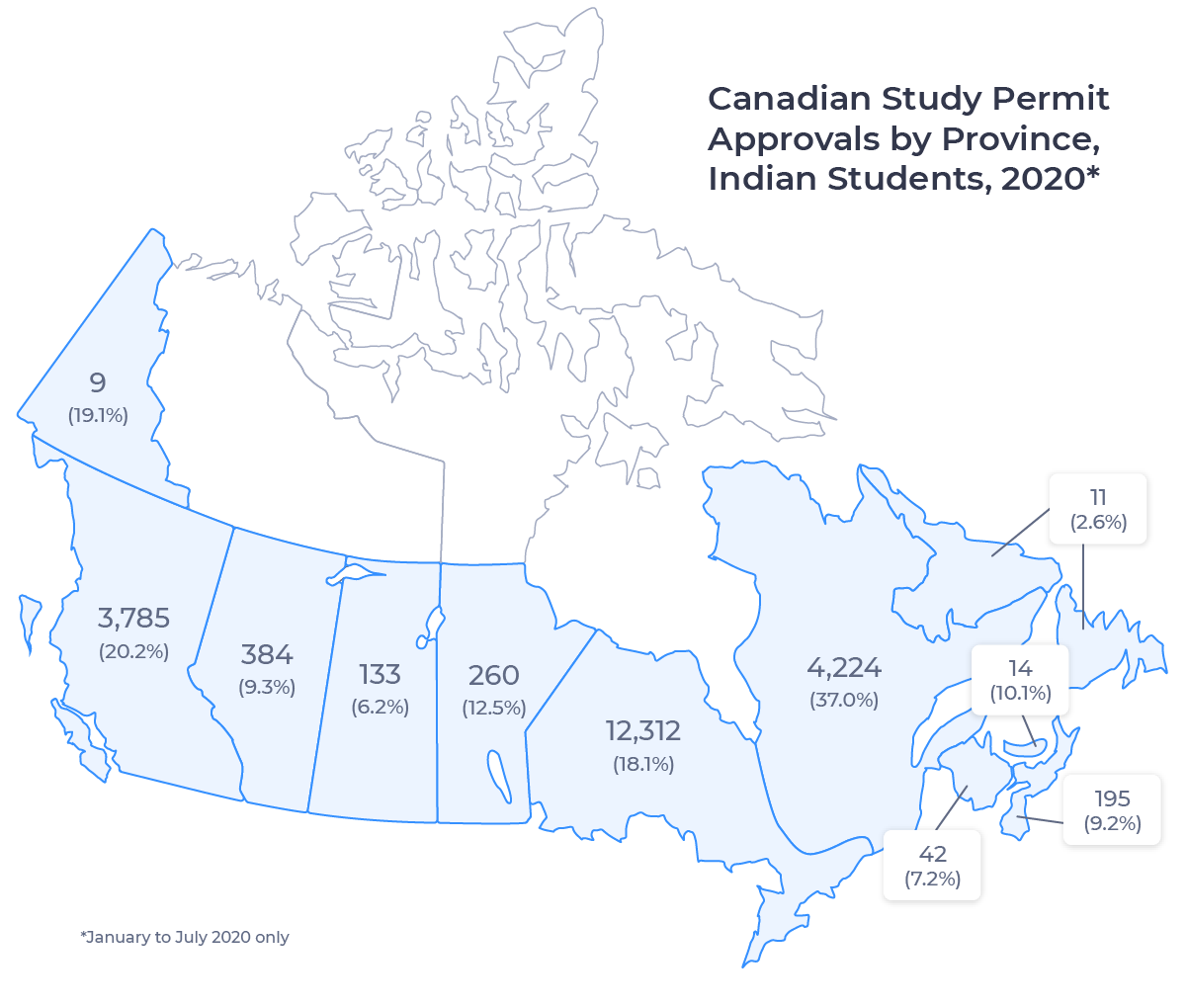 As the image shows, Quebec retained almost twice as much of its 2019 Indian student intake as any other province or territory. It also leapfrogged British Columbia to become the number two destination for Indian students in Canada over the first seven months of 2020. 
Quebec's 2020 Spike Driven by Private College Enrollment
Much of the growth in Quebec's Indian student market can be attributed to the fact that, with a few exceptions, it's the only province where international students studying at private colleges are eligible for Canada's Post-Graduation Work Permit Program (PGWPP). 
The PGWPP offers a pathway to permanent residency in Canada and is a key piece of the value proposition of studying in Canada for Indian students. The extension of the program to private colleges gives students more options for study in Quebec.
Quebec's private colleges have done a remarkable job at continuing to bring in new students despite the pandemic, as the table below shows: 
Top 10 Canadian Post-Secondary Institutions by New Indian Student Enrollment, 2020
Rank
Institution
# of Study Permits 2020 (Jan–June)
% of 2019 Total
1
CDI College⚜
1,551
71.0%
2
Canada College⚜
850
131.6%
3
Matrix College⚜
482
45.2%
4
Conestoga College
464
6.1%
5
Canadore College
313
13.1%
6
Cégep de la Gaspésie et des Îles⚜
310
35.5%
7
CDE College⚜
240
78.9%
8
Institut supérieur d'informatique⚜
239
36.0%
9
University Canada West
184
13.0%
10
St Clair College
180
3.5%
⚜ School has one or more locations in Quebec
Five of the top 10 schools for new Indian enrollment from January to June last year were Quebec private colleges, while another, Cégep de la Gaspésie et des Îles, is a public Quebec institution. As the table shows, these schools retained a much larger percentage of their Indian student intake in 2020 (64.0%) than the other schools in the top 10 (6.9%). 
Why is this? Private colleges typically have easier-to-meet admissions requirements than public colleges, and we may have seen a greater willingness among less competitive candidates to move ahead with their education despite the pandemic, with an eye to taking the first steps toward permanent residency. 
Focus May Shift to Western and Atlantic Canada
While Ontario and Quebec are the top targets, the rest of Canada remains attractive to Indian students.
British Columbia's growth has been slower, but it is still a popular destination, with a 17.7% share of the Indian student market in Canada over the first seven months of 2020. BC also saw a smaller drop in inbound students than every province except Quebec during the early stages of the pandemic. Alberta and Saskatchewan saw upwards of 100% growth between 2017 and 2019. Along with Manitoba, which saw more modest growth, these markets have long-term potential. 
Atlantic Canada was the hardest-hit region in Canada in terms of Indian student enrollment in the early stages of the pandemic. From January to July 2020, New Brunswick, Nova Scotia, Prince Edward Island (PEI), and Newfoundland and Labrador accounted for just 1.2% of study permit approvals for Indian students, down from 3.0% in 2019. But these provinces grew their approval numbers for Indian students by more than 200% between 2017 and 2019, and there's potential for further growth. 
Indian enrollment in Canada has undoubtedly been hit hard by the pandemic. However, I'm confident there will be a strong rebound in the market. I'll take another look at provincial trends in the Indian market once the rest of the 2020 data comes in.
Published: January 18, 2021
Subscribe to ApplyInsights
Sign up for the latest insights on international education.

---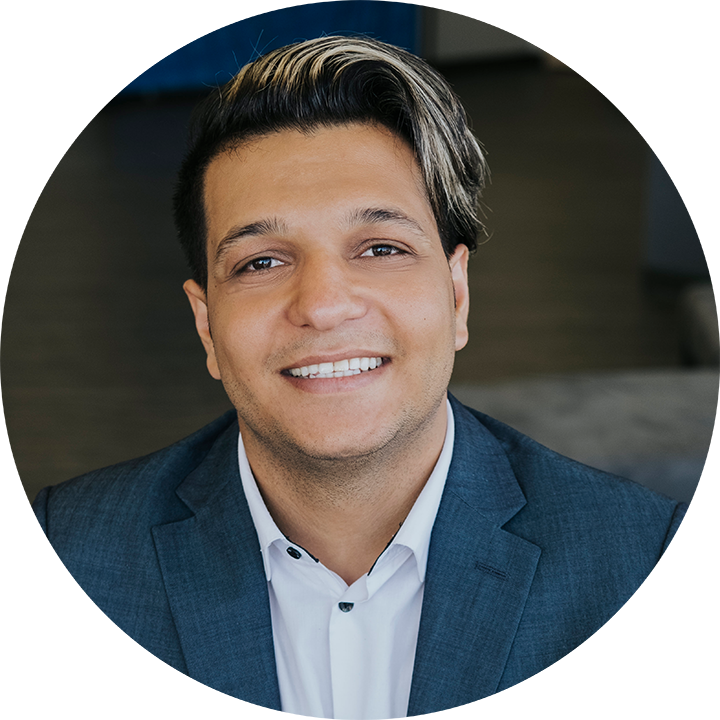 Meti Basiri
Co-Founder and Chief Marketing Officer (CMO)
Meti is driven by the belief that education is a right, not a privilege. In his role as Co-Founder and Chief Marketing Officer (CMO) at ApplyBoard, he leads the International Recruitment, Partner Relations, Sales Enablement, Sales Operations, and Marketing teams along a shared mission to educate the world. Meti has been instrumental in building partnerships with 1,200+ educational institutions across North America, the United Kingdom, and Australia. Working with over 4,000 international recruitment partners, ApplyBoard has assisted more than 120,000 students in their study abroad journey.
Meti was honoured in 2019 by Forbes, being named to three Top 30 Under 30 lists, including Education, Immigrants, and Big Money. Follow Meti on LinkedIn for more access to ApplyInsights and key industry trends.
---
FOOTNOTES:
1. All numbers for new permits only. Data courtesy of Immigration, Refugees and Citizenship Canada (IRCC).
2. More recent data not yet available.
3. The Northwest Territories and Nunavut have been omitted as they had zero approvals.
---