Last week, US Immigration and Customs Enforcement (ICE) released its annual SEVIS by the Numbers report. This report marks the first significant release of US government data on the international education industry in 2020. 
The number one takeaway? The COVID-19 pandemic drove a 72% decline in new international enrollment in the US versus 2019.1 This is in line with what we've seen in Canada, where new study permits issued fell 74% in 2020.2 Per SEVIS, US schools saw dramatic decreases during August and September, the primary months in which international students normally come onshore. New F-1 international student enrollment was 91% lower in August 2020 than August 2019. 
The decline in new enrollment led to a 18% drop in total international student enrollment in the US in 2020. 
Let's take a quick look at some other key points from the SEVIS data. 
State and Regional Trends in US Education, 2020
The map below shows the decline in overall international student enrollment in the US by census region: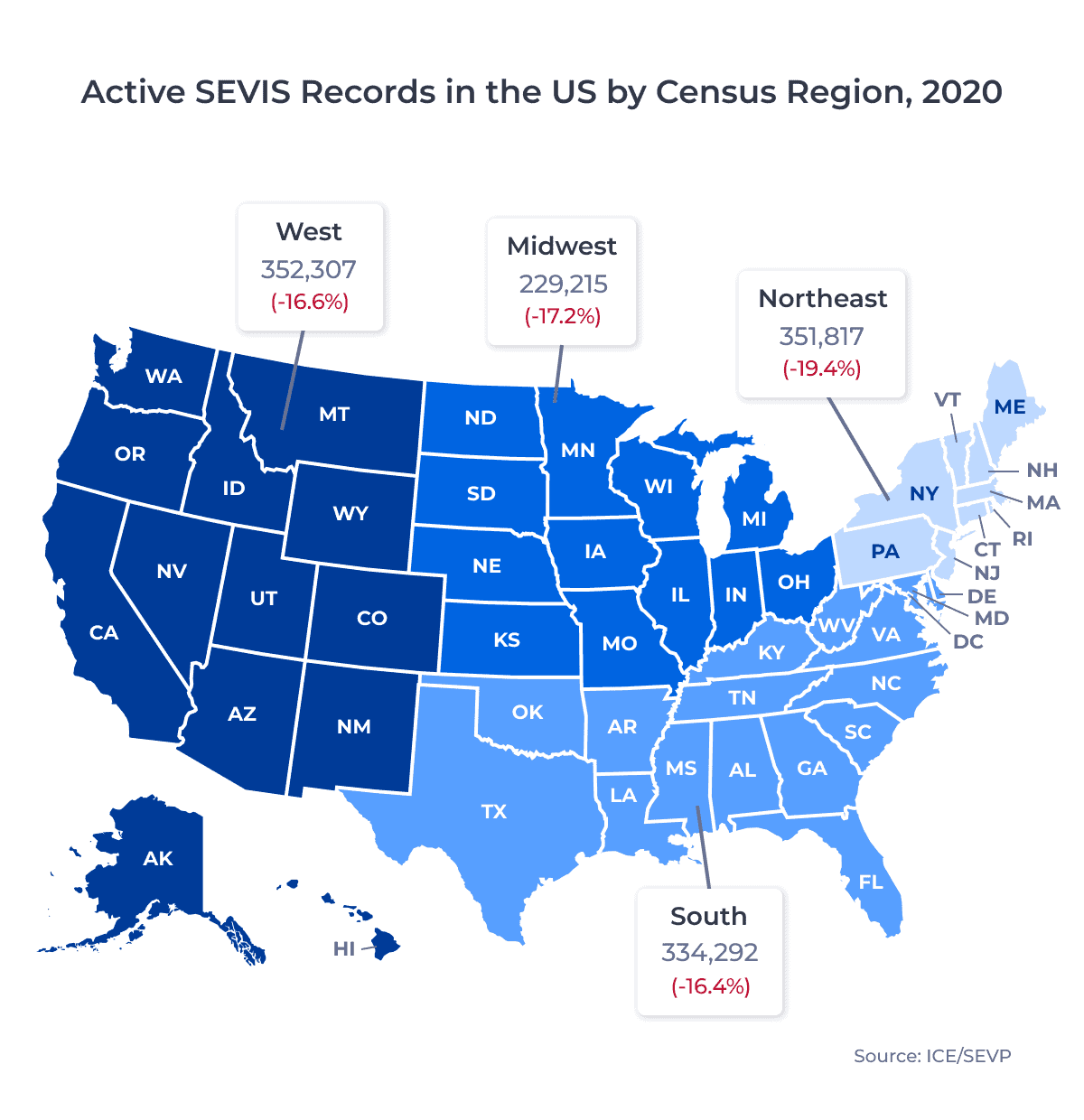 As an early epicenter of the pandemic in the US, the Northeast was the hardest hit, with enrollment falling 19.4% in 2020. But the remaining regions weren't far behind, with enrollment in the South, Midwest, and West all declining between 16.4% and 17.2%. This underscores that the pandemic and its effects on international education in the US are truly a national challenge. 
New York, the second most popular destination state for international students in the US, hosted 36,650 fewer students in 2020 than in 2019, a 20.9% drop. This was the second largest percentage decline among Northeast states after the tiny Vermont market, which fell 27.1%. 
The top destination in the South, Texas, hosted 13,332 fewer students in 2020 than 2019, a 13.5% drop. Florida, number two in the South, declined further, losing 13,696 students on net (15.9%). The District of Columbia saw the steepest drop on a percentage basis, falling 26.3%.
In the Midwest, Illinois, the region's top destination, lost 13,173 students in 2020, a decrease of 19.2%. Indiana also saw a 19.2% decline, the largest drop in the region. 
The West saw the largest decline in total number of international students in calendar year 2020, losing 91,770 students on net. More than two-thirds of this decline came from California, where enrollment fell by 67,466, or 22.9%. Hawaii saw the largest decrease on a percentage basis, down 26.2%.
Source Market Trends in US International Education, 2020
The chart below shows the top 10 source markets by total enrollment in 2020, as well as the change in the number of students year-over-year:
Top 10 US Source Markets by Active SEVIS Records, 2020

| Rank | Source Market | Active SEVIS Records, 2019 | Active SEVIS Records, 2020 | Change | % Change |
| --- | --- | --- | --- | --- | --- |
| 1 | China | 474,497 | 382,561 | -91,936 | -19.4% |
| 2 | India | 242,221 | 207,460 | -41,761 | -16.8% |
| 3 | South Korea | 84,071 | 68,217 | -15,854 | -18.9% |
| 4 | Saudi Arabia | 53,283 | 38,039 | -15,244 | -28.6% |
| 5 | Canada | 38,983 | 35,508 | -3,475 | -8.9% |
| 6 | Brazil | 41,233 | 34,892 | -6,341 | -15.4% |
| 7 | Vietnam | 36,815 | 32,507 | -4,308 | -11.7% |
| 8 | Taiwan | 32,000 | 26,391 | -5,609 | -17.5% |
| 9 | Japan | 37,196 | 26,299 | -10,879 | -29.3% |
| 10 | Mexico | 19,517 | 17,393 | -2,124 | -10.9% |
Chinese student enrollment at US schools fell by 19.4%, 1.5% worse than the average of 17.9%. This represented a loss of more than 90,000 students from the top source market for US international students, and it likely reflects the fact that China was the early global epicenter of the pandemic.
India's decline was slightly more modest, at 16.8%, 1.1% better than the average. However, this decline still represented a loss of more than 40,000 students. 
The United States' neighbours, Canada and Mexico, saw the smallest decreases among the top 10. Mexico's decline was 10.9%, while Canada's rate fell just 8.9%. Canada also passed Brazil to become the number five source market for international students in the US in 2020.
Why have the Canadian and Mexican markets been more resilient than others during the pandemic? We may be seeing a greater willingness among international students to make the shorter cross-border trip to the US from Canada or Mexico than from more distant source markets during this time of increased uncertainty.
Summary
The SEVIS numbers reinforce what we saw in the Fall 2020 Open Doors data release. The pandemic has exacerbated the challenges of the Trump era, when the then-president's divisive rhetoric and controversial immigration initiatives discouraged international students from coming to the US to study. 
As Melissa Korn at the Wall Street Journal notes, ongoing US consulate and embassy closures have made it difficult for students to acquire a visa to come to the US. As of March 1, just 43 of 233 consular posts were operating at full capacity, per the US Department of State. 
Despite this, there are some big reasons to be bullish on the US market, from rising vaccination rates, to positive perceptions of the Biden administration abroad, to the introduction of the US Citizenship Act in the House of Representatives last month. I'll be keeping a close eye on these indicators moving forward as the US and its competitors in the industry jockey for position in the post-pandemic world.
Published: March 26, 2021
Subscribe to ApplyInsights
Sign up for the latest insights on international education.

---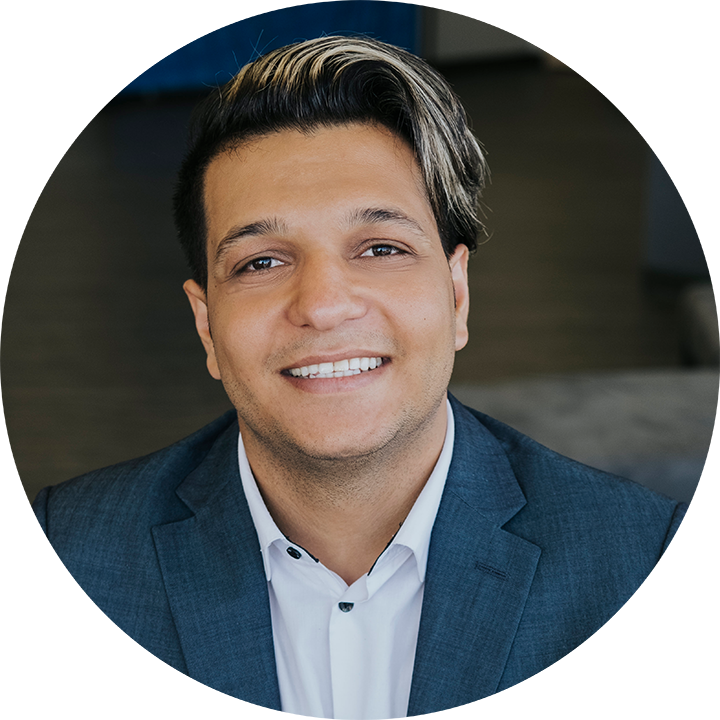 Meti Basiri
Co-Founder and Chief Marketing Officer (CMO)
Meti is driven by the belief that education is a right, not a privilege. He leads the International Recruitment, Partner Relations, and Marketing teams at ApplyBoard, working to make education accessible to people around the world. Meti has been instrumental in building partnerships with 1,500+ educational institutions across Canada, the United, the United Kingdom, and Australia. Working with over 5,000 international recruitment partners, ApplyBoard has assisted over 150,000 students in their study abroad journey. Follow Meti on LinkedIn for more access to ApplyInsights and key industry trends.
---
FOOTNOTES:
1. F-1 and M-1 students only. All data courtesy of the US Immigration and Customs Enforcement Student and Exchange Visitor Program (SEVP), unless otherwise noted.
2. Data from Immigration, Refugees and Citizenship Canada (IRCC).
---