ApplyInsights: New International Student Enrollment in the US Falls for Fourth Straight Year
Last month, the Institute of International Education (IIE), in conjunction with the US Department of State's Bureau of Educational and Cultural Affairs, released findings from the 2020 Open Doors Report on International Educational Exchange.
For today's ApplyInsights, I'm taking a look at some of the key points on new international student enrollment, which gives a helpful snapshot of the popularity of studying abroad at a specific point in time.
Here's what this blog post will cover: 
How new enrollment numbers for the 2019/20 academic year fit into the longer-term enrollment trend in US international education

A breakdown of 2019/20 new international student enrollment by academic level

The impact of the COVID-19 pandemic on new international student enrollment
We'll start with a look at the 2019/20 intake data.
New Enrollment Trends in the US
267,712 international students began their studies at US schools in the 2019/20 academic year. This represented a 0.6% drop in new international student enrollment from 2018/19.1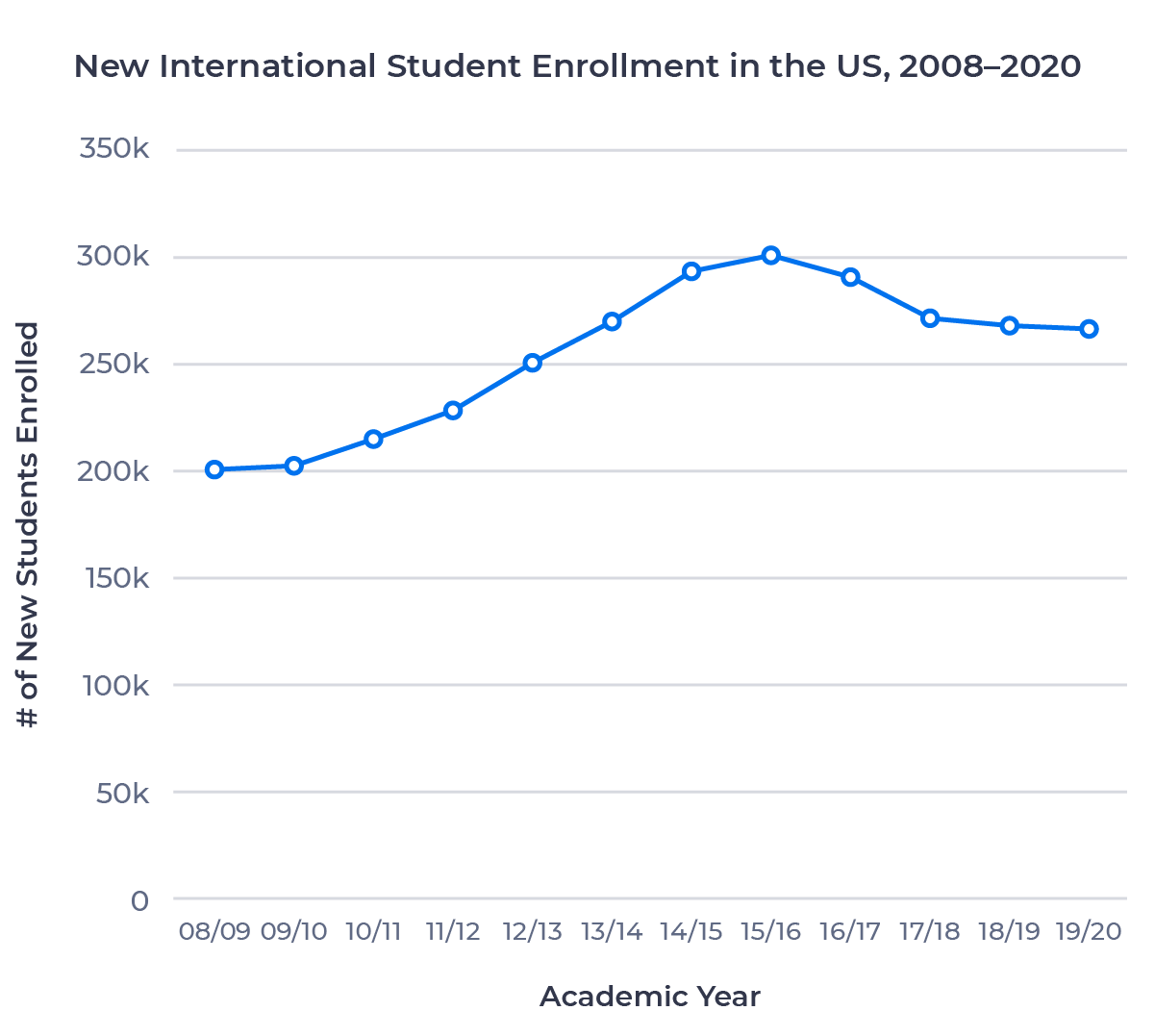 New enrollment for 2019/20 was down 11.0% from its 2015/16 peak as 2019/20 marked the fourth straight year in which international student intake declined. It's a trend that began in the final year under the Obama administration after Brazil and Saudi Arabia curtailed popular scholarship programs and accelerated under President Trump. Experts have cited a combination of President Trump's rhetoric and immigration initiatives as deterring students, particularly early in his presidency. 
Saudi Arabia's King Abdullah Scholarship Program drove an 18-fold increase in Saudi Arabian students in the US between the 2005/06 and 2015/16 academic years, but changes to eligibility criteria cut enrollment to half those numbers by 2019/20. 
New Enrollment in the US by Academic Level
Looking at the data by academic level, we see divergent trends among undergraduate, graduate, and non-degree programs.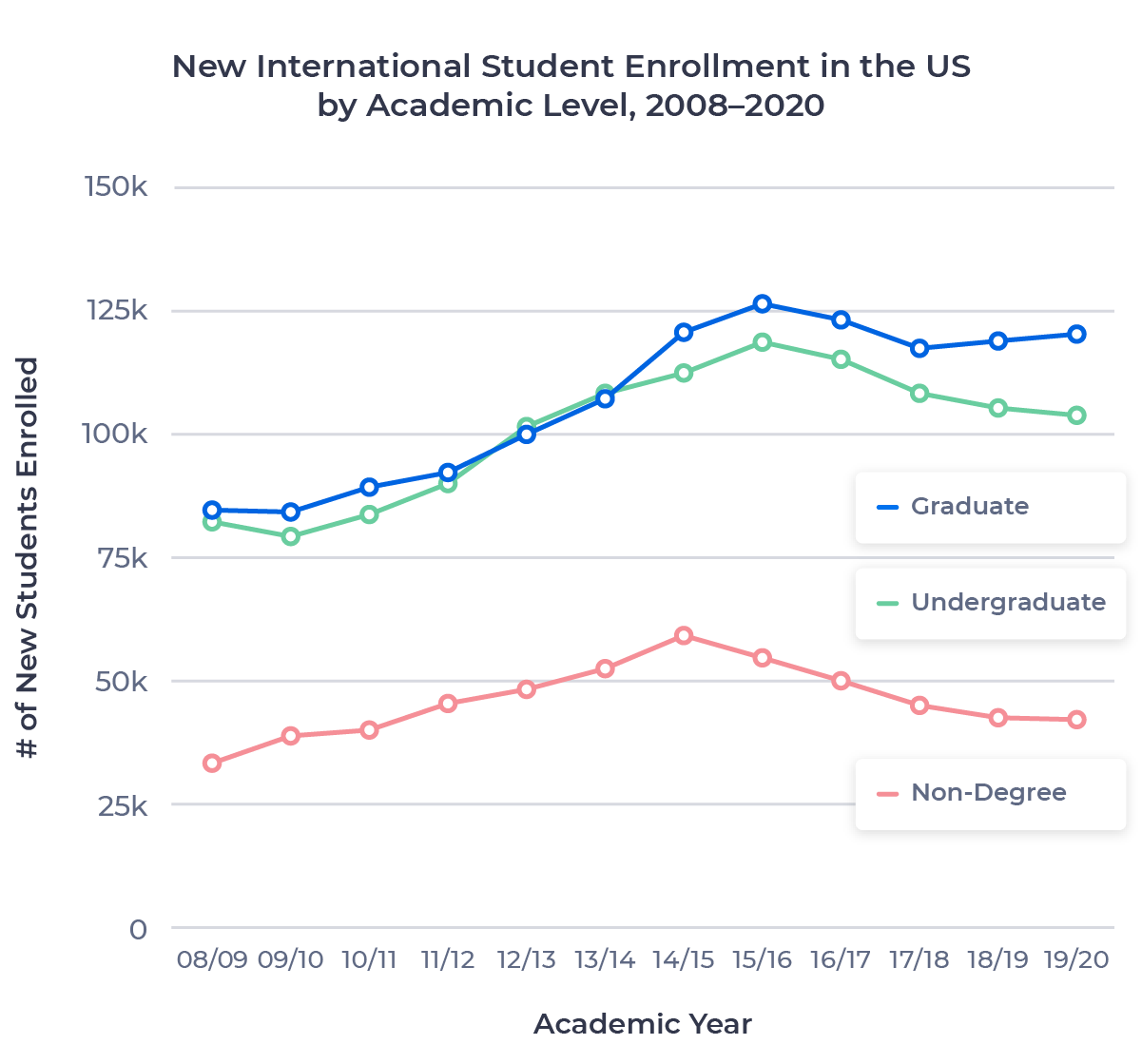 Graduate student intake increased in 2019/20 for the second year in a row, up 0.4% on the heels of 1.6% growth in 2018/19. Graduate studies remain the most resilient sector in the face of the challenging political climate, showing that students from across the globe continue to put a premium on getting a graduate education from a US institution. In contrast, undergraduate intake numbers slipped 1.8%, slightly worse than the 1.5% decline we saw in 2018/19. New non-degree enrollment declined 0.5%, levelling off after four straight years of more than 5% slippage.  
Since 2015/16, new international student enrollment is down 4.9% for graduate school and 12.0% for undergraduate studies. New non-degree program enrollment is down 22.7% since 2015/16 and 28.5% since its peak in 2014/15.
COVID-19 Impact on New Enrollment in the US
Let's turn to the Fall 2020 numbers. Many incoming students took advantage of the shift toward online learning during the COVID-19 pandemic. A full 51% of international students who began their studies in Fall 2020 did so online from outside the US.
Even including students who began their studies online from outside the US, new international student enrollment at US schools decreased 43% in Fall 2020. 
Many of the students who didn't show up did indicate ongoing interest in studying in the US. 90% of the institutions surveyed by Open Doors reported international student deferrals in Fall 2020. Almost 40,000 international students deferred their Fall 2020 enrollment to a future term. 
Students who did move forward with their study plans have been helped by a series of services schools put in place during this difficult time. 68% of the institutions Open Doors surveyed reported having adapted advising or student services for online international students, and 49% indicated they had adapted course schedules and online teaching methods for online international students. These accommodations were among those surfaced in our August survey of international recruitment agents as ways to make online education a more attractive option for students.
Looking Forward
Students and educators have responded with optimism to the election of President-elect Joe Biden, who has been a vocal critic of President Trump's immigration and education policies. However, the US government's struggle to contain the COVID-19 pandemic has placed it in a difficult position relative to other major study abroad markets. Canada, Australia, and the UK all rated higher than the US in our recruitment agent survey for students' perceived safety in or travelling to those countries. We've also seen application numbers to Canada, Australia, and the UK rebound more strongly on the ApplyBoard Platform than US numbers over the past few months.
Ultimately, a government that is more favourable to international education is a critical first step in reversing the trend in declining international student enrollment in the US. But returning to 2015/16 levels of enrollment will require not only a reversal of many Trump-era policies, but also further inducements to students to compete with other top study abroad destinations. 
Some good news came earlier this week when a federal district court judge announced he plans to rule against the plaintiffs in a lawsuit aimed at preventing international students from working in the US as part of the Optional Practical Training (OPT) program. Almost 225,000 individuals participated in the OPT in 2019/20, which allows international students to work for up to 12 months during or after completing their studies in a field directly related to their area of study.2 The ruling will provide certainty for international students looking for post-graduation work in the United States, helping the country compete with generous programs in Australia and Canada.
Subscribe to ApplyInsights
Sign up for the latest insights on international education.

---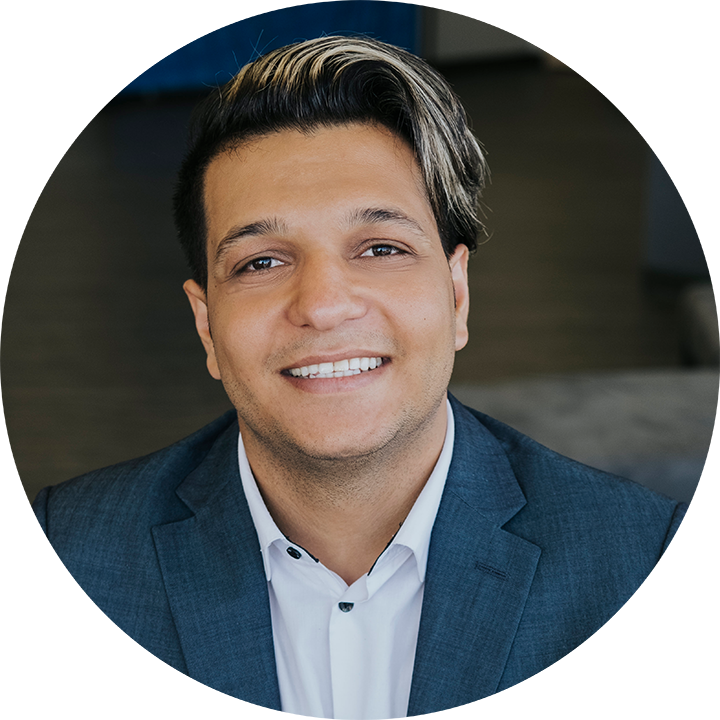 Meti Basiri
Co-Founder and Chief Marketing Officer (CMO)
Meti is driven by the belief that education is a right, not a privilege. In his role as Co-Founder and Chief Marketing Officer (CMO) at ApplyBoard, he leads the International Recruitment, Partner Relations, Sales Enablement, Sales Operations, and Marketing teams along a shared mission to educate the world. Meti has been instrumental in building partnerships with 1,200+ educational institutions across North America, the United Kingdom, and Australia. Working with over 4,000 international recruitment partners, ApplyBoard has assisted more than 120,000 students in their study abroad journey.
Meti was honoured in 2019 by Forbes, being named to three Top 30 Under 30 lists, including Education, Immigrants, and Big Money. Follow Meti on LinkedIn for more access to ApplyInsights and key industry trends.
---
FOOTNOTES:
1. All data courtesy of the Institute of International Education (IIE). 
2. Science, technology, engineering, and math (STEM) graduates may apply for an additional 24-month extension.
---