International students have many reasons for embarking on study abroad journeys. Some hope to advance their careers, while others aim to permanently emigrate. Though many students aim to complete a specific program, it is increasingly common for students to complete multiple programs and study levels abroad. This is especially true for tertiary students in Australia, many of whom complete VET and higher ed studies.
In this ApplyInsights, I'll be analyzing international student journey trends in Australia over the past three years.1 I'll take a look at how many students moved from one study level to another within Australia after graduation. I'll also detail the importance of the ELICOS2 sector on tertiary education, and I'll give my thoughts on how student journeys may continue to shift post-pandemic.
Key Insights at a Glance
More international students are extending their study abroad journeys to include more than one study level or qualification.
Nearly 70% of all first-time3 international VET students completed an ELICOS or higher ed program before VET enrollment in 2020.
Student journeys that include both VET and higher ed programs are becoming more popular, though the weakened ELICOS sector may impact future tertiary sector growth.
Let's start by looking at the education journeys of international students who complete high school in Australia.
Check out the Australia 101 posts on the ApplyBoard Blog for more information about the Australian education system and the Australia student visa system.
Post-Secondary School Trends
Between 2018 and 2020, nearly 20,000 international students graduated from Australian high schools. This was comparable to the number of international high school graduates from the prior three-year period, with 0.7% fewer graduates in 2018–2020 versus 2015–2017. However, the number of new international high school graduates fell at the beginning of the pandemic. While about 6,400 international students completed high school in Australia in 2018, only 4,500 did so in 2020, a difference of -29.3%.
Not only did the number of graduates decline, but post-secondary school progressions shifted considerably. The charts below show the percentage of international high school graduates who secured visas for tertiary education programs in 2018 and 2020: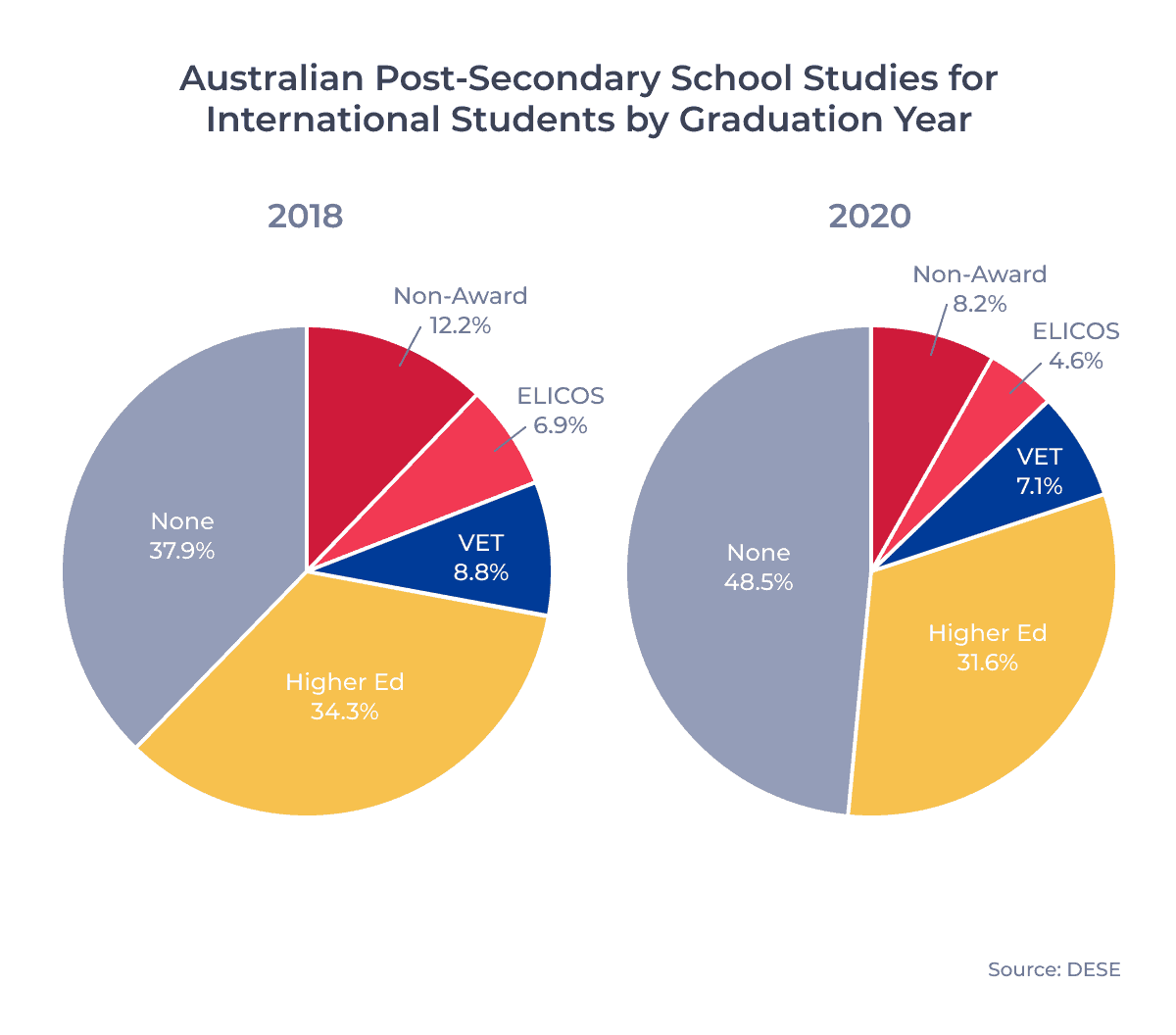 Surprisingly, fewer international high school graduates pursued tertiary education in Australia in 2020 compared to 2018. This means that more students concluded their high school studies and decided either to move into the workforce (by securing a work visa) or return to their home country.
The decrease in the number of students continuing Australian studies beyond high school was felt across all tertiary sectors. But it affected the non-award and ELICOS sectors most significantly. For these two sectors, the number of post-school visas granted to international students fell by 52.6% from 2018 to 2020. By comparison, the number of post-school students awarded visas for VET and higher ed institutions dropped by 36.4% over the same period.
It's likely that many international students did not continue their education in Australia in 2020 due to the pandemic. However, this move away from Australian tertiary education after high school began in 2017. I'll be interested to see if this trend continues post-pandemic, or if students will be more inclined to prolong their study abroad journeys after travel restrictions are lifted.
First-Time VET International Student Trends
While the number of international high school graduates awarded VET visas declined between 2018 and 2020, overall continuing international student visa numbers boomed. In 2018, around 46% of all international, first-time VET students had completed other studies in Australia. By 2020, this rate had jumped to 69%.
The circle charts below show the percentage of new VET visas granted to international students who had not previously completed any VET studies based on prior program completion in Australia: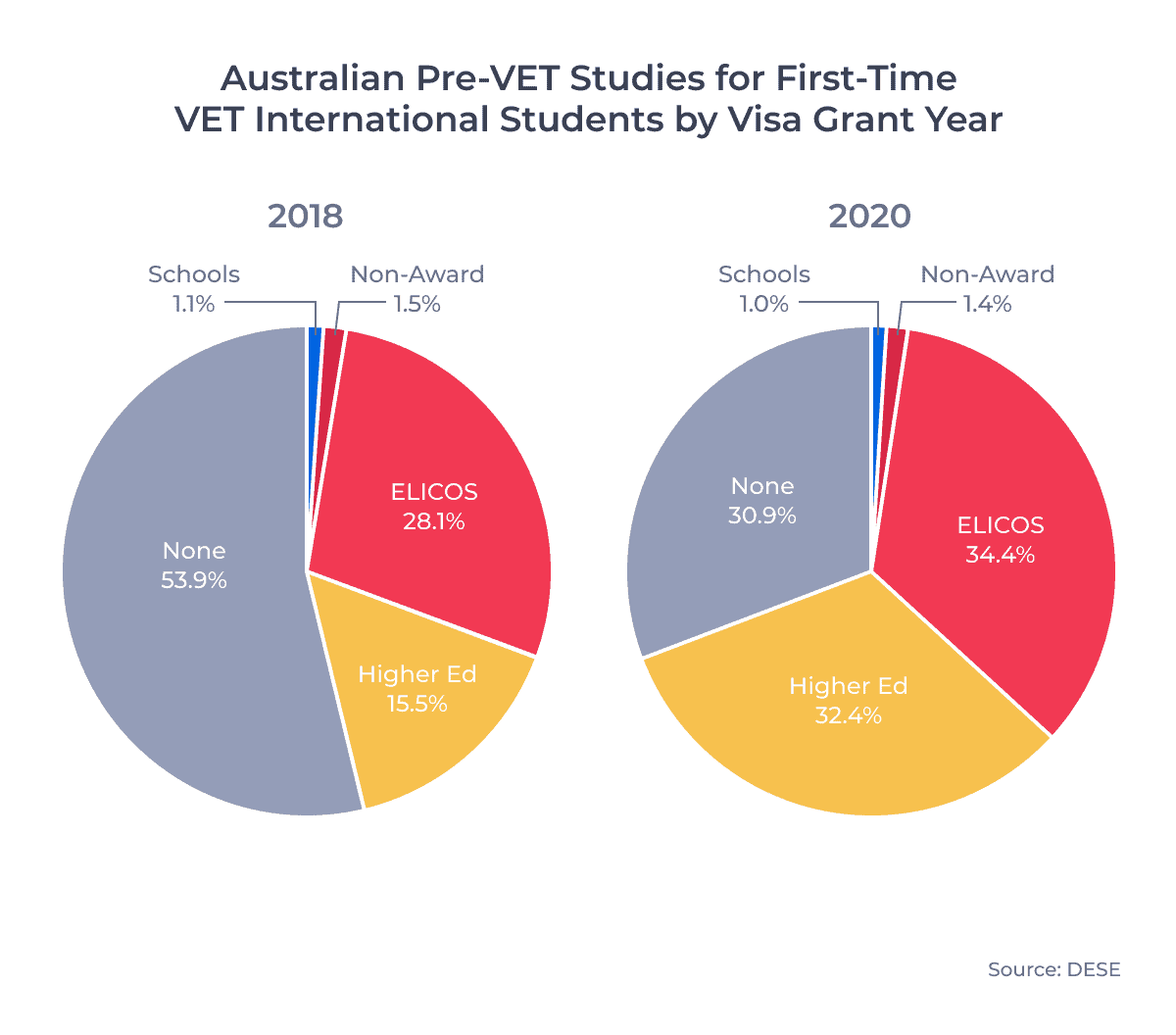 International students who previously completed ELICOS and higher ed programs accounted for 43.6% of new international VET visas in 2018. But in 2020, the number of international students continuing from both sectors exploded, accounting for a combined total of 66.8%.
From 2018 to 2020, the number of commencing, first-time international VET students fell by 7.7%. Yet the number of continuing international students granted VET visas for the first time rose by 38.2% over the same period, rising from 32,300 to 44,700. This indicates that while the VET sector experienced a minor decline, largely due to COVID restrictions in 2020, international students were more interested than ever in Australian VET studies.
I was particularly interested to see the drastic change in the number of higher ed graduates granted visas for VET studies between 2018 and 2020. 92.5% more international students were granted VET visas after completing higher ed studies in Australia in 2020 than in 2018. Post-pandemic, I expect that this higher ed to VET path will remain popular as students aim to develop the skills needed to be eligible for Australian skilled occupation visas.
First-Time Higher Ed International Student Trends
Unlike VET studies, the number of international higher ed students continuing from other study levels declined from 2018 to 2020. In 2018, over 50,000 international students were granted first-time higher ed visas after completing other studies in Australia. By comparison, only 42,000 students took this same study path in 2020. However, the total number of first-time higher ed visas also fell by 26.5% from 2018 to 2020. This means that the market share of continuing students, compared to new students, actually increased by 5% over the same period.
The following circle charts show the percentage of new higher ed visas granted to international students who had not previously completed any higher ed studies based on prior program completion in Australia: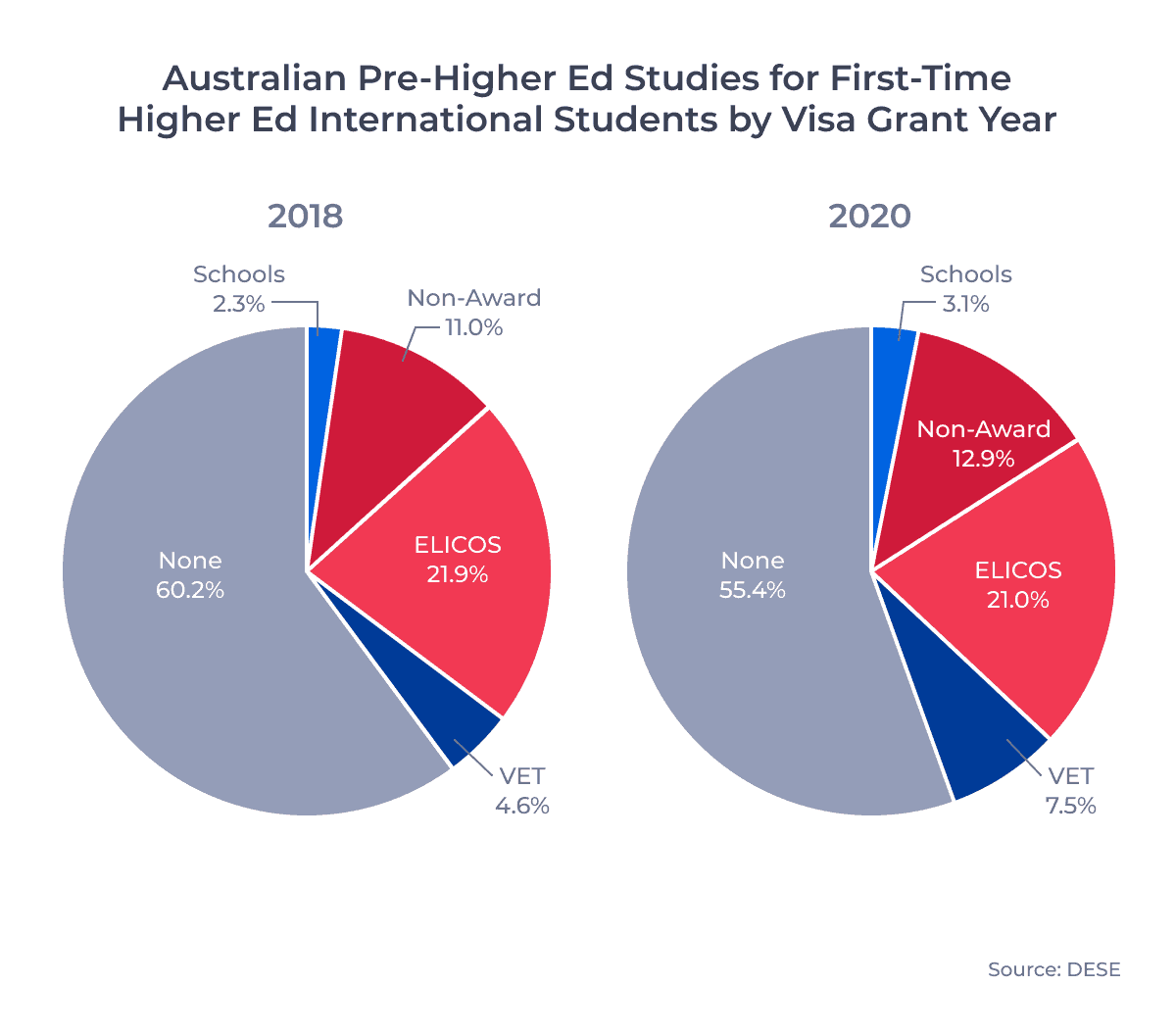 International students who previously completed studies in Australia accounted for 39.8% of all first-time higher ed visas in 2018. In 2020, this same group accounted for 44.6% of first-time higher ed visas.
The popularity of most pre-higher ed studies remained stable between 2018 and 2020. But the share of international students who completed VET studies before being granted a higher ed visa increased by nearly 3% over the same period. This represented a 20% increase in the total number of students following the VET to higher ed progression.
This fact, coupled with the rise in higher ed graduates pursuing VET studies, may demonstrate that students are looking for both theoretical and practical experience in their chosen industry before they enter the workforce. It could also show that international students feel that more than one qualification is necessary to be successful in their chosen field, whether in Australia or in their home country.
I anticipate that the share of students extending their study abroad journey to include multiple qualifications will continue to increase in 2021 and beyond. Students are more concerned about post-graduation employment than ever before, and developing diverse and specialized skills can help students be more attractive employees as they enter the workforce.
The Importance of Language Studies to Australia's International Ed Sector
Australia's ELICOS sector has suffered some of the largest enrollment declines because of COVID-19. Prolonged travel restrictions have made it difficult for students to begin ELICOS courses or studies. ELICOS students are often looking for real-world exposure to the language they are learning, and so online studies are less appealing to this group.
But it's important to note that the ELICOS students are almost always starting a longer study abroad journey. International students unable to meet English language proficiency requirements are required to complete an ELICOS course before they enroll at a VET or higher ed institution. It's no surprise then that the ELICOS sector has provided more continuing international students to VET and higher ed institutions than any other education sector. The chart below shows the rate at which ELICOS graduates continued on to VET or higher ed studies between 2016 and 2020:
In 2020, 57% of all ELICOS graduates went on to receive visas for VET and higher ed studies. In the same year, ELICOS graduates accounted for 21% of all first-time higher ed visas and 34% of all first-time VET visas. Since 2016, over a quarter of a million international students have progressed from ELICOS studies to other tertiary studies in Australia. However, the pandemic has had a major impact on the sector. There were 30% less ELICOS graduates in 2020 than in 2019, and new ELICOS enrollments fell to a 14-year low.
I expect that the speed of post-pandemic recovery for Australia's ELICOS sector will have a substantial impact on the recovery timeline for all tertiary institutions in Australia.
Looking Forward
As I've discussed in a previous blog post, source market diversity is going to be key for recovery and growth in Australia's tertiary education sector. The Australian government is moving towards approving state student pilot initiatives, but some concerns remain that these efforts will only target certain markets. These initiatives have also been impacted by the Australian government's new four-phase strategy to ease Australia out of COVID restrictions, which has capped international arrivals.
Despite these challenges, Australia remains a top study abroad destination for many international students. The Australian 2021 QS International Student Survey showed that 87% of students interested in studying in Australia thought the Australian government has handled the COVID-19 pandemic very or fairly well. It also revealed that 85% of prospective international students are willing to quarantine, when they can get to Australia.
I'll be interested to see how quickly international students react once they can travel to Australia again. 2021 may be another difficult year for international education in Australia, but 2022 could finally be the bright light at the end of the tunnel.
Published: July 14, 2021
Subscribe to ApplyInsights
Sign up for the latest insights on international education.

---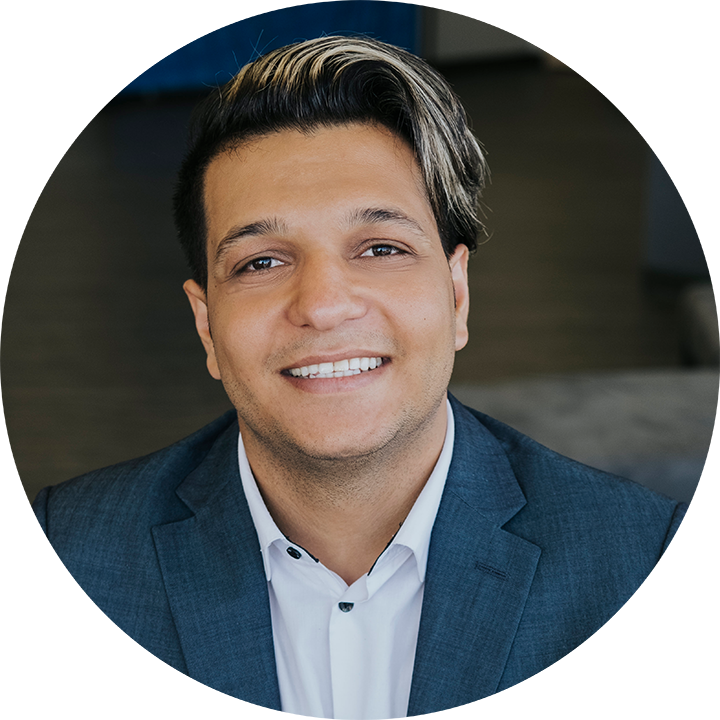 Meti Basiri
Co-Founder and Chief Marketing Officer (CMO)
Meti is driven by the belief that education is a right, not a privilege. He leads the International Recruitment, Partner Relations, and Marketing teams at ApplyBoard, working to make education accessible to people around the world. Meti has been instrumental in building partnerships with 1,500+ educational institutions across Canada, the United States, the United Kingdom, and Australia. Working with over 5,000 international recruitment partners, ApplyBoard has assisted over 150,000 students in their study abroad journey. Follow Meti on LinkedIn for more access to ApplyInsights and key industry trends.
---
FOOTNOTES:
1. All data courtesy of the Australian Department of Education, Skills, and Employment (DESE) and based on subclass 500 student visa statistics, unless otherwise noted.
2. English Language Intensive Courses for Overseas Students
3. First-time is used throughout this article to indicate a student that has not previously enrolled in or completed any courses at that level of study. For example, a first-time VET student would be a student who had not previously enrolled in or completed any VET courses or programs.
---