ApplyInsights: Francophone Recruitment from Africa Ready to Boom
Canada holds a unique place as a top study abroad destination for English-speaking and French-speaking students. Institutions across Canada offer French-language instruction, attracting students from source markets that are largely inaccessible to institutions in the UK, the US, or Australia. These francophone (or multilingual) students benefit from world-class education opportunities, and their ability to speak French can be a major employment skill for immigrants looking to pursue permanent residency (PR) after graduation.
In today's ApplyInsights, I'll be focusing on key emerging markets that present strong recruitment opportunities for Canadian French-language institutions. Specifically, I'll be taking a closer look at five African markets which are poised for substantial growth in the next ten years. I'll take a look at student visa1 trends for those markets over the last five years, and I'll give my thoughts on how French-language institutions can recruit more African francophones.
Key Insights at a Glance
Algeria, Morocco, Cameroon, Tunisia, Côte D'Ivoire, and the Democratic Republic of the Congo are poised to become key growth markets for Canadian French-language institutions.
Study permit approvals for students from these five countries grew by 75 to 180% from 2016 to 2019.
The number of vacant jobs that require trade or apprenticeship certification grew by 175% from 2015 to mid-2021, hitting nearly 80,000.
Rising middle class and young adult2 populations will look to study abroad to pursue permanent residency (PR) pathways, including post-graduation work permits.
Throughout this article, I'll be using the term "emerging markets" to describe student source markets that have high growth potential and smaller student populations3 in Canada. Let's dive right in with a closer look at the top emerging markets in Africa with large francophone populations.
Francophone Source Markets for Canadian Institutions
France has always been the top source market for francophone students in Canada. In 2020, there were nearly 20,000 French nationals studying at Canadian institutions, which made France the fourth-largest source market for international students. This demonstrates the strength of Canada's French-language education system and the importance of francophone students for the Canadian international education sector.
France is likely to remain a strong source market for years to come. However, France's population is expected to remain fairly stable over the next ten years,4 and France has a well-established domestic education system. This means that the recruitment pool from France is limited and that French students are more likely to study in France than study abroad.
Top Emerging Francophone Markets
Canadian French-language institutions looking to diversify their student population and grow post-pandemic need to look beyond France. Specifically, these institutions should look towards Africa as a key source for international students. From 2016 to 2019, the number of new Canadian study permits approved for African students doubled, hitting nearly 20,000.
Much of this growth came from African francophone countries. For example, Algerian students accounted for 4.3% of approved study permits for African citizens in 2016. In 2020, 12.5% of new study permits approved for African students went to Algerian nationals. When we look at study permit application volumes, the numbers are even more impressive. From 2016 to 2020, the number of Algerian students applying for Canadian study permits increased by almost 400%.
Find out more about study permit trends for Algerian students and how Canadian institutions can recruit from this growing market.
But Algeria is not the only African country with a large francophone population that Canadian institutions should be recruiting from. Beyond Algeria, there are five francophone source markets in Africa that show clear signs of strong future growth:
In the past 20 years, the number of students in Canada from Morocco, Cameroon, Tunisia, the DRC, and Côte D'Ivoire increased by over 250%. In 2000, there were just over 3,700 study permit holders in Canada from these five countries. By 2010, this student population had almost reached 5,000. And from 2010 to 2020, the number of study permit holders from these countries boomed to over 13,000.
While the number of study permit holders from each of these countries remained strong in spite of the pandemic, new study permit approvals declined: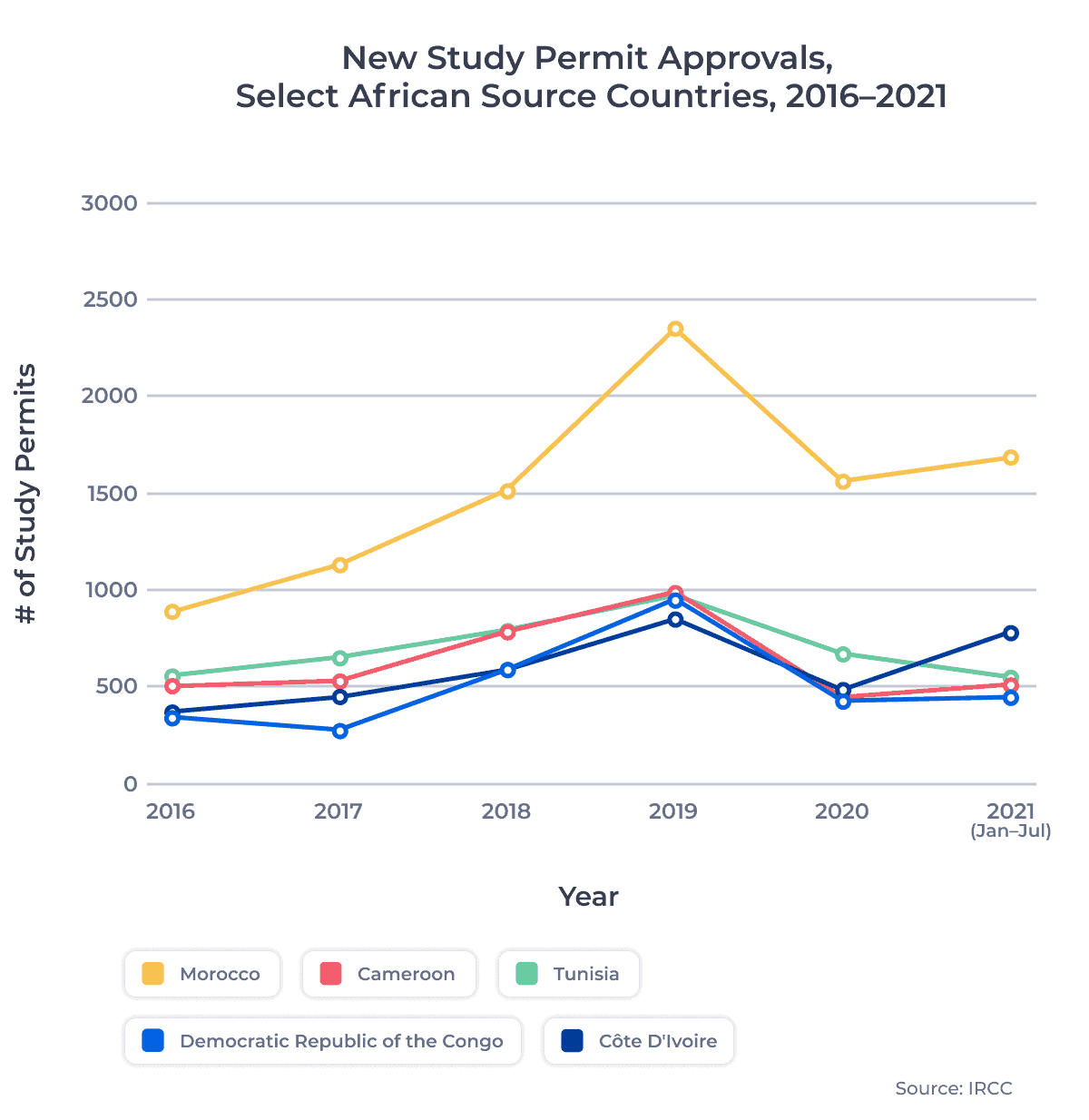 Approved study permits for students from Morocco, Cameroon, Tunisia, the DRC, and Côte D'Ivoire spiked pre-pandemic. From 2016 to 2019, study permit approvals for Moroccan students rose by 160%, while approvals for students from the DRC grew by 250%. Student populations from Côte D'Ivoire and Cameroon also rapidly expanded, with twice as many students approved for study permits in 2019 as in 2016. By comparison, the Tunisian market experienced the most limited approval growth at only 75%.
All five markets experienced pandemic-related declines in 2020, ranging from 30% (Tunisia) to 55% (Cameroon and DRC). The good news? The decline among these five markets (41%) was much less than the all-market decline (56%). And there are strong signs of recovery in 2021, with nearly 4,000 study permits approved for students from these emerging markets by July 2021, outpacing full-year 2020 by 11%.
Let's take a closer look at study level trends and popular provincial destinations for students from each of these emerging markets.

Moroccan students are largely interested in Canadian university studies. From January to July 2021, 47% of Moroccans approved for a new study permit applied for university study, while 22% applied for college. Unsurprisingly, most of these Moroccan nationals applied to study at Quebec-based institutions (73%).

Like Morocco, Côte D'Ivoire is predominantly a university market. By mid 2021, 70% of approved permits for students from Côte D'Ivoire were for university programs, mostly at Quebec-based institutions. However, the top Canadian university for Côte D'Ivoire nationals since 2017 has been the bilingual University of Ottawa, in Ontario.

The Tunisian student population in Canada includes more families with children than other emerging francophone markets. In early 2021, university students accounted for 48% of new permit approvals, while primary & secondary students accounted for 21%. Over the past five years, nearly 90% of all approved Tunisian students applied to institutions in Quebec.

Among francophone emerging markets, Cameroon is a uniquely graduate student market. One in every three Cameroonian students approved for a study permit in early 2021 applied for Master's or doctoral degrees. Surprisingly, more Cameroonian students were approved for college programs in Ontario than in Quebec in early 2021, though Quebec was the most popular destination overall.
University studies accounted for two-thirds of all study permits approved for DRC nationals in early 2021. However, while Quebec is the primary destination for most francophone student populations, Ontario has been the most popular province for DRC students since 2018. These Congolese students are not applying for English-language studies, though: top Ontario destinations Laurentian University and the University of Ottawa are both fully bilingual.
Young Adult Populations in Africa on the Rise
As I've outlined above, most African francophone students come to Canada for post-secondary education. Many of these African francophone students are drawn to Canada by the low cost of living and by strong permanent residency (PR) pathways such as Canada's Post-Graduation Work Permit Program (PGWPP). Quebec-based institutions are especially attractive for students from price-conscious African markets.
Many francophone students can avoid paying international student fees at schools in Quebec, and career programs at Quebec-based private colleges are PGWP-eligible.
For Canadian French-language institutions in Quebec and elsewhere, there is huge potential to recruit from the booming African market. In 2019, over 40% of the world's 300 million French speakers lived in Sub-Saharan Africa.5 It's also been estimated that, by 2050, 85% of all francophones will live in Africa. It's clear that the future of French will be driven by the growth of francophone populations in Africa.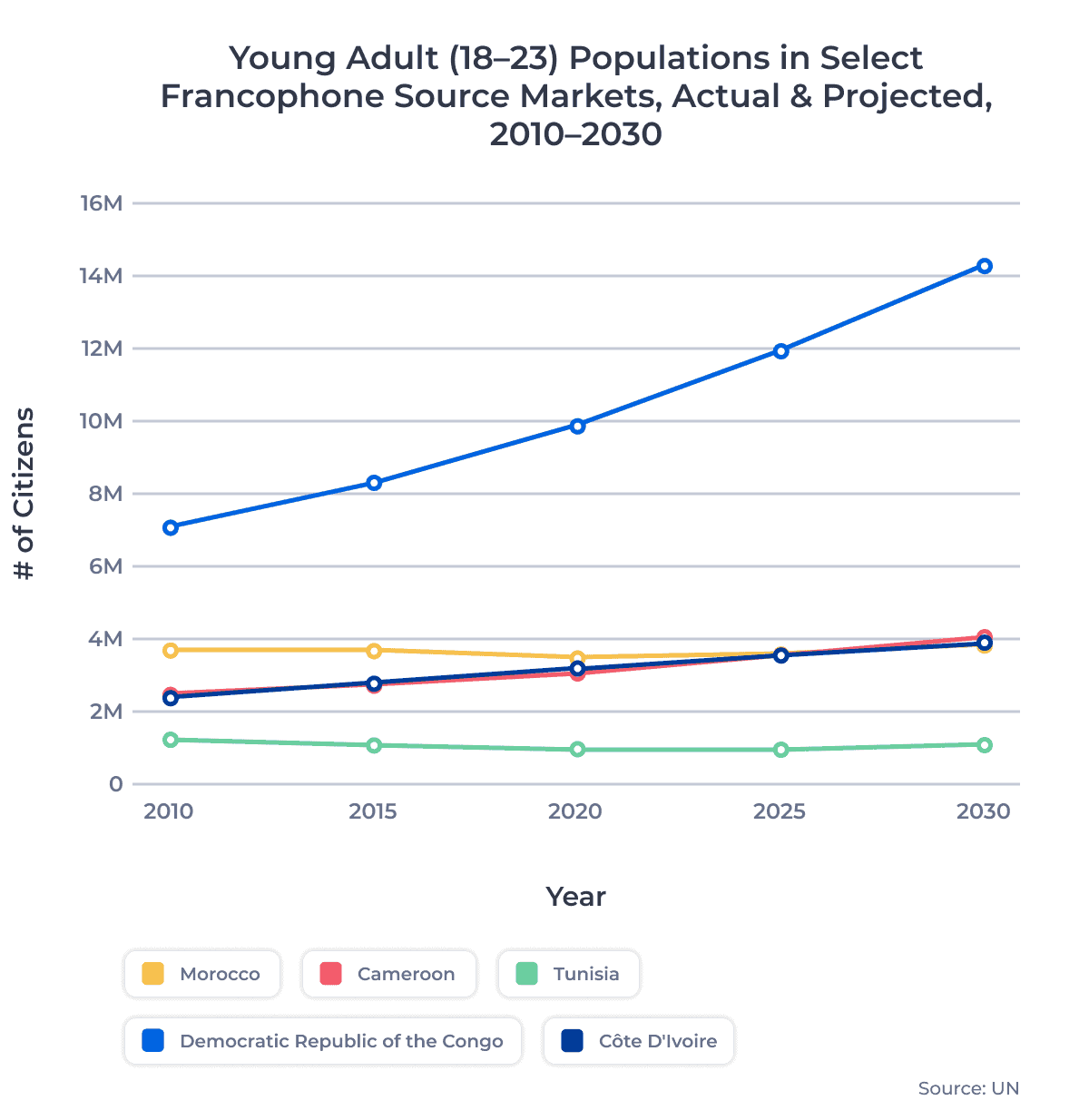 Among the emerging markets I've discussed in this article, the DRC is poised for the most explosive growth in their young adult population. The DRC is expected to experience the second-largest population boom in Africa from 2020 to 2030, surpassed only by Nigeria's massive growth.6 Young adult populations in Côte D'Ivoire and Cameroon are also projected to rise over the next ten years, while the number of young adults in Morocco and Tunisia is forecast to remain stable.
Recruitment Plans Should Include Local Partners
Booming populations in francophone Africa will present strong recruitment opportunities for Canadian French-language institutions in the years to come. However, Canadian schools will face a stiff challenge from French institutions when it comes to recruiting African francophone students. French institutions have benefited from a renewed commitment from the French government to support and develop higher education cooperation between France and African nations.
I believe Canadian institutions can still achieve strong recruitment from these growing markets through local recruitment partner networks. While more Africans are gaining reliable access to the internet year by year, establishing a physical presence is more important than digital campaigns for immediate impact.
Here's my advice for Canadian bilingual and francophone institutions looking to recruit from these emerging African markets:
Canadian French-language schools outside of Quebec should connect students to in-demand careers in their local communities, especially those that require multilingual individuals.
Quebec-based institutions should leverage low international tuition fees and enhanced PGWP eligibility to attract African francophone students.
All French-language institutions should promote Canada's strong PR pathways, including the PGWPP, to encourage African students to consider immigrating to Canada permanently post-graduation.
Published: October 27, 2021
Subscribe to ApplyInsights
Sign up for the latest insights on international education.

---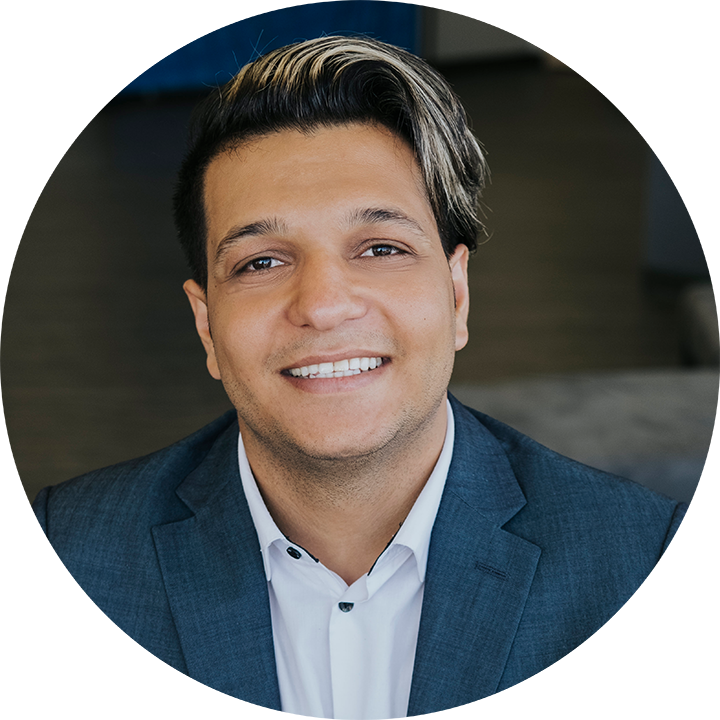 Meti Basiri
Co-Founder and Chief Marketing Officer (CMO)
Meti is driven by the belief that education is a right, not a privilege. He leads the International Recruitment, Partner Relations, and Marketing teams at ApplyBoard, working to make education accessible to people around the world. Meti has been instrumental in building partnerships with 1,500+ educational institutions across Canada, the United States, the United Kingdom, and Australia. Working with over 7,500 international recruitment partners, ApplyBoard has assisted more than 200,000 students in their study abroad journey. Follow Meti on LinkedIn for more access to ApplyInsights and key industry trends.
---
FOOTNOTES:
1. The terms student visa and study permit are generally used interchangeably for Canadian international students. Rather than student visas, Canada provides accepted international students with study permits, which allow those students to enroll in classes at Canadian institutions. When a student is accepted for a study permit, they are also usually provided with a visitor visa, which allows that student to enter Canada for their studies. Study permit data provided courtesy of Immigration, Refugees and Citizenship Canada (IRCC), except where noted.
2. For the purposes of this article, "young adult" is used to mean Individuals aged 18 to 23.
3. Less than 5,000 study permit holders in a given year.
4. According to calculations and estimations presented in the UN Population Prospects 2019.
5. According to the International Organisation of La Francophonie and ODSEF.
6. According to calculations and estimations presented in the UN Population Prospects 2019.
---