Happy New Year, ApplyInsights readers! After a year of unprecedented challenges in international education and inspiring resilience from stakeholders across the industry, it's time to turn the page to 2021. In today's article, I want to talk about what's in store for the industry this year and beyond.
As I mentioned in my review of our top insights of 2020, the COVID-19 pandemic is primed to once again be the top story in international education in 2021. We saw prospective international students respond to the pandemic in three different ways:
Proceed with their international education plans from their home country by beginning online courses at their chosen school

Enroll at an institution in their home country instead

Defer their study plans to begin their study abroad journey post-pandemic
At ApplyBoard, we saw a spike in applications submitted on our platform last fall for the January 2021 intake following the slowdown during the initial stages of the pandemic. We've seen strong early numbers for the September 2021 intake as well. 
International Education Post-Pandemic
Even so, from speaking with our recruitment partners, I know that the majority of students are waiting until in-person classes resume to commit to their study abroad journey. Our August 2020 recruitment partner survey confirmed this. 
60% of survey respondents said that the students they were working with who chose to defer their decision to study abroad did so because they prefer learning in-person. 70% heard from students who expressed a preference for learning in person even as they began courses online.
Whether it's in September 2021 or sometime in 2022, look for a boom in international enrollment once in-person classes return as the dam breaks and this build-up of students spills into schools across the big six English-language markets.1 This "double cohort" of students should provide schools able to meet the spike in demand with an opportunity to recover some revenue lost during the pandemic. 
With so many students who might otherwise have gone abroad electing to stay in their home country for undergraduate studies, I expect we'll also see a jump in master's degree and other post-graduate program enrollment two to three years from now. These students have a demonstrated interest in international education, but will likely look to finish up their current degree program first.
Student Experience Growing in Importance
It's important to keep in mind that any post-pandemic boom and post-graduate "echo" that follows will likely be temporary. I expect we'll see some residual effects as students who are unable to get accepted during the initial rush apply again for later intakes. However, I anticipate annual growth industry-wide settling back in around the 10% mark we've seen over the past few years. 
For schools looking to continue to grow their international enrollment, this will mean a heated competition for students.
One way for schools to remain competitive is to continue to invest in the student experience. It's something we've seen come to the forefront during the pandemic. 
In a Fall 2020 survey, the Institute of International Education (IIE) found that 68% of US institutions responded to the crisis by adapting advising or student services for online international students. Continuing to offer these services online as well as in-person provides another avenue for international students to access valuable supports when and how they need them. It's a great example of one way schools can show prospective students that they're working hard to deliver what they need. 
While it's a big shift from more traditional understandings of the student-school relationship, I see a growing need for schools to treat students as customers. The schools that meet students' needs the best—that provide the best customer service—will be the ones who remain successful moving forward. 
Top Destination Markets Jockey for Position
After a tumultuous four years in US politics, students and educators around the world have responded with optimism to the election of President-elect Joe Biden. I'm also optimistic that we'll see the US international education market rebound rapidly, mirroring the growth we saw under the Obama administration and reversing the past four years of declining new student enrollment.2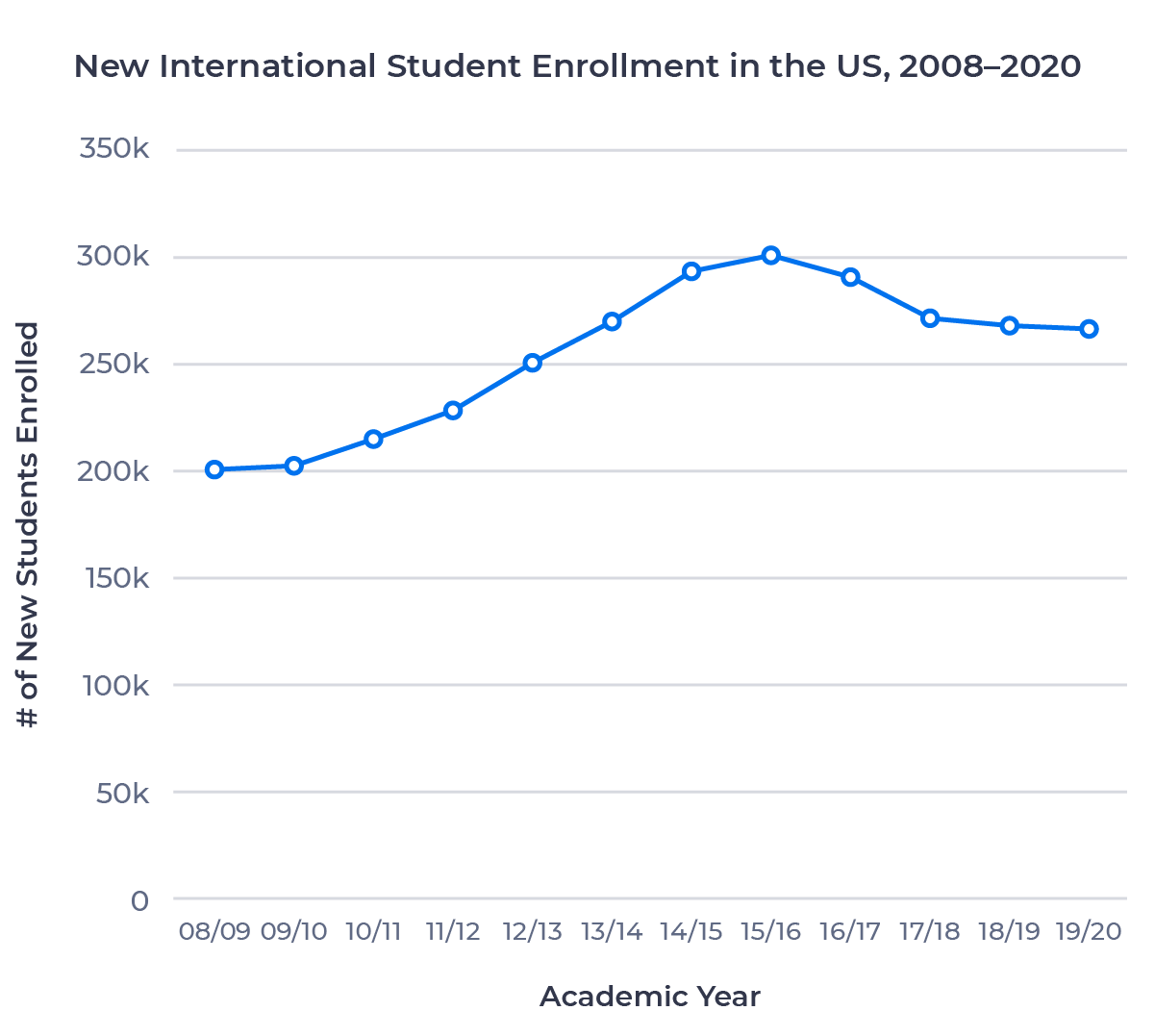 If this growth comes to pass, it will put pressure on other top destination markets, such as Canada and the UK, which have been beneficiaries of the decrease in international enrollment in the US.
Canada's immigration focus leaves it well positioned even in light of a more attractive US market. I loved how Jo Johnson, Chair of the ApplyBoard Advisory Board and former UK Minister of State for Universities, Science & Innovation, put it during a panel discussion he and I sat on together last fall:
"Canada has been absolutely steadfast in recognizing the benefits of immigration and the benefits of a diverse and multicultural learning environment." – Jo Johnson, Chair, ApplyBoard Advisory Board
The stability of that long-standing commitment is something students around the world have noticed. Canada's relative affordability is another strength that may become even more salient post-pandemic as major source markets recover from the economic shock of the pandemic.
The International Money Fund (IMF) estimates that India, Canada's top source market for international students, experienced a 10% contraction in GDP in 2020. This is a real risk factor for Canada, but I'm optimistic that the country's reasonable tuition fees and comparatively low cost of living will continue to make it attractive for Indian students moving forward.
The UK, much like the US, is in a period of transition. The new Graduate Immigration Route, introduced in 2019 and set to take effect this summer, has been a hot topic among our recruitment partners. I'm hearing renewed interest in the UK market among international students looking to emigrate, a promising sign for the market. But the countervailing effects of Brexit on EU-to-UK student movement mean the UK international education industry could be in for a challenging few years. 
I'm also concerned about the UK's—and to a lesser extent Australia's—overreliance on the Chinese market as more Chinese students look to stay within China's own burgeoning post-secondary system. How the Chinese and Indian markets shift post-pandemic will have profound effects on the global international education industry, and I'll be keeping a close eye on these shifts throughout 2021.
Campus Diversity a Top Priority
A diverse campus is a strong campus. ApplyBoard's mission to educate the world extends beyond the students we help realize their study abroad journey to the students whose lives are enriched by the diverse backgrounds their peers bring with them to campus.
But diversifying student intake is valuable even beyond enriching the student experience. A supply of international students from a wide variety of countries can help de-risk international student intake.
In the post-pandemic world, it will be more critical than ever for schools and governments looking to retain and grow market share to think about alternative source markets for international students.
Over the next few months at ApplyInsights, we'll examine markets with the following:
Large student populations

Underdeveloped post-secondary schooling systems

Low present volumes of outbound international students 
These markets are high-potential by nature but often have unfavourable economics or present serious fraud risk. Next week, I'll be taking a deep dive into Nigeria, Africa's most populous country and a market I've long been excited about. Later on, I'll take a look at Bangladesh, whose GDP per capita recently surpassed India's for the first time in almost 30 years.3 
I'll also be digging into some research ApplyBoard's Data Science Team has conducted on how schools can differentiate between bona fide students and those just trying to get into the destination country to work. And I'll be sitting down with ApplyBoard's Chief Information Security Officer, Paul Mason, for a larger conversation about fraud in the industry and how schools can protect themselves and their students from costly and embarrassing security breaches. 
I look forward to exploring these issues and more in the coming year. If there's a topic you'd like to have me look into, email me at applyinsights@applyboard.com.
Published: January 6, 2021
Subscribe to ApplyInsights
Sign up for the latest insights on international education.

---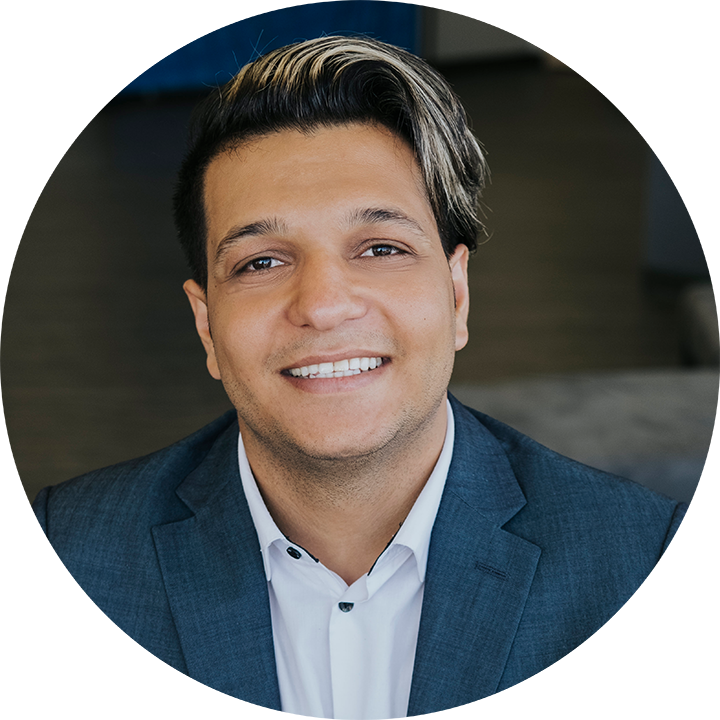 Meti Basiri
Co-Founder and Chief Marketing Officer (CMO)
Meti is driven by the belief that education is a right, not a privilege. In his role as Co-Founder and Chief Marketing Officer (CMO) at ApplyBoard, he leads the International Recruitment, Partner Relations, Sales Enablement, Sales Operations, and Marketing teams along a shared mission to educate the world. Meti has been instrumental in building partnerships with 1,200+ educational institutions across North America, the United Kingdom, and Australia. Working with over 4,000 international recruitment partners, ApplyBoard has assisted more than 120,000 students in their study abroad journey.
Meti was honoured in 2019 by Forbes, being named to three Top 30 Under 30 lists, including Education, Immigrants, and Big Money. Follow Meti on LinkedIn for more access to ApplyInsights and key industry trends.
---
FOOTNOTES:
1. The United States, the United Kingdom, Canada, Australia, Ireland, and New Zealand.
2. Data courtesy of the IIE. While many have attributed this decline to President Trump's divisive rhetoric and immigration initiatives, it's important to note that the decline began in the final year of the Obama administration, when Brazil and Saudi Arabia ended popular scholarship programs, before accelerating under Trump.
---