At ApplyBoard, our mission to educate the world guides everything we do. We're committed to providing students with the best possible study abroad application experience, from their first online search to the moment they step foot on campus. Since 2016, we've helped more than 200,000 students from over 125 countries apply to programs at 1,500+ partner institutions in Canada, the United States, the United Kingdom, and Australia.
But throughout our journey, we haven't just helped our students directly. We've developed an industry-leading network of recruitment partners around the world who guide students through the application process. And we've also provided our partner schools with industry data, research, and tools to help drive international recruitment and student diversity.
In today's ApplyInsights, I'll be demonstrating how we help our partner schools recruit top students from around the world. I'll dig into ApplyBoard student acceptance rates at some of our longest-standing partner schools, and I'll detail how we work with our recruitment partners to build a better experience for our students.
Key Insights at a Glance
ApplyBoard submits high-quality student applications, with more than 95% of students receiving Letters of Acceptance for many of ApplyBoard's long-standing partner schools.
ApplyBoard students were 10 to 20 percentage points more likely to receive Canadian student visa1 approval than all post-secondary applicants over the past three years.
ApplyBoard recruitment partners are carefully vetted and provided with ongoing market training through our ApplyBoard Counsellor Courses (ABCCs).
ApplyBoard Student Acceptance Rates
Throughout the student application process, we work with our recruitment partners to help students apply to programs and schools that align with their goals and dreams. By matching students to the right institution and program, we ensure that our partner schools receive high-quality applications from students who are excited about enrolling at their school. And we don't work with only a select group of institutions. We cater to the specific needs of any school, and we're particularly well equipped to handle institutions who can't afford to establish their own global recruiting networks.

This focus on high-quality applications helps build confidence between our applicants and our partner schools. Ultimately, this means that ApplyBoard students are more likely to receive a Letter of Acceptance (LOA) from their institution of choice. And means that schools can make quicker LOA decisions, making the application process more efficient and effective for everyone.
Case Study: Indian Students in 2021
As a case study, let's take a look at Indian students who have applied through the ApplyBoard Platform so far in 2021.2 After a slight pandemic-related decline in 2020, we've seen a strong resurgence from the Indian market in 2021. In fact, we're on track to help more than twice as many Indian students in 2021 as we did in 2020.
Within this group of Indian applicants in 2021, the majority have already received LOA decisions from our partner schools. Over half of these decisions came from a diverse group of 45 public and private colleges and universities in Canada and the UK. But what's unique about these particular institutions? Each of these institutions received at least 50 applications from Indian students through ApplyBoard in 2021. And for each and every one, over 95% of those Indian student applicants received a Letter of Acceptance.
Student Visa Approval Rates
These incredible acceptance rates validate the quality of our students and the strength of applications that our partner schools expect. But ApplyBoard students don't just experience high LOA acceptance rates. ApplyBoard students are also more likely to receive an approved student visa.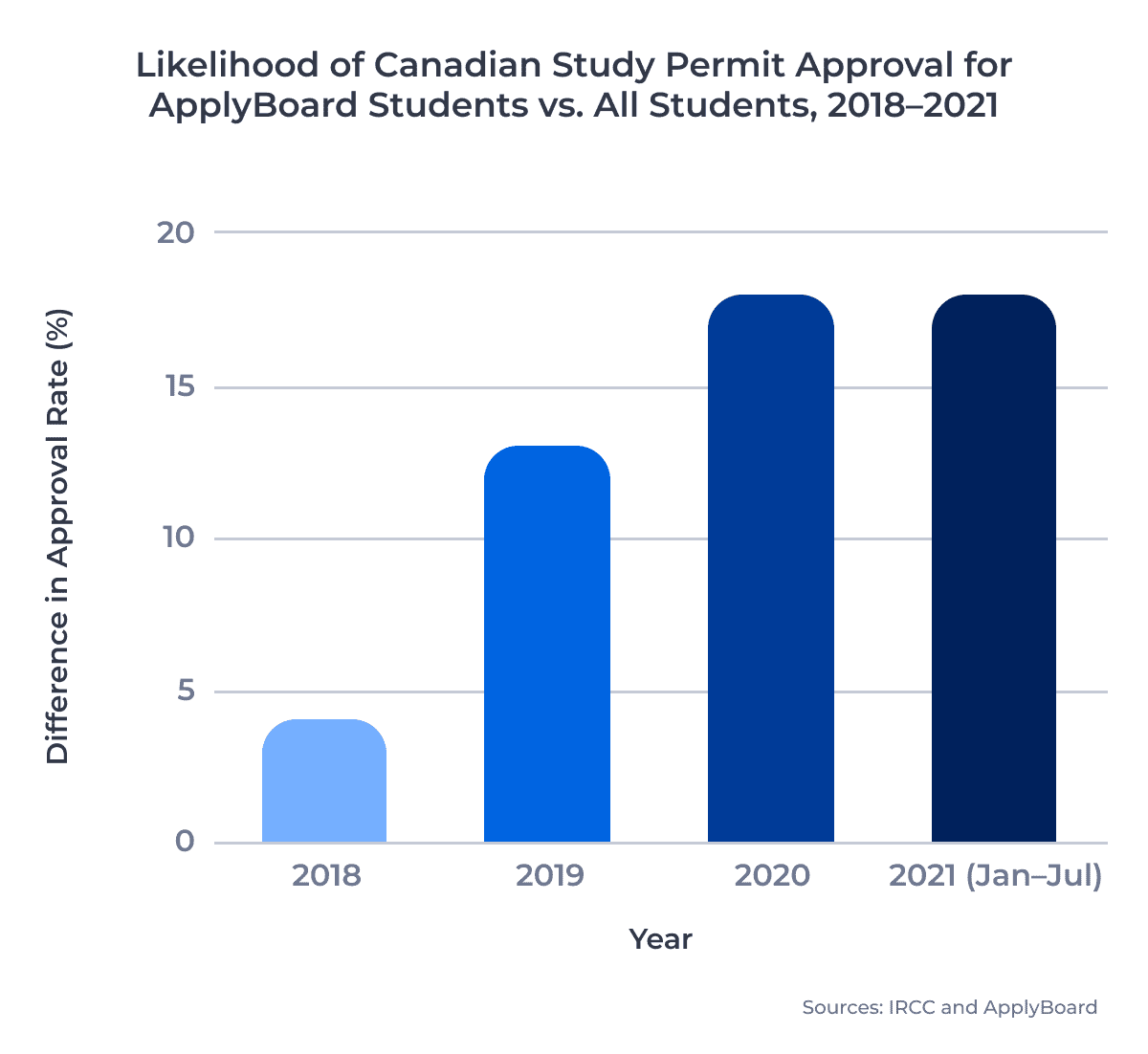 In 2020, ApplyBoard students were nearly 20% more likely to have their Canadian study permit approved compared to all overseas applicants. While overall Canadian study permit approval rates rose by 10 percentage points for the period from January to July 2021, study permit approval rates for ApplyBoard students remained 20% higher.
And the good news doesn't stop there. Through the first half of 2021, ApplyBoard students applying to UK institutions were 5% more likely to receive an approved student visa than the all-applicant average. It's clear that our focus on the end-to-end student application process and experience helps institutions attract strong student talent from every corner of the globe.
A Strong Network of Recruitment Partners
Our world-class network of over 7,500 recruitment partners help drive our high program application and student visa approval rates. We've worked hard to establish a strong group of recruitment agents who can provide students with the best possible application experience. Our goal is to ensure every student has the support and resources they need when applying to study abroad.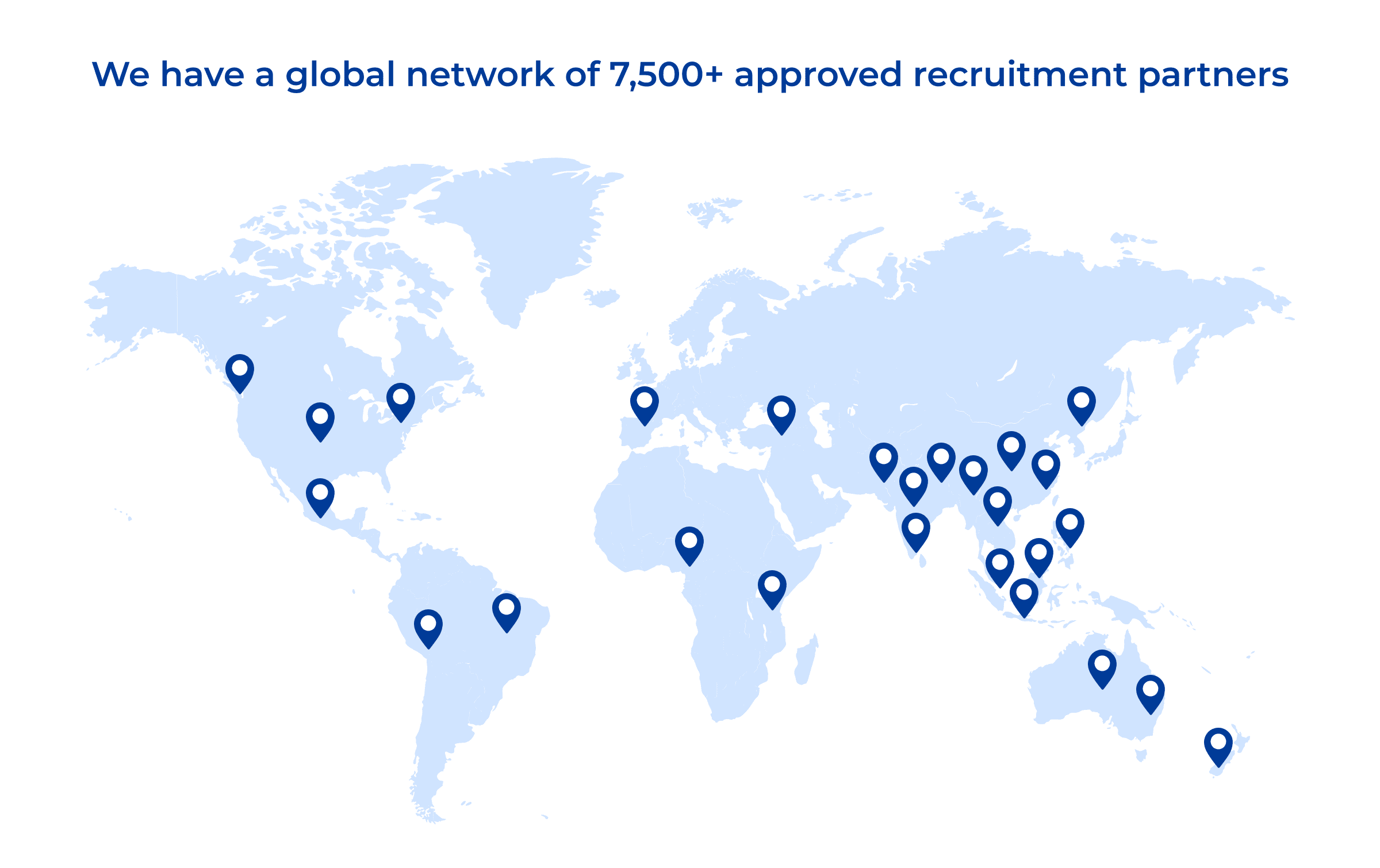 While we work with talented recruiters from a wide variety of backgrounds, every ApplyBoard recruitment partner needs to pass through our careful vetting process. And the role of recruitment partners has changed over the past five years. It's now more important than ever to find the right partners who can act as mentors and guides to our students throughout the application journey.
That's why we use a host of different data points to assess potential recruitment partners, and to date we have approved just 54% of recruitment partner applications. Further, to ensure our recruitment partners continuously meet the needs of our partner schools and students, we use a recruitment partner scoring system which monitors metrics such as response and conversion rates.
Giving Recruitment Partners the Tools to Succeed
We're not satisfied with just finding the best recruitment partners we can. We also want to improve the skills of our recruitment teams so that they can better help students research and understand their study abroad options. We want to empower our partners to help prospective students understand which institution or destination is the right fit for them.
That's why, over the past year, we've developed and launched our ApplyBoard Counsellor Course (ABCC) program. Our ABCC courses are multimedia e-Learning modules that educate users on region-specific information to help illuminate each facet of the study abroad experience. ABCC courses provide foundational professional training about the international education ecosystem, and they are designed to be accessible for everyone.

Our ABCC courses go far beyond what other courses in the market offer. All of our ABCC courses cover topics including:
Educational system hierarchies and pathways
Up-to-date international student statistics and average tuition and living costs
Local culture and history
Breakdowns of education opportunities by province, state, or region
Post-graduation work opportunities and visas
Detailed, practical guides for student life in each destination country
Admissions and visa process descriptions, timelines, and information
Since launching the ABCC–Canada course in May 2021, we've seen incredible support for all our ABCC courses. We've seen fantastic enrollment across our ABCC–UK, ABCC–US, and recently launched ABCC–Australia courses, with over 2,500 users registering for our courses and providing overwhelmingly positive feedback.
We're working on new AI-driven tools to help our recruitment partners, such as a Canadian student visa calculator that will be available soon!
Enabling Global Recruitment
Every day, we're working to develop new and innovative tools, courses, and support systems that help our students, recruitment partners, and partner schools thrive.
Over the past few years, we've implemented artificial intelligence to help recruitment teams streamline their processes so they can spend more time engaging with and helping students. We've also launched partnerships with RBC to provide GICs to students, Flywire to facilitate tuition payments, and Air Canada to discount flights. We are always looking to do more to help create an ecosystem where students are supported in multiple phases of their journey.
ApplyBoard offers access to a large network of trained and vetted recruitment partners, and we can help your institution reach the strongest students across a diverse set of markets. With our sophisticated applicant screening process, we can ensure superior applicant quality that will drive higher enrollment. Connect with us to find out how we can help your institution recruit top students from around the world.
Published: December 1, 2021
Subscribe to ApplyInsights
Sign up for the latest insights on international education.

---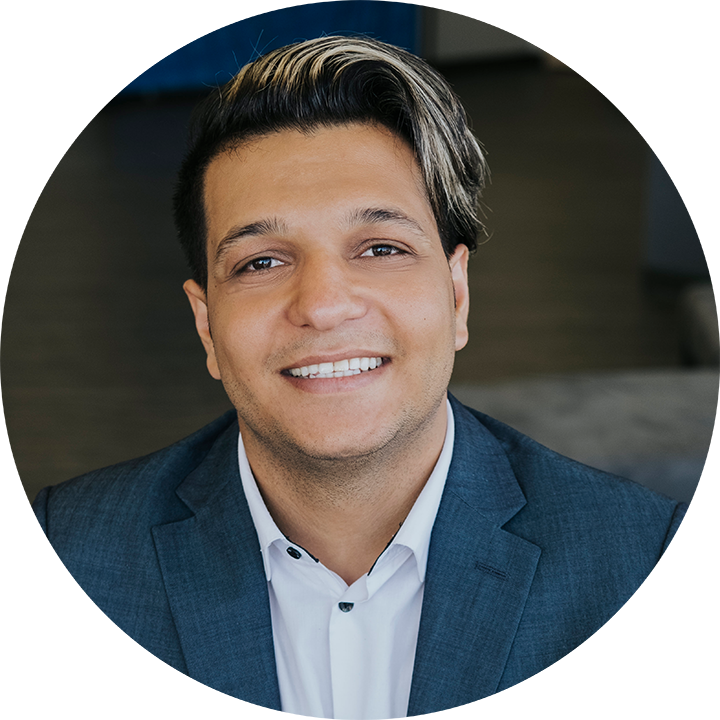 Meti Basiri
Co-Founder and Chief Marketing Officer (CMO)
Meti is driven by the belief that education is a right, not a privilege. He leads the International Recruitment, Partner Relations, and Marketing teams at ApplyBoard, working to make education accessible to people around the world. Meti has been instrumental in building partnerships with 1,500+ educational institutions across Canada, the United States, the United Kingdom, and Australia. Working with over 7,500 international recruitment partners, ApplyBoard has assisted more than 200,000 students in their study abroad journey. Follow Meti on LinkedIn for more access to ApplyInsights and key industry trends.
---
FOOTNOTES:
1. The terms student visa and study permit are generally used interchangeably for Canadian international students. Rather than student visas, Canada provides accepted international students with study permits, which allow those students to enroll in classes at Canadian institutions. When a student is accepted for a study permit, they are also usually provided with a visitor visa, which allows that student to enter Canada for their studies. Canadian study permit data provided courtesy of Immigration, Refugees and Citizenship Canada (IRCC), except where noted.
2. This includes all students who applied through ApplyBoard, including those who worked with a recruitment partner or third party. This data only includes students who have already received a decision from the institution that they applied to.