At ApplyBoard, the student always comes first. We're constantly thinking about how we can elevate the student experience in our mission to educate the world. Empowering our partners to help prospective students understand which institution or destination is the right fit for them helps us march towards that goal.
That's why we poured time and resources into developing our ApplyBoard Counsellor Course (ABCC) program. The ABCC courses are cost-free, multimedia e-Learning modules that educate users on region-specific information to help them understand each facet of the study abroad experience.
On the heels of the launch of the Canadian ABCC course in May, I'm excited to share that our second ABCC course for the UK market is available for registration. In the two weeks since the UK ABCC course was launched, the response has been overwhelmingly positive.
In this edition of ApplyInsights, I'll talk about the vision behind our ABCC series, dive into what makes these courses so valuable and share some exciting engagement metrics from our UK launch.
Key Insights at a Glance
More than 6,100 users from 78 countries around the world have registered for one or more ApplyBoard Counsellor Courses (ABCC).
ABCC-UK received over 300 new registrations in just 24 hours after the launch.
95% of ABCC-UK graduates say they would recommend ABCC to a colleague.
The Making of ABCC
Students face so many questions as they try to determine where to study abroad.
"How do I navigate the student visa application process?"
"What's it like to live and study in a given country?"
"Where should I seek advice on travelling to and arriving at my destination?"
It's a multi-layered process leading to a pivotal decision in their lives. Students have every right to equip themselves with the information necessary to make the best decision for themselves and their families. We created the ApplyBoard Counsellor Course to ensure that students have the opportunity to do so.
ABCC courses provide foundational professional training aimed towards everyone in the international education ecosystem. Whether you're an existing ApplyBoard recruitment partner, new to the industry, or family of a prospective student, ABCC is designed to be accessible for everyone.
"ABCC-UK was a great course with wonderful knowledge material. Good job ApplyBoard team for making such beneficial courses for counsellors. Counsellors should take this course in order to check and recall their knowledge. Such a helpful experience."

– Abdur Rehman, Recruitment & Outreach Specialist, Edceum
The ABCC-UK Launch
We suspected there was a strong appetite for ABCC content among recruitment partners globally, but we didn't know how strong. In the first 24 hours alone, the engagement ABCC-UK received was astounding.
Encouraging Numbers
When we launched ABCC-Canada, the response was overwhelmingly positive. Over 3,000 users registered for the course, with 90% of those users saying they would be eager to take another course that focused on the UK or Australia. We were eager to build on that success for the launch of our second ABCC course.
The initial reception of ABCC-UK was fantastic, with thousands of views, engagements, and shares of ABCC-related content across social media in just 24 hours after launch.



The 300 new registrations that poured in for ABCC-UK on launch day were incredible to see, but the pace at which that interest grew stole the show. In just eight days, the total number of registrations for ABCC-UK surpassed the number of registrations for ABCC-Canada.
Over 3,000 recruitment partners, student advisors, and other industry professionals have already begun learning how to elevate and empower students as they prepare to study in the UK.
Perhaps the most jaw-dropping stat that we have to share about ABCC-UK is surrounding its global reach. As of August 12, 2021, ABCC-UK had registrants from 78 countries around the world.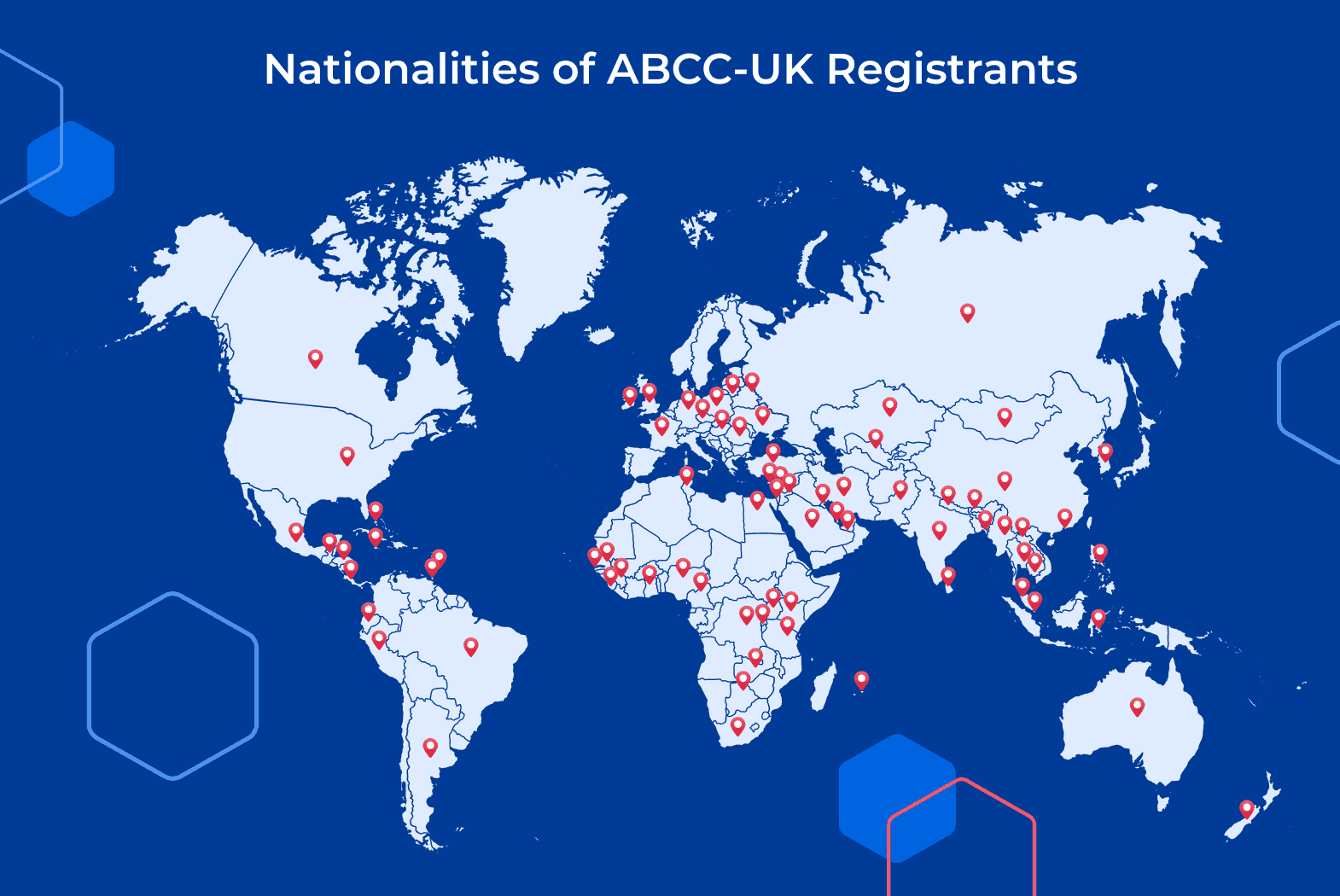 One of the core goals of this program is to provide equal opportunity to students from smaller markets and less developed countries. It excites me to see recruitment partners from all around the world express interest in this course and take the time to develop their knowledge of popular destination markets. This buy-in from our partners should help more students become fully equipped to make the best decisions for their future.
User Feedback
We want ABCC to be the best it can be. To help us get there, we asked our ABCC graduates to provide some feedback on their experience.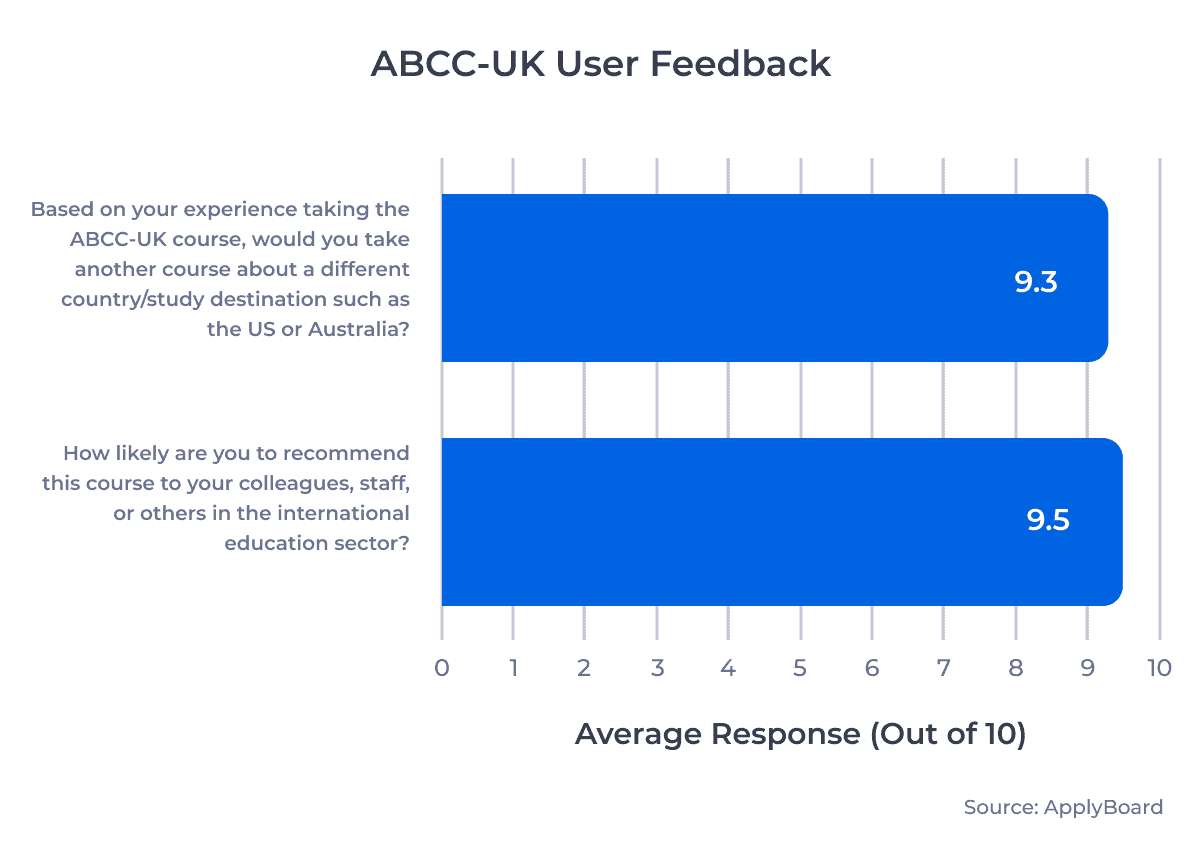 Graduates of the ABCC-UK course are almost always interested in taking a future ABCC course about the US or Australian markets, and they're even more likely to recommend ABCC to a friend. It's great to see recruitment partners express a willingness to share ABCC with their networks. This tells me that the course is working well—offering a unique learning experience to industry professionals that wasn't previously available in one package.
ABCC-UK graduates had lots to say about their experience taking the course, providing us with some awesome insight into various facets of the program.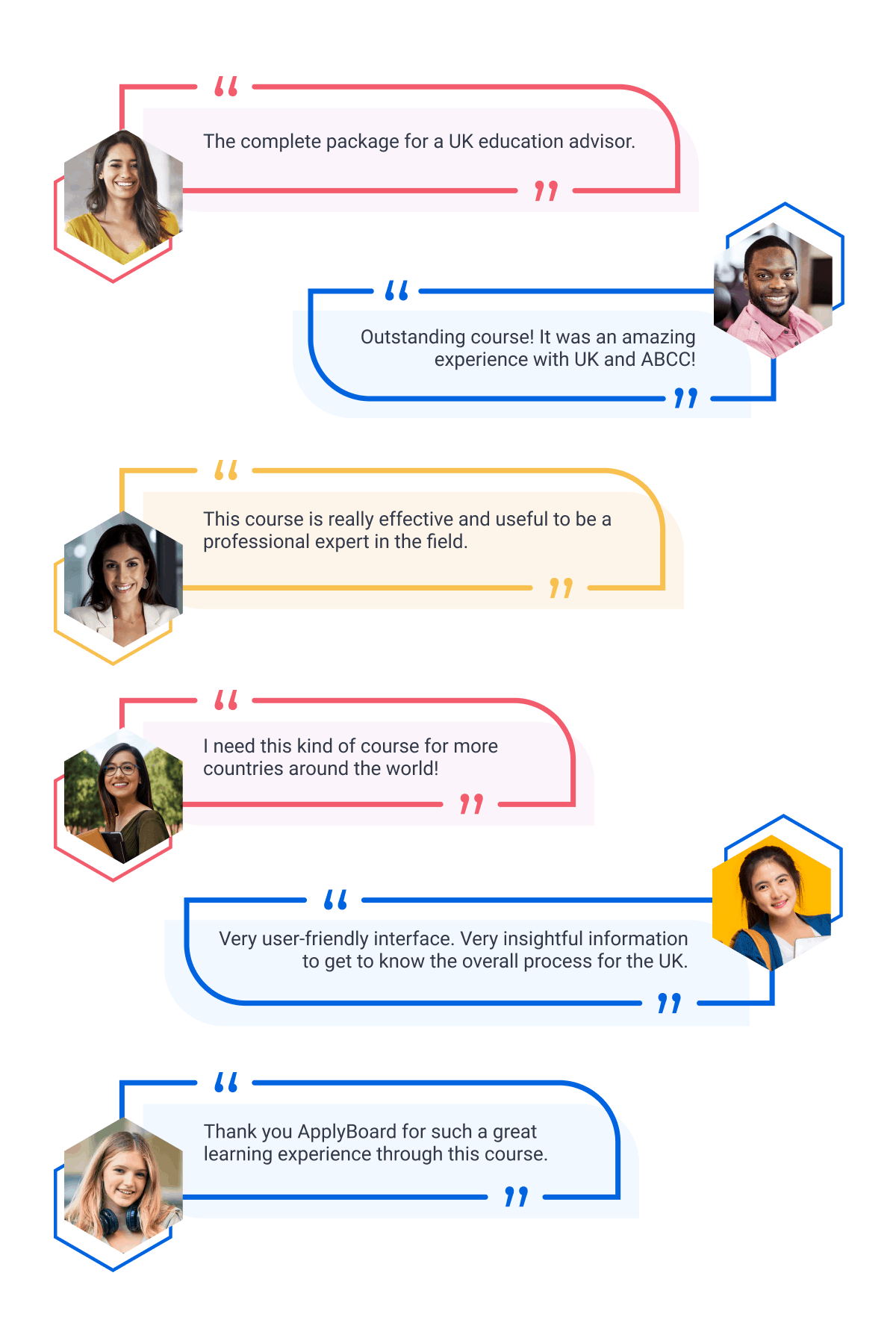 Respondents also cited the user-friendly interface, informative content, engaging delivery and attention to detail as items that made their experience especially impactful.
We'll continue to leverage participant feedback to improve the standard of excellence ABCC has set as the number of course registrations increases over the coming weeks.
How ABCC Provides Additional Value
Before we embarked on designing our courses, we needed to be sure that ABCC was unique from the existing educational resources on this subject.
Unique Architecture
Existing course material in the market didn't deliver information in an engaging, comprehensive way. Without any sort of structured reinforcement, learning outcomes become difficult to achieve. We designed ABCC to address those gaps.
Here are a few ABCC course features geared towards keeping accessibility and user engagement high:
Professionally produced training videos
Audio narration option for all learners
Scenario-based learning elements
Interactive learning and knowledge checks
How content is delivered is just as important as the quality of that content. This mentality served as the backbone of ABCC's architecture. ABCC pairs original, insightful topics with an interactive delivery format that keeps users invested. The end result is a course that receives high engagement and drives learning outcomes that stick.
"Going through this course has helped me as a counsellor to have better knowledge of the various study destinations. I now feel better equipped to help my clients."

– Anonymous ABCC-UK Graduate
ABCC-Specific Content
Existing courses in the market all covered very similar topics: educational system hierarchy, local culture and history, post-graduate work opportunities, and admissions or visa processes. These are all important factors contributing to a student's final decision, but they're not the only factors.
In addition to thoroughly covering those topics, we also addressed areas that significantly impact the study abroad experience but were seldom covered in existing courses.
Some of the unique ABCC course topics include:
Up-to-date international student statistics and average tuition and living costs
A breakdown of educational opportunities by province or region
A detailed, practical guide for student life in the destination country
As someone who has first-hand experience coming to a foreign country to pursue an education, I understand how overwhelming those first few months can be. That's why we made a point to include topics that help students understand more of the moving parts that compose the experience of studying abroad.
A student may have a strong desire to study in the United Kingdom, but the quality of their experience largely hinges on the specific school and region they choose. Having a strong understanding of the difference in cost of living and lifestyle between universities in Glasgow, Scotland or Bristol, England, will help ensure the institution a student selects is the right fit for them.
What's Next For ABCC?
As ABCC grows and begins to help more of our partners globally, it moves us closer to our goal of educating the world. Our investment of resources into creating these free courses is a commitment to putting the student's best interests at heart.



I encourage anyone looking to see what all the ABCC excitement is about to register for our courses for the Canadian and British markets today. The more participation we can get from industry professionals around the world, the easier it becomes to build better learning experiences for students.
Published: August 20, 2021
Subscribe to ApplyInsights
Sign up for the latest insights on international education.

---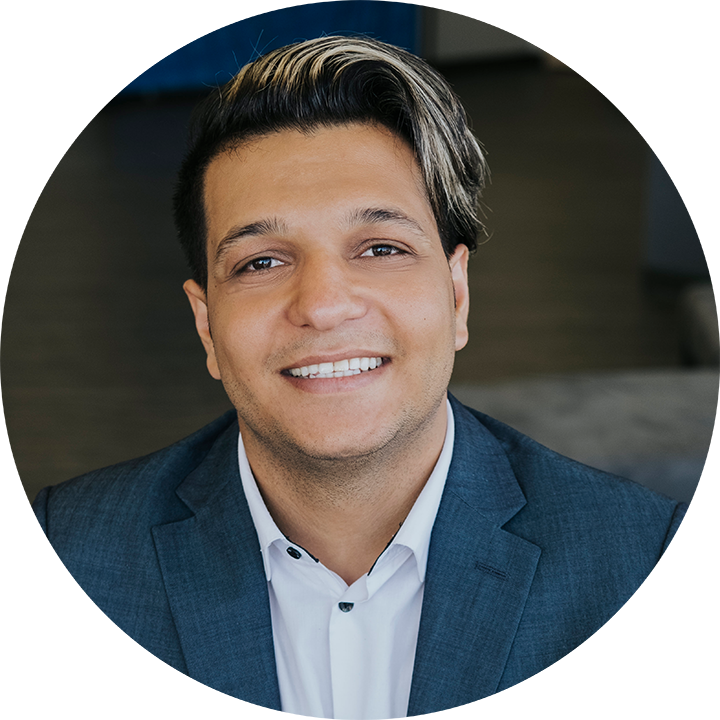 Meti Basiri
Co-Founder and Chief Marketing Officer (CMO)
Meti is driven by the belief that education is a right, not a privilege. He leads the International Recruitment, Partner Relations, and Marketing teams at ApplyBoard, working to make education accessible to people around the world. Meti has been instrumental in building partnerships with 1,500+ educational institutions across Canada, the United States, the United Kingdom, and Australia. Working with over 7,500 international recruitment partners, ApplyBoard has assisted more than 200,000 students in their study abroad journey. Follow Meti on LinkedIn for more access to ApplyInsights and key industry trends.
---