Vancouver is one of the world's most liveable cities for many reasons. However, the city's wealth of green space definitely ranks near the top of the list. With over 240 parks, several of which are very large, Vancouver residents are absolutely spoiled for natural escapes (the mountain views don't hurt either). However, with so many parks to explore, it can be difficult to figure out which ones are worth your time. Whether you're a longtime resident or a student looking for a break from school, here are some Vancouver parks you have to check out!
Stanley Park
Stanley Park stands as Vancouver's oldest, largest, and most popular park, so it naturally deserves a spot on this list. Longtime Vancouver residents likely take for granted just how impressive a green space Stanley Park is. The park is home to 400 hectares of West Coast rainforest, with stunning mountain, tree, and water views.
There truly is something here for everyone, as Stanley Park offers no shortage of activities, including gardens, wildlife, and even an aquarium! Though its location on the tip of the downtown peninsula leaves it a bit out of the way, Stanley Park is worth visiting again and again.
Dude Chilling Park
A park worth visiting for its hilarious name alone, Guelph Park, a.k.a. Dude Chilling Park, has more to offer than some "lawlz". Dude Chilling Park is named after its popular statue of a man reclining ("chilling") on the ground. A sign was erected in 2012 as a prank, but the city ended giving it official status after local residents protested the sign's removal.
Located in Vancouver's Mount Pleasant neighbourhood, Dude Chilling Park is now the city's second most visited green space. Come for the headline-grabbing art piece, stay for the community garden, tennis court, and proximity to some great Main Street breweries.
Queen Elizabeth Park
One of Vancouver's favourite parks next to Stanley Park, Queen Elizabeth is world-famous for its breathtaking gardens. The park's main feature is Bioedel Conservatory, an indoor tropical garden sitting atop the highest point in the city. However, there are other garden areas, including the main Quarry Garden, home to a large variety of trees, shrubs, and even a cascading waterfall. If you're not into walking through gardens, Queen Elizabeth also has a number of recreational options and even fine dining at Seasons in the Park.
Dr. Sun Yat-Sen Classical Chinese Garden
Looking for a different type of Vancouver park experience? Try visiting the Dr. Sun Yat-Sen Classical Chinese Garden. As the name implies, this garden is modeled in the Ming Dynasty-era tradition and is actually the first of its kind outside China. The garden's various ponds, walkaways, and buildings offer visitors peace and tranquility. Offering an escape from the busy city, the Chinese Garden is conveniently located close to schools such as Vancouver Film School and Vancouver Community College.
Jericho Beach Park
Jericho Beach Park is perfect for those seeking a bit more recreation in their Vancouver parks adventure. As the name implies, this park is home to Jericho Beach, a popular swimming and sailing destination in the summer. In fact, the park is close to several beaches along English Bay, including Locarno and Spanish Banks Beach Parks.
Even in winter, Jericho Beach is worth seeking out, as it offers fantastic views of the North Shore mountains. However, the warmer months are truly the best time to visit. If you're looking for good food, check out the Jericho Sailing Centre. This beachfront cafeteria has an excellent patio and great views of the water.
Pacific Spirit Regional Park
Located on Vancouver's west end near the University of British Columbia, Pacific Spirit Regional Park is a full-fledged nature preserve. This 874 hectare park contains over 73 km of hiking trails and offers a quiet retreat away from the city. It's a very dog-friendly park too, with designated leash-optional trails for your furry companions. You'll have to travel a bit further to get to Pacific Spirit than other Vancouver parks. However, in terms of green space in the city, it's hard to beat.
Smaller Parks
We've touched on some of Vancouver's biggest and most famous parks here, but they aren't the only ones worth visiting. After all, Vancouver has over 240 parks so no matter what part of the city you live in, you're probably close to green space. We're not going to list them all here, but here are a few you may want to check out: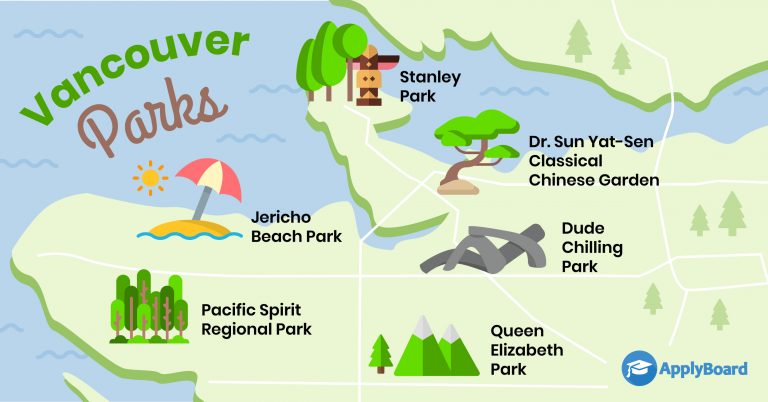 For more information on Vancouver parks, visit the city's official website.
Interested in studying in Vancouver? Create your free ApplyBoard account today! We'll help find a school that's the perfect fit for you.